When it comes to game day, it's all about the food. I'm talking dips, sliders, quesadillas, wings, cheese balls, fried food, guacamole, salsa, it's all here! 
All of these delicious finger foods are easy to make and are a great way to feed a crowd! Prepare to drool.
1. Cowboy Queso Dip
READER FAVORITE! This Cowboy Queso Dip nearly broke the internet this year, and for good reason! It's loaded with so much flavor, I promise it'll be the best queso dip you've ever made. (It's Crock Pot friendly too!)
Total Time: 30 minutes (or 2-5 hours for Crock Pot Method)
---
2. Sweet Cream Cheese Wontons
The filling options are endless! These Sweet Cream Cheese Wontons only call for cream cheese and powdered sugar for their delicious filling, but readers love experimenting with everything from Nutella to cream cheese and cherry pie filling!
Total Time: 42 minutes
---
3. Bacon Ranch Cheddar Cheese Ball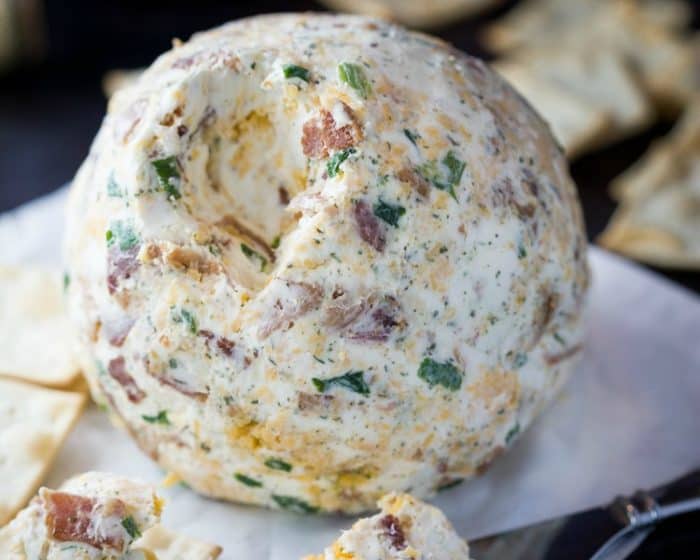 SO many ways to serve it! This Bacon Ranch Cheddar Cheese Ball can be served as a giant ball as shown, or as tiny portion-sized balls with toothpicks, or you can spread it over a vegetables and crackers on a platter! No matter how you serve it, it's delicious.
Total Time: 1 hour 10 minutes. (10 minutes to make, 1 hour to chill.)
---
4. Restaurant Salsa
YES. RESTAURANT SALSA. This is no exaggeration folks. This Restaurant Salsa actually better than most Mexican restaurant I've ever been to, and this takes minutes (literally minutes), to make.  Who doesn't love chips and salsa on game day?!
Total Time: 10 minutes
---
5. Parmesan Crusted Tortellini Bites
You better set some aside for yourself, because these go FAST. Parmesan Crusted Tortellini Bites are a huge crowd pleaser and are amazing in warm marinara sauce. They're perfectly golden crispy bites of heaven.
Total Time: 45 minutes
---
6. Applebees Spinach Artichoke Dip
CLASSIC. This is the best Spinach and Artichoke Dip you'll ever try, and it's a perfect replica of the Applebee's version. Serve this up with tortilla chips, crusty artisan bread, and/or veggies!
Total Time: 25 minutes
---
7. Chicken Parmesan Sliders
That's right. Those are mozzarella sticks. There's no better way to enjoy Chicken Parmesan Sliders than with crispy, cheese-filled mozzarella sticks on top! Your friends will go crazy for this one!
Total Time: 40 minutes
---
8. Garlic Feta Dip
If you haven't tried this…TRY IT. You can make this Whipped Garlic Feta Dip ahead of time and refrigerate for 1-2 days prior to serving! You can also bake it and serve it warm! Pita chips are my option of choice for this dip. Warning: It doesn't last long!
Total Time: 10 minutes
---
9. Perfect Fried Pickles
Who doesn't love a good (pile of) fried pickles?! Make your friends swoon over these perfectly golden fried pickles. They're the perfect crowd pleasing finger food!
Total Time: 35 minutes
---
10. White Cheddar Stuffed Mushrooms
JUST like the Longhorn version! These White Cheddar Stuffed Mushrooms have a delicious cheddar filling and crunchy Parmesan Panko topping, plus a white cheddar sauce for dipping!
Total Time: 40 minutes
---
11. Perfect Guacamole
Alton Brown's Masterful Recipe. I can't even take credit for this one, this is Alton Brown's Guacamole Recipe, and it's perfect. There are a zillion ways to make guacamole out there and I'm telling you, this is the winner.
Total Time: 10 minutes.
---
12. Lemon Pepper Wings
(My husband's all-time favorite.) These Lemon Pepper Chicken Wings are the crispiest wings you'll ever make. Fry them, bake them, grill them, but whatever you do, make them!
Total Time: 1 hour 30 minutes (for twice-fried method)
---
13. Warm Bacon Ranch Cheese Dip
A warm version of the bacon ranch cheddar cheese ball! This WARM Bacon Ranch Cheese Dip is one of the best dips you'll make. So much flavor, and really easy to make.
Total Time: 45 minutes
---
14. Chinese Chicken Fingers
Trust me. These are amazing. Chinese Chicken Fingers are on every Chinese food menu in the Northeast, and if you've been missing out- it's time you joined the club! They're so simple, but so amazing with sweet and sour sauce!
Total Time: 25 minutes
---
15. Crab Rangoon
Crispy, warm, delicious. Don't leave this one to the restaurants, you can make amazing Homemade Crab Rangoon yourself in no time! (Fry or bake it, I'll tell you the method for each!)
Total Time: 40 minutes
---
16. Restaurant-Style Chicken Quesadillas
Crispiest, cheesiest, quesadillas ever. Learn how to make Crispy Chicken Quesadillas (Restaurant-Style!) The filling options are endless, just don't forget to pack in lots of cheese!
Total Time: 35 minutes
---
17. Homemade French Fries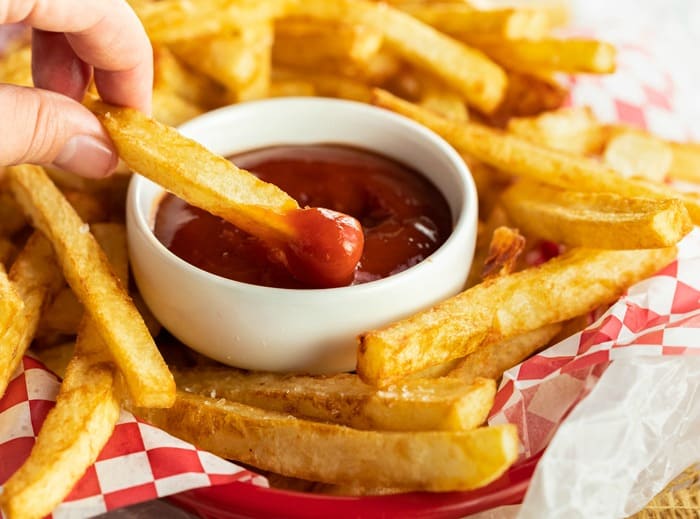 What's better than warm, satisfying, homemade fries?! I don't know a single person who could say no to these golden Homemade French Fries. Keep it simple and fun with a basket of fries for all!
Total Time: 1 hour 5 minutes
---
18. Baked Potato Slices
You'll need about 75 potatoes. Why you ask? Because people can't get enough of these crispy baked potato slices! Add a bit of sour cream for dipping, maybe some diced green onions, and you've got it game-day hit.
Total Time: 55 minutes
---
19. Crab Rangoon Dip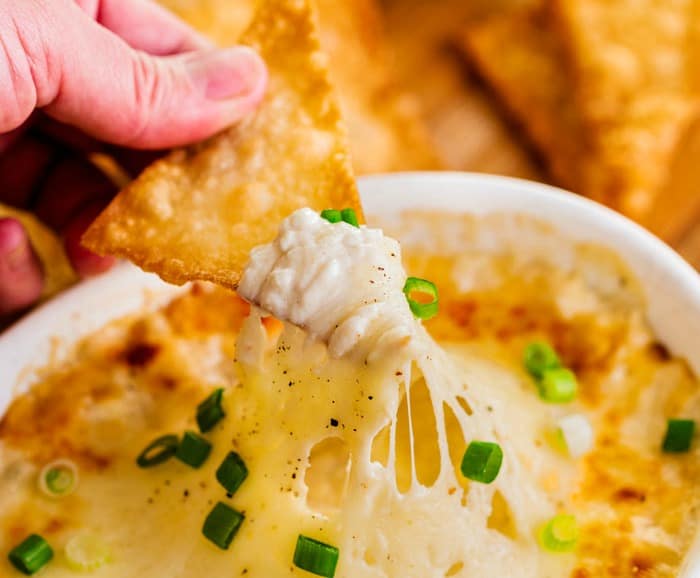 When crab rangoon transforms into a warm, cheesy dip…good things happen. The best part about this Crab Rangoon Dip is that you use fried wontons for dipping! (What could be better than that?!)
Total Time: 1 hour
---
20. Pineapple Pecan Cheese Ball
Because everyone loves a cheese ball! This is the perfect last minute appetizer idea to feed a crowd! It's got tons of flavor and is perfect with crackers!
Total Time: 15 minutes