Learn the trick to getting super crispy tortillas when you make this cheesy chicken quesadilla recipe. Fill them up with your favorite Mexican ingredients like black beans, peppers, onions, seasoning, and more!
Serve these quesadillas with homemade salsa, guacamole, and my cowboy queso!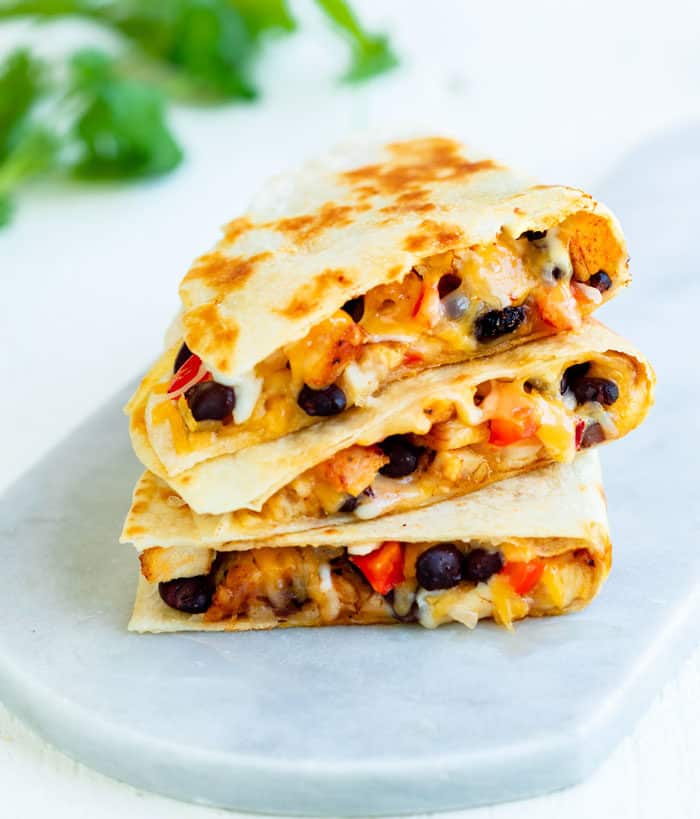 I am psyched to have nailed down the secrets to success when it comes down to making super crispy, restaurant-style chicken quesadillas.
No more soggy tortillas, I am promising you right now that you will hear a serious crunch when you follow these steps!
Ingredients

Chicken
Cajun Seasoning
Flour Tortillas
Shredded Cheese
Black Beans
Cilantro
Onions
Garlic
Bell Peppers
Olive Oil

The filling choices for these quesadillas are totally flexible. Aside from what's in this recipe, you can also use corn, mushrooms, tomatoes, Jalapeños, and a variety of cheeses!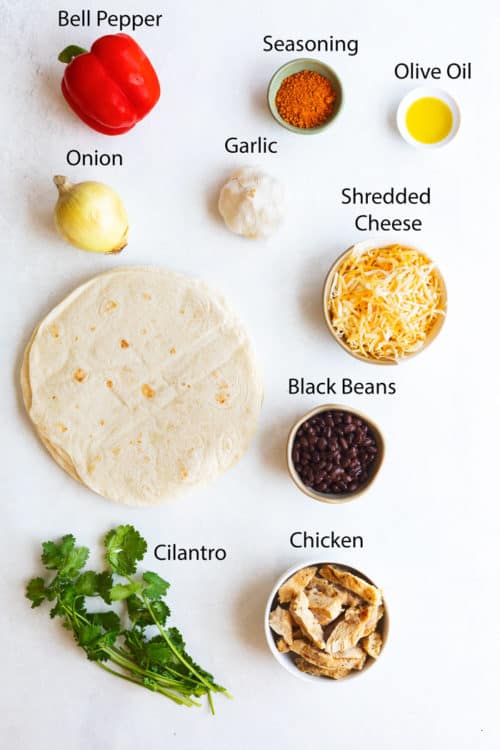 How to Make Crispy Chicken Quesadillas
Use flour tortillas
Flour tortillas will hold the cheese and fillings together much better than corn tortillas.
Let the cooked ingredients cool
This will give you extra crispy results and prevent the tortilla from getting soggy.
Don't use any oil in the pan
This will prevent the tortilla from crisping. At most, use a small amount of butter just to achieve a nice browned color.
Don't stack two tortillas on top of each other
Instead, spread the filling over half of one quesadilla. Let the entire surface area crisp on the stove top and then fold the tortilla in half once the cheese is melted, there's no need to flip and the entire quesadilla will be crispy!
½ of a cup of filling per quesadilla is a good rule of thumb.
See below for an easy visual!
Freezing Them
Believe it or not, quesadillas make a wonderful freezer food.
Let the cooked quesadillas cool completely.
Wrap each in foil and freeze in a labeled freezer bag.
To reheat, place the frozen/wrapped tortilla in a 350 degree Fahrenheit oven until heated through, about 15 minutes.
What to Serve with Quesadillas
Try These Next!
Get My Free Meal Plan
I've got a Free Meal Plan with 7 of my super popular recipes (complete with grocery list)! Sign up for my email list and I'll send it over now along with weekly dinner recipes!
And follow me on Facebook, Instagram, and Pinterest!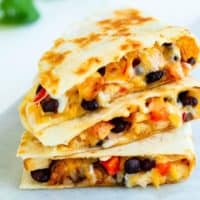 Chicken Quesadillas
This cheesy chicken quesadilla recipe is restaurant quality with a super crispy outside with a warm cheesy filling. Add black beans, peppers, onions, Cajun seasoning, and more!
Ingredients
1 Tablespoon olive oil
½ onion, finely diced
¼ bell pepper, diced
2 cloves garlic, minced
1/3 cup black beans, drained and rinsed
1 Tablespoon Cajun seasoning
1 cup Tyson Grilled & Ready Chicken Breast Strips
½ cup Monterey jack cheese, shredded
½ cup cheddar cheese, shredded
4 (8-inch) flour tortillas
1 Tablespoon butter, optional
Cilantro, to garnish or you may add to the filling.
Instructions
Shred the cheese and set aside, allow it to come to room temperature if possible.

Heat the olive oil in a large pan over medium heat.

Add the onions, diced peppers, and garlic. Cook for 2 minutes.

Use a silicone spatula to stir in the black beans. Heat for 1 minute.

Remove from the heat and let them cool.

Add the cooked chicken strips to the pan. Sprinkle on the Cajun seasoning and toss to coat.

Cook until heated through, 3-5 minutes. Remove from heat. Let them cool, then dice into smaller pieces.

Clean the pan and add ¼ of the tablespoon of butter over low heat. You want just a small amount for extra crispy results.

Add no more than ½ cup of filling per quesadilla, and only add the filling to the top half.

Begin with 1/8 cup of cheese, followed by the vegetables, beans, and chicken, and top with another 1/8 cup of cheese.

Cover the pan and allow the cheese to melt, about 3 minutes.

Use a spatula to fold the bottom half of the tortilla over the fillings. Press down gently. Remove from heat.

Repeat for all quesadillas.

Cut each folded tortilla into 2 slices to make 2 quesadillas.
Nutrition
Calories: 304kcal, Carbohydrates: 22g, Protein: 14g, Fat: 18g, Saturated Fat: 9g, Cholesterol: 43mg, Sodium: 411mg, Potassium: 244mg, Fiber: 3g, Sugar: 3g, Vitamin A: 1432IU, Vitamin C: 11mg, Calcium: 253mg, Iron: 2mg