Baked Potato Slices
There's a secret to these little baked slices of potato heaven that I'm going to let you in on. This secret is the very reason that my husband almost fell over when he ate them. He doesn't even care for potatoes that much, (I know, sinful, barely forgivable even, because potatoes are amazing), but these suckers? He could eat them all day long.
So, what's the secret?
You brush the baked potato slices with bacon drippings. (Okay fine, grease. Bacon grease. I was trying to be dainty about it.)
But it just makes these so gosh darn flavorful. I mean, as if topping them with cheese and crispy bacon isn't enough, whew. 
Want-in on another secret? 
Low and slow is the best way to cook bacon. So don't even think about turning up the heat on that frying pan and trying to crisp these up with high heat. There's no need. A slow release of the delicious bacon juices is the way to go.
I personally prefer thick-cut bacon too, but the choices is yours. I won't be bossy about it. Any flavor of bacon will do too. (Sometimes I just go with what's on sale.)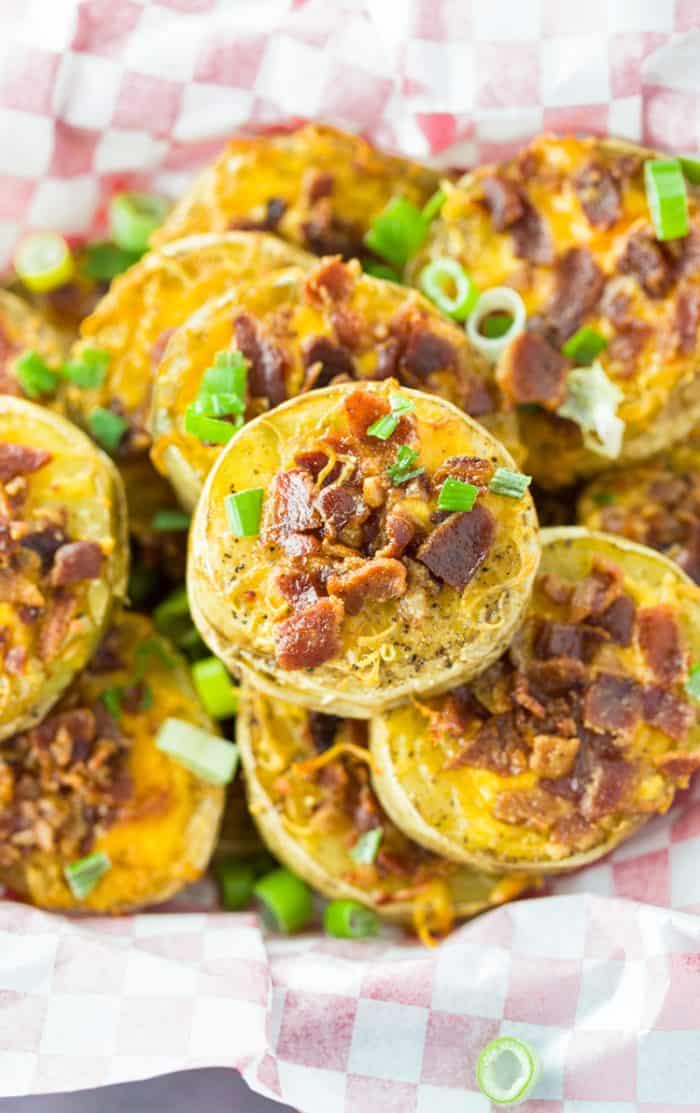 Don't forget the sour cream!
Check out my other recipes!
Baked Potato Slices
Slices of potato that are baked to golden perfection and topped with savory cheddar cheese and crispy bacon. Topped with green onions and served with sour cream for dipping!
Ingredients:
2 large russet potatoes, cut into 1/2 inch slices.
1 tablespoon vegetable oil (or Canola or Olive Oil)
Salt/Pepper, to taste
1.5 cups shredded cheddar cheese
6 slices bacon, uncooked
4 green onions, diced
Directions:
Preheat oven to 375 degrees.
Cut the potatoes into 1/2 inch slices a brush each side with oil, then sprinkle with desired amounts of salt and pepper.
Bake the slices on a baking sheet in the oven for about 25 minutes.
As the potatoes bake, line the bacon on a large frying pan, then turn the heat on low. Low and slow is the best way to cook bacon. Use tongs to turn the bacon over once it begins to curl. Do this every so often for even cooking.
Once the bacon is nice and crisp, remove from the heat, and crumble the bacon once it's cooled. Keep the bacon drippings. (Drippings sounds better than grease, but it's the same thing.)
Remove the potato slices from the oven and lightly brush the tops with bacon drippings. Use a spatula and carefully flip over each slice, then brush again with bacon drippings. Place back in the oven for 15 more minutes.
Remove the potatoes from the oven once again and decrease the heat to 350 degrees. Top the potatoes with the grated cheese and then with the crumbled bacon. Place back in the oven until the cheese is melted, about 5 minutes.
Remove the slices from the oven and sprinkle with green onions. Serve with sour cream and enjoy!
These freeze well, (minus the green onions), and when you're ready to eat them simply pop them into a warm oven for about 8 minutes or so!
All images and text ©
*This post may contain affiliate links