Bacon Ranch Cheddar Cheeseball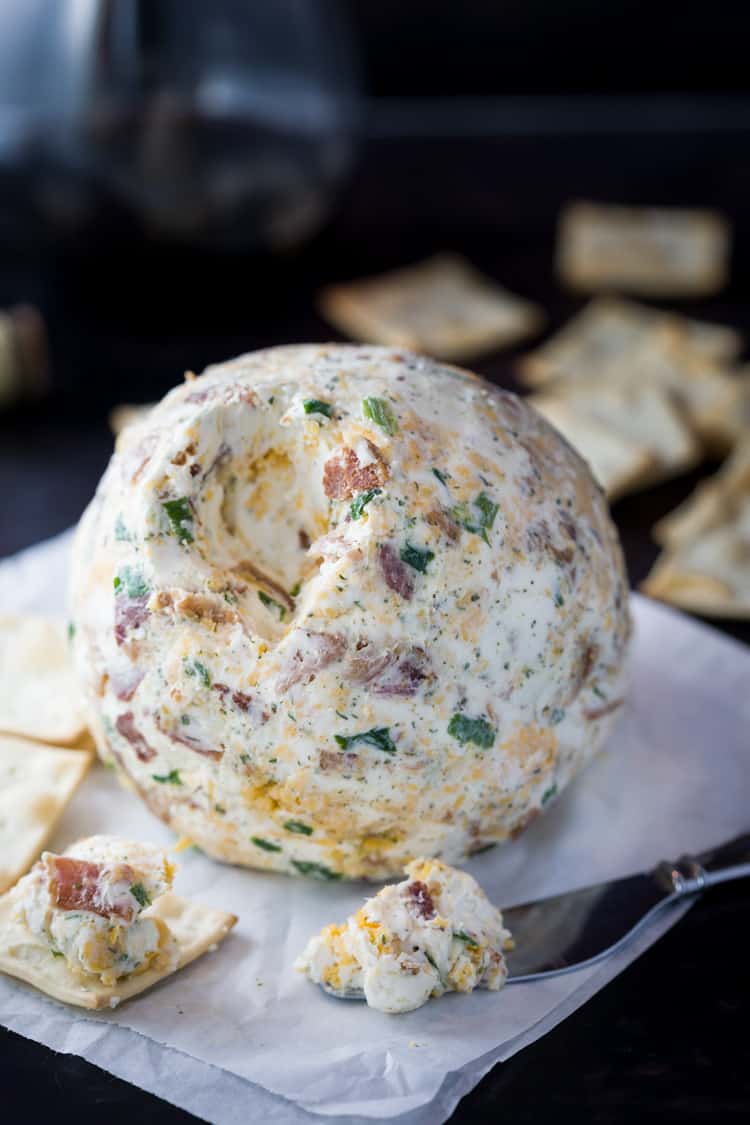 There are few things I love more in this world than a big ball of cheese. (I'm a classy and complex person.) But this isn't just any ball o' cheese. It's got BACON. (Um. 'nuff said.)
….and Ranch, 2 kinds of cheese, and ch-ch-chives. It's sinfully delicious, good lord.
If you need to think of an appetizer in a bind, this will save your life. Who doesn't like a good dip?! Dips are delicious. I think it's the hint of ranch in this that makes it so extra deliciously delicious. (Man, I'm a wordsmith.)
Are you one of those people that adds ranch to everything?
Like your pizza, broccoli, and whatever else?! Because if soooo… you're welcome.
This cheese is absolutely perfect all year 'round, although the red bacon and green chives make it a little holiday-like, which is pretty nifty. And since the holidays are CRAZY busy as it is, why complicate it more by making time-consuming recipes? I'm telling you, roll a ball of cheese and YA DONE.
(Or roll several 1/2 Tablespoon-sized balls and let people grab them with toothpicks. What's better than a portion-sized cheeseball to go?)
I love serving these with a plainer type of cracker, since the cheeseball is so flavorful. Carr's Entertainment Cracker Collection is a good option!
Check out my other recipes!
Bacon Ranch Cheddar Cheeseball
This cheese-ball as a perfect blend of flavors including ranch, crispy bacon, 2 kinds of cheese, and green onions. A perfectly easy and delicious appetizer!
Ingredients:
2 (8 oz.) packages cream cheese
1 (1oz.) packet Ranch dressing mix
1 cup shredded cheddar cheese
¼ cup green onions, diced (can sub 1/3 cup diced chives)
6 strips bacon, cooked
Directions:
Mix cream cheese, ranch dressing mix, green onions, cheddar cheese, and bacon together until well combined. Form into a ball shape. From here, you can wrap it in saran wrap and refrigerate until ready to serve.
Feel free to top your cheese ball with some chopped nuts or crunchy crackers!
*This post may contain affiliate links