Sweet Cream Cheese Wontons
Crispy Wontons fried or baked to golden perfection and filled with a sweet, two-ingredient cream cheese filling. A perfect appetizer to please all palates!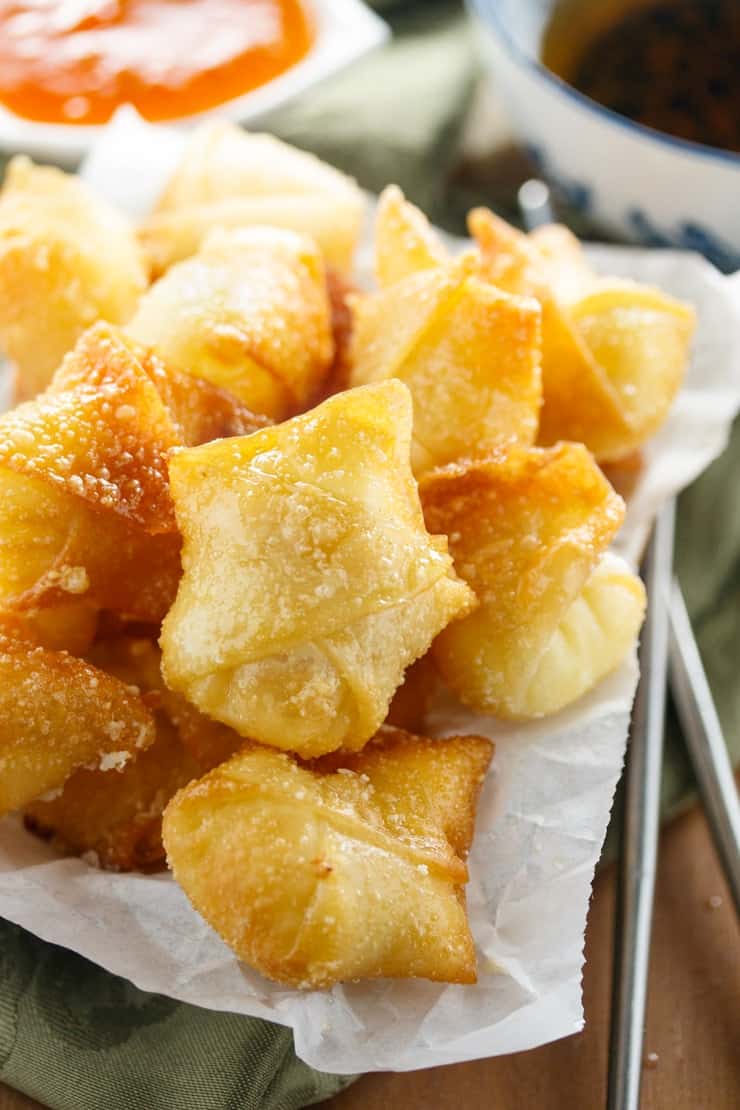 Friends, I've had a revelation. And THAT, is that SWEET cream cheese inside of a crunchy, golden wonton, equals heaven.
Do you ever have the weirdest most random cravings after getting sick? Like once you're healthy again? I got a stubborn little stomach bug last week and afterwards, my appetite was like WHOA. And I wanted fried wontons. I'm not talking Crab Rangoon though, that's altogether different. This stuff has a simple, sweet filling that's just to die for.
When I say simple, I mean, the filling has *two* ingredients. And when I say that they're to die for, I mean, my husband literally almost got up and did a happy dance when he tried these. In fact his exact words were: "EXPLOIT these, er… sponsor these…. advertise these, whatever it's called, just… GET these on your blog now!!!" I'm telling you he was all frazzled by how STINKIN' good these are. I don't blame him.

As for dipping sauces, I mean, sky's the limit. I personally enjoyed dipping them in sweet and sour sauce, while my husband wanted them just as they were: plain and delicious. He continued to babble about how they're a perfect party appetizer because they don't need a dipping sauce, you can just pass them around while people pop 'em in. I have to agree with him on that, and totally plan on making these for the next set of peeps that come over. (Lucky ducky's.)
I personally enjoyed frying these (my deep fryer or my dutch oven are my tools of choice)…but you can absolutely bake them. And as for the folding technique, let's be serious, I can't fold a wonton to save my life. I tried some fancy-shmancy stuff and then just went with this standby, and just kinda made up shapes as I went along. As long as it's sealed tight and has no air inside, you're golden. Like my diagram? : )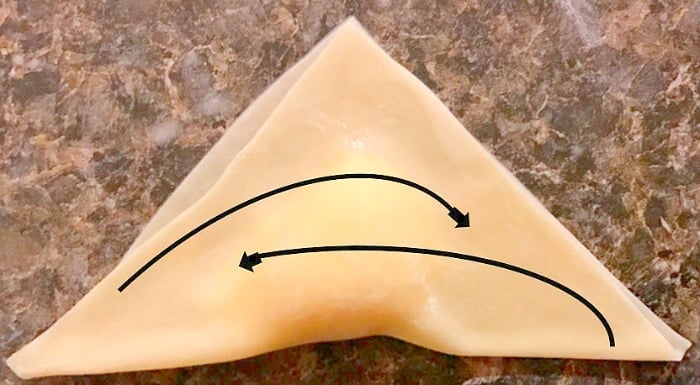 See this recipe in action!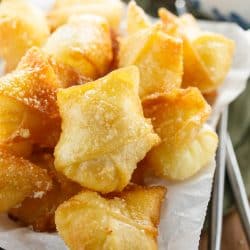 Sweet Cream Cheese Wontons
Crispy Wontons fried or baked to golden perfection and filled with a sweet, two-ingredient cream cheese filling. 
Ingredients:
Wontons
1 (8 oz.) package softened cream cheese
½ cup powdered sugar
1 (12 oz.) package wonton wraps
1 egg whisked with a splash of water
To Fry:
Vegetable oil (enough to fill a saucepan with 2-3 inches of oil.)
To Bake:
Directions:
Mix the powdered sugar and softened cream cheese together until well combined. (No need to use a mixer, especially if the cream cheese is nice and soft!)
Lay out about 4 wontons at a time and cover the remaining with a dish towel (they dry out quickly).
Fill a small bowl with water and set near the wontons.
Place about a ½ teaspoon of cream cheese mixture in the middle of each wonton.
Dip your fingers into the whisked egg/water mixture (i.e. egg wash) and fold the wontons diagonally to form a triangle. Seal tightly, ensuring that there are no air bubbles.
Dip your fingers back into the water. With the longest side of the triangle facing you, fold the left side to the right, and then fold the left side over it, to the right.
Repeat until all wontons are filled and wrapped!
To Fry:
Deep fryers work great with these, however if you don't have one, heat 2-3 inches of vegetable oil in a high walled pan (dutch ovens work well) until it is just under 350 degrees. (I put my electric stove to just under the medium-high mark).
You can use an extra wonton wrapper to test the temperature. Place it in the oil and ensure that it doesn't cook too quickly or burn. Adjust the heat accordingly if needed.
Fry 4-5 wontons at a time, each for about 45 seconds to a minute, (or until golden brown).
They may want to stick to the bottom of the pan at first but if you let them be, they should pop up after they fry for little bit. Once they do, gently flip them so that they fry evenly on the top and the bottom.
Place them on a plate lined with paper towels to cool. (The hard part is resisting the urge to pop one in your mouth before it cools a little!)
To Bake:
Preheat oven to 375 degrees. Spray a baking sheet with nonstick cooking spray and place the sheet in the oven for about 5 minutes. Heating the sheet will ensure that the wontons are nice and crisp on the bottom when they bake, and don't end up too soft.
Remove the baking sheet from the oven and place the wontons on top. Coat the wontons with a light layer of nonstick cooking spray.
The wontons will need to bake for about 10-12 minutes, however it's best to start checking on them around the 5 minute mark. Remove them from the oven when they are crisp and golden brown.
Tip: Sprinkle a little extra powdered sugar on top of these once they are finished cooking!
For Dipping: I LOVE these with sweet and sour sauce! 😉
Egg Wash: If you don't have eggs, you can just use water in a pinch.
All images and text ©Stephanie Melchione for The Cozy Cook
*This post may contain affiliate links