This restaurant style salsa recipe is so fresh and easy to make with canned or garden tomatoes. You'll love the authentic Mexican flavors and simple ingredients.
Be sure to serve this with my easy Salsa Chicken or White Queso Dip + Guacamole!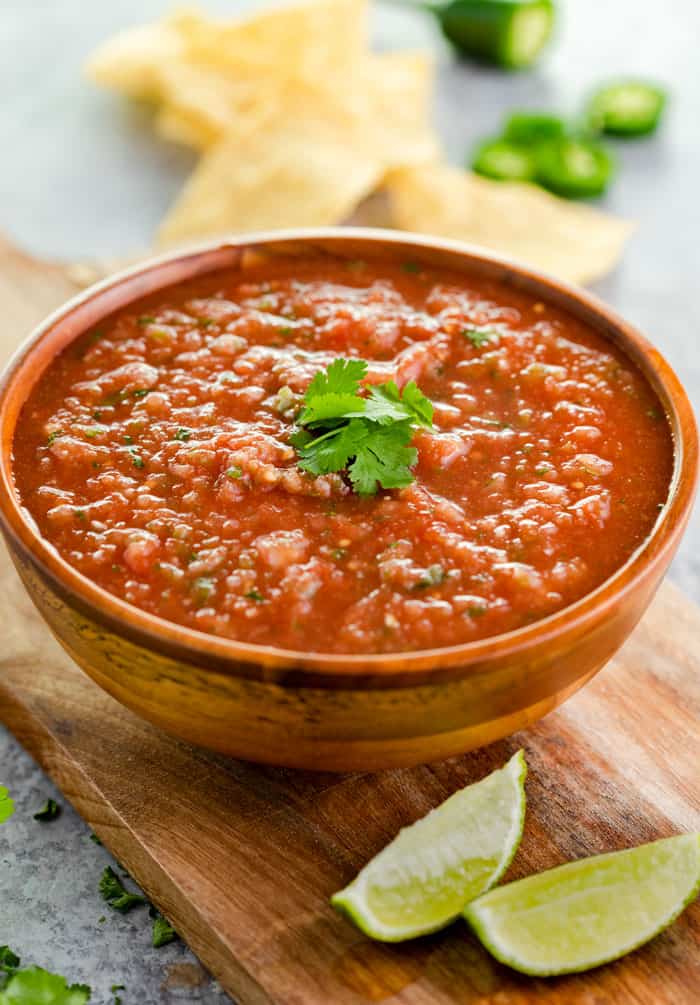 Restaurant Salsa
Making this salsa recipe takes nothing more then blending the ingredients together and letting it chill. It's also so easy to add in extra ingredients like corn and black beans!
I've been making this recipe for several years and just love what little effort it takes.
Plus, you can totally freeze leftovers. (How you ask?)- Read on!
Ingredients

Tomatoes– Canned plum tomatoes or your own canned tomatoes from the garden.
Garlic- Use fresh garlic whenever possible.
Lime Juice
Jalapenos
Sugar
White Onion
Cilantro
Cumin
Salt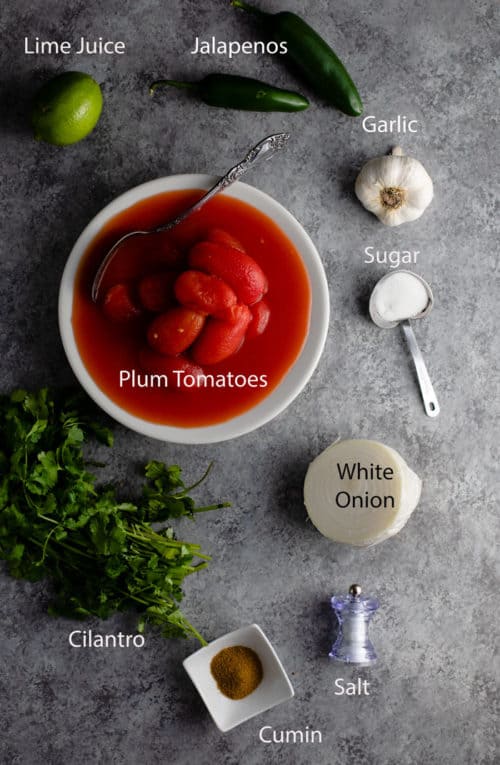 How to Make it
Blend the Ingredients
Add everything to a food processor or a blender and pulse it until it's reached your desired consistency.
Let it Chill
Refrigerate for at least 30 minutes to allow it to chill and for the flavors to blend. The longer you chill, the more flavorful it will be.
Serve
Pro Tip: I love this mini food processor because it takes up such a small amount of space. (Although I have to blend this salsa in 2 batches with it.)
Using Leftover Salsa
Storage
Refrigerating
This salsa should be stored in an airtight container in the fridge. It's best if used within 5 days. Or, you can also freeze it!
Freezing
Freezing leftover salsa is an excellent alternative to letting it go bad in your refrigerator. There are just a few tricks you need to know:

Thicken it up: Otherwise it will be too watery after being frozen. You can do this one of two ways:

Mix in tomato paste.
Simmer it on the stove to let excess liquid evaporate. Let it cool completely before freezing.

Store in portion sized containers with a little excess room at the top for expansion when it freezes.
☝️ This is the bowl pictured in this recipe and I love it, I bought it specifically for serving up this salsa. It fits a ton and is great for a crowd. The quality is fantastic and it looks like a bowl from an authentic Mexican Restaurant.
Try These Next!
Get my Free Meal Plan
I've got a Free Meal Plan with 7 of my super popular recipes (complete with grocery list)! Sign up for my email list and I'll send it over now along with weekly dinner recipes!
And follow me on Facebook, Instagram, and Pinterest!
👉Note: If you're big into homemade salsas and hot sauces, you absolutely want to check out my friends at Chili Pepper Madness. They have enough mouth-watering, spicy, and delicious recipes to last you a lifetime!
Restaurant Salsa
This homemade salsa recipe is super fresh and tastes just like it's from a Mexican restaurant! It's easy to make with fresh or canned tomatoes. You can even freeze leftovers!
Ingredients
28 oz. whole plum tomatoes, with the juice, 1 large can
1 small white onion, peeled and roughly chopped
1-2 jalapeño peppers, diced, with seeds removed
3 cloves garlic, chopped
2 Tablespoons lime juice
1-2 handfuls fresh cilantro, roughly chopped
1½ teaspoons ground cumin
1 teaspoon salt
1 teaspoon granulated sugar, (optional)
Instructions
Pulse all ingredients thoroughly in a

food processor

until it's reached your preferred texture. (You can also use a blender)

Refrigerate for a minimum of 30-60 minutes, the longer the flavors can blend together, the better!

Serve with your favorite Mexican foods and enjoy!
Nutrition
Calories: 55kcal, Carbohydrates: 12g, Protein: 2g, Sodium: 594mg, Potassium: 518mg, Fiber: 2g, Sugar: 7g, Vitamin A: 1760IU, Vitamin C: 35.9mg, Calcium: 35mg, Iron: 1mg