Restaurant Salsa
This Restaurant salsa recipe is by far the best one out there- it tastes just like it's straight from the kitchen of a Mexican Restaurant.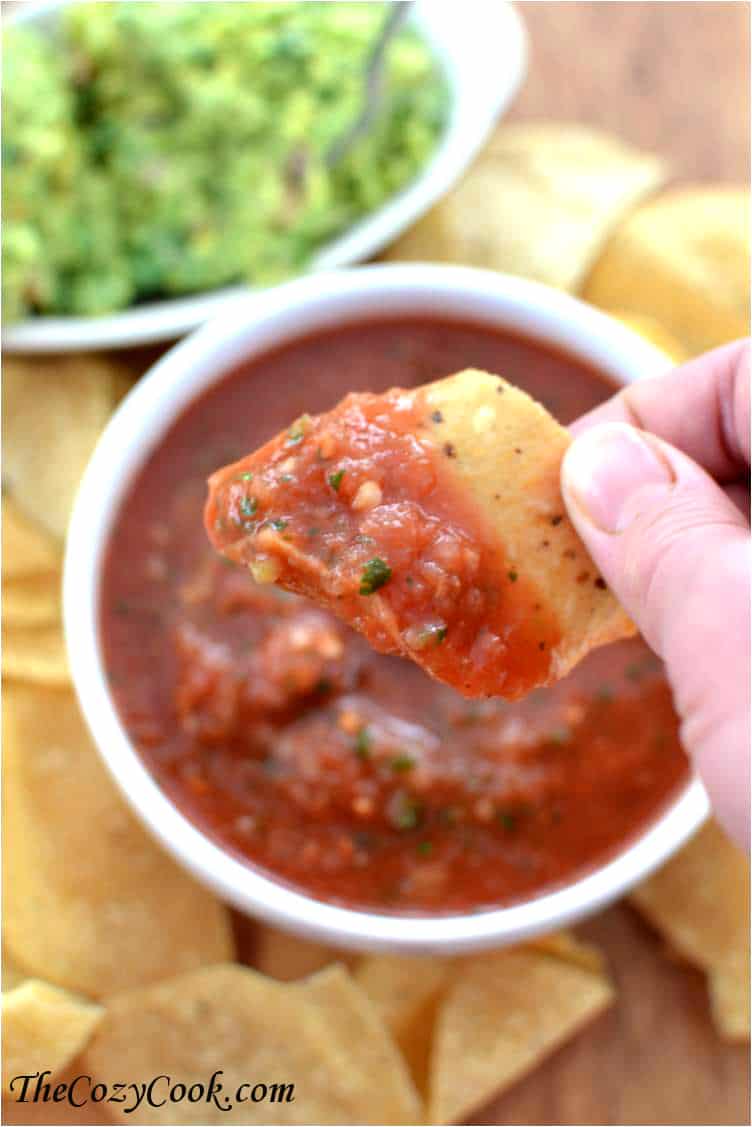 It's amazing how much time we spend around the people that we work with. I work in an office, and my seat happens to be in an aisle that is filled with people from another group. So I don't really know them. (Except, I DO, because I can hear their conversations all day.) -And it's actually pretty entertaining. There are two chatty Cathys, and in the middle of them is this kid that tries like hell to avoid being involved in their conversations by putting headphones in, but it never works. And it's hilarious.  BAHA…. ahhh it's funny. Every time.
I tell you this because one of these girls likes to talk about the salsa lessons that she takes during the week . And man oh man… without fail, after a few mentions of the word "salsa", I'm on my phone texting the hubs that we need to get our butts to get some Mexican food after work. Specifically, a place that serves free chips and salsa. It's my weakness. Just mention the word a few times and that's it, I'm done. (Pretty sad.)
Until now, I've always felt like restaurants have the best salsa. I've tried every store bought salsa that there is and it's just never, ever as good. I thought maybe it was a mental block… that I just "think" the restaurants have better salsa. But nope. That theory has officially been proven wrong with this recipe. This is JUST like you'd get at a restaurant, and it's about dang time I discovered it. My friend Amanda, The Chunky Chef, introduced the recipe to me…thank god. Because it gets expensive to have to go out every time the girl at work talks about her salsa lessons. Right? (I gotta get me some willpower.)
MY LATEST VIDEOS
Oh, and for my latest Cozy Creations, Giveaways, and more, follow me on Facebook, Twitter, & Instagram! And signup to receive my latest recipes right to your inbox…it's free 😉
Servings: 4 cups
Restaurant Salsa
Course: Appetizer
Cuisine: Mexican
Keyword: Homemade Salsa, Restaurant Salsa, Salsa
This Restaurant salsa recipe is by far the best one out there- it tastes just like it's straight from the kitchen of a Mexican Restaurant.

Ingredients
28 oz. whole plum tomatoes, with the juice 1 large can
1 small white onion peeled and roughly chopped
1-2 jalapeño peppers diced, with seeds removed
3 cloves garlic chopped
2 Tablespoons lime juice
1-2 handfuls fresh cilantro roughly chopped
1½ teaspoons ground cumin
1 teaspoon salt
1 teaspoon granulated sugar (optional)
Instructions
Pulse all ingredients thoroughly in a

food processor

until it's reached your preferred texture.

Refrigerate for a minimum of 30-60 minutes, the longer the flavors can blend together, the better!

Serve with your favorite Mexican foods and enjoy!
Recipe Notes
Leftovers should be stored in an airtight container in the fridge for up to 5 days.
Recipe Source: The Chunky Chef
Nutrition Information
Calories:
55
, Sodium:
594mg
, Potassium:
518mg
, Carbohydrates:
12g
, Fiber:
2g
, Sugar:
7g
, Protein:
2g
, Vitamin A:
35.2%
, Vitamin C:
43.5%
, Calcium:
3.5%
, Iron:
5.7%