Lemon Pepper Wings
These lemon pepper wings are ultra crispy and brushed with a simple combination of lemon and butter, then topped with freshly ground pepper. This post also includes tips on how to perfectly grill, bake, and fry the perfect crispy chicken wing. 

You know what's kind of annoying? Being a food blogger and having a picky husband and finicky toddler to feed. There are like 5 things that my husband wants to eat. Buffalo chicken pizza, hot dogs, burgers, steak, and chicken wings.
Of those things, I've made him chicken wings the least amount of times, because I've never been able to get them to come out right. But that has all changed. I have finally created the perfect chicken wing, I kid you not. The secret is to fry these bad boys twice. Now I do have instructions on how to bake and how to grill chicken wings in this post, so fear not, but you have to try them fried first. Then you're allowed to do whatever you want. Deal?
Now you don't just fry them twice. There is a method to this madness. It's not the quickest method known to man, but all good things are worth waiting for and these is definitely worth it. Not to mention, there is an easy make ahead trick:
My make-ahead trick:
The longest part about making these chicken wings is the time it takes to fry them the first time, because it's a low and slow process. But this is the best way to make sure that your chicken wings are juicy on the inside. After that part is over, you let them cool down before you fry them again, and this is where you can refrigerate or freeze them. When you're ready to serve them, the last frying session takes just 10 minutes so they can be ready in a flash.
How long to fry chicken wings:
A perfectly cooked, juicy, and ultra-crispy chicken wing needs to be fried two times, each at a different temperature and for a different amount of time.
The first frying session needs to occur for about 25-30 minutes in oil that is just gently bubbling at 250-275 degrees. This cooks the chicken wing but maintains juiciness on the inside of the wing. The outside skin begins to brown slightly, but isn't very crispy. That's what round two is for.
Let the chicken wing cool completely, and then fry in the same oil at 400 degrees, at a more rapid boil. This will crispy up the outside and takes about 10 minutes. And that, is how you obtain the absolute perfect chicken wing.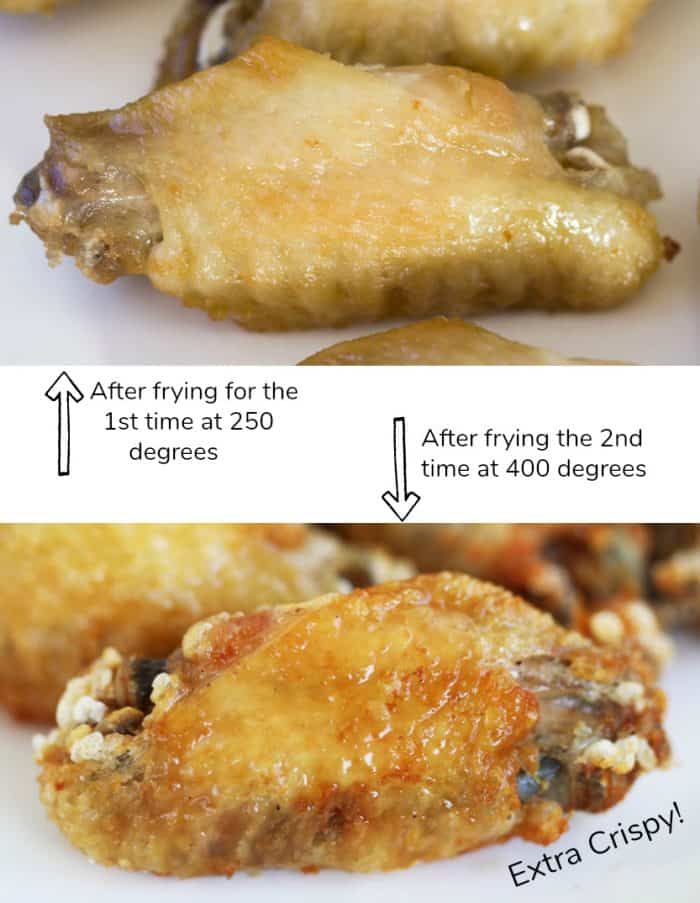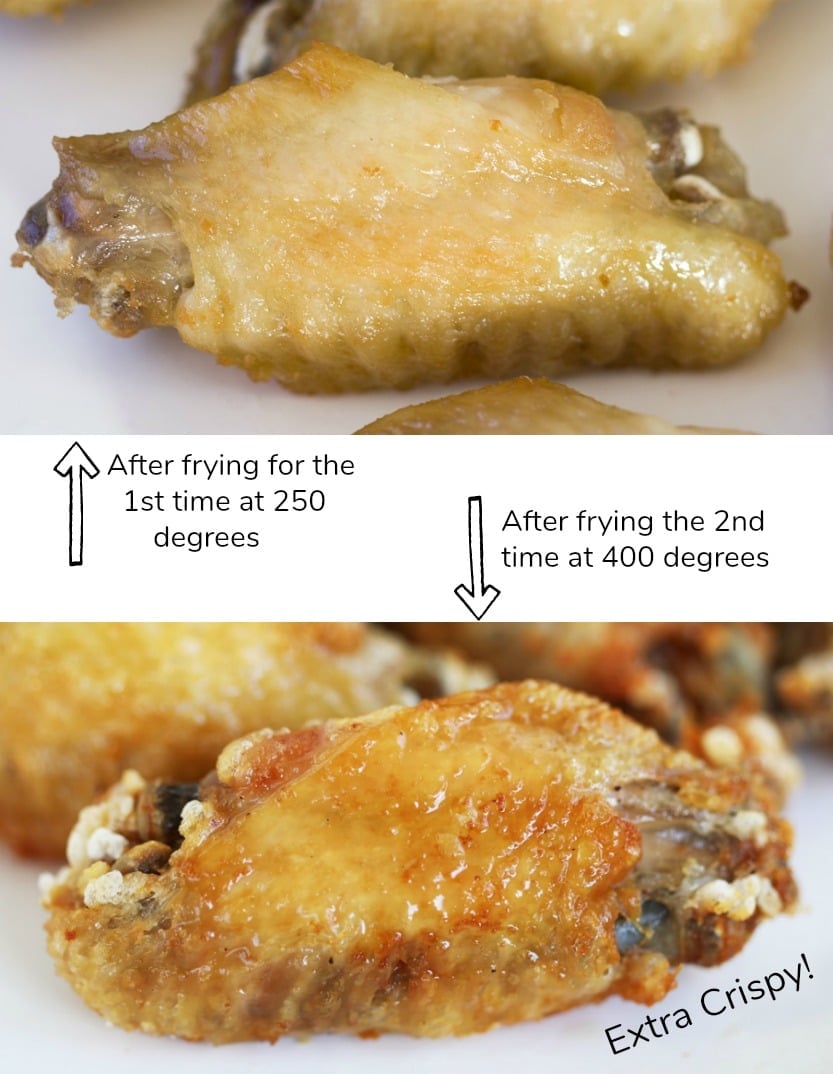 How to bake chicken wings:
Preheat oven to 400 degrees. Place about ¼ cup of canola or vegetable oil in a large bowl and toss the wings in to coat. Place the wings on a baking sheet and bake for 50-60 minutes, until crispy.
How to grill chicken wings:
Contrary to popular belief, it's best not to oil your grill grates before grilling. These guys can tell you why.
Heat your grill to medium, (about 350 degrees).
Place the wings on the heated rack and close the lid for about 5 minutes, then use stainless steel tongs to gently lift up the bottom of one of the wings to see if it's sufficiently charred- some cook faster than others so you may not flip them all at the same time. Repeat this by covering and cooking, then checking.
Once the wings are charred to your liking, flip the wing over and cook the other side. The internal temperature should be 165 degrees, so use a meat thermometer if you have one.
The total cook time is 20-50 minutes. If some of the wings are done before others, move them to a cooler part of the grill.
There you have it, everything you need to know about creating perfectly crispy chicken wings. And now that we share this bond, I'd love for you to join my free email list to get a weekly email with my new recipes! (And heck, like my Facebook page while you're at it, follow me on Instagram, and join my on Pinterest!)
PST: If you're a lemon lover, you've gotta try my chicken piccata recipe next!
Check out my other recipes!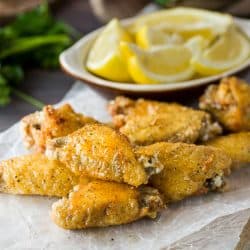 Servings: 4 servings
Lemon Pepper Wings
Course: Appetizer
Cuisine: American
Keyword: Lemon Pepper Wings
These lemon pepper wings are ultra crispy and brushed with a simple combination of lemon and butter, then topped with freshly ground pepper. This post also includes tips on how to perfectly grill, bake, and fry the perfect crispy chicken wing.
Ingredients
1 quart canola oil can sub vegetable oil
3 lbs. chicken wings uncooked (equal to 20 wings)
½ cup butter melted
¼ cup lemon juice
1 tbs Lemon pepper seasoning
Instructions
Heat the canola oil in a dutch oven to 250-275 degrees, which is about medium-low. It should bubble gently when the chicken is added to it so adjust the heat accordingly as needed.

Use stainless steel tongs to carefully place the chicken wings, 6-7 at a time, into the heated oil. The temperature of the oil will drop temporarily when the chicken is added so give it a few minutes to rise back up.

The wings will cook slowly, which will maintain the moisture inside of the chicken and prevent them from becoming too dry. Cook for approximately 25-30 minutes, until the outside begins to brown slightly. Use the tongs to remove them from the oil and place them on a paper towel-lined plate to allow excess oil to drip off.

Let the wings cool completely. From here, you can freeze or refrigerate until ready to serve if not serving immediately. This is a helpful prep-ahead step.

Reheat the oil, but this time, increase the heat to just above medium, we want a 400 degree temperature here and a more rapid boil (though not too much, use caution as hot oil can splatter).

Carefully lower the wings back into the heated oil and boil in batches of 6-7 until crisp, about 10 minutes.

Remove them and place on another paper towel-lined plate.

Combine the melted butter and the lemon juice and use a pastry brush to brush each chicken wing with the mixture, then top with lemon pepper seasoning.

The wings will absorb the lemon butter and will appear to be coated in a dry rub, making them easy to eat and cleaner to serve!
Nutrition Information
Calories:
996
, Fat:
80g
, Saturated Fat:
30g
, Cholesterol:
322mg
, Sodium:
451mg
, Potassium:
566mg
, Carbohydrates:
2g
, Protein:
62g
, Vitamin A:
24.2%
, Vitamin C:
10%
, Calcium:
5.4%
, Iron:
18.8%