This easy Crab Rangoon recipe can be baked, fried, or air fried. You can even make it ahead of time! This easy appetizer idea is perfect for feeding a crowd.
Be sure to try my SWEET Cream Cheese Wontons and my Crab Rangoon Dip recipes next!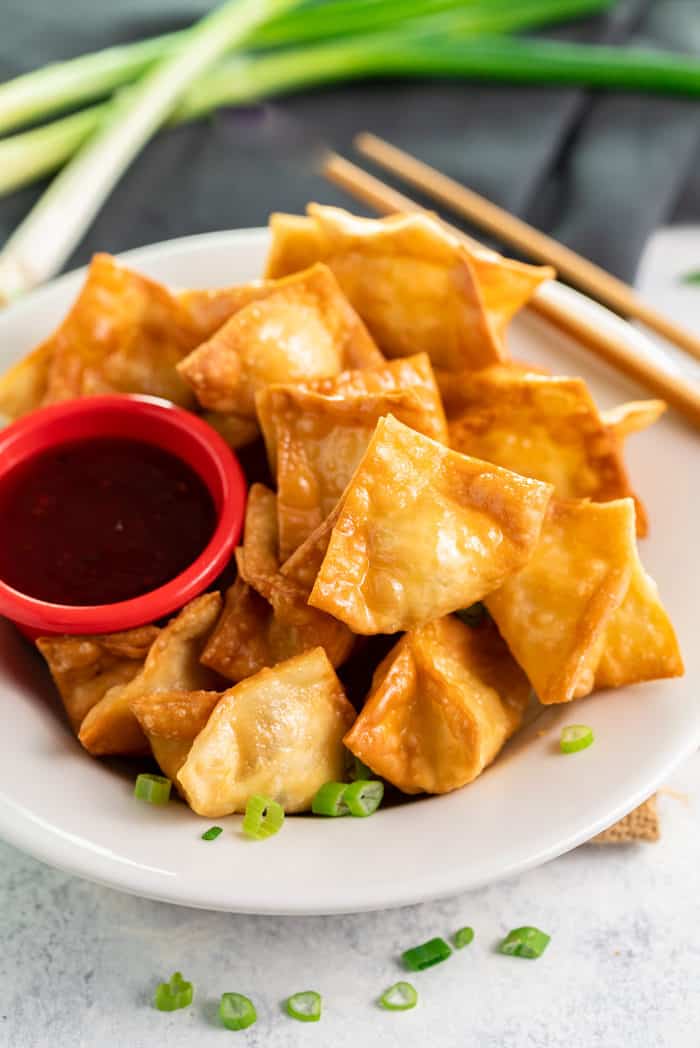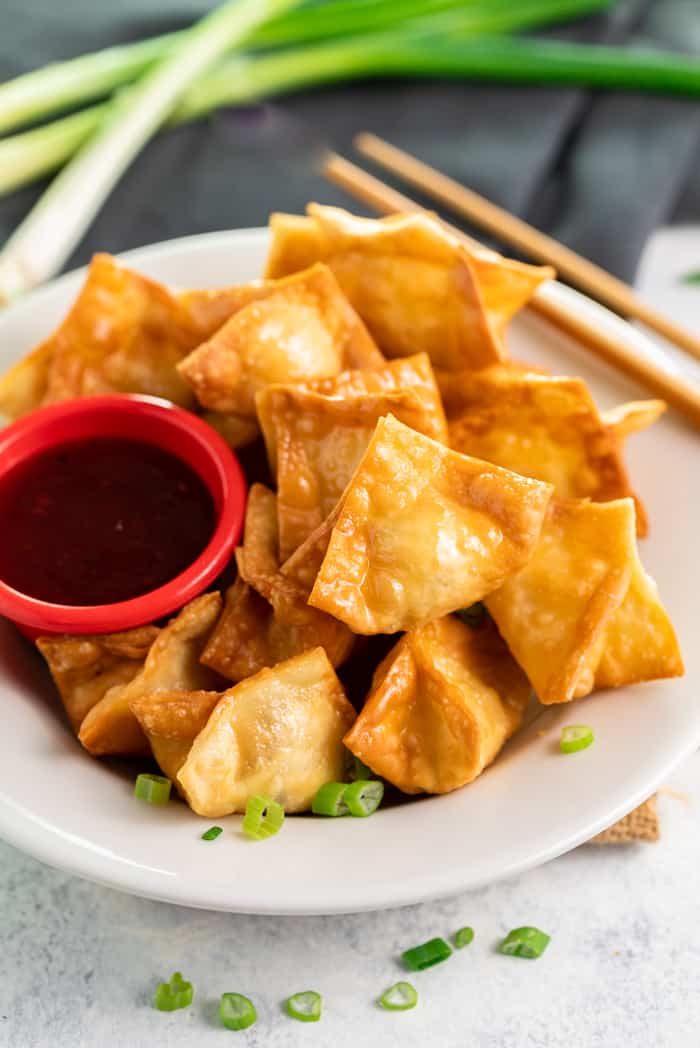 Crab Rangoon
This is definitely one of my favorite appetizer recipes, but I usually forget about until the New Year rolls around! Thank goodness for a yearly reminder. 😊
The ingredients are simple, you can prepare these ahead of time, and if you'd rather, you can even make it in dip form!
Let's get to it!

How to Fold Crab Rangoon
There are lots of ways to fold wontons, this method is my preferred way!
Cover any wonton wrappers that you're not actively folding with a dish towel as they dry out quickly.
Place 1 tsp of filling in the middle of each one.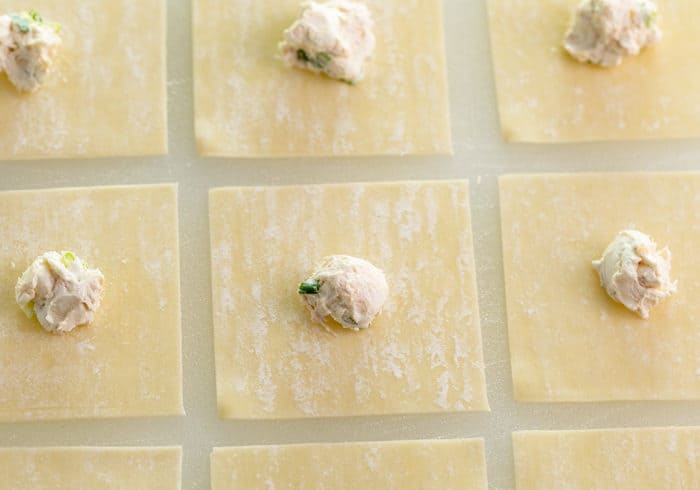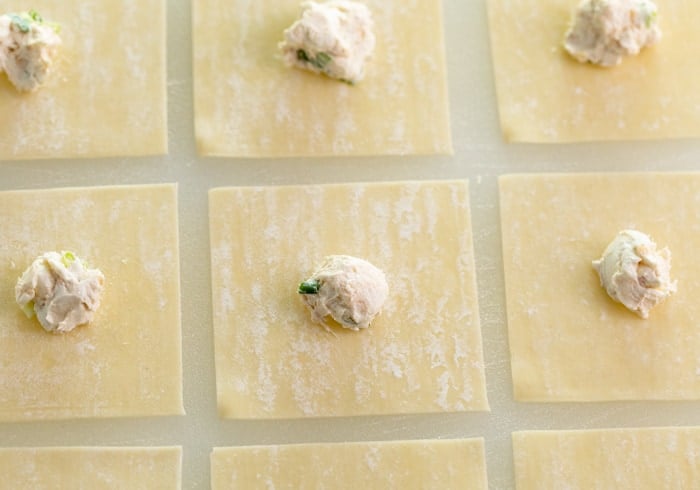 Dip your fingers in egg wash and moisten the edges all around the wonton to create a sticky surface.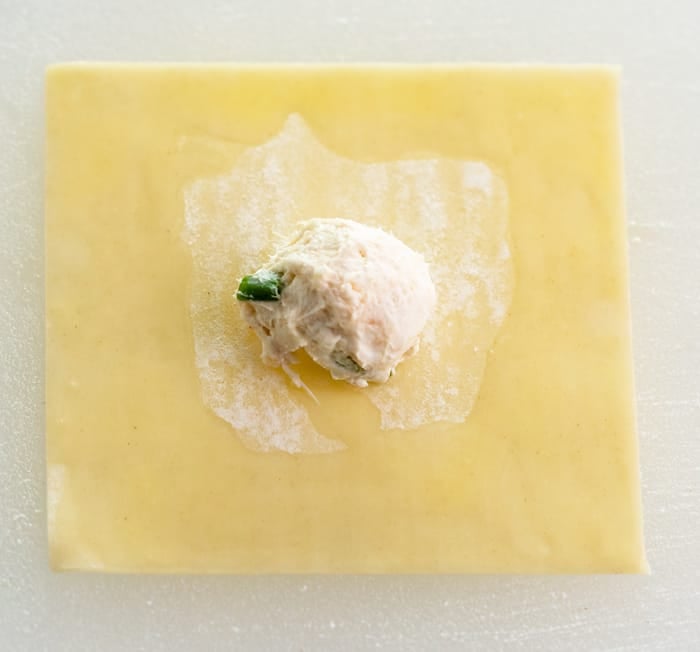 Fold one of the corners up and connect it with the other corner to form a triangle.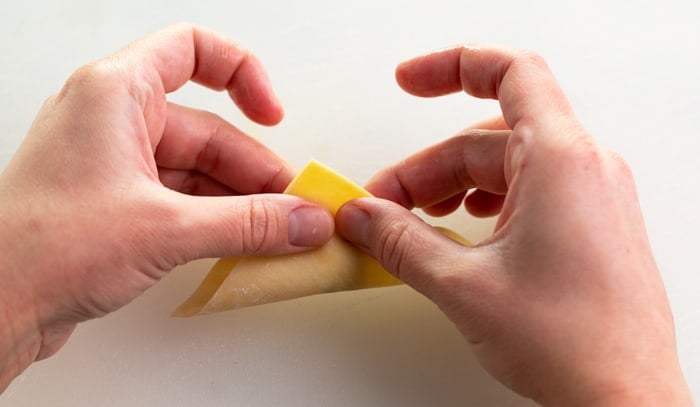 Press to stick together.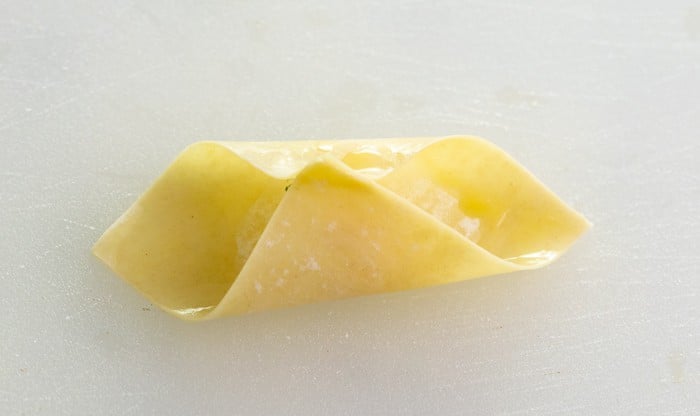 Connect the left and right corners to the top and press the edges to seal out all of the air.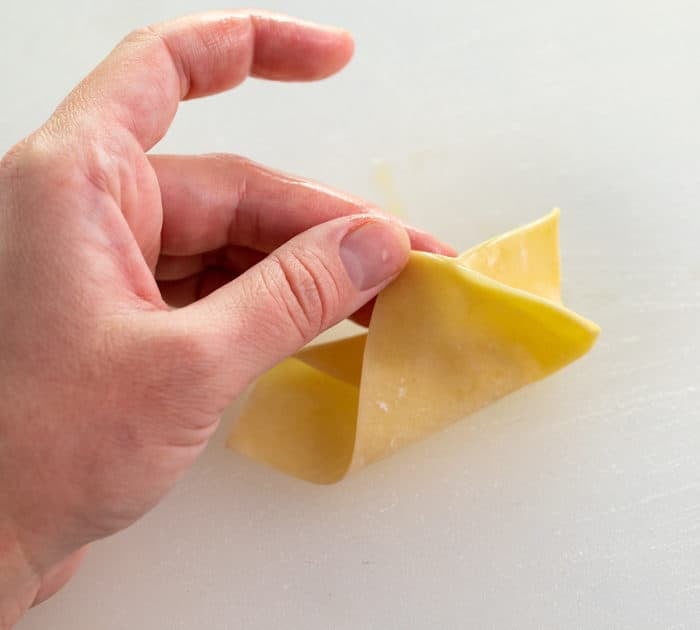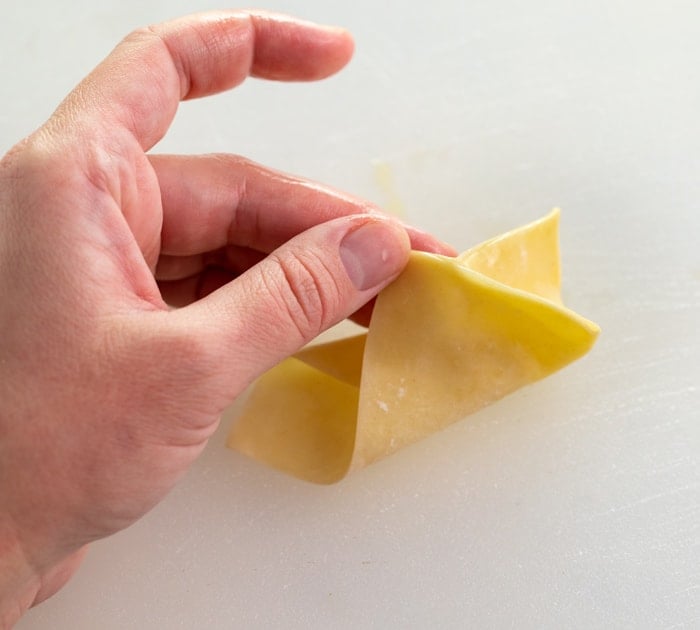 Repeat for all wontons.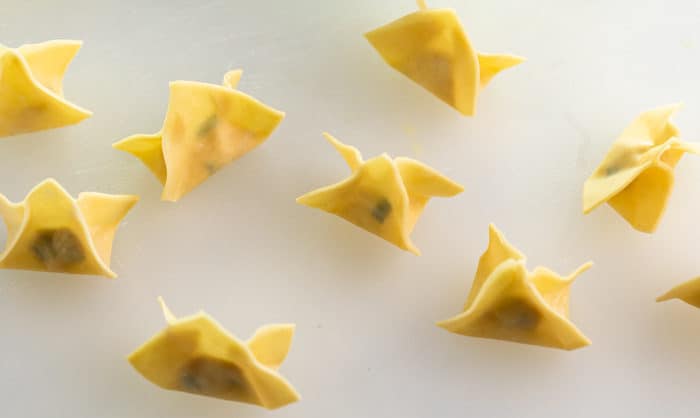 Fry or bake, and serve with sweet and sour sauce!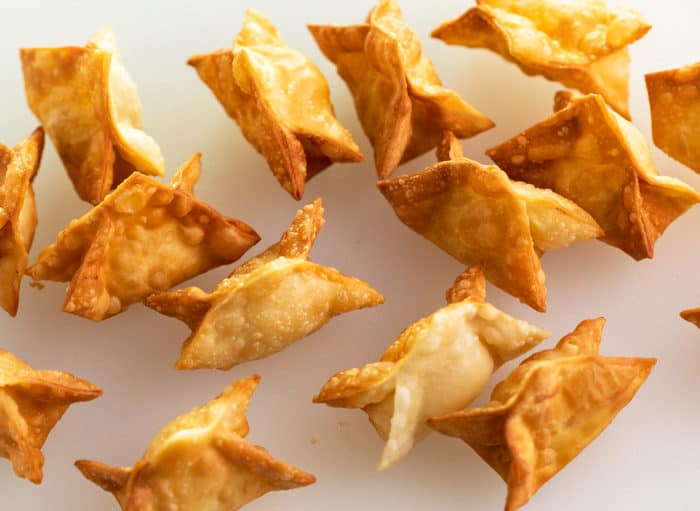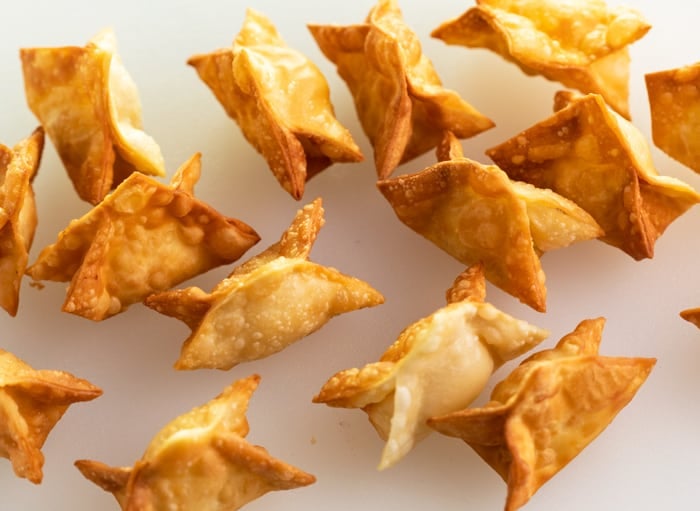 Where to Find Wonton Wrappers
These are usually located in the refrigerated area of the produce section where they have tofu, egg roll wrappers, and refrigerated salad dressings.
Filling Ideas for Wontons
My sweet Cream Cheese Wonton recipe proves that sweet combinations are just as delicious as savory ones! Here are some filling options to get creative with for this recipe:
Cream Cheese + Nutella
Cream Cheese + Diced Pineapple
Strawberry Cream Cheese or blueberry jelly + cream cheese
Cream Cheese + Powdered Sugar + Orange Marmalade
Cream Cheese + Garlic Powder + Onion Powder + Cheddar Cheese (A savory option)
Make-Ahead Method
Once they're folded, simply place uncooked Crab Rangoon onto a baking pan or plate, flash freeze them for an hour, then slide them into a freezer bag or Tupperware container. This allows them to be stored together without sticking to one another.
When ready to serve: Remove them from the freezer, let let them thaw for a few minutes, then simply fry or bake. Poof! Homemade Crab Rangoon whenever you feel like it.
Storage
Refrigerating:
Wonton wrappers dry out very quickly unless they have been cooked, so only store them in the fridge if you have already baked/fried them.
Freezing:
Before Cooking: (Recommended)
Place the filled & folded wontons on a plate or tray and flash freeze them for about 15 minutes. They can then be stored in a freezer bag or airtight container without sticking to each other.
These can be fried in their frozen state. To bake them, let them sit at room temperature for about 10 minutes, then or baked at 375 degrees for 10-12 minutes.
After Cooking:
Place the cooked wontons on a plate or tray and flash freeze them for about 15 minutes. They can then be stored in a freezer bag or airtight container without sticking to each other.
To reheat, place them on a baking sheet and bake at 300 degrees for 8-10 minutes.
Reheating:
To reheat refrigerated Crab Rangoon, place them on a baking sheet and crisp them up in the oven at 300° for about 5 minutes.
Frozen crab rangoon can also be reheated at 300°. Cover with foil and bake for 5 minutes, then remove the foil and bake until crispy, about 4-5 more minutes.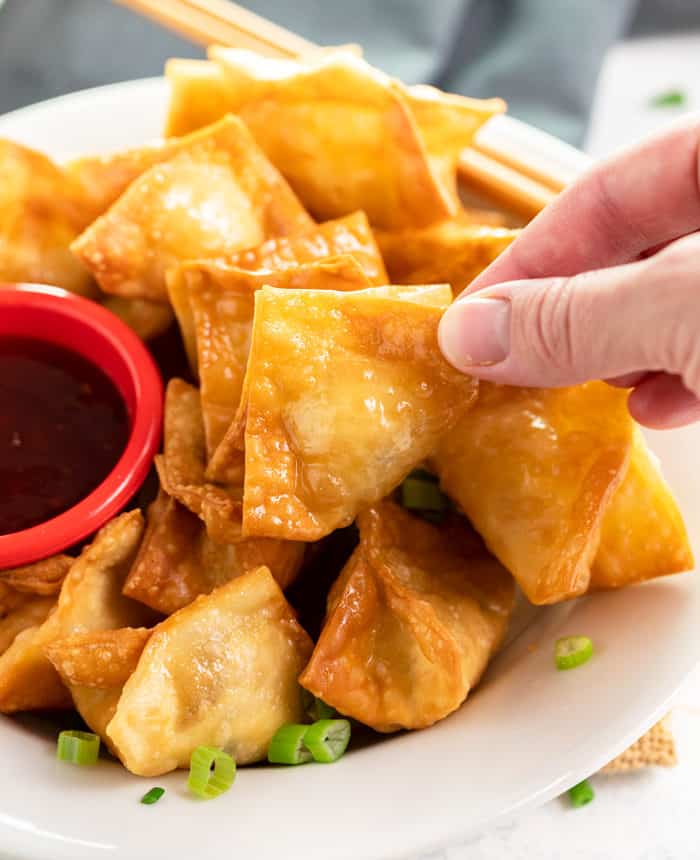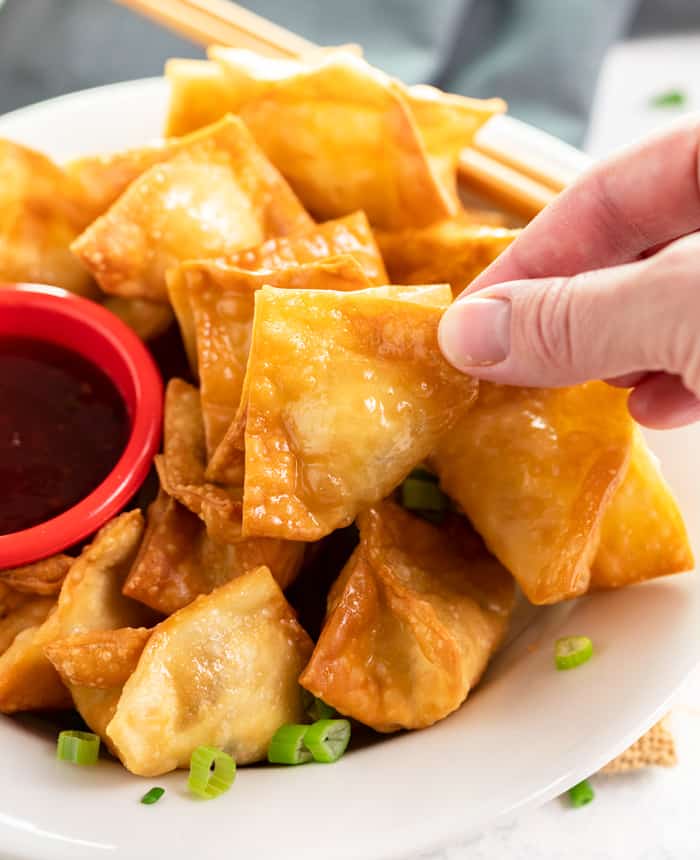 Tools For This Recipe

(Amazon affiliate links)- Check out all of my kitchen essentials here.
Try These Next!
Get My Free Meal Plan
I've got a Free Meal Plan with 7 of my super popular recipes (complete with grocery list)! Sign up for my email list and I'll send it over now along with weekly dinner recipes!
And follow me on Facebook, Instagram, and Pinterest!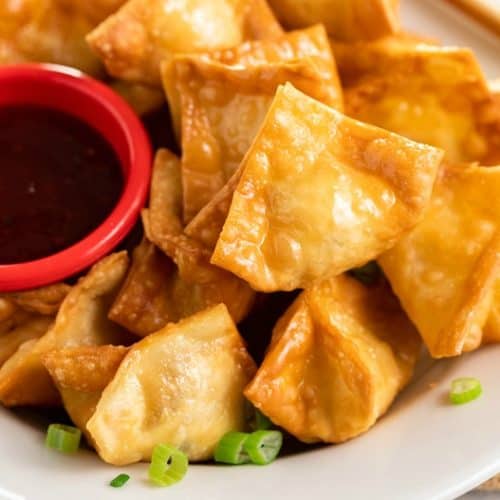 Crab Rangoon Recipe
Crispy wontons are baked or fried to golden perfection and filled with an easy cream cheese Crab Rangoon filling. Plus, they're easy to make ahead of time for seamless entertaining!

Ingredients
Filling
8 oz. cream cheese, softened
3 oz. fancy crab meat, drained and crumbled
2 green onions, finely chopped
1.5 teaspoons minced garlic
1/2 teaspoon Worcestershire sauce
1/2 teaspoon soy sauce
1 teaspoon sugar
1 12 oz. package Wonton wrappers, see notes
Other
1 egg, whisked with a splash of water
1 quart canola oil
Instructions
Place wonton wrappers aside and combine all other filling ingredients in a medium bowl.

Place 1 teaspoon of filling in center of each wonton.

Moisten the edges of the wonton with a little bit of the egg/water mixture (i.e. egg wash). Fold in a triangle and press to seal- removing air from the inside. Use the egg wash like a glue as you assemble.

Take the left and right sides of the triangle and pull them up, attaching them to the existing seal on the top. Then press along the edges to close any areas where the filling could be exposed to air. Here is an alternative folding method. Repeat, setting aside on a plate.
To Fry:
Deep fryers

work great with these, however if you don't have one, heat 2-3 inches of vegetable oil in a dutch oven until it is just under 350 degrees. (I put my electric stove to just under the medium-high mark).

You can use an extra wonton wrapper to test the temperature. Place it in the oil and ensure that it doesn't cook too quickly or burn. Adjust the heat accordingly if needed.

Fry 4-5 wontons at a time, each for about 45 seconds to a minute, (or until golden brown).

Place them on a plate lined with paper towels to cool.
To Bake:
Preheat oven to 375 degrees. Spray a baking sheet with nonstick cooking spray and place the sheet in the oven for about 5 minutes. Heating the sheet will ensure that the wontons are nice and crisp on the bottom when they bake.

Remove the baking sheet from the oven and place the wontons on top. Coat the wontons with a light layer of nonstick cooking spray.

The wontons will need to bake for about 10-12 minutes, however it's best to start checking on them after 5 minutes. Remove them from the oven when they are crisp and golden brown. Serve warm with sweet-sour sauce or mustard sauce.
To Air Fry:
Brush each wonton lightly with vegetable or canola oil. Air Fry at 370 degrees for 7-8 minutes, until slightly browned and crispy. Serve!
Notes
Wonton wrappers are usually located in the refrigerated area of the produce section where they have tofu, egg roll wrappers, and refrigerated salad dressings.
Nutrition
Calories: 76kcal, Carbohydrates: 8g, Protein: 2g, Fat: 3g, Saturated Fat: 1g, Cholesterol: 21mg, Sodium: 134mg, Potassium: 41mg, Vitamin A: 140IU, Vitamin C: 0.4mg, Calcium: 21mg, Iron: 0.6mg