Crispy Crab Rangoon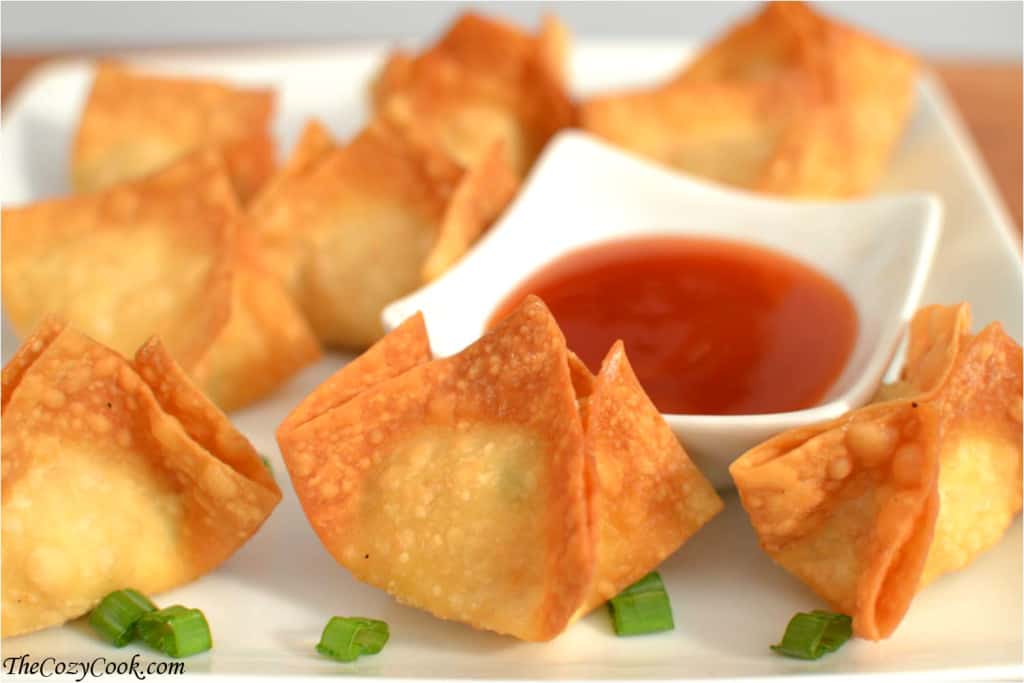 How did I ever survive before I learned how to make crab rangoon? There are few things better to make at home than this recipe, I can't even lie about it. Just talking about is a killer- because I'm instantly hungry. It's so crispy on the outside, and so warm and creamy on the inside. The ingredient list is short, and you can even freeze them prior to baking or frying so that they're ready for your future snacking needs- (extra impressive if you can whip them up for some unexpected guests!)
When it comes to making Chinese Food at home, I've learned to master Chinese Chicken Fingers, Pork Fried Rice, Chow Mein, Spicy Asian Chicken Meatballs, crock pot General Tso's Chicken, even Wonton Soup. But this Crab Rangoon is really hard to beat. And it's easy! I personally like to deep fry them, however you could bake them for a healthier alternative. (But I mean, nothing beats a fried wonton. Just sayin.)
To freeze crab rangoon:
Once they're folded, simply slide them into a baking pan or plate, let them freeze, and then you can slide them into a freezer bag or Tupperware. Then, when you're ready to serve them, you can simply remove them from the freezer, let them thaw for a few, and go right into frying or baking them- it works! Poof! Homemade Crab Rangoon whenever you feel like it 😉
What's your favorite dipping sauce for these?
I love sweet & sour sauce…. aahhhhh….
Don't have a deep fryer? This the one I use, I love it (and it's inexpensive).
Crispy Crab Rangoon
This crispy Crab Rangoon is just like from a restaurant and so fun and easy to make at home!
Ingredients:
8 ounces cream cheese, softened
3 oz. fancy crab meat, drained and crumbled
2 green onions, finely chopped
1 heaping teaspoons minced garlic
2 teaspoons Worcestershire sauce
1/2 teaspoon soy sauce
1 (12 oz.) package Wonton wrappers – Found in the produce section with the refrigerated items
Directions:
Place wonton wrappers aside and combine all other ingredients in a medium bowl.
Place 1 teaspoon filling in center of each wonton skin.
Moisten the edges of the wonton with a little bit of water. Fold in a triangle and press to seal- removing air from the inside.
Take the left and right unsealed sides and pull them up, attaching them to the existing seal on the top. Then press along the edges to close any areas where the filling could be exposed to air (You can really fold a number of different ways as long as the seals are firm) Repeat, setting aside on a plate.
Place carefully into preheated deep fryer, cooking a few at a time for a few minutes each, until golden brown. Take out and place on side plate to cool. (Although I personally much prefer the deep fried method, you may also bake in oven 400 degrees F oven for 12 to 15 minutes, or until golden brown)
Serve hot with sweet-sour sauce or mustard sauce. SEE?!?! I told you, easy.
All images and text ©
*This post may contain affiliate links