Loaded Cowboy Queso Dip
This easy Homemade Queso Dip is loaded with warm Velveeta, pepper jack cheese, beef, pale ale, Rotel tomatoes, black beans, and fresh cilantro. It's a Cowboy's dream!
Pair this with my homemade salsa, it tastes like it's from a Mexican restaurant!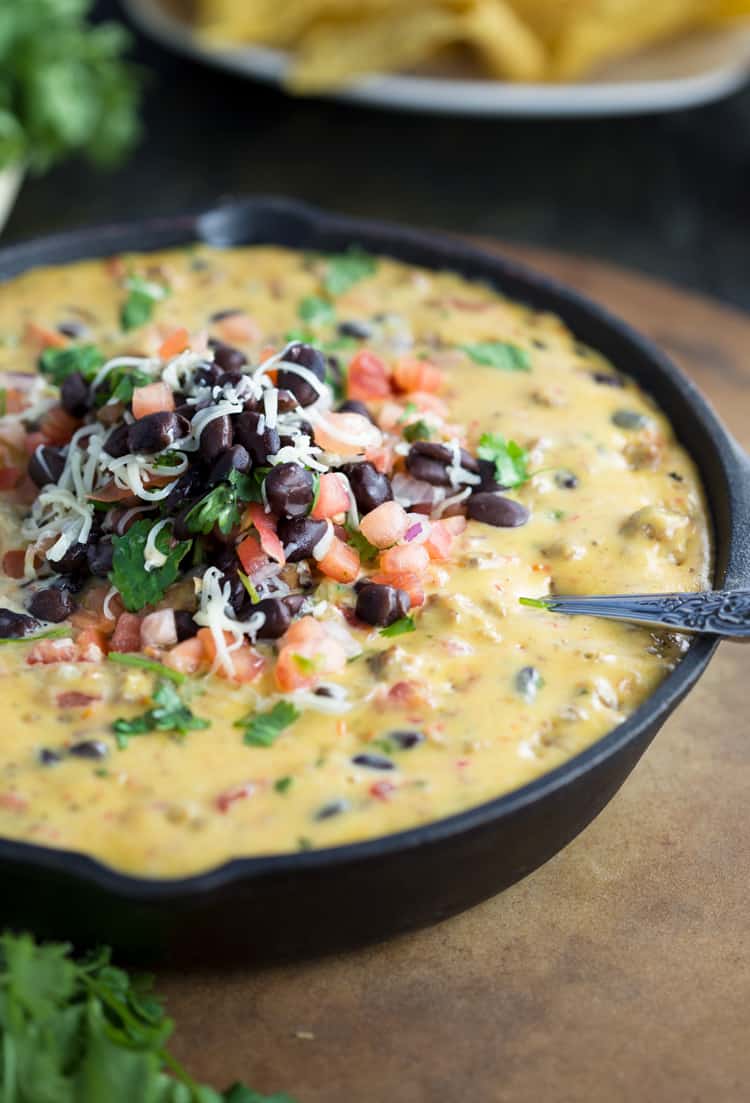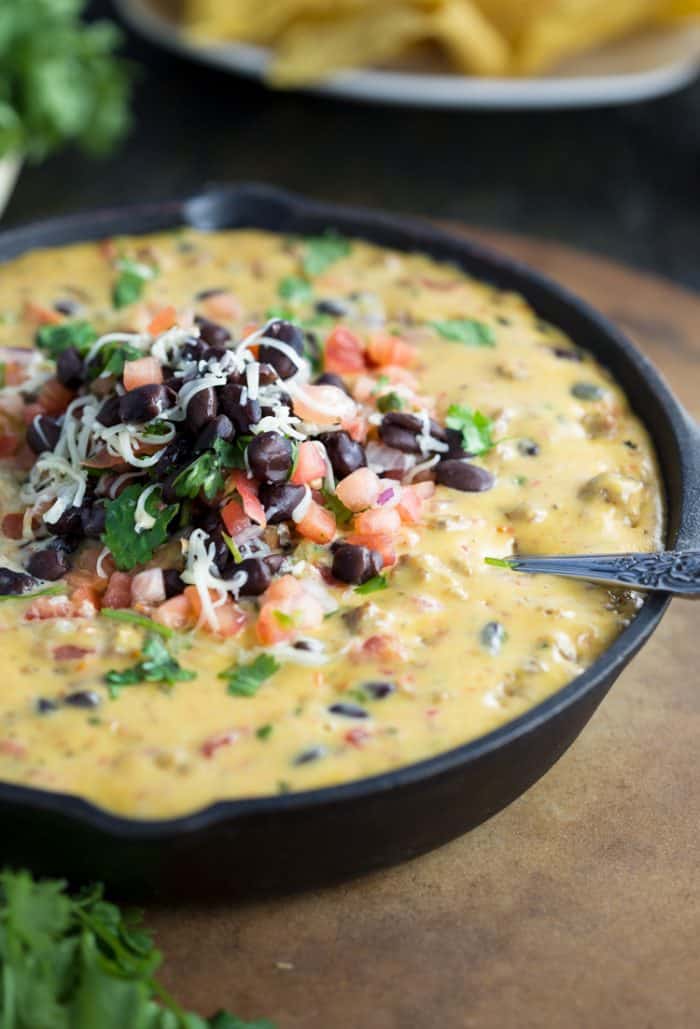 Okay, confession time. I only partake in football-related activities and events for the food. I have tried, (soo many times), to watch that freaking game and get some sort of entertainment out of it, and I just can't. There's just too many whistles and flags and silly ol' things that get in the way of the action. TWO seconds of action for every 30 minutes of TV time in that game, I swear.
Tom Brady, if you're listening, I'm totally kidding. 
…Somehow I feel like this cowboy queso dip doesn't fit into his diet plan. I should be safe.
Crock Pot Queso Dip
Absolutely. Just brown the meat and drain the grease first, the add all remaining ingredients. Heat on high for two hours or on low for 4-5.
This is the Crock Pot that I have which allows you to sear meat on the stove top within the crock pot dish which eliminates cleaning an extra pan. It also automatically switches to warm if once the time is up!
What Can I Use for Beer Substitute?
–Chicken or beef broth make great beer substitutes in this recipe. Root beer or coke adds interesting flavors in place of beer as well.
What Other Meats Can I Use?
If you'd like to experiment with meats other than ground beef, ground turkey works really well. Bacon would also add tremendous flavor.
What's The Best Cooking Vessel For This Dip?
I like to use my 10-inch cast iron skillet for this recipe. Cast iron conducts heat really well and makes everything super flavorful.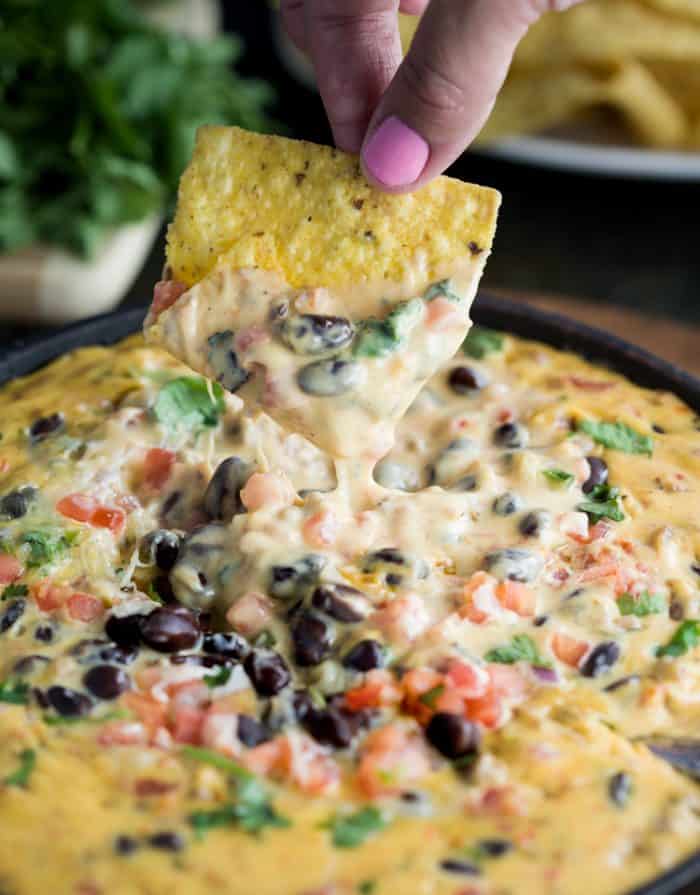 Try These Next!
Follow me!
If you like this recipe, you should probably join my free recipe email list! You'll get just one weekly email with my brand new recipes.
And follow me on Facebook, Instagram, and Pinterest!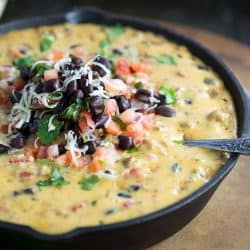 Servings: 6
Cowboy Queso
Course: Appetizer
Cuisine: American, Mexican
Keyword: Dip, Queso
This easy Homemade Queso Dip is loaded with warm, melty velveeta, pepper jack, beef, pale ale, Rotel Tomatoes, black beans, and fresh cilantro. It's a Cowboy's dream!
Ingredients
1/2 lb. ground beef
Salt and pepper, to taste
Pinch of Red Pepper Flakes optional
3/4 cup Pale Ale or your favorite kind of beer
1 16 oz. block Velveeta cheese, cut into 1 inch cubes
1/2 cup Shredded Pepper Jack cheese
1 14.5 oz. can Rotel Tomatoes partially drained
1 cup black beans drained and rinsed
1/4 cup red onion finely diced
1/4 cup fresh cilantro chopped
Instructions
In a large, high-walled skillet over medium heat, brown and crumble the ground meat, adding in desired amounts of salt and pepper.


Once it's nice and brown, drain any excess grease, toss in the crushed red pepper flakes and add the beer. Let the beer reduce for about 4-5 minutes.


Add in the cheese and let it melt and simmer, stirring occasionally.


Once the cheese is melted, stir in the beans, red onions, and cilantro. Add the tomatoes and some of the juice from the can, only if you want it to be a little thinner in consistency. If you've already reached your desired level of thickness, don't add any juice.

Recipe Notes
To Garnish: I like to sprinkle some extras on top, like a few more black beans, tomatoes (or pico de gallo/salsa fresca), grated cheese, red onions, and cilantro. Not necessary, but it looks nice!
You can substitute the ground beef with hot (or regular) pork sausage with the casings removed.
Be sure to pair this with some homemade restaurant salsa!
Nutrition Information
Calories:
352
, Fat:
18g
, Saturated Fat:
10g
, Cholesterol:
66mg
, Sodium:
1276mg
, Potassium:
489mg
, Carbohydrates:
17g
, Fiber:
2g
, Sugar:
6g
, Protein:
26g
, Vitamin A:
17.2%
, Vitamin C:
0.8%
, Calcium:
51.9%
, Iron:
8.4%
Recipe Adapted from The Cookie Rookie