Browned Butter Pulled Pork Sandwiches
This Crock Pot pulled pork simmers with a perfect blend of ingredients until it falls apart by the touch of a fork! It's then served with thick slices of grilled browned butter bread.
This post has been sponsored by Pepperidge Farm®. All thoughts and opinions are my own.
Do you know how magical it is to come home at the end of the day to the smell of slow-cooked pork? Pork that falls apart just by looking at it? Pork that you could wolf down right out of the slow cooker if you didn't have to behave like a semi-normal person in front of your family?
MY LATEST VIDEOS
Now. Imagine this. It's about to get even better. You don't just serve this pulled pork in between two average pieces of bread. No-no-no. This slow-cooker creation deserves much better than that. You scoop this pork onto Pepperidge Farm Farmhouse® Butter Bread that's been grilled in sweet browned butter. Guys, you have no idea. Sweet, crispy butter bread combined with all of the flavors from that pulled pork? It's so good that you might actually cry.
The rich, fresh-from-the-oven tasting slices are slow baked, they're soft and thick, and they hold up perfectly against heaps of this savory pulled pork. Think about it. When your slow cooker has worked for 5-8 hours to make you dinner, you can't blow the meal by serving it with flavorless bread. It just wouldn't be right. Locate your loaf here.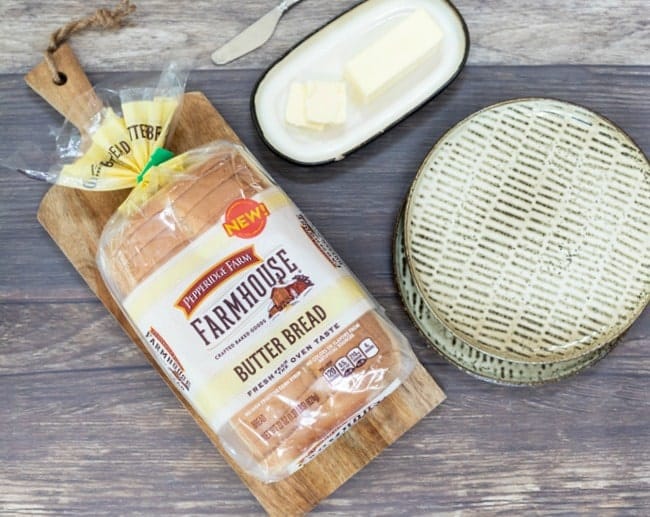 Oh, and the biggest bonus of all? You don't have to slave your night away in the kitchen making dinner. You can spend it eating a good meal with your family and enjoying more family time afterwards. It's a win all around. I think I've made my point.
How to Make Pulled Pork
–Low and slow is the best way to cook pulled pork, and your slow cooker will do the job perfectly in just 5 hours on high or 8 hours on low. The combination of ingredients that you use is very forgiving. Liquid smoke adds a hint of smoky flavor but is also optional. Your favorite barbecue sauce will also add a ton of flavor.
–Pork Shoulder is the best cut for a melt-in-your-mouth consistency that falls apart easily after being slow cooked. Specifically, the Boston Butt Roast is the part of the shoulder that you'll want to look for.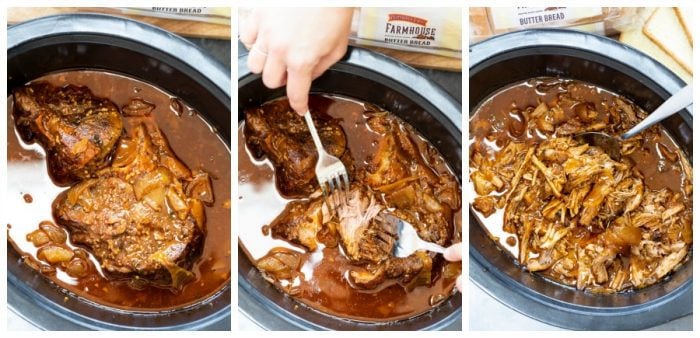 Servings: 7
Crock Pot Pulled Pork
Total Time:
5 hrs 40 mins
Course: Main Course
Cuisine: American
Keyword: Crock Pot Pulled Pork
This Crock Pot pulled pork simmers with a perfect blend of ingredients until it falls apart by the touch of a fork! It's then served with thick slices of grilled browned butter bread.

Ingredients
For the Crock Pot:
1 teaspoon vegetable oil
3 lb. boneless pork shoulder (Cut: Boston Butt Roast)
1 cup barbecue sauce
1/3 cup apple cider vinegar
1/3 cup chicken broth
1/3 cup light brown sugar packed
2 tablespoons garlic minced
1 tablespoon chili powder
1 tablespoon mustard powder
1 teaspoon dried thyme
1 Tablespoon liquid smoke
1 medium yellow onion chopped
For the sandwiches:
1 stick butter
1 Loaf Pepperidge Farm Farmhouse® Butter Bread
Instructions
Place the vegetable oil on the bottom of the crock pot and add the pork.

Combine all crock pot ingredients in a large bowl and pour it over the pork. Cover and cook on low for 8 hours or on high for 5.

Remove some of the liquid from the crock pot if desired and use two forks to pull the pork apart. Cover and set to warm.

Add half of the stick of butter to a large skillet (preferably cast iron), and melt over medium heat. Continue to heat until the butter begins to turn brown and smell sweet. Add two pieces of bread at a time and let them heat and crisp up in the butter for about 3-4 minutes. Once they are golden brown in color, remove them and cook two more pieces. Add the other half of the stick of butter as it becomes necessary, being sure to allow it to brown before continuing.

Scoop a heaping portion of pork on top of the non-buttered side of 7 slices of bread. Drizzle with additional barbecue sauce if desired and top each sandwich with a second piece of bread, buttered-side-up. Serve, and enjoy!
Nutrition Information
Calories:
651
, Fat:
15g
, Saturated Fat:
5g
, Cholesterol:
116mg
, Sodium:
1120mg
, Potassium:
1016mg
, Carbohydrates:
78g
, Fiber:
5g
, Sugar:
30g
, Protein:
47g
, Vitamin A:
8.6%
, Vitamin C:
3.8%
, Calcium:
19.8%
, Iron:
36.3%