This Ham Casserole is loaded with cheesy, creamy rice and perfectly cooked broccoli. It's an easy make-ahead dinner that can be prepared 2 days ahead of time and even works as a one pot meal!
In need of recipes for leftover ham? Try these next!
Chicken Cordon Bleu Casserole |Ham and Potato Soup | Split Pea Soup | Ham and Bean Soup | Ham Soup | Hawaiian Pizza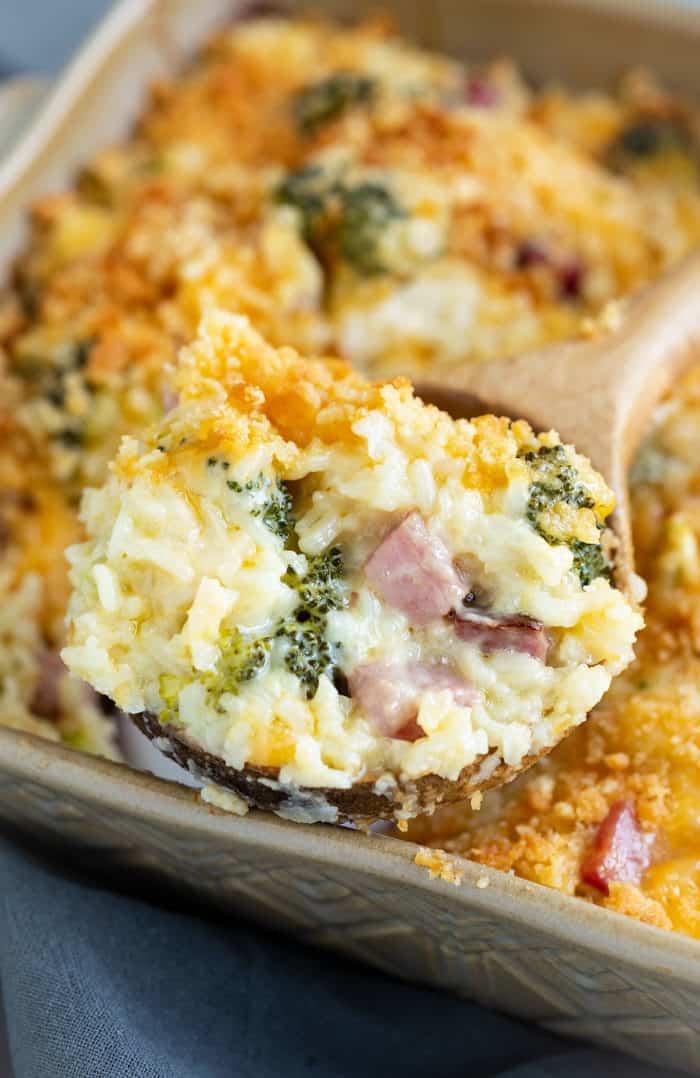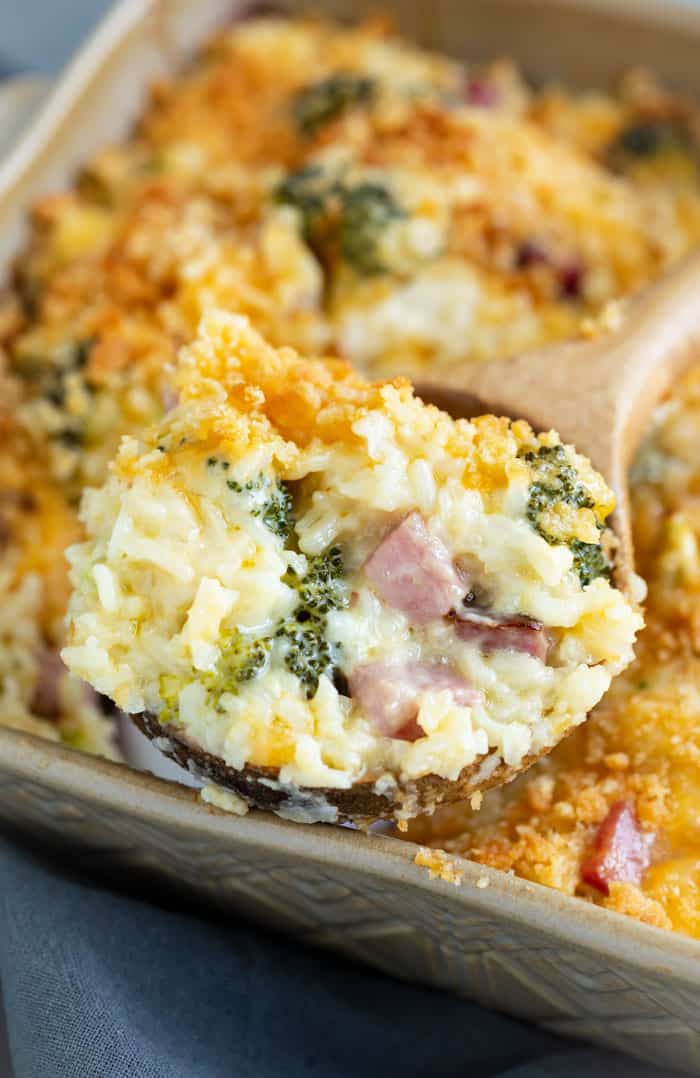 Here are the major perks about this Ham Casserole Recipe:
Prepare and assemble it up to two days ahead of time. I like to prepare it on a Sunday morning and pop it in the oven later that night (or even the next day!)
Easily make it as a one pot meal.
It's a great recipe for leftover ham.
A variety of vegetables work great in here.
Your entire family will absolutely love it.
Ham Casserole Ingredients

See recipe card below for full ingredient amounts and instructions

Butter- (Unsalted if possible)
Olive Oil
Ham
Long Grain White Rice
Chicken Broth- Preferably homemade and low sodium. Water can be used instead as well.
Broccoli- I love using fresh, but you can also use frozen.
Condensed Cream of Chicken Soup- Try my homemade version!
Sour Cream
Milk- Any kind works.
Cheddar Cheese- Always buy a block and shred it yourself for superior flavor and creamy consistency. Heluva Good Cheddar melts nice and creamy.
Ritz Crackers- They make a great crunchy topping. Crispy Fried Onion Tops are great too.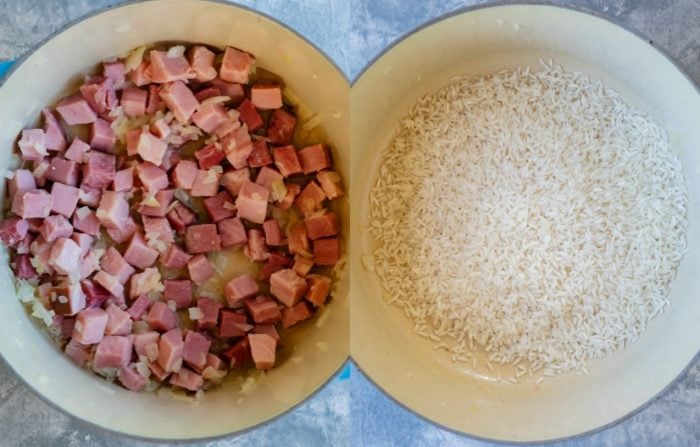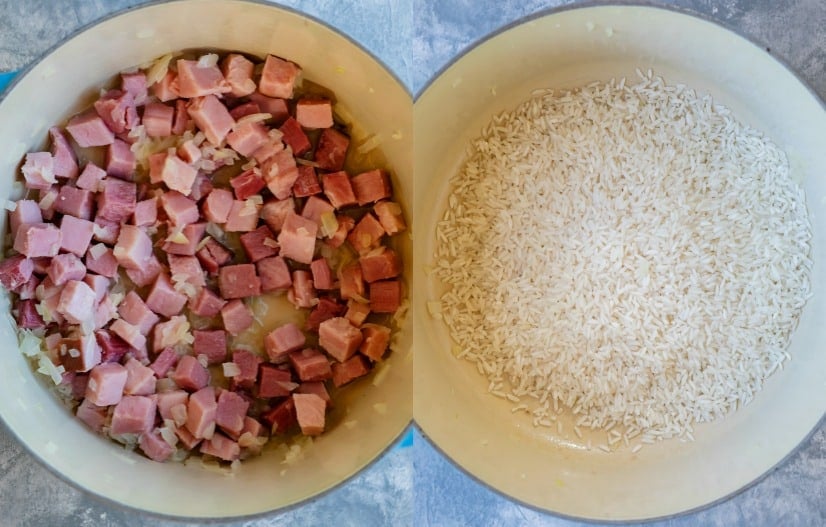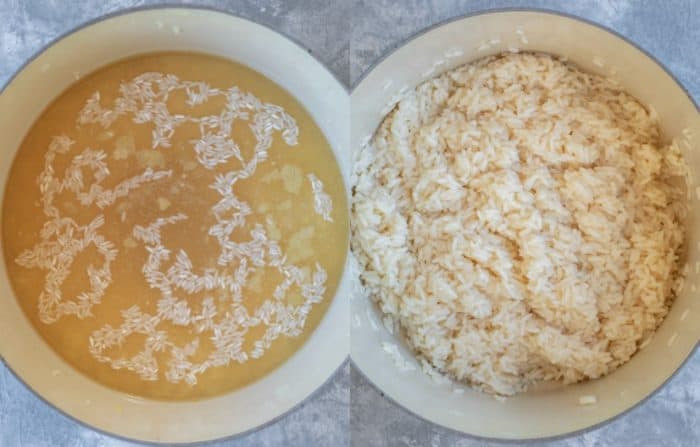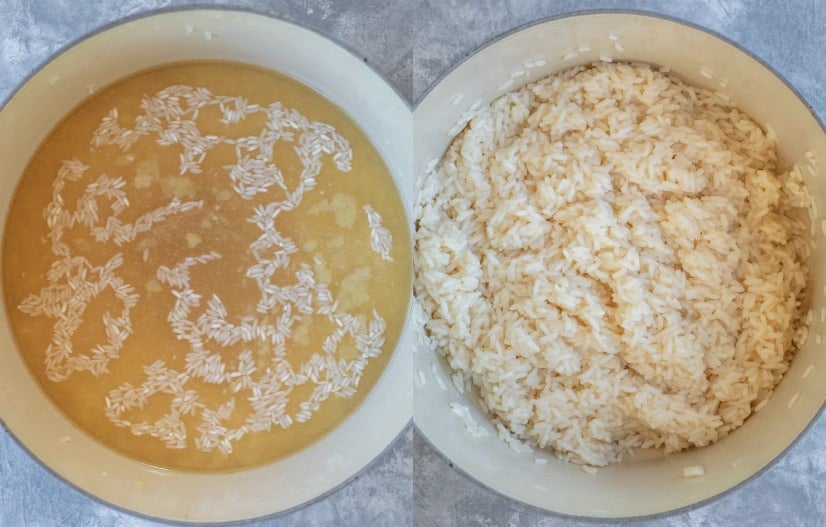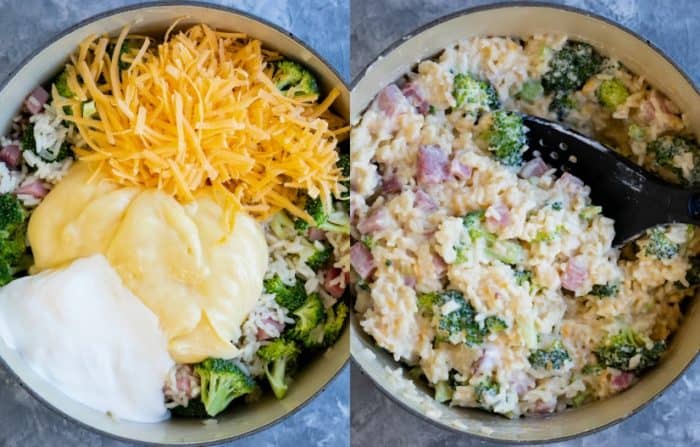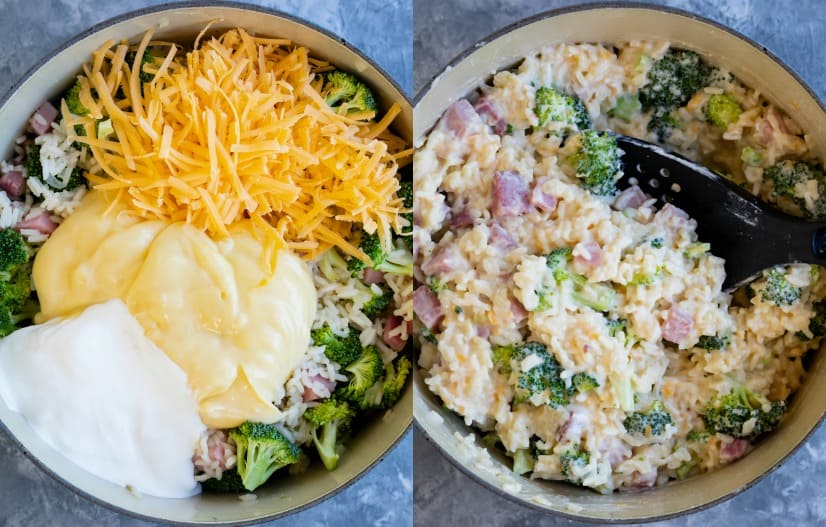 One Pot Ham Casserole
Here's how you can skip casserole dish and cook this as a one pot meal:
Cook the rice for 18 minutes instead of 15.
Add the broccoli to the rice during the last 7 minutes of cooking and replace the lid.
Stir in casserole ingredients as instructed until well-combined.
Top with cheese, close the lid for 10 minutes or until the cheese is completely melted.
Serve, or:
Top with Ritz cracker mix and bake in a 350 degree oven for 10 minutes.

Make-Ahead Method
Refrigerator: This ham casserole can be prepared up to two days ahead of time.
Assemble as outline (don't add Ritz topping).
Cover the casserole with foil and refrigerate until ready to bake.
Add 10 minutes of covered baking time.
Freezer:
Assemble the casserole as outlined and do not bake. Let it thaw for 24 hours in the fridge.
Add 10 minutes of covered baking time.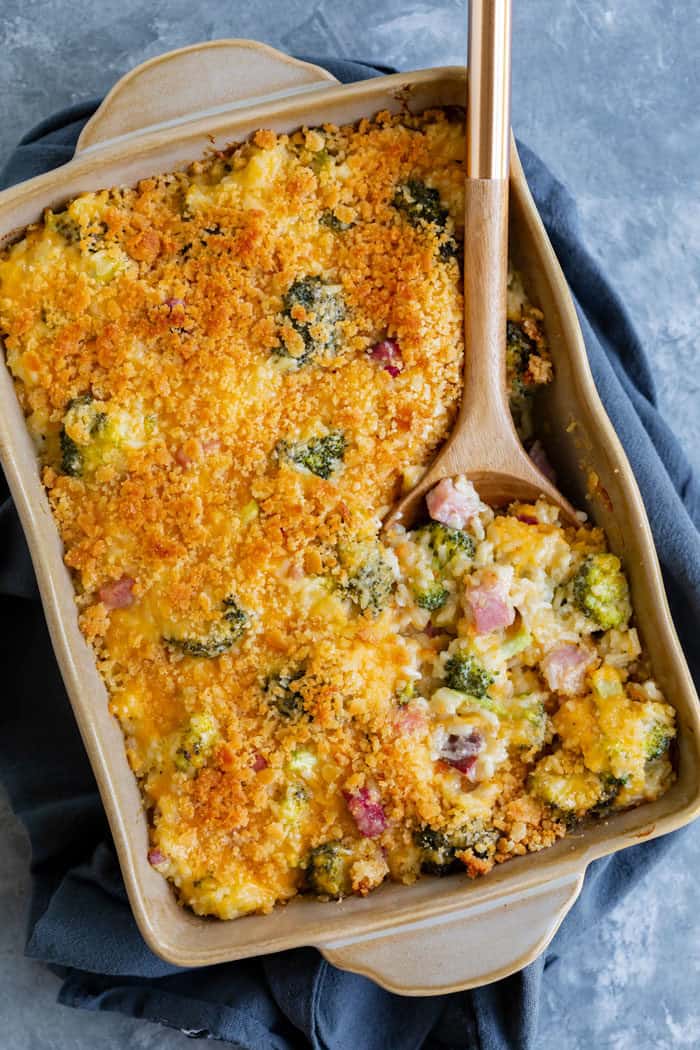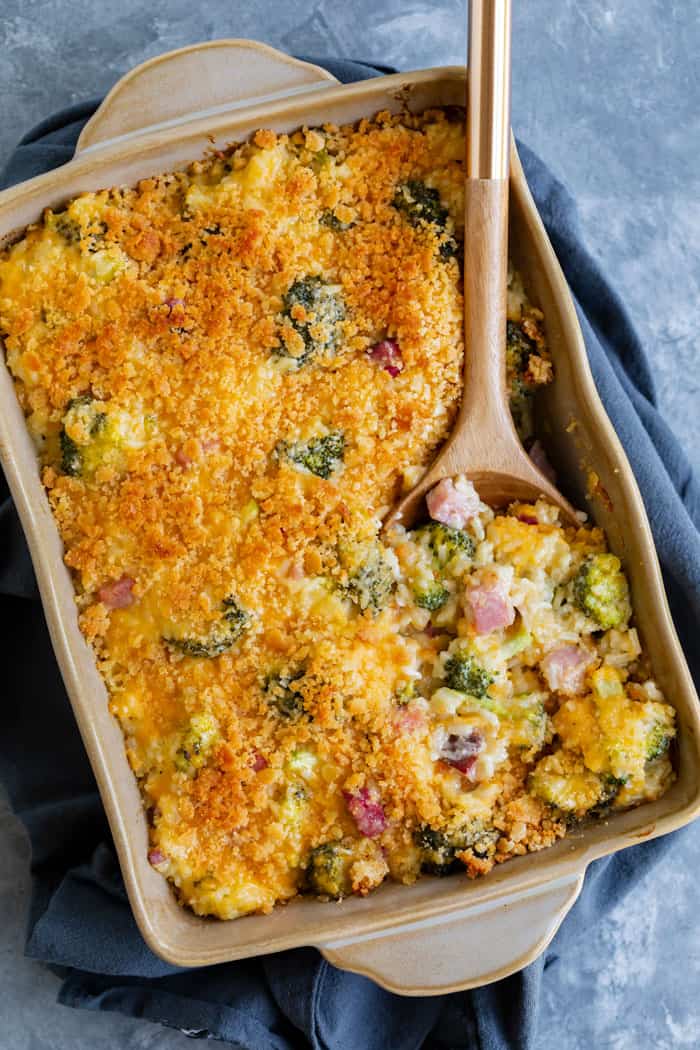 Using Frozen Broccoli
–2 cups of frozen broccoli (and/or cauliflower) can also be used. Just be sure you thaw and pat it dry!
-Frozen broccoli is already blanched so you don't need to cook it prior to mixing the casserole together.
More Tips For Making Ham Casserole
Use white long grain rice, not Instant rice. It has a creamier consistency and better flavor.
Use reduced sodium ingredients (unsalted butter & low-sodium chicken broth, etc.).
Crispy Fried Onion Tops make a delicious topping on this casserole instead of Ritz as well.
Other vegetable options include diced carrots, celery, peas, and green beans.
Other cheese options include cheddar jack, mozzarella, and smoked gouda. A combination of different kinds of these cheeses may also be used. Avoid extra sharp or aged cheeses as they won't melt as well.
If you'd like to use chicken instead of ham, check out my instructions for that in this recipe.
Storage
Store in the fridge for up to 3 days.
This casserole is a great meal to freeze and is best if used within 3 months of freezing.
I often reheat frozen lunch-sized portions in the microwave from a frozen state. If possible, I'll also bake it 350 degree oven at the end to crisp up the top.
Try These Next
Meow Gallery: The layout none is not available in this version.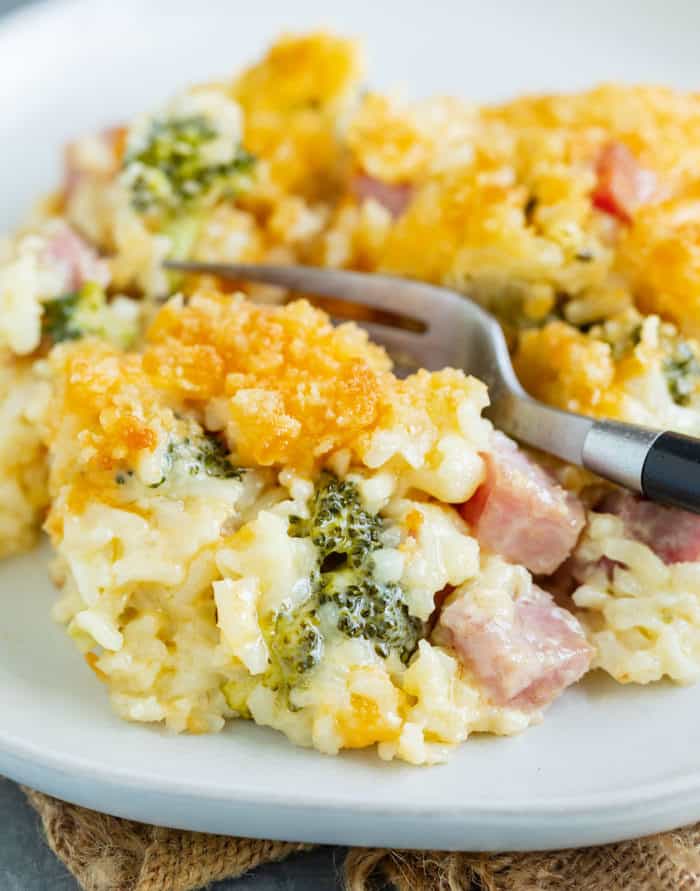 Get My Free Meal Plan
I've got a Free Meal Plan with 7 of my super popular recipes (complete with grocery list)! Sign up for my email list and I'll send it over now along with weekly dinner recipes!
And follow me on Facebook, Instagram, and Pinterest!
Did You Make This Recipe?
I would love for you to leave a rating and a comment below! How'd you do?! ⭐⭐⭐⭐⭐
---
Be sure to check out my Chicken + Broccoli, Sausage + Peppers, and Ground Beef + Mushroom rice casserole recipes next!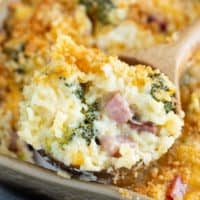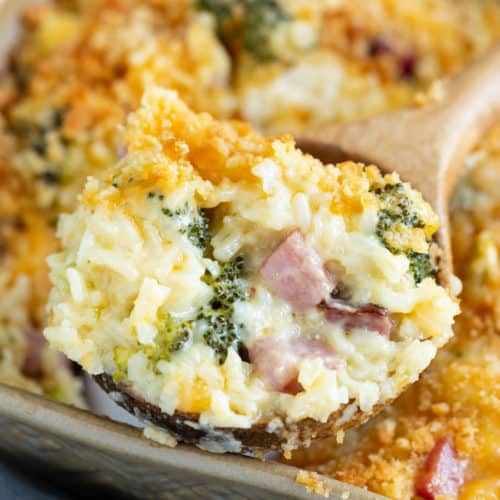 Ham Casserole with Broccoli and Rice
This Ham Casserole is loaded with cheesy, creamy rice and perfectly cooked broccoli. This easy make-ahead dinner can be prepared 2 days ahead or as a one pot meal! 
Ingredients
2 Tablespoons unsalted butter
½ cup yellow onion, finely diced
1 Tablespoon olive oil
2 1/2 cups chicken broth, low sodium
1 ¼ cup white long grain rice, uncooked
2 cups cooked ham, diced
2 cups broccoli florets
10.75 oz. cream of chicken soup
½ cup sour cream
¾ cup milk
2 cups shredded cheddar cheese, separated
Salt/Pepper, optional
Ritz Cracker Topping
1 cup Ritz Crackers, crushed into crumbs
2 Tablespoons butter, melted
Instructions
Note: This recipe is designed to allow you to prepare all of the casserole ingredients in one pot before transferring to a casserole dish for baking. Before you begin, refer to your rice package for the amount of liquid (we'll use chicken broth) and cooking time. If preferred, cook the rice separately and skip the broth ingredient. You'll need 3 + 3/4 cups of cooked rice to combine with the other casserole ingredients. I use white long grain rice and the cooking times below work perfectly.

Preheat the oven to 350° F.

Melt the butter in a large saucepan over medium heat.

Add the diced onions and cook for 5 minutes, until softened.

Add the chicken broth, olive oil, and rice to the pot and bring to a boil, then reduce heat to a simmer.

Cover tightly and cook for 7 minutes.

Add the broccoli, replace the cover, cook for 8 more minutes. Refrain from stirring.

Note: If liquid remains in the pot and the rice isn't yet cooked through after 15 minutes, cover simmer for up to 5 additional minutes, or until cooked through.

Turn off heat, leave the cover on. Let the rice stand for 10 minutes. Any rice on the bottom of the pot will release during this time.

Add the diced ham, condensed soup, sour cream, milk, and half of the cheddar cheese. Stir until well-combined.

Spread into a lightly greased 9 x 13 casserole dish.

Top with remaining cheddar cheese.

Cover and bake for 15 minutes.

Combine the Ritz cracker crumbs and butter. Spread over the top of the casserole and bake, uncovered, for 10 additional minutes.

Let the casserole sit for 5 minutes prior to serving.
Notes
Heluva Good Cheese melts nice and creamy. Avoid extra sharp or aged cheeses as they won't melt as well.
---
Using frozen broccoli instead of fresh:
I love the way this comes out with fresh broccoli, but if necessary, frozen broccoli may be used instead. Be sure to let it thaw and pat it dry prior to adding it to the mixture.
---
One Pot Method (vs. casserole-style):
Cook the rice for 18 minutes instead of 15.
Add the broccoli to the rice during the last 7 minutes of steaming and close the lid to allow it to cook.
Combine casserole ingredients as instructed, top with cheese. Close the lid to let it melt and serve.
---
Be sure to check out my ham and ground beef rice casseroles next!
Nutrition
Calories: 518kcal, Carbohydrates: 31g, Protein: 22g, Fat: 34g, Saturated Fat: 18g, Trans Fat: 1g, Cholesterol: 94mg, Sodium: 1618mg, Potassium: 462mg, Fiber: 1g, Sugar: 5g, Vitamin A: 1063IU, Vitamin C: 35mg, Calcium: 384mg, Iron: 2mg