Ham Casserole with Broccoli and Rice
This Ham Casserole is loaded with cheesy, creamy rice and perfectly cooked broccoli. It's an easy make-ahead dinner that can be prepared 2 days ahead of time and even works as a one pot meal! 
In need of recipes for leftover ham? Try these next!
Cheesy Ham and Potato Soup Split Pea Soup | Ham and Bean Soup | Ham and Cheese Quiche| Scalloped Potatoes and Ham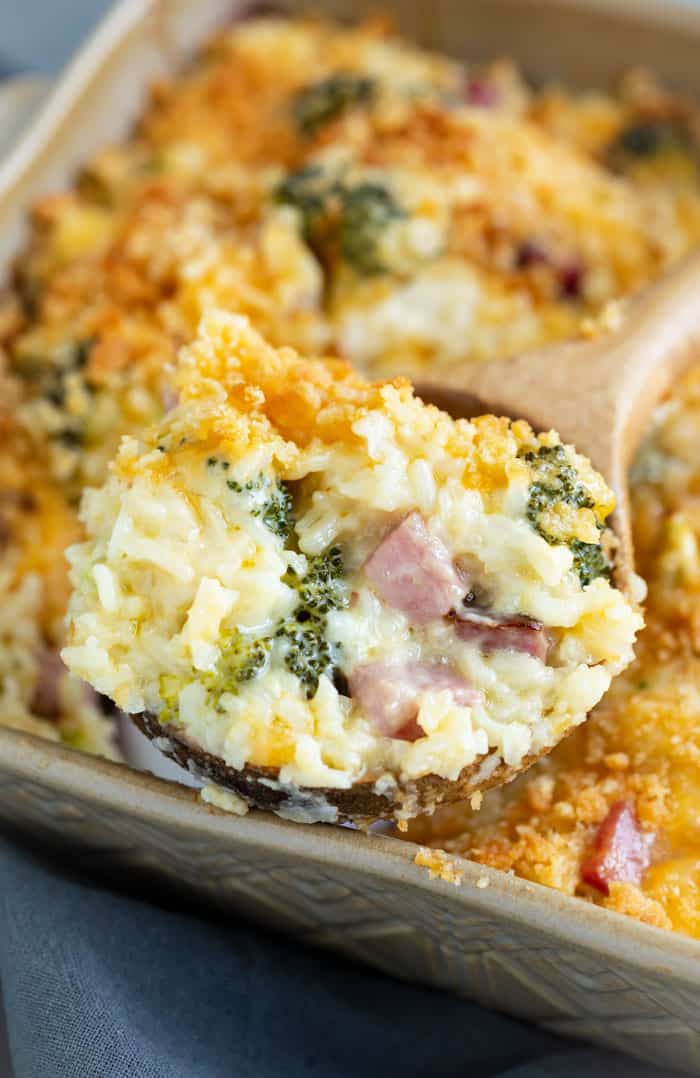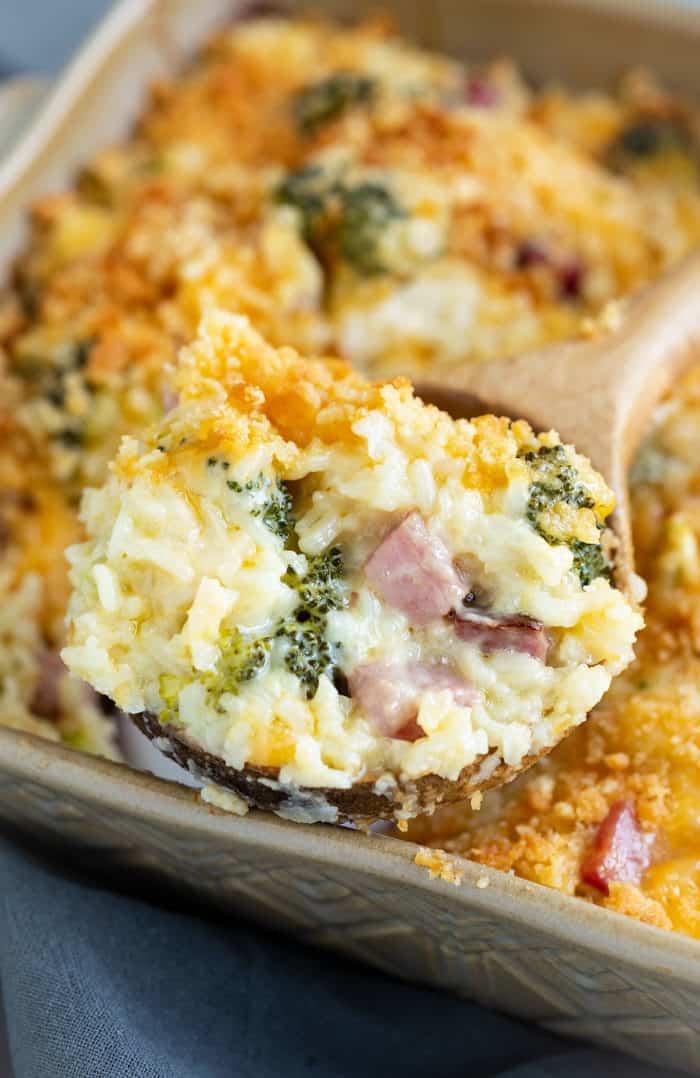 Here are the major perks about this Ham Casserole Recipe:
Prepare and assemble it up to two days ahead of time. I like to prepare it on a Sunday morning and pop it in the oven later that night (or even the next day!)
Easily make it as a one pot meal.
It's a great recipe for leftover ham.
A variety of vegetables work great in here.
Your entire family will absolutely love it.
Ham Casserole Ingredients

Butter- (Unsalted if possible)
Ham
Long Grain White Rice
Chicken Broth- Preferably homemade and low sodium. Water can be used instead as well.
Broccoli- I love using fresh, but you can also use frozen.
Condensed Cream of Chicken Soup- You can also make your own homemade version.
Sour Cream
Milk- Any kind works.
Cheddar Cheese- Always buy a block and shred it yourself for superior flavor and creamy consistency.
Ritz Crackers- They make a great crunchy topping. Crispy Fried Onion Tops are great too.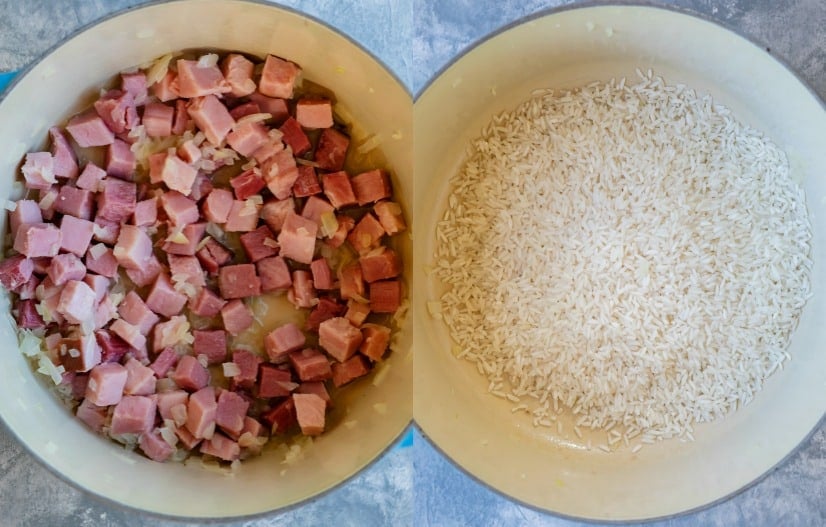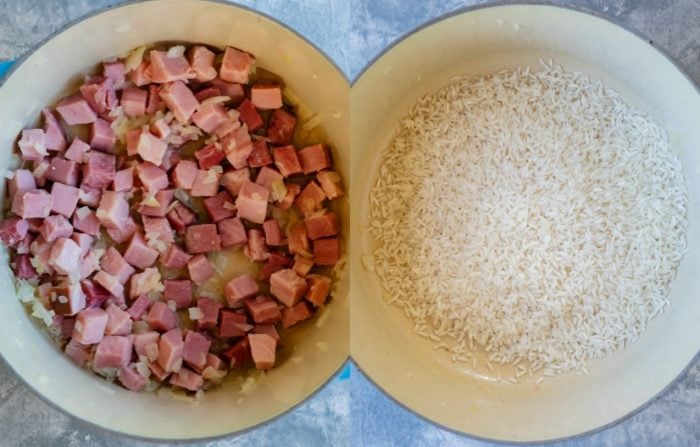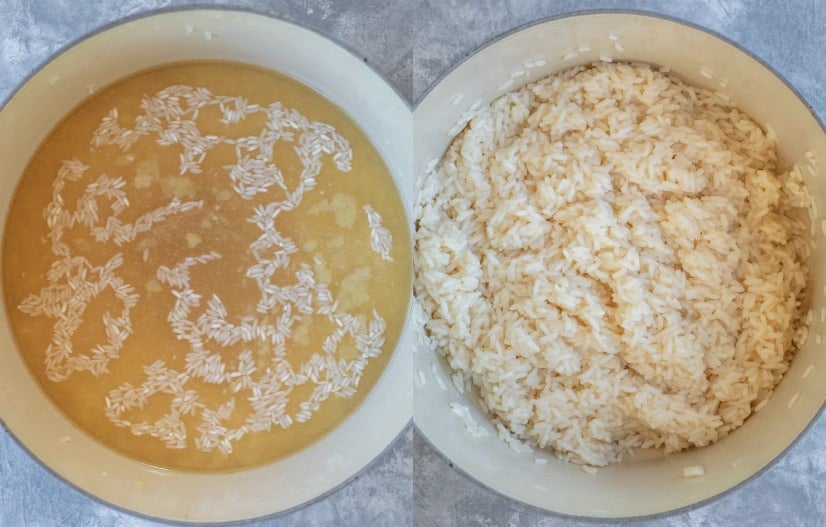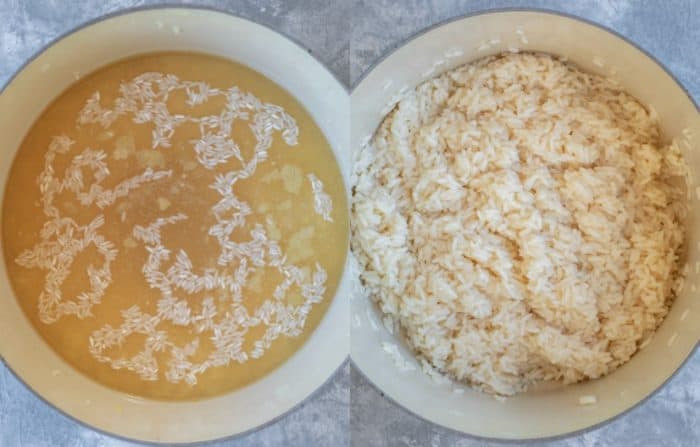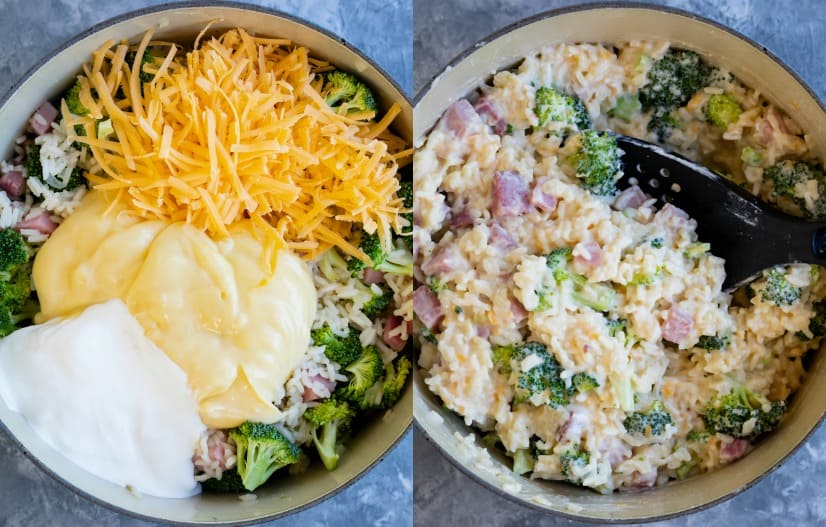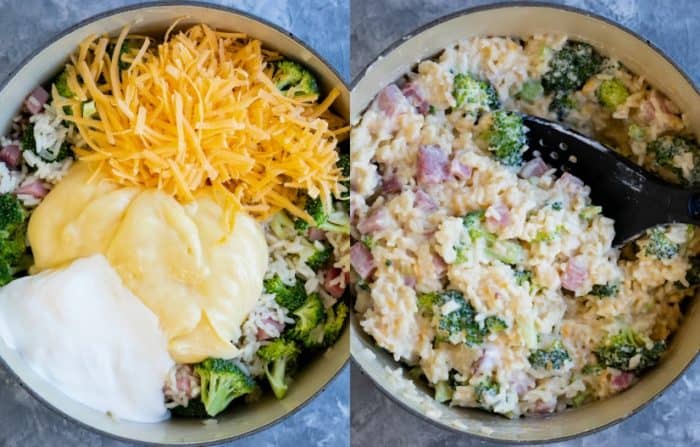 One Pot Ham Casserole
Here's how you can skip casserole dish and cook this as a one pot meal:
Cook the rice for 18 minutes instead of 15.
Add the broccoli to the rice during the last 7 minutes of cooking and replace the lid.
Stir in casserole ingredients as instructed until well-combined.
Top with cheese, close the lid for 10 minutes or until the cheese is completely melted.
Serve, or:
Top with Ritz cracker mix and bake in a 350 degree oven for 10 minutes.

Make-Ahead Method
This ham casserole can be prepared up to two days ahead of time.
Follow the instructions until you're spreading the casserole into the casserole dish.
Shred the cheese and store it in an airtight Ziploc bag. Crush the Ritz crackers and store those in an airtight container as well.
Cover the casserole with foil and refrigerate until ready to bake.
Let it sit at room temperature for 15 minutes prior to baking.
Top it with cheese and proceed with baking as outlined in the instructions.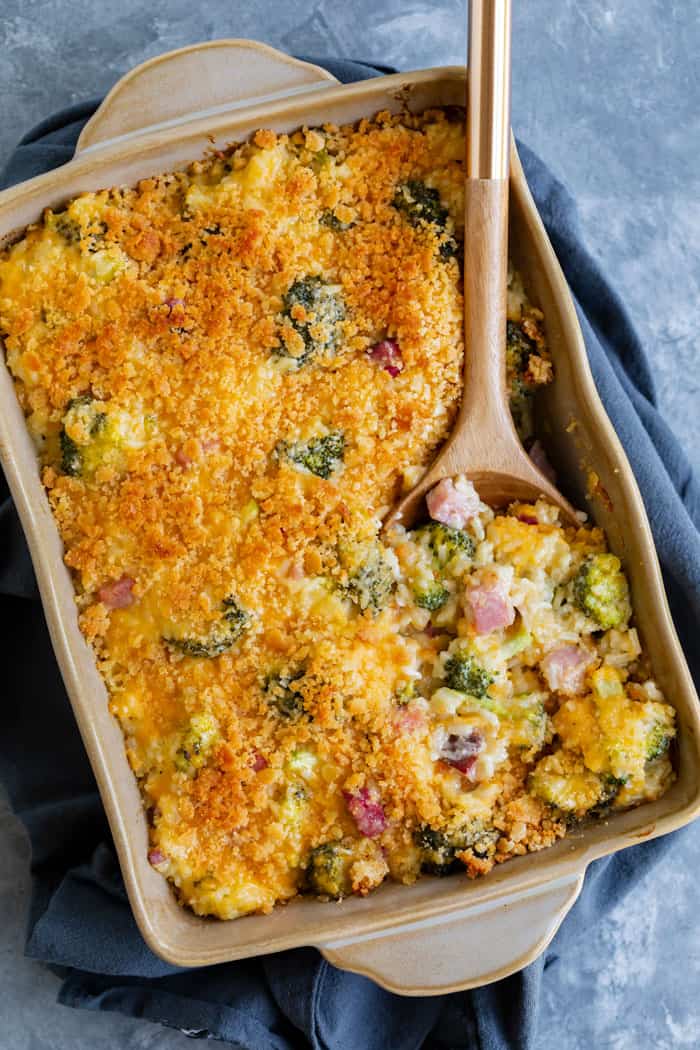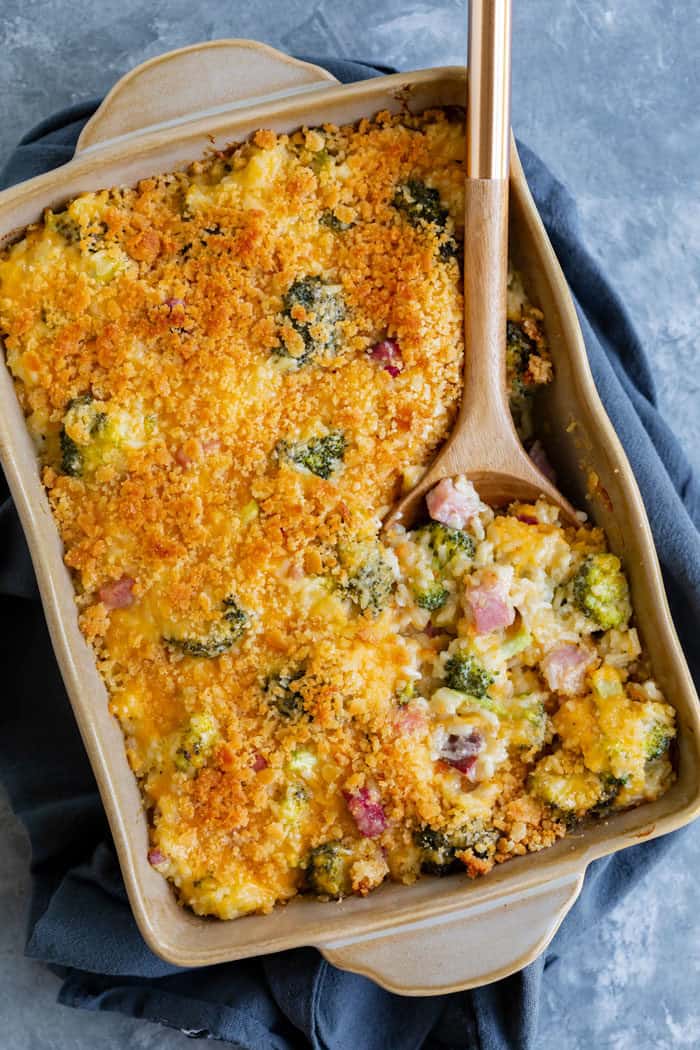 If your Ham Has Water Added
Some ham, (such as ham steak), has water added. This is typical for ham that is sold ready-to-eat and it's noted right on the label if water has been added or not.
If you've purchased ham specifically for this recipe and it's noted that water has been added, I recommend you saute the ham first to rid it of the excess moisture. I cook it right with the onions and drain away the excess liquid.
If you're making this with leftover ham that you have previously cooked in another recipe, no need to cook it again before adding it to the casserole.
More Tips For Making Ham Casserole
Use reduced sodium ingredients (unsalted butter & low-sodium chicken broth, etc.).
If you're using frozen broccoli instead of fresh, be sure to let it thaw first, and pat it dry.
Use a casserole dish no smaller than 9 x 13 (which is the size I used.)
Crispy Fried Onion Tops make a delicious topping on this casserole instead of Ritz as well.
Other vegetable options include diced carrots, celery, peas, and green beans.
Other cheese options include cheddar jack, mozzarella, and smoked gouda. A combination of different kinds of these cheeses may also be used.
If you'd like to use chicken instead of ham, check out my instructions for that in this recipe.
Love Make-Ahead Casseroles?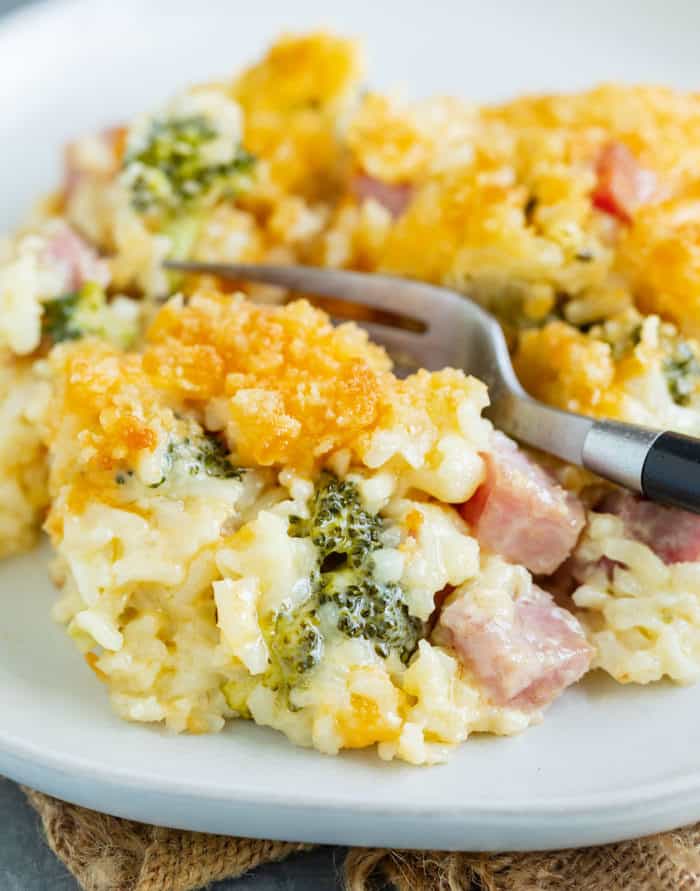 Try These Popular Recipes Next!
Follow Me!
Did You Make This Recipe?
I would love for you to leave a rating and a comment below! How'd you do?! ⭐⭐⭐⭐⭐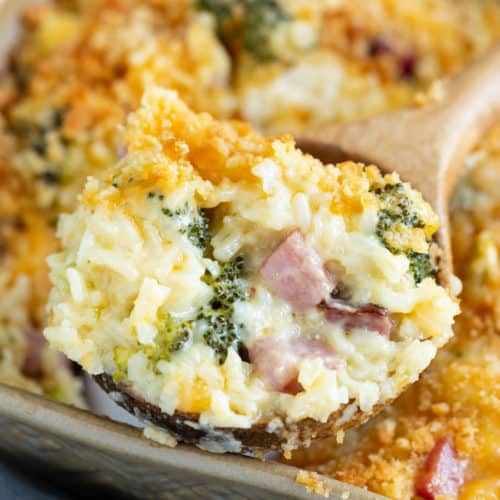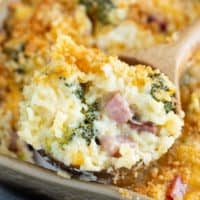 Ham Casserole with Broccoli and Rice
This Ham Casserole is loaded with cheesy, creamy rice and perfectly cooked broccoli. This easy make-ahead dinner can be prepared 2 days ahead or as a one pot meal! 
Ingredients
2 Tablespoons Butter
½ cup yellow onion, finely diced
2 ¼ cups chicken broth, low sodium
1 ¼ cup white long grain rice, uncooked
2 cups cooked ham, diced
2 heads broccoli, cut into chunks
10.75 oz. cream of chicken soup
½ cup sour cream
¾ cup milk
2 cups shredded cheddar cheese, separated
Salt/Pepper
Ritz Cracker Topping
1 cup Ritz Crackers, crushed into crumbs
2 Tablespoons butter, melted
Instructions
Preheat the oven to 350 degrees.

Melt the butter in a large saucepan over medium heat.

Add the diced onions and cook for 5 minutes, until softened.

Add the chicken broth and rice to the pan and bring to a boil. Reduce heat to a simmer and cover tightly for 7 minutes.

Remove the lid and use a silicone spatula to give it a stir and loosen it from the bottom. Add the broccoli florets and replace the lid. Cook for 8 minutes.

Add the diced ham, condensed soup, sour cream, milk, and ONE cup of the cheddar cheese. Stir until well-combined.

Spread into a lightly greased casserole dish. (Mine is 13.25 x 9 inches but larger works too.)

Top with remaining cup of cheddar cheese.

Cover and bake for 20 minutes.

Combine the Ritz cracker crumbs and butter. Spread over the top of the casserole and bake, uncovered, for 10 additional minutes.

Let the casserole sit for 5 minutes prior to serving.
Notes
A note about the Ham
If you've purchased ready-to-eat ham specifically for this recipe and the label indicates that water has been added, I recommend dicing it and sautéing it with the onions, then draining out the excess moisture prior to adding it to the casserole. If you're using leftover ham that you've already cooked in another recipe, no need to cook it again prior to adding it the casserole Using frozen broccoli instead of fresh:
I love the way this comes out with fresh broccoli, but if necessary, frozen broccoli may be used instead. Be sure to let it thaw and pat it dry prior to adding it to the mixture.
One Pot Method (vs. casserole-style):
At step #4, cook the rice for 18 minutes instead of 15.
Add the broccoli to the rice during the last 7 minutes of steaming and close the lid to allow it to cook.
Proceed with step #5 and top with remaining cup of cheese. Close the lid to let it melt and serve. (Or, add the Ritz topping from here and bake at 350 for 10 minutes.)
Nutrition
Calories: 594kcal, Carbohydrates: 59g, Protein: 28g, Fat: 29g, Saturated Fat: 15g, Cholesterol: 84mg, Sodium: 1640mg, Potassium: 1022mg, Fiber: 6g, Sugar: 8g, Vitamin A: 2018IU, Vitamin C: 188mg, Calcium: 468mg, Iron: 4mg