You can make super crispy roasted potatoes right in your Instant Pot with just 11 minutes of pressure cooking. There is a secret method for extra-crispy results that you won't find in the Instant Pot recipe book!
Plus, I share my grandmother's amazing recipe for potato seasoning!
Try serving this my Pioneer Woman Meatloaf recipe or with a Perfectly Seasoned Steak!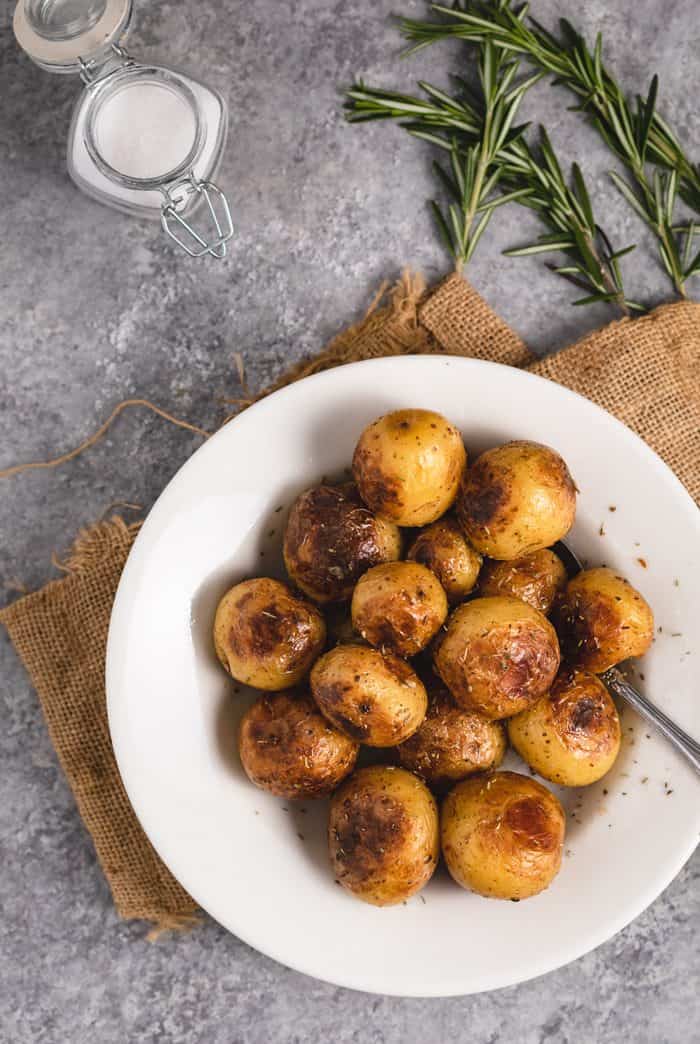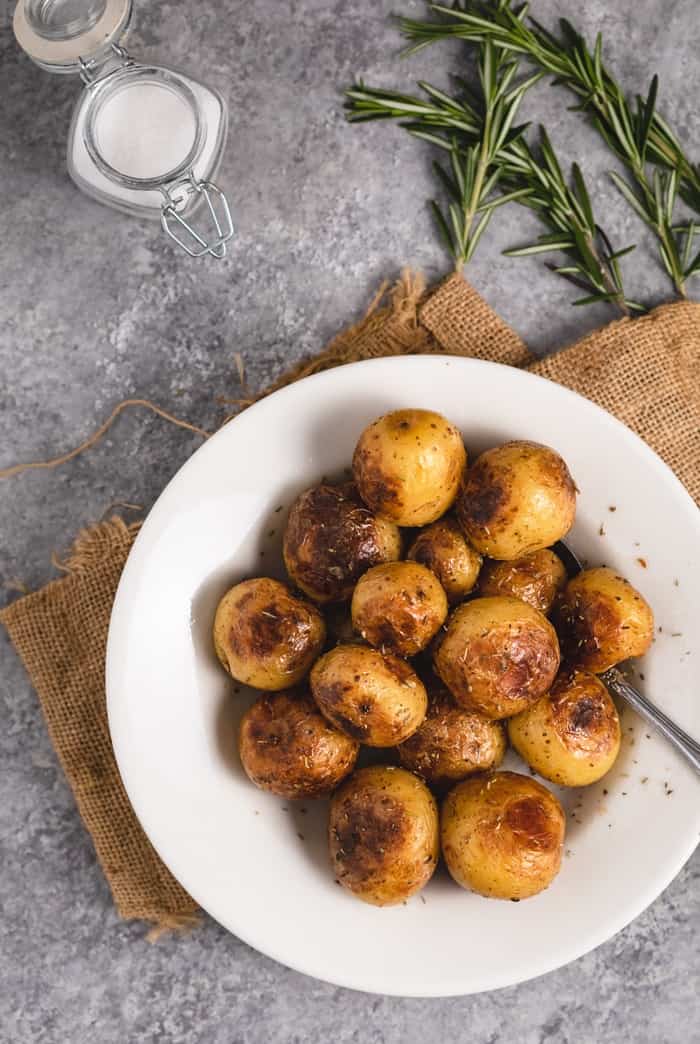 Instant Pot Roasted Potatoes
Guy, I'm gonna tell you a secret. The Instant Pot recipe book got this one wrong. (Gasp!)
I don't think anyone loves roasted potatoes as much as I do, so it was completely necessary to go against the grain and make one crucial change to their recipe.
Let's get into it.
How do you Roast Potatoes in the Instant Pot?
Here's the secret: Pressure cook the potatoes first. Then saute them. (Seems like a given, right?) Welp, the folks at Instant Pot have you doing it the opposite way, which results in moist potatoes in a pool of chicken broth.
👇🏻This is what the potatoes look at after pressure cooking, but before sauteing. If you forget to pierce the potatoes like I did with a few, they may split. Not a big deal, but a good idea to give them a poke before pressure cooking.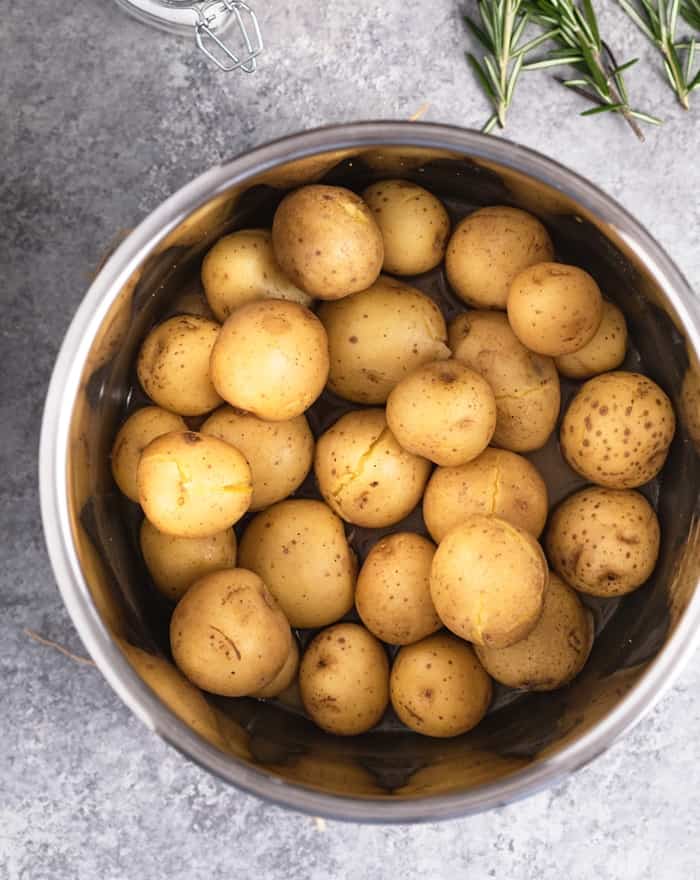 Best Potatoes for Roasting
Yukon Golds are best for roasting. (Or baby Golds, in this case)
Bon Appetite explains why:
"There's enough waxiness to hold their shape and develop nice caramelization on the outsides, while simultaneously having enough starch to make the interior creamy, silky, and luxuriously buttery.
This is the real beauty of the Yukon Gold, what makes them the best potatoes for roasting. The crisp. The creaminess. The texture."
What Size Instant Pot is needed?
-I have a 6 quart Instant Pot, although any size will work well with this recipe.
What if the Burn Indicator Turns on?
-The more I use the Instant Pot, the more I see this message. As long as I've made sure that I've removed any specs from the bottom of the pan before pressure cooking, I don't worry about the message as it will go away with a little bit of time.
Can you Freeze Roasted Potatoes?
-Roasted potatoes can be frozen and reheated, but do lose a bit of their texture in doing so.
The best way to freeze them is to wrap them in foil packets once they are completely cool. When ready to serve, unwrap them and bake in a 400 degree oven for 10-15 minutes.
The Best Potato Seasoning
1 teaspoon Rosemary
¾ teaspoon oregano
¾ teaspoon thyme
¾ teaspoon sage
1/8 teaspoon nutmeg
1/8 teaspoon pepper
This seasoning is fantastic on chicken and pork too!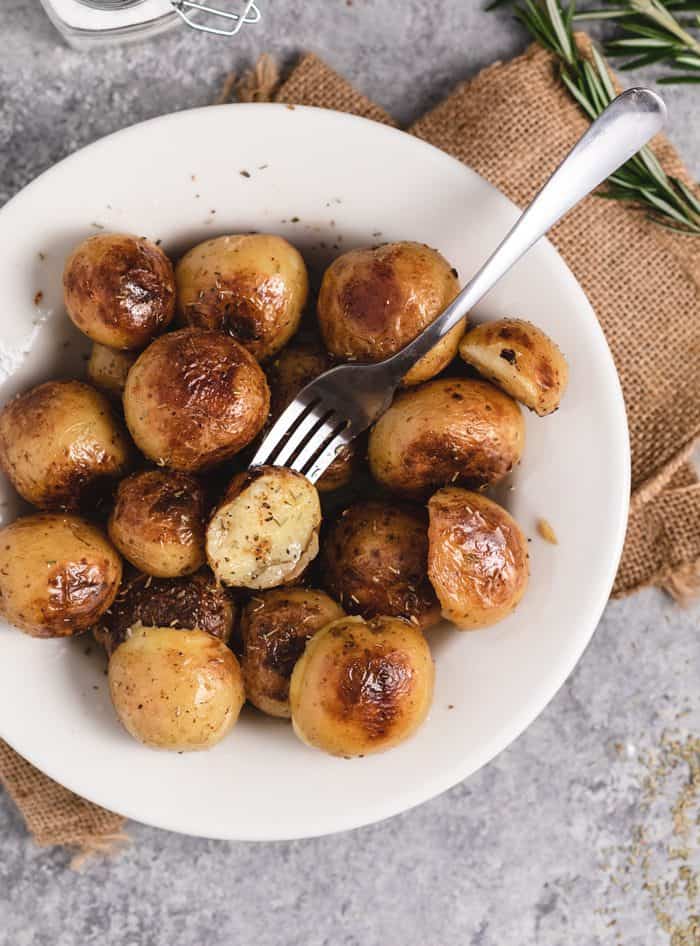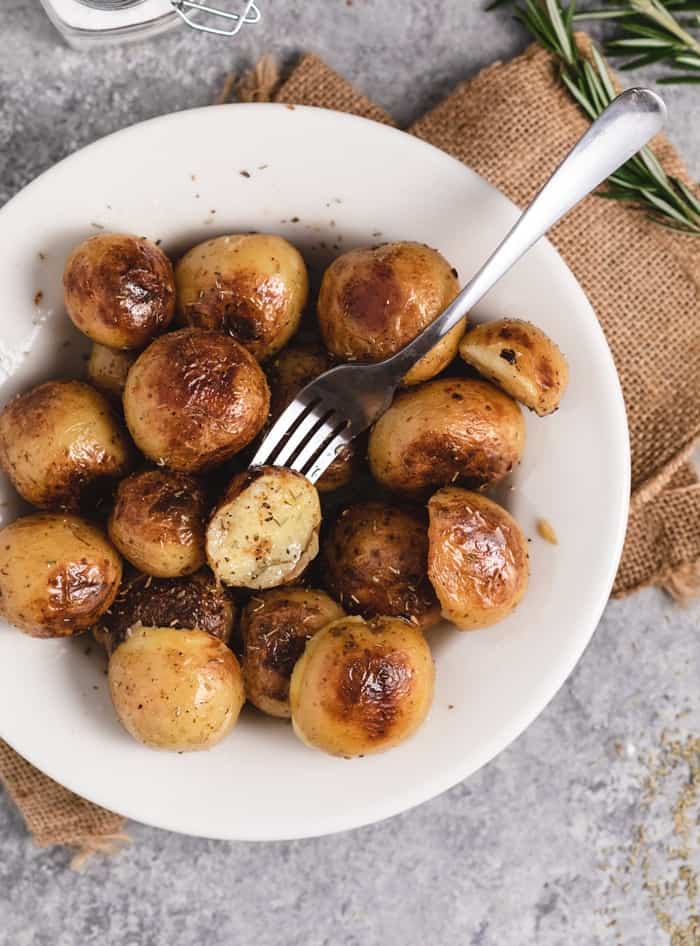 Follow me!
Join my free recipe email list for one weekly email with recipe ideas. And follow me on Facebook, Instagram, and Pinterest. 😊
More Potato Recipes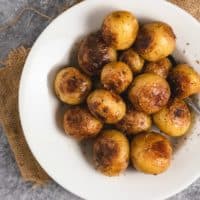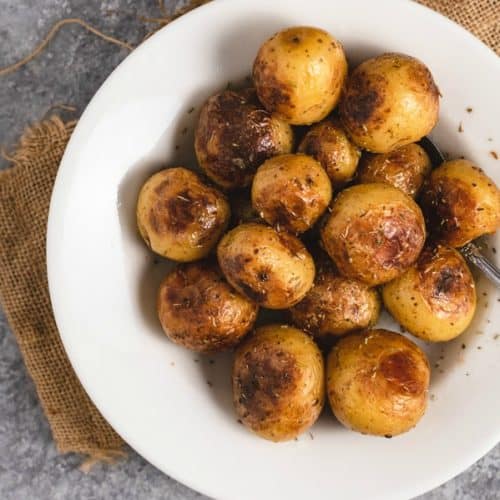 Instant Pot Roasted Potatoes
Baby Potatoes are pressure cooked in chicken broth for just 11 minutes, then sautéed to crispy perfection and topped with my grandmother's seasoning recipe!

Ingredients
2 lbs. baby gold potatoes*, scrubbed clean
3 garlic cloves, peeled
1 cup chicken broth
2-3 Tablespoons vegetable oil, plus more if needed
Salt/Pepper, to taste
Potato Seasoning
1 teaspoon Rosemary
¾ teaspoon oregano
¾ teaspoon thyme
¾ teaspoon sage
1/8 teaspoon nutmeg
1/8 teaspoon pepper
Instructions
Pierce each potato with a fork and place in the Instant Pot along with the garlic and chicken stock. Secure the lid and ensure that the steam valve is shut. Pressure Cook for 11 minutes.

Quick release the steam valve and open the lid. Drain out the chicken broth and pat the potatoes dry.

Set the Instant Pot to sauté mode. Add 1-3 Tablespoons of vegetable oil, along with the potato seasonings.

Leave the potatoes in place for 5 minutes or so to allow the first side to brown. Use kitchen tongs to carefully rotate them until each side is browned and crisp. Add more vegetable oil if necessary. Remove them from the pot and serve!
Notes
Yukon gold (or baby gold) potatoes are best for roasting. The baby sizes are separate from the larger Yukon Golds, generally in netted bags. The size of the bags at my grocery store were 24 oz. each and I used 1 + 1/2 bags for this recipe, although 2 full bags could be used.   
Nutrition
Calories: 243kcal, Carbohydrates: 41g, Protein: 5g, Fat: 7g, Saturated Fat: 5g, Sodium: 229mg, Potassium: 1010mg, Fiber: 5g, Sugar: 1g, Vitamin A: 20IU, Vitamin C: 50.1mg, Calcium: 41mg, Iron: 2.1mg