Crock Pot Mississippi Pot Roast
This Mississippi Pot Roast simmers slowly in your crock pot with just 4 other ingredients to create the perfect balance of savory flavors.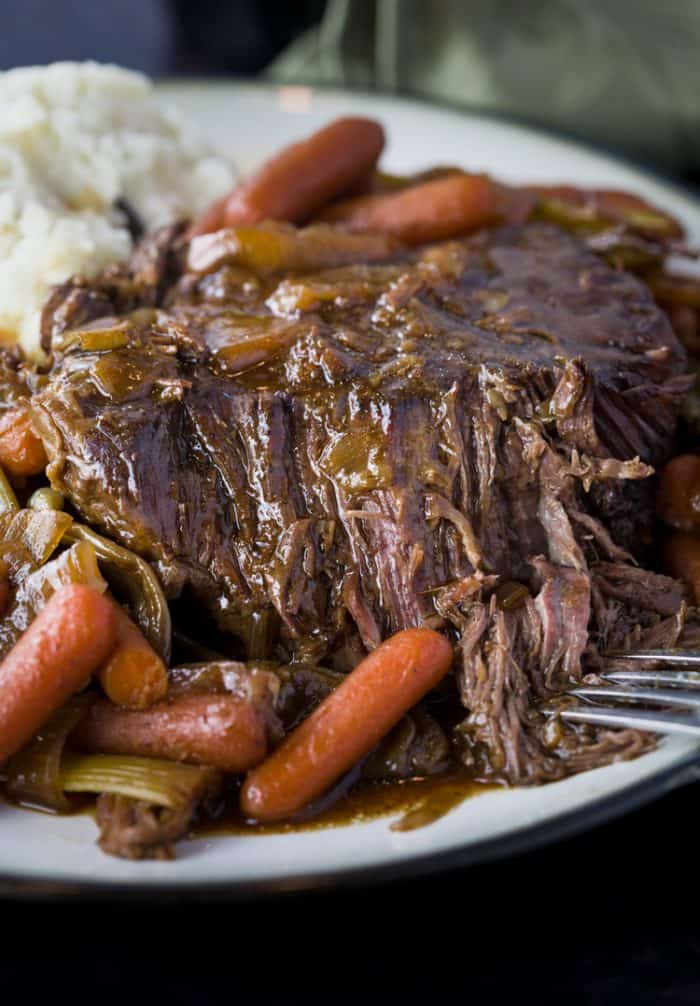 I just got done digging to the bottom of the trash can.
*Sigh.* A phrase I don't often open with… thankfully. Welp, this isn't the first time I've posted this Mississippi Pot Roast recipe, and I didn't realize that the size of the roast was already in my previous instructions. I thought I had to go digging for that thin little piece of plastic wrap. And since I got up to my elbows in yesterday's trash for this, I will tell you that this roast was 2.5 pounds. (That was pretty anti-climactic. I need a dang life.) My point, I suppose, is that the recipe calls for a 3 pound roast, but you can give or take that weight, this is a flexible and very forgiving roast recipe.
MY LATEST VIDEOS
I say the best recipes in the world are ones like this. You plop a few ingredients into the crock pot, and literally, don't have to touch it, mix it, check it, mash it, cut it, roll it, beat it, twist it, WHATEVER. Nothing! ZIPPO! Zilch!
I think I've made my point.
What cuts of meats are best for Mississippi Pot Roast?
Chuck roasts
Rump roasts
Bottom rounds
Andddd another thing! This meal is extremely economical. My husband and I have had two meals each from this already, and there are still leftovers. That's pretty good for a $10 slab o' beef. The leftover meat does freeze very well for future meals too, I rely on it for my work lunches all the time, and it's pretty handy. Not to mention that meat leftovers are great in a sandwich too! With a little melted cheese on top of some fresh French bread? Heaven. Pure Heaven.
If you like this meal, then you would love my Crock Pot Chicken and Stuffing recipe, it's my *most popular* recipe on the blo
Follow me!
And finally, you should probably join my free recipe email list. You'll get a weekly email with my brand new recipes. And follow me on Facebook, Instagram, and Pinterest. (Don't make this be our last goodbye!)
Servings: 4
Crock Pot Mississippi Pot Roast
Course: Main Course
Cuisine: American
Keyword: Pot Roast
This Mississippi Pot Roast simmers slowly in your crock pot with just 4 other ingredients to create the perfect balance of savory flavors.

Ingredients
3 lb pot roast
1 (1 oz.) packet Ranch dressing mix
1 (1 oz.) packet Au Jus mix
6 pepperoncini peppers
1 stick butter
2 cups baby carrots
2 Tablespoons corn starch
Instructions
Melt the butter on the bottom of the crock pot and and mix in the Au Jus and Ranch Dressing Mix. Add the pepperoncini peppers and Pot Roast (no need to salt the pot roast prior). Add the baby carrots.

Cook on low for 8-10 hours, or on high for 4-5. It will be very tender when it's ready and easily break apart.


Use tongs or two large spoons/spatulas to remove the beef and set aside on a plate. Use a slotted spoon to remove the carrots, place them on a serving plate with the pot roast.

Making Gravy
If you have enough juice at the bottom of the crock pot for some gravy, (I always do), turn the crock pot on high.


Mix the cornstarch and 4 Tablespoons of cold water together. This is called a slurry and is used to thicken the juice from the meat to make gravy.


Slowly add some of the slurry into the meat juice, whisking constantly. Give it time to thicken before you add more, otherwise it will become too thick (if it does, you can thin it with beef or chicken stock). You likely will not need all of the slurry.

Once it's near your desired level of thickness, remove it from the heat. It will thicken a little bit more upon standing.
Recipe Notes
The best cuts of roast for this recipe are chuck roasts, rump roasts, or bottom rounds.
The Ranch mix and Au Jus mix don't need to be prepared/mixed with anything prior to adding to the crock pot, only the contents of the packet itself is added.
Pepperoncini peppers don't add heat, just flavor! 
Nutrition Information
Calories:
542
, Fat:
17g
, Saturated Fat:
6g
, Cholesterol:
221mg
, Sodium:
399mg
, Potassium:
1319mg
, Carbohydrates:
10g
, Fiber:
2g
, Sugar:
3g
, Protein:
75g
, Vitamin A:
177.5%
, Vitamin C:
17.1%
, Calcium:
7.2%
, Iron:
41.7%