French Onion Smothered Pork Chops
Lightly Seasoned Pork Chops are seared to perfection, topped with savory Gruyere cheese, and smothered in a thick and flavorful French Onion sauce. A delicious gourmet meal that's easy to make at home!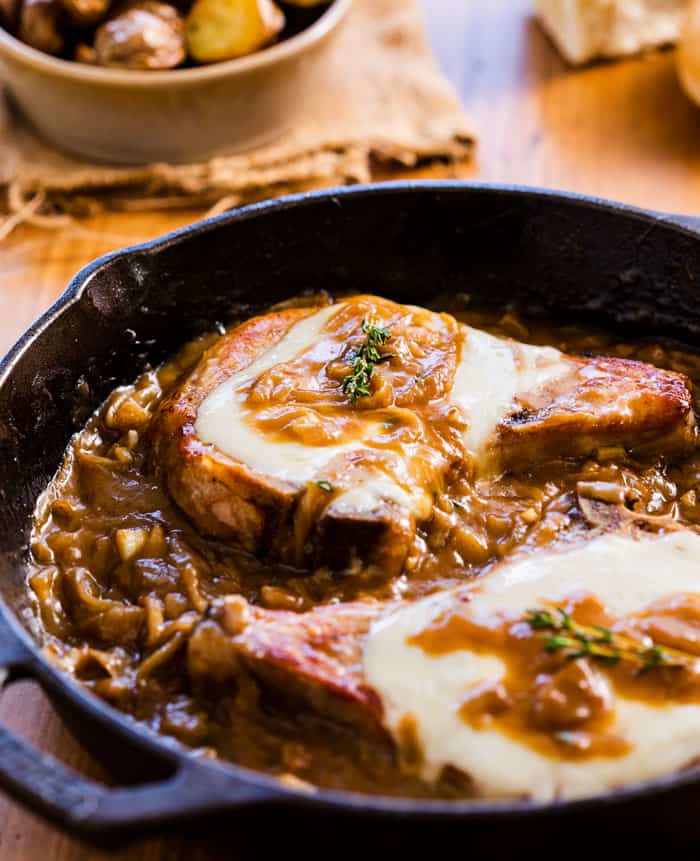 It's true, you can cook a fancy, French Gourmet meal with a couple of pork chops and some onions! And I'm going to tell you exactly how to do it.
I'll walk you through how to achieve the perfect sear, what the best pork chop cuts are, how to perfectly caramelize onions, and the best white wines to use for the sauce.
You can also make a gluten-free version but subbing the all-purpose flour for gluten-free flour. Easy-Peasy.
Now, for the ingredients! It doesn't get simpler than this.
How to Sear Pork Chops
Use a cast iron skillet for a nice, golden sear. It conducts heat the best and will give the pork chops a nice even color.
Sear over medium-high heat. The middle doesn't need to be done yet, we're just giving the outside color and texture.
Avoid moving the pork chops around as they cook, it will disrupt the sear.
If the pork chops are stuck to the pan, try giving them more time. They generally release from the pan when they're crisp on the outside and ready to flip. This takes about 4 minutes per side. 
Best Cuts of Pork for Searing
Center cut, bone-in pork chops are excellent for searing because they are nice and tender.
Loin Chops may also be used. They are leaner than center cut chops.
Boneless Pork Chops work as well. They are also very lean. *Note- The lack of bone also means that they can be less flavorful than the aforementioned cuts above. *Also note, the lack of fat can create a dry texture and it's recommended that you brine them prior to searing.
This resource is a complete guide, with visuals, for all types of pork chop cuts.
How to Caramelize Onions
Caramelizing onions takes patience more than anything else. Follow the simple steps below and the rest will take care of itself.
Don't cut the onions too thin: You want medium slices, as they will shrink down and you don't want them to be too thin or stringy.
Use a madoline slicer to cut the onions quickly and evenly.
Coat the onions generously in butter, using a set of tongs makes them easy to toss around in the pot.
Low and slow: Cook the onions over medium-low heat. This process takes some time but the end result is well worth it.
Use more Onions than you think: Onions made up of over 80% water. They shrink down considerably as they cook, as you will see below.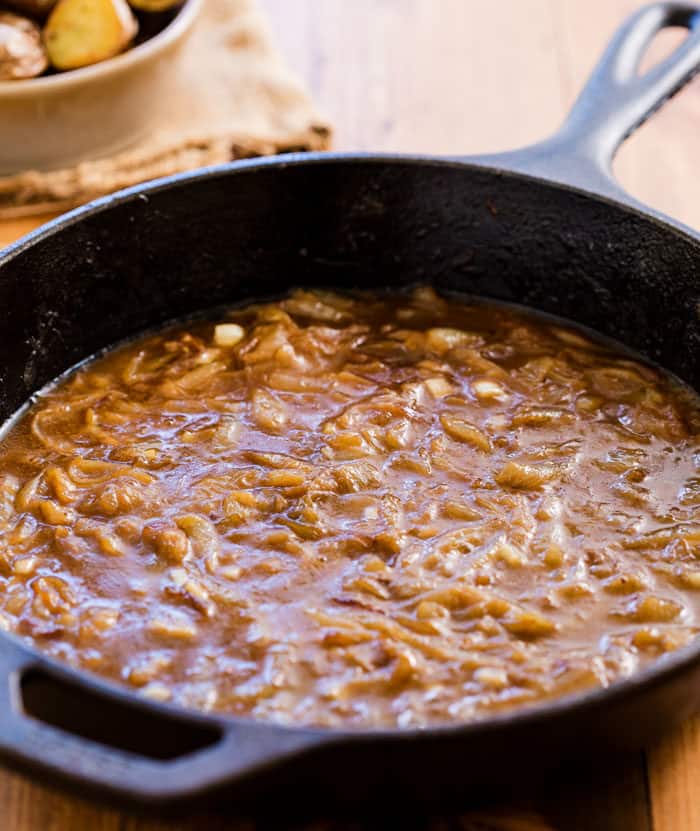 Best White Wines for Cooking
Dry white wines that aren't sweet are the best for cooking. Prime examples include:
Pinot Grigio
Sauvignon Blanc
Unoaked Chardonnay
This resource includes a list of brands and prices of white wines that are best for cooking.
Storing Leftovers
(You won't have any.)
…But if you do, you can store these in an airtight container in the fridge for up to three days.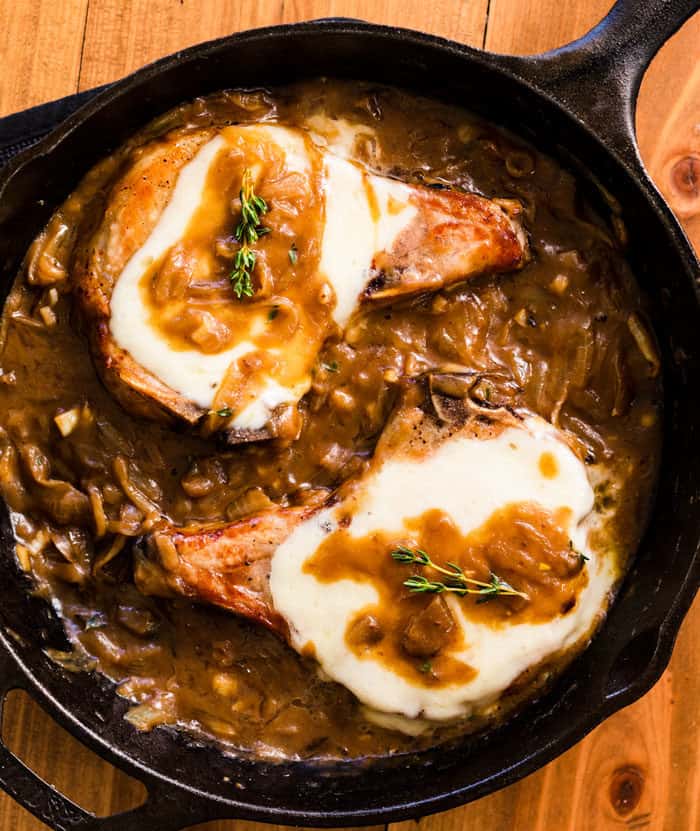 Try These Next!
Follow Me!
You should join my free email list and be the first to know about my latest recipes! I sent out just one email a week so you won't get sick of me.
While you're at it, I'd love for you to like my Facebook Page and follow me on Pinterest and Instagram too!
Servings: 4
French Onion Smothered Pork Chops
Course: Main Course
Cuisine: American, French
Keyword: french onion pork chops, french onion smothered pork chops, Smothered pork chops
Lightly Seasoned Pork Chops are seared to perfection, topped with savory Gruyere cheese, and smothered in a thick and flavorful French Onion sauce.
Ingredients
Pork Chops
4 pork chops center cut
Salt/Pepper about 1/3 teaspoon of each
2 Tablespoons flour *see note 1
2 Tablespoons Butter
4 slices cheese *see note 2
Fresh Thyme
French Onion Sauce
4 Tablespoons Butter Separated
2 large yellow onions sliced 1/8 inch thick
1 Tablespoon flour *See note 1
2 cloves garlic minced
1/3 cup dry white wine can sub chicken broth
1 ¼ cup beef broth
1 sprig fresh Thyme
Instructions
Pork Chops
Preheat the oven to 325 degrees.

Season the pork chops with salt and pepper and pat each side with flour.

Sear each side of the pork chops until they're a light golden brown, about 3-4 minutes on each side. Refrain from moving them around as they cook.

Place the seared pork chops onto a baking sheet.

Bake in a 325 degree oven during the last 15 minutes of preparing the sauce.

Top each pork chop with cheese and heat under a low broil for 1 minute or so, until the cheese begins to bubble.

Serve the pork chops on a plate and spoon with a generous amount of French Onion sauce, top with fresh thyme, and enjoy!
French Onion Sauce
In the same skillet that you seared the Pork Chops in, melt 4 Tablespoons of butter over medium-low heat. Note: The bits of Seared Pork Chops in the pan give the sauce a boost of flavor, don't clean the pan in between.

Add the onions to the pan and toss to coat them in the butter. They will take a good 25 minutes to sufficiently caramelize. Use a

silicone spatula

to stir them frequently as they cook.

Toss the onions with 1 Tablespoon of flour and add the minced garlic. Heat for 1-2 minutes.

Increase the heat to medium-high.

Add the white wine and heat for 5 minutes. Use the same silicone spatula to scrape up any bits left on the bottom of the pan to allow the flavor to work its way into the sauce.

Add the beef broth and fresh thyme. Reduce the heat to medium-low and let it simmer and thicken for about 10 minutes prior to serving.
Recipe Notes
Note 1: Flour is optional but helps to thicken the sauce and give texture to the pork chops when seared. Omit if preparing this as a glute-free recipe, or substitute with gluten-free flour.
Note 2: The ideal cheese for this recipe is Gruyere, however more affordable substitutions include Swiss and Provolone.
Best White Wines for this recipe: Pinot Grigio, unoaked Chardonay, and Sauvignon Blanc are great cooking wines.
This meal is great with loaded mashed potatoes, biscuits, or roasted broccoil!
Nutrition Information
Calories:
487
, Fat:
30g
, Saturated Fat:
16g
, Cholesterol:
149mg
, Sodium:
620mg
, Potassium:
662mg
, Carbohydrates:
10g
, Fiber:
1g
, Sugar:
2g
, Protein:
38g
, Vitamin A:
630%
, Vitamin C:
4.5%
, Calcium:
234%
, Iron:
1.4%