No Bake Vanilla Cheesecake
This creamy no-bake vanilla cheesecake is so simple and easy to doctor up with your favorite fruits or a drizzle of caramel sauce! It's made with a homemade browned butter graham cracker crust that sets it apart from your average cheesecake!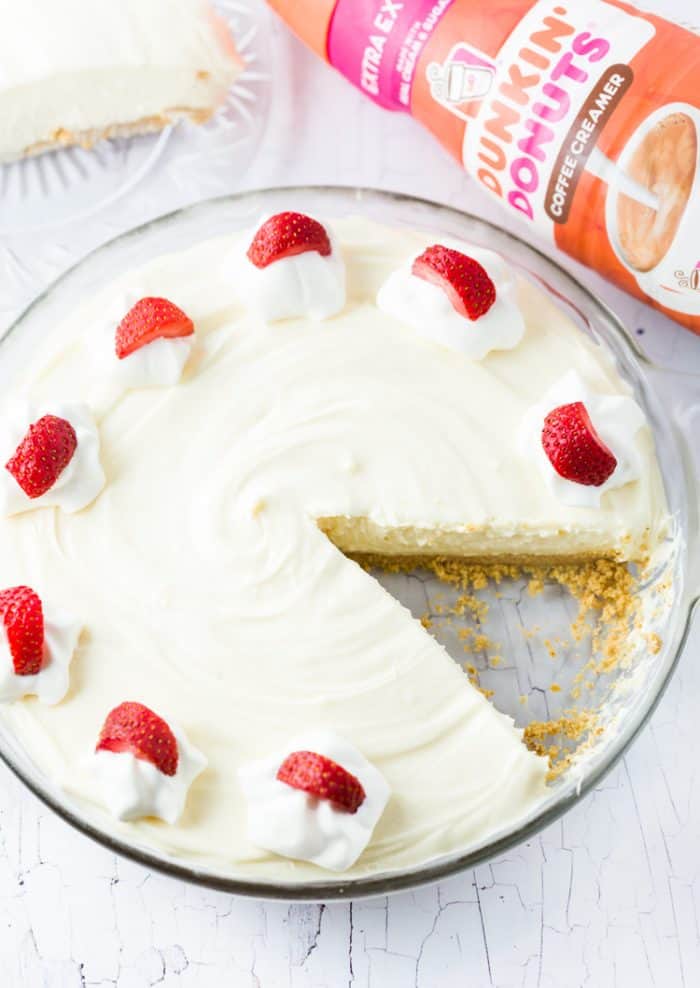 This is a sponsored conversation written by me on behalf of Dunkin' Donuts. The opinions and text are all mine.
So, it's true. I have a cheesecake problem. I feel the need to expose that every time I post a cheesecake recipe now, because I am losing track of how many I have. Most of them don't involve baking because quite frankly, I'm not a baker by nature. But I do love me a creamy cheesecake, and let me tell you, the secret to the creamy deliciousness in this recipe is in the Dunkin' Donuts Extra Extra creamer that I use.
I actually use the creamer twice in this recipe. Once during the beginning when I'm whipping up the filling, and again when I'm melting the white chocolate chips in the microwave. Let me tell you, this is my new secret to melting chocolate chips. Usually I have to buy those really expensive melting chocolate bars to get extra smooth and creamy results, but when I add this creamer to the chocolate chips, it's a game changer. No more pricey melting chocolate for me!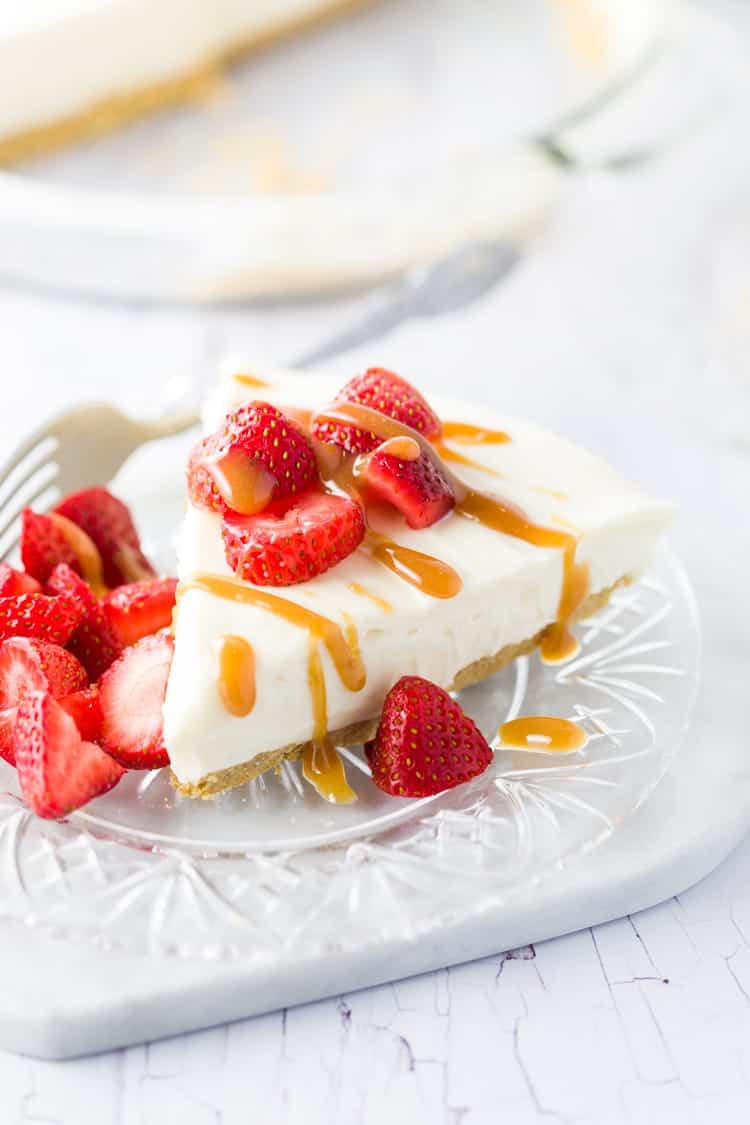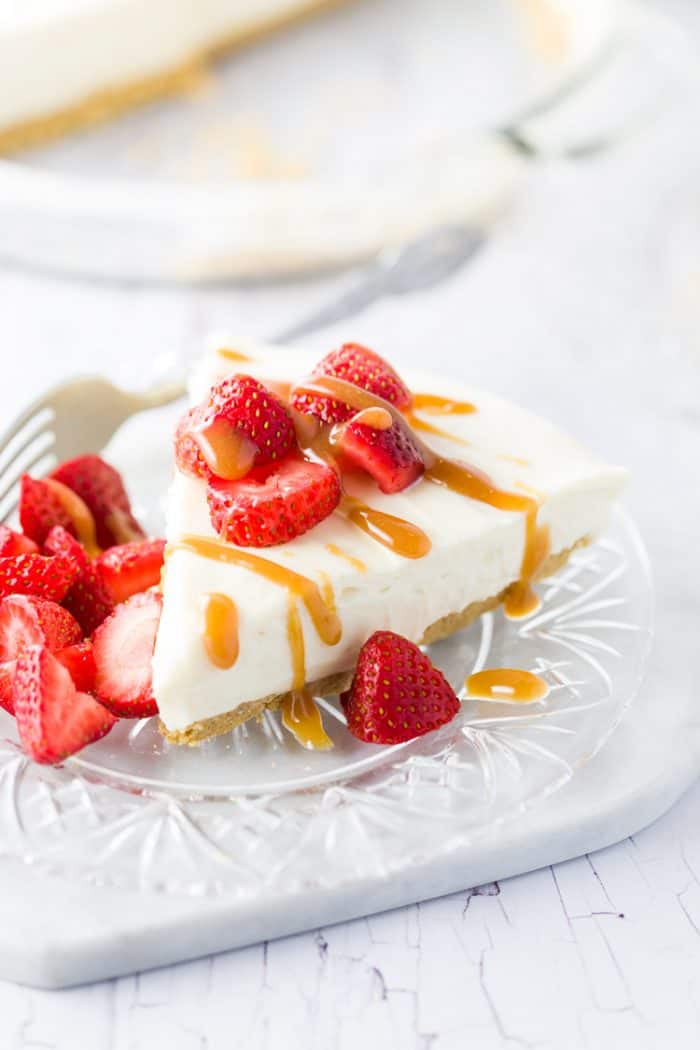 How long does it take this cheesecake to set?
This cheesecake is pretty set after 4 hours, but I love to chill overnight when I can!
How can I make sure my cheesecake is smooth?
The key to a smooth and creamy cheesecake is to let the cream cheese sit at room temperature for at least an hour before beginning. You don't want it to be at all cold. Then, you beat it separately from any other ingredient until it's smooth and whipped. After that, you're good to add the other ingredients as instructed.
In this case, you also need to ensure that the melted chocolate comes back up to room temperature or it will mess with the consistency.
How do I get nice, clean slices when I cut in?
Take a long, sharp knife. Run it under hot water for 15 seconds. Wipe it dry and make your first cut. Clean, and repeat for each slice you make.
Servings: 8
No Bake Vanilla Cheesecake
Course: Dessert
Cuisine: American
Keyword: No Bake Cheesecake, Vanilla Cheesecake
This creamy no-bake vanilla cheesecake is so simple and easy to doctor up with your favorite fruits or a drizzle of caramel sauce!

Ingredients
Crust
1 ¾ cups graham cracker crumbs
8 Tablespoons butter
Filling
2 cups white chocolate chips
24 oz. cream cheese at room temperature
½ cup powdered sugar
6 Tablespoons Dunkin' Donuts Extra Extra Creamer separated
1 teaspoon vanilla extract
To garnish
Fresh fruit, whipped cream, or caramel sauce
Instructions
Add the chocolate chips to a medium bowl. Microwave for 30 seconds, stir, and add 3 tablespoons of the Dunkin' Donuts Extra Extra creamer, saving the other 3 for later. Continue to heat for 30 seconds at a time, stirring in between, until smooth and melted. Set aside and let it come back up to room temperature.

In a small saucepan, melt the butter over medium-low heat. Watch it carefully as it will soon start to bubble and 'fizz'. This is when the butter starts to caramelize and sweeten. Whisk it for 2 minutes as it caramelizes and then remove it from the heat.

In a large bowl, combine the browned butter and graham cracker crumbs until it has a wet, sandy consistency. Add it to a 9-inch pie plate. Press it on the bottom and the sides of the pie plate until it's firmly in place. (It will happen, just keep pressing.)

In a large bowl, use an electric mixer to whip the (room temperature) cream cheese.

Once whipped and fluffy, add the powdered sugar and beat until smooth. Add the vanilla extract and remaining 3 tablespoons of creamer. Beat until smooth.

Add the filling to the top of the crust and refrigerate for 4 hours or overnight. Slice, and serve with your favorite fruits, sauces, or whipped cream!
Nutrition Information
Calories:
756
, Fat:
58g
, Saturated Fat:
33g
, Cholesterol:
137mg
, Sodium:
539mg
, Potassium:
293mg
, Carbohydrates:
52g
, Sugar:
40g
, Protein:
9g
, Vitamin A:
1545%
, Vitamin C:
0.2%
, Calcium:
203%
, Iron:
1.2%