Taco Casserole
This Taco Casserole Recipe is loaded with all of your Mexican favorites and topped with Doritos, Fritos, or Tortilla Chips! It's easy to assemble days ahead of time and bake later for an easy dinner!
Be sure to try my Copycat Taco Bell Mexican Pizza recipe next!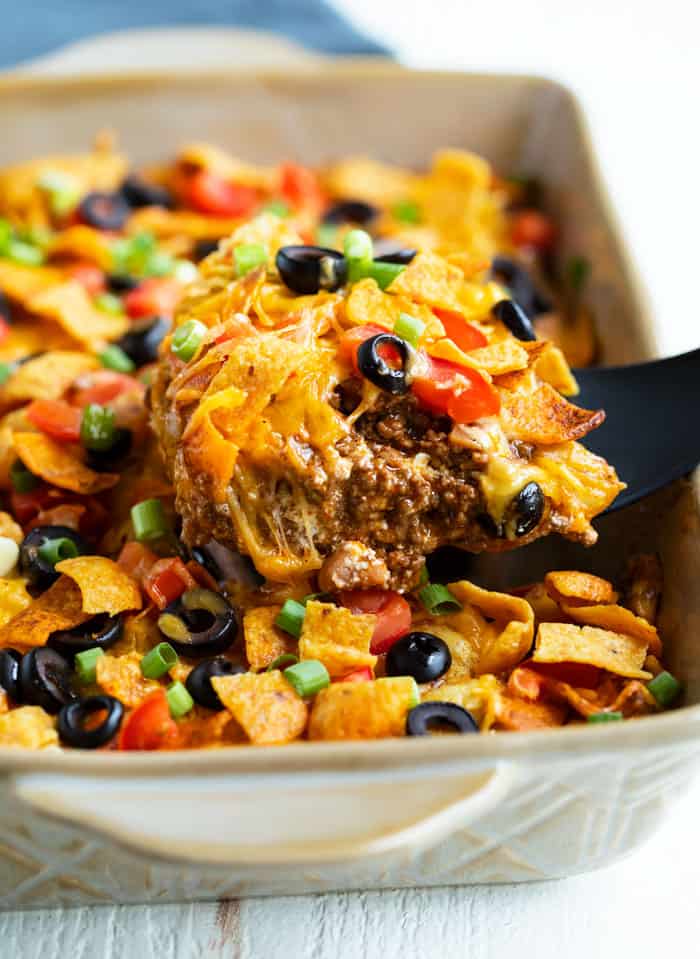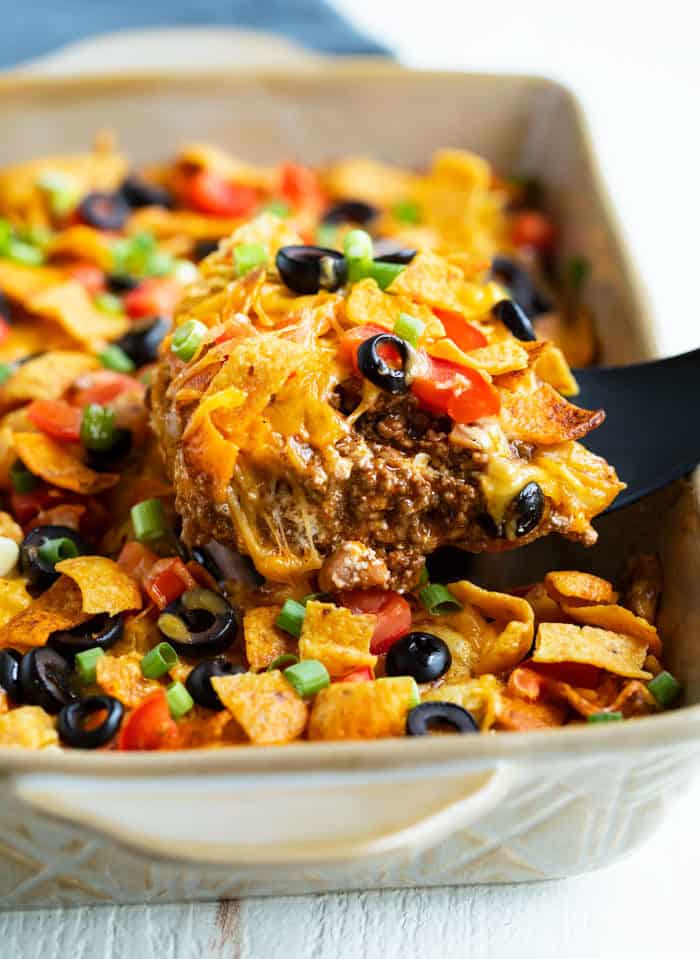 I've been on a casserole kick lately, especially ones that you can make ahead of time. It's amazing how much easier your life becomes when you do a little meal prep ahead of time.
The fact that you can assemble this up to 2 days ahead of time is really handy. And the ingredients are really easy to customize.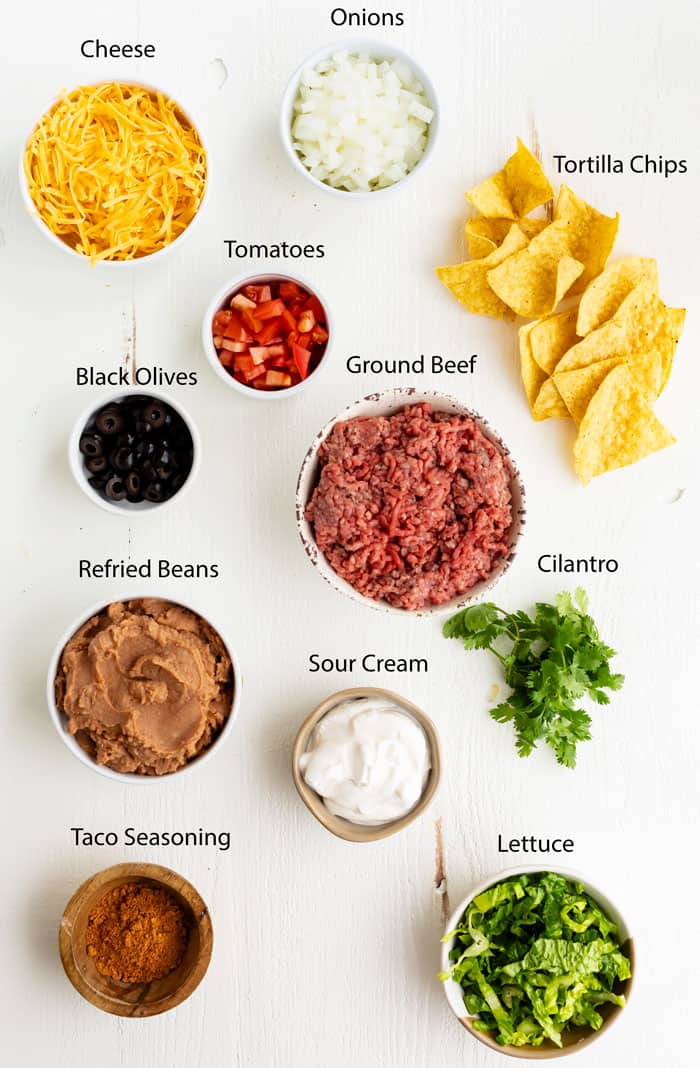 ---
Layers in Taco Casserole
This recipe includes the following layers of ingredients, in order from first to last:
Refried Beans, Sour Cream, Seasoned Ground Beef + Onions, Cheese, Black Olives, Tomatoes, Crunchy Toppings. (Tortilla Chips, Doritos, and/or Fritos.)
Additional Ingredient Options:
Guacamole, Salsa, Black Beans, Diced Jalapenos, Bell Peppers, Corn, Cilantro.
Meat Variations:
Seasoned & shredded chicken, beef, or pork.
Finely sliced steak. (Sirloin, flank steak, or skirt steak is best.)
Ground chicken or turkey.
---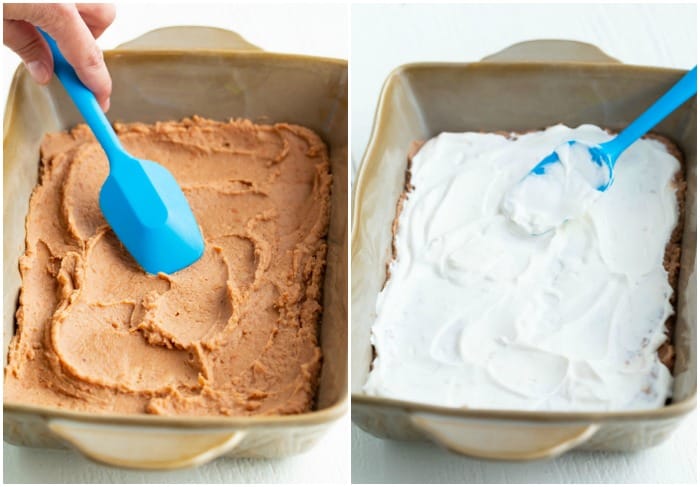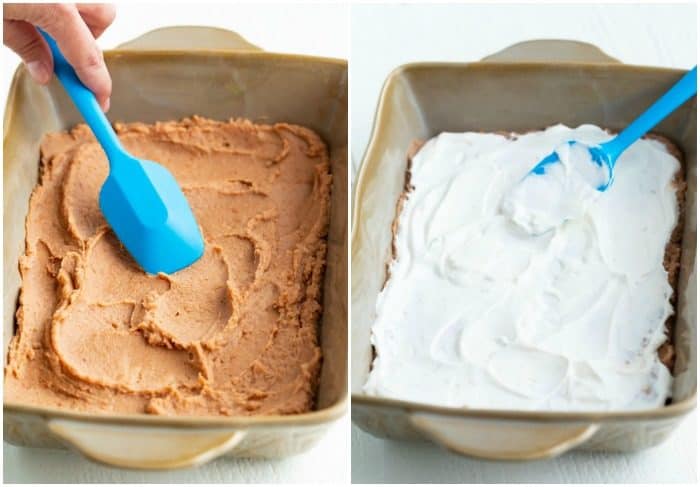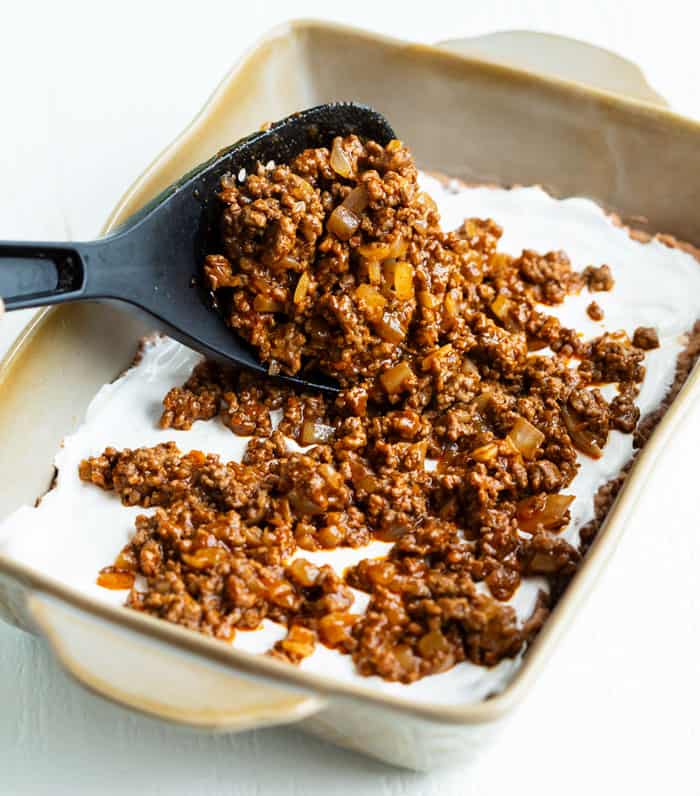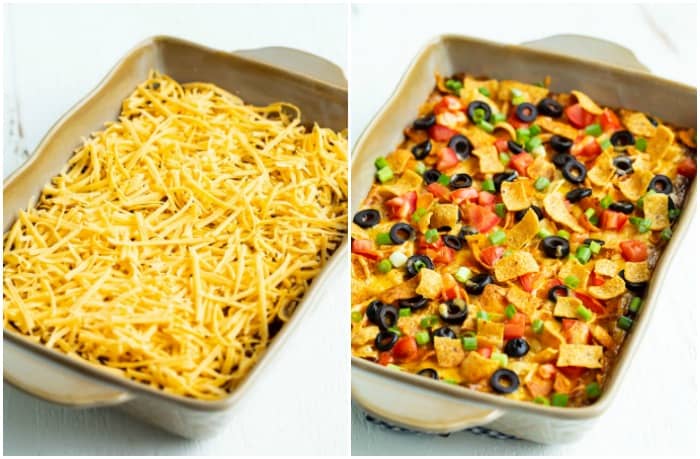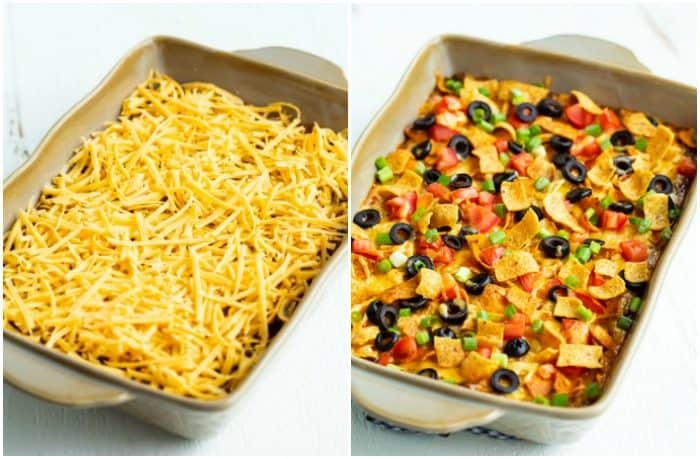 ---
Make-Ahead Method
This Taco Casserole can be made up to 2 days ahead. 
To do so, cook the ground beef and onions and layer all of the ingredients in a casserole dish. 
Let it cool and cover it. Refrigerate for up to 2 days.
Bake, covered, in a 350° oven for 25 minutes.
Uncover, and bake for 5 more minutes to fully melt the cheese.
Add the tomatoes and black olives along with the crunchy toppings. Bake for 8 additional minutes.
Add the shredded lettuce/green onions and serve.
---
Crock Pot Taco Casserole
This recipe is easy to assemble within a Crock Pot and heat right away or up to 2 days later.
You'll still need to brown the ground beef first, then layer the ingredients per the recipe instructions.
Save the crunchy toppings and shredded lettuce/green onions until you're just ready to serve.
Heating right away: High 2-3 hours or Low 3-5 hours

Heating from a cold state: High 3-5 hours or Low 5-7 hours
Crock Pots vary in terms on how quickly they heat up and how hot they get.
---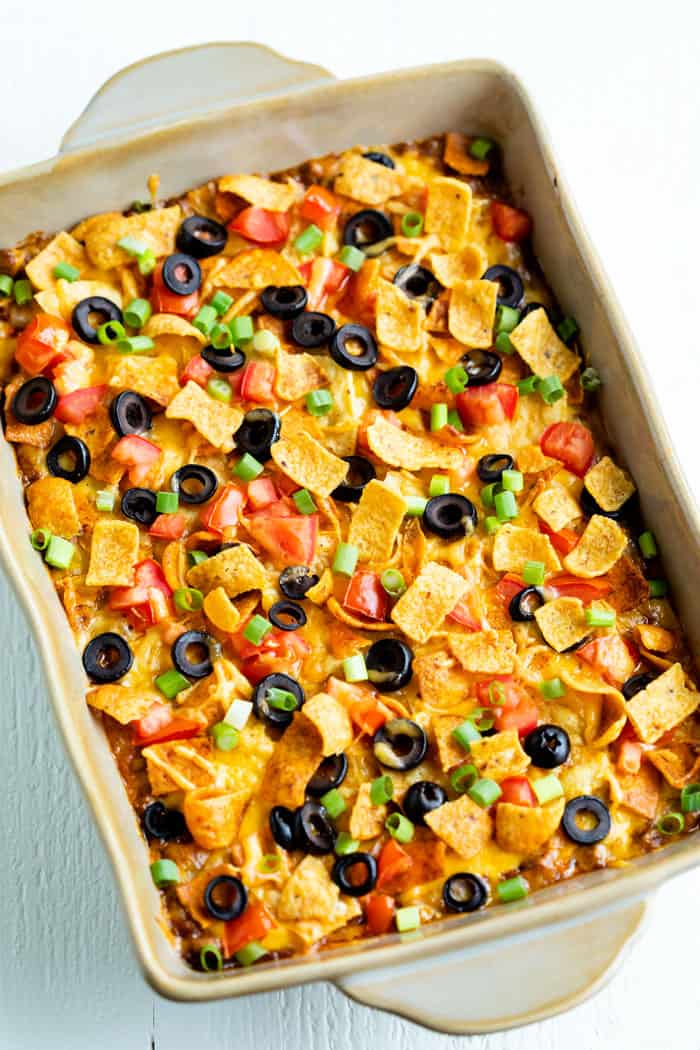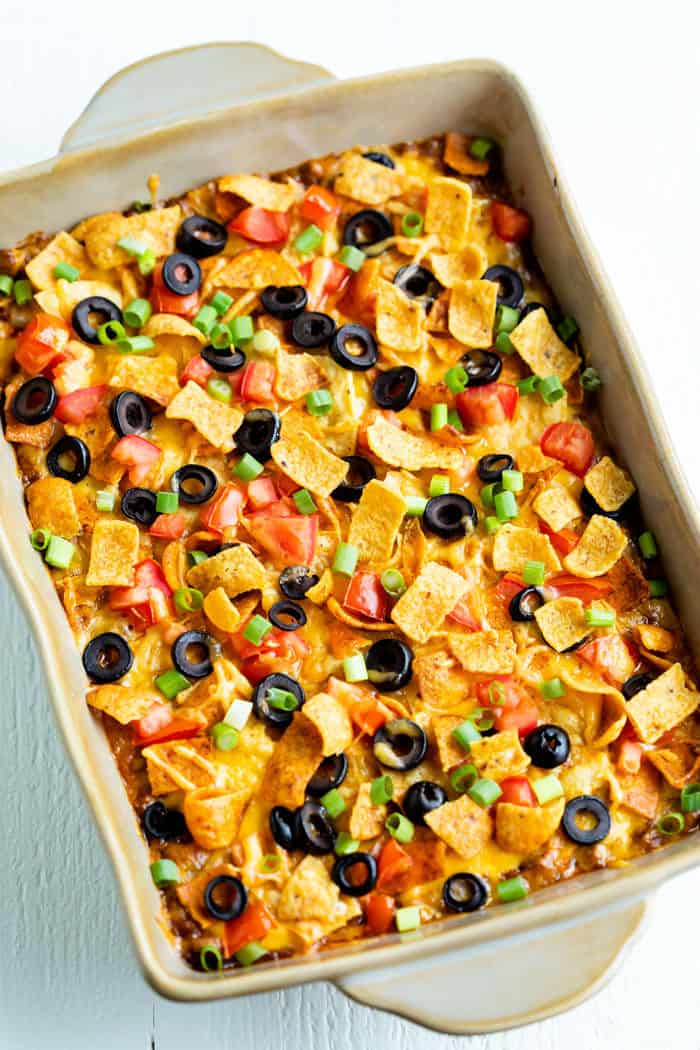 Taco Casserole for a Crowd or Potluck
These aluminum foil pans make it easy to prepare this recipe for a crowd and the pans can be disposed of afterwards.
This recipe serves 6 people. There is a slider on the top left of the recipe card that can be moved to increase the number of servings if you're making this for a larger crowd.
---
Storing Leftovers
Leftovers should be refrigerated in an airtight container and are best if used within 3-4 days.
Reheat in a microwave or a 350°oven until heated through.
Pro Tip: Leftovers make a great dip or filling for burritos!
---
Freezing
Taco casserole may be frozen, and it's best to remove the crunchy toppings  and shredded lettuce prior to doing so to prevent them from getting soggy.
Store in an airtight container in the freezer for up to 3 months.
Let it defrost overnight and reheat in a microwave or 350°oven until heated through.
---
More Mexican Favorites!
---
More Make-Ahead Casseroles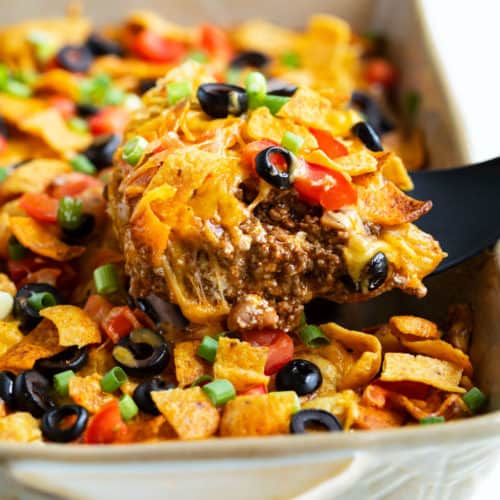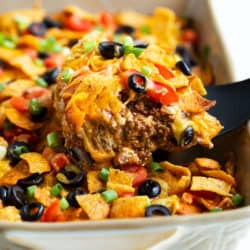 Servings: 6
Taco Casserole
Course: Main Course
Cuisine: American, Mexican
Keyword: Taco Casserole, Taco Casserole Recipe
This Taco Casserole is easy to make ahead of time and bake later! It's loaded with juicy ground beef and your favorite Mexican toppings for a perfect weeknight dinner!
Ingredients
1 lb. ground beef I use 80% lean
1 small yellow onion diced
1 oz. taco seasoning equivalent to 2 Tablespoons
16 oz. refried beans
¾ cup sour cream
2 cups cheddar cheese shredded*
¼ cup black olives sliced
1/3 cup tomatoes diced
¾ cup crunchy toppings such as tortilla chips Doritos, and/or Fritos
To garnish:
1/3 cup lettuce shredded
Green onions (optional)
Instructions
Preheat oven to 350 degrees.

Add the ground beef and diced onions to a large pan and cook and crumble over medium heat until the meat is cooked through.

Drain excess grease.

Add ¾ cup water and taco seasoning.

Bring to a boil.

Reduce the heat and simmer for 5 minutes, stirring occasionally. Remove from heat.

Spread the refried beans in an even layer within a casserole dish. (Mine was 13.25"x9" but varying sizes are fine.)

Spread the sour cream over the refried beans.

Top with cooked ground beef mixture, then with cheese.

If you're preparing this head of time, let it cool and cover and refrigerate until ready to bake.
Baking:
If baking right away: Bake, uncovered, for 15 minutes, or until the cheese is hot and melted.

If baking after the casserole has been refrigerated: Bake, covered, for 25 minutes. Remove the cover and bake for an additional 5 minutes.
Add the toppings:
Top the casserole with black olives, tomatoes, and crunchy toppings. (Add additional cheese if you like as well.)

Bake uncovered for 8 minutes.

Garnish with green onions and/or shredded lettuce and serve!
Recipe Notes
*A combination of Cheddar and Monterey Jack cheese works well too!
Nutrition Information
Calories:
547
, Fat:
38g
, Saturated Fat:
18g
, Cholesterol:
108mg
, Sodium:
1273mg
, Potassium:
359mg
, Carbohydrates:
24g
, Fiber:
5g
, Sugar:
5g
, Protein:
28g
, Vitamin A:
1175%
, Vitamin C:
4.9%
, Calcium:
374%
, Iron:
3.2%
Follow Me!

Join my free email list and fine me on Facebook, Instagram, and Pinterest!