Crock Pot Chicken and Stuffing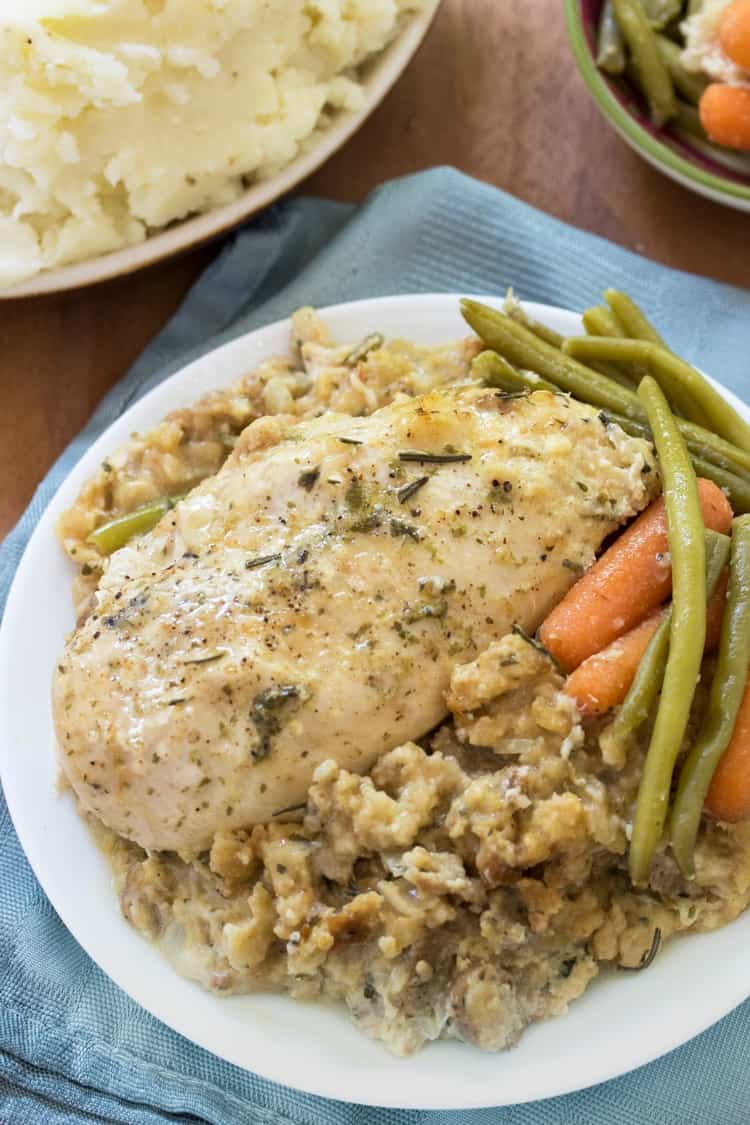 WELCOME, Friends!! FYI, if it's this image below that brought you here, you've come to the right place! I just updated it with the above photo on 9/29/16, as well as the post in general to include ALL of your FAQ's regarding this amazing meal. Now get ready to give your crock pot a big ol' hug…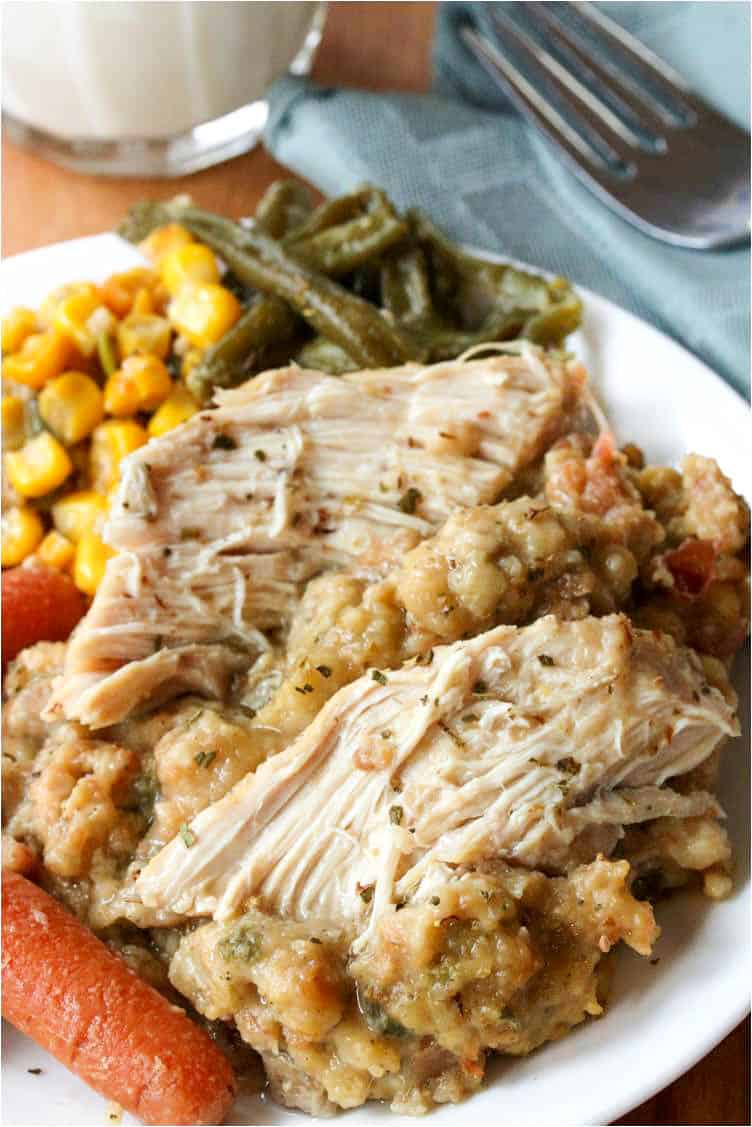 Ahem, first thing's first…
All Crock pots cook differently.
I am amazed at how much crock pots can vary in terms of cooking temperature and speed. Mine runs pretty hot, when I use the "hot setting", it really cranks up the heat, and thus, my food cooks faster. This also means that I need to add a little extra moisture in some recipes, which in this case, is extra chicken broth in the stuffing. To gauge how your stuffing is cooking, I recommend the following:
If you like firm stuffing: That is, the breadcrumbs still very much intact and firm, I would recommend using more stuffing, up to 12 ounces. You can always add more moisture if needed (such as additional chicken broth)
Try to stir throughout the cooking process if possible: This will help you make adjustments if needed, such as adding more chicken broth.
If your stuffing is too moist: Leave the lid off for the last 30-40 minutes of cooking to let some of that moisture escape. You can also pop the stuffing in a 350 degree oven for 10-15 minutes or until it reaches the desired level of consistency.
Forgot the sour cream? Or simply don't like it?
If you were so anxious to get that box of stuffing at the store and you forgot the sour cream in the process, you're not alone! Luckily, there are substation options. Here are a few that should work well if you don't feel like running back to the store:
Plain Greek Yogurt
Mayonnaise
1 cup evaporated milk + 1 tablespoon vinegar or lemon juice. Let stand 5 minutes to thicken.
Low Sodium Options:
Campbell's makes a low-sodium Cream of Mushroom soup that is a great substitute for the Cream of Chicken.
Low-Sodium Chicken Broth is always a safer option, you can always add salt, but it's hard to take it away! 🙂
You can also wait on salting the chicken until you're ready to eat, you may not find it necessary!
Keeping the vegetables separate:
Since I recommend stirring the stuffing periodically to gauge the moisture level, throwing vegetables on top makes it more difficult to stir if you don't want your vegetables mixed into the stuffing, (which tastes great to me but you may want to keep them separate). If so, place a layer of foil on the stop of the stuffing layer and then place your vegetables on top of that. This makes it easy to lift up the foil, (*CAREFULLY, it's hot & there may be water in there), stir the stuffing, and place the veggies back on top after. Towards the end, you can dump the veggies from the foil onto the top of the stuffing to let them soak up some of that stuffing/chicken flavor!
This method "steams" the veggies a bit, so water is likely to build up in the foil. You can either discard this, or dribble it into the stuffing if extra moisture is preferred! *Tip: You can also poke holes in the foil for a more even distribution of liquid as this cooks!
Want to see this recipe in action?
Be sure to sign up for my latest savory recipes delivered free, right to your inbox 🙂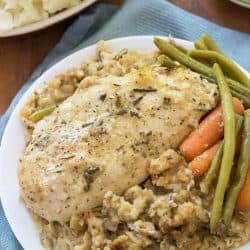 Crock Pot Chicken and Stuffing
Moist Chicken and savory stuffing cook together in the crock pot with your favorite vegetables for a flavor combination that is unbeatable!
Ingredients:
3-4 large boneless skinless chicken breasts, salted and peppered if desired.
1 teaspoon dry parsley
1(10.5) ounce can of cream of chicken soup
8 oz. sour cream (equivalent to 1 cup)
1 (6 oz.) box stuffing mix* (Stove Top & Pepperidge Farm are a few of my favs)
¾ cup low-sodium chicken broth (you can also use water)- Only use 1/2 cup at first, add more as needed.
2 cups fresh or frozen green beans
1 cup baby carrots
Optional stuffing additions:
1/2 cup diced onions
1/2 cup diced celery
1/4 cup dried cranberries
1/2 cup crumbled sausage (cooked or raw)- (I use Banquet Brown 'N Ready pre-cooked sausage links, diced)
Rosemary, to taste (I use 1 tablespoons of fresh rosemary if I have it on hand)
Directions:
Sprinkle the chicken with salt/pepper/parsley and place on the bottom of the crock pot.
In a large bowl, mix together the soup, sour cream, stuffing, and half of the water/broth and place over the chicken.(Mix in the optional ingredients as well, if you choose)
Lay the stuffing evenly over the chicken.
To keep the vegetables separate from the stuffing, place a layer of foil over the stuffing, then place your vegetables on top of the foil. This makes it easier to lift the veggies out and stir the stuffing, if you're able.
Add the remaining water/broth during the cooking process as needed. I always use all of it but crock pots cook differently, so adding as needed is safer. If you're leaving for the day, add the remaining water/broth when you return if you feel you need it.
Cook on high for 4 hours, or on low for 6-7
*No need to cook the stuffing mix prior to adding to crock pot
I recommend stirring the stuffing occasionally to gauge the moisture level.
If the stuffing seems too moist for your liking, leave the lid off the crock pot for the last 30-40 minutes of cooking, or until your desired consistency is achieved. You can also pop it in the oven to firm it up a bit if needed. (I never need to, but all crock pots are different!)
Shop the Recipe:

*This post may contain affiliate links