This easy Crock Pot Pork Roast Recipe needs just a few ingredients, and the gravy is amazing! Customize it with potatoes and your favorite vegetables!
Be sure to try my French Onion Smothered Pork Chops and Crock Pot Chicken and Stuffing next!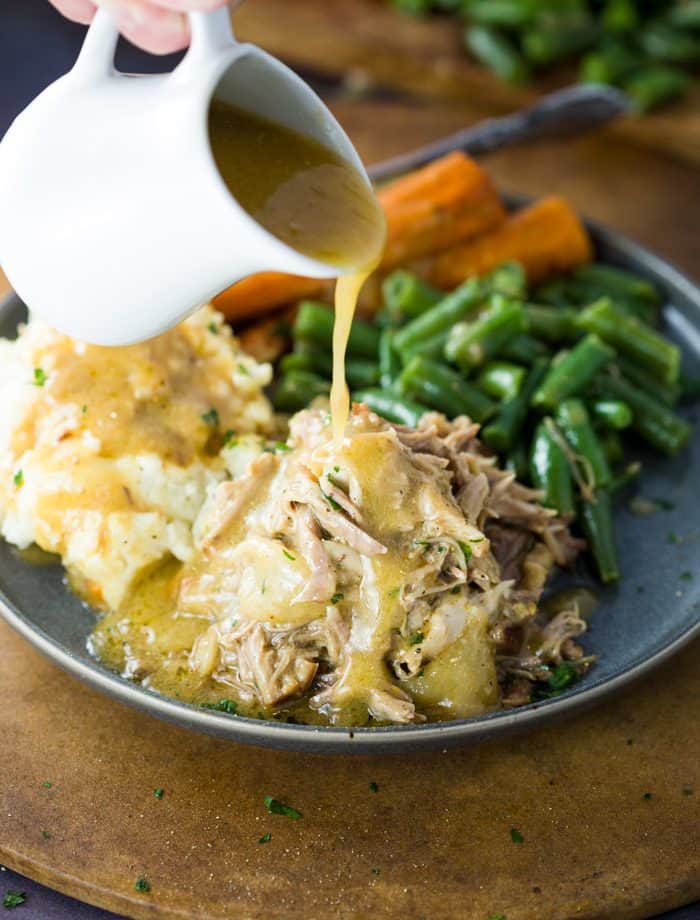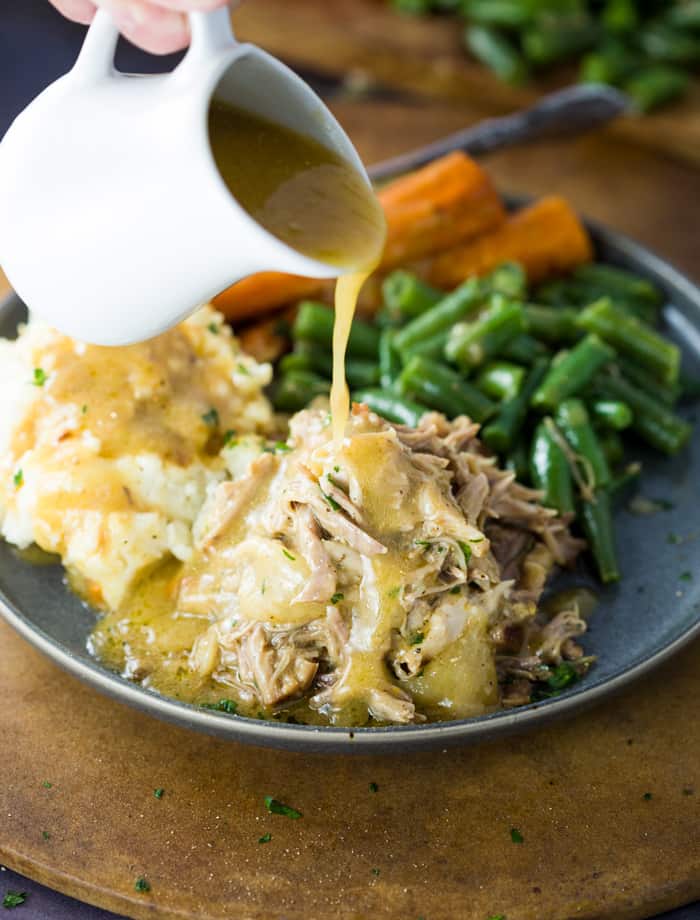 I'm such a sucker for sales. This three-pound pork shoulder was on sale at the store, and I just had to buy it. That pretty much meant that me, my husband, and my two-year-old would each need to eat a pound of pork. 🤔
…Sounds reasonable, right? Luckily, you can freeze leftovers. But first, the ingredients for this recipe:
Ingredients for Crock Pot Pork Roast

Pork Seasoning (My Grandmother's Recipe!)

Rosemary
Oregano
Thyme
Sage
Nutmeg
Pepper
Freezing Cooked Pork
–You can freeze cooked pork for 2-3 months. Using it later for soups and stews is a great way to avoid wasting it.
I am all about making the most out of a dollar, so this ended up being a remarkable deal.
Best Cuts of Pork for Slow Cooking
-Pork shoulders are the best for slow cooking. They have a higher fat content that breaks down during the cooking process, leaving you with an incredibly tender, melt-in-your-mouth consistency.
–The Pork belly and cheek also work well in the slow cooker.
-If you can't find a whole pork shoulder at the grocery store, a Boston Butt is the next best choice, which is half of the shoulder. The other half of the shoulder is called the picnic shoulder.
How Long do you Cook Pork in the Slow Cooker
-A 3 lb. pork shoulder takes approximately 5 hours to cook on high, and about 8 hours on low. The pork is done when it can fall apart with just the touch of a fork.
My Favorite Crock Pot
This is the Crock Pot that I have, I love that you can sear meat right on the stove-top with it.
It also automatically switches to warm once the cooking time is up, which is hugely convenient when you're out of the house.
What to Serve with Roast Pork
Try These Next!
Meow Gallery: The layout none is not available in this version.

Get My Free Meal Plan
I've got a Free Meal Plan with 7 of my super popular recipes (complete with grocery list)! Sign up for my email list and I'll send it over now along with weekly dinner recipes!
And follow me on Facebook, Instagram, and Pinterest!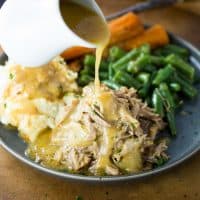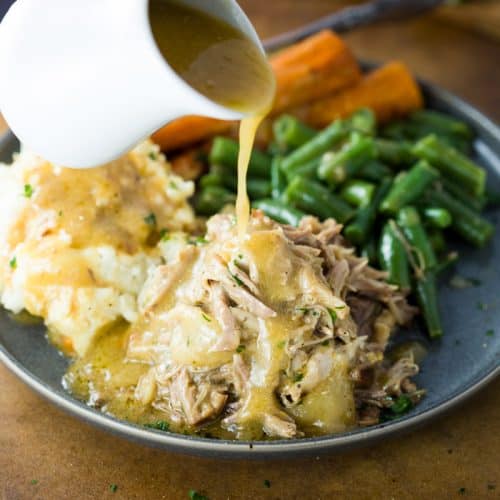 Crock Pot Pork Roast with Gravy
Just a few ingredients is all it takes to make this ultra flavorful crock pot pork roast and gravy. The pork melts in your mouth and is delicious with potatoes and vegetables.
Ingredients
Pork Seasoning
1 tsp rosemary
3/4 tsp oregano
3/4 tsp thyme
3/4 tsp sage
1/8 tsp nutmeg
1/8 tsp pepper
Instructions
Mix the soups and gravy mix together in the slow cooker.

Pat the pork dry with paper towels and press seasoning mix firmly onto the surface of the pork.

Add the pork to the slow cooker along with the carrots and sliced onions.

Cook on low for 8-9 hours, or on high for 5.

Serve with potatoes and enjoy!
Notes
You can also use a packet of onion soup mix instead of pork gravy mix.
Additionally, 2 cans of cream of chicken may be used instead of cream of mushroom, (or vice versa).
My slow cooker is a 6 quart and works well for this recipe.
I add 2 cups of frozen green beans for the remaining 30 minutes of cooking. 
Nutrition
Calories: 427kcal, Carbohydrates: 9g, Protein: 48g, Fat: 20g, Saturated Fat: 7g, Cholesterol: 158mg, Sodium: 924mg, Potassium: 961mg, Fiber: 1g, Sugar: 2g, Vitamin A: 5990IU, Vitamin C: 2.9mg, Calcium: 54mg, Iron: 4mg