This easy recipe for homemade chicken stock uses leftover rotisserie or roast chicken and simple vegetables and seasonings. This is the best way to fully enhance homemade soups, stews, sauces, and more!
The best part about homemade chicken stock? Enjoying Ina Garten's perfect roast chicken recipe first!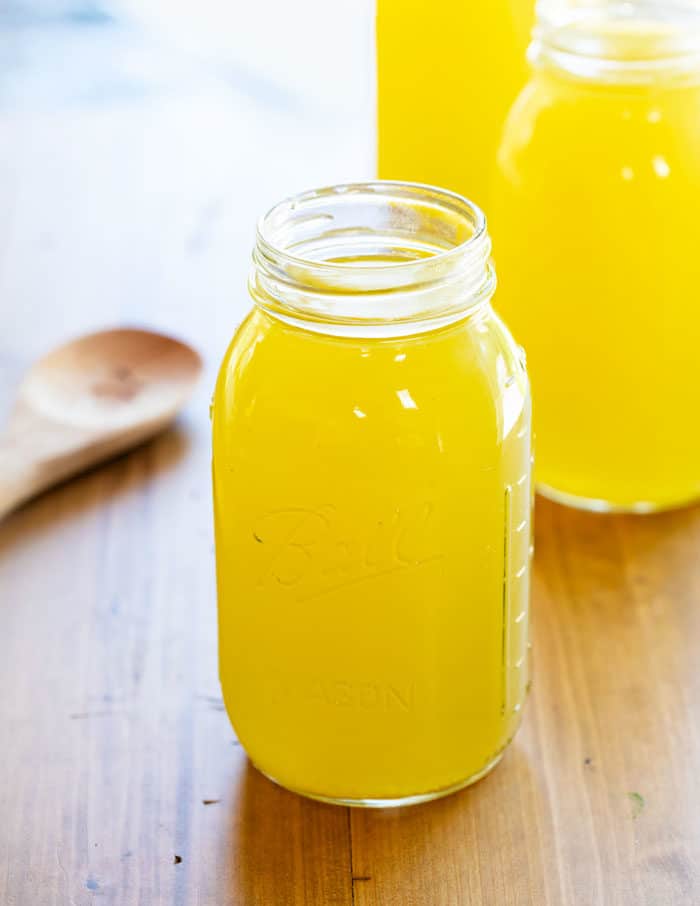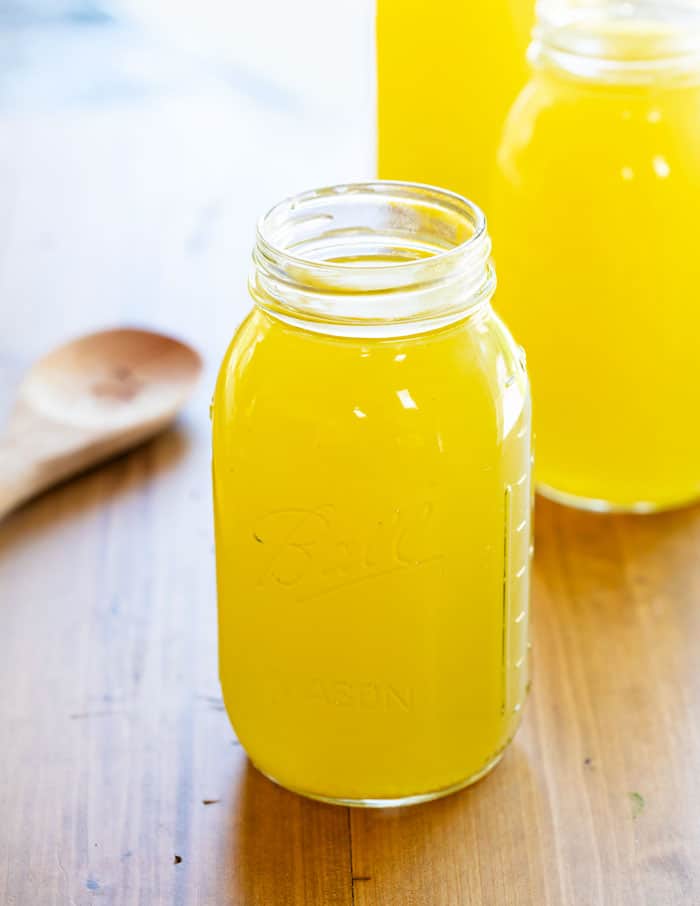 It's no big deal, I've only been meaning to put a homemade chicken stock recipe on the blog for like… 5 years now.
Welp, better late than never, folks!
I can't stress enough how much better your soups, stews, sauces, and basically any recipe will taste when you use homemade chicken stock instead of the boxed or canned stuff.
Let's get into some of the info you need to know!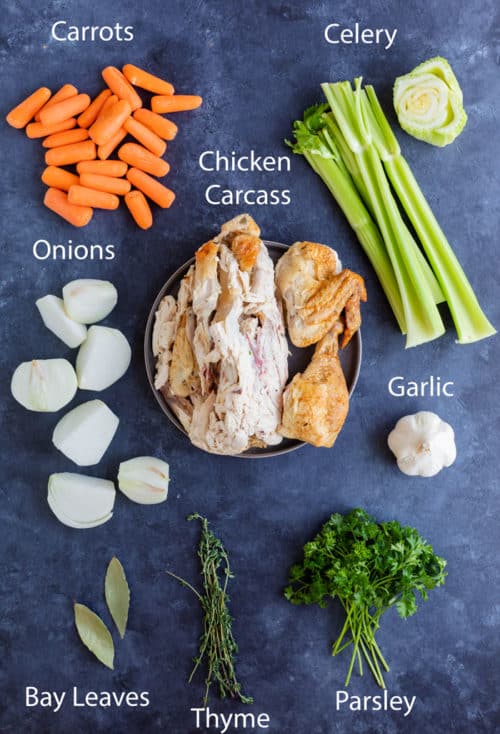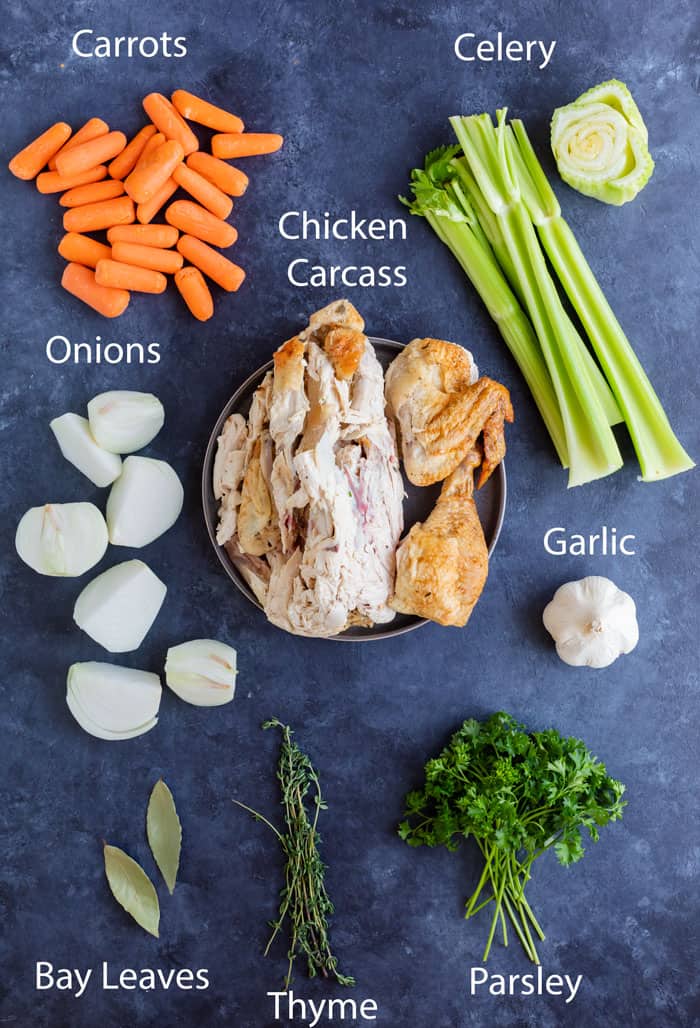 Chicken Broth vs. Chicken Stock
These terms are often used interchangeably, but there are some differences between the two:
Chicken Broth:
Made from simmering the meaty parts of the chicken/turkey for a shorter amount of time.
Chicken Stock:
Made from simmering the bones (vs. meaty parts), for longer periods of time, (up to 24 hours.)
Chicken Stock tends to have a greater depth of flavor, as long-simmered bones release gelatin into the stock.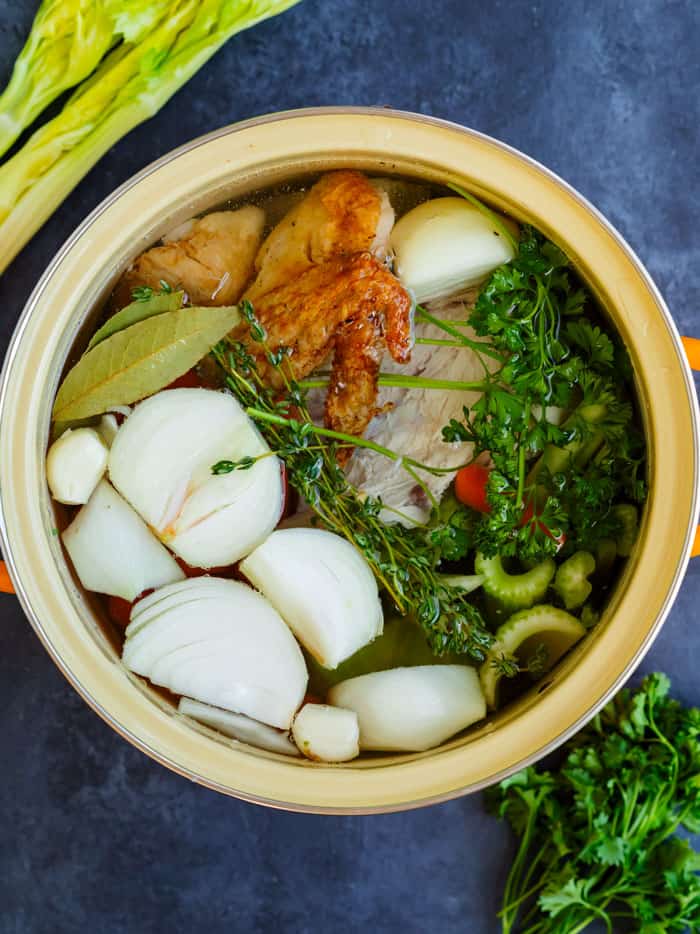 Best Vegetables for Chicken Stock
Carrots, Onions, and Celery are the most common vegetables used for making homemade chicken stock and are a great way to clean out your salad crisper!
The white part of a leek may also be used.
Certain vegetables such as beets should not be used as it will discolor the stock. Additionally, vegetables such as brussels sprouts or broccoli can overpower the flavor of the stock and are not ideal.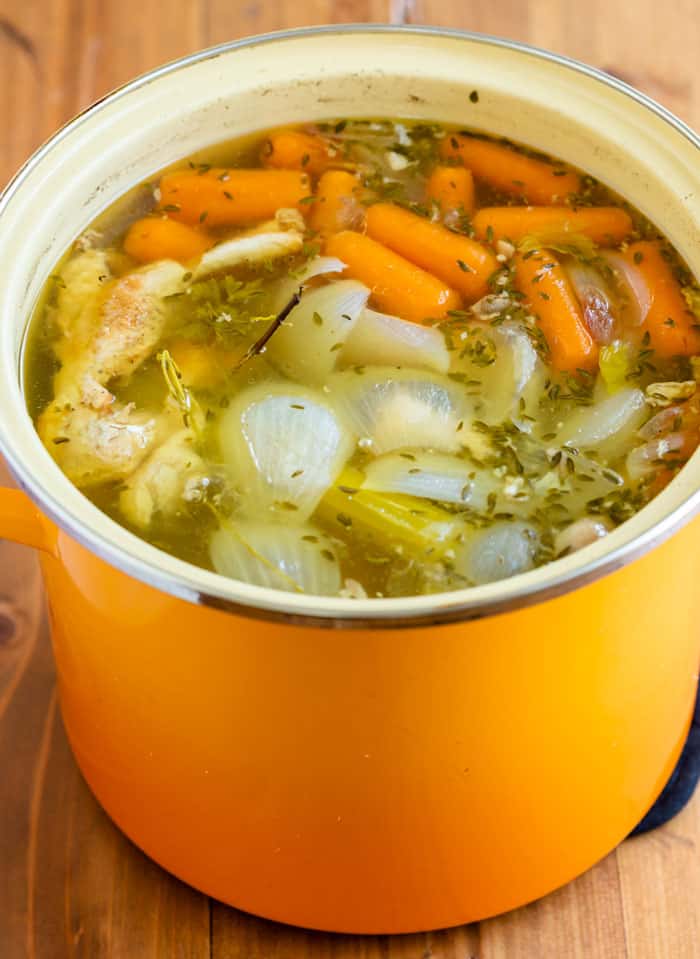 Seasonings for Chicken Stock
This recipe calls for fresh parsley, thyme, and bay leaves, however you can also add rosemary and peppercorns.
Fresh seasonings bring out the best flavor, however dry can be used if needed.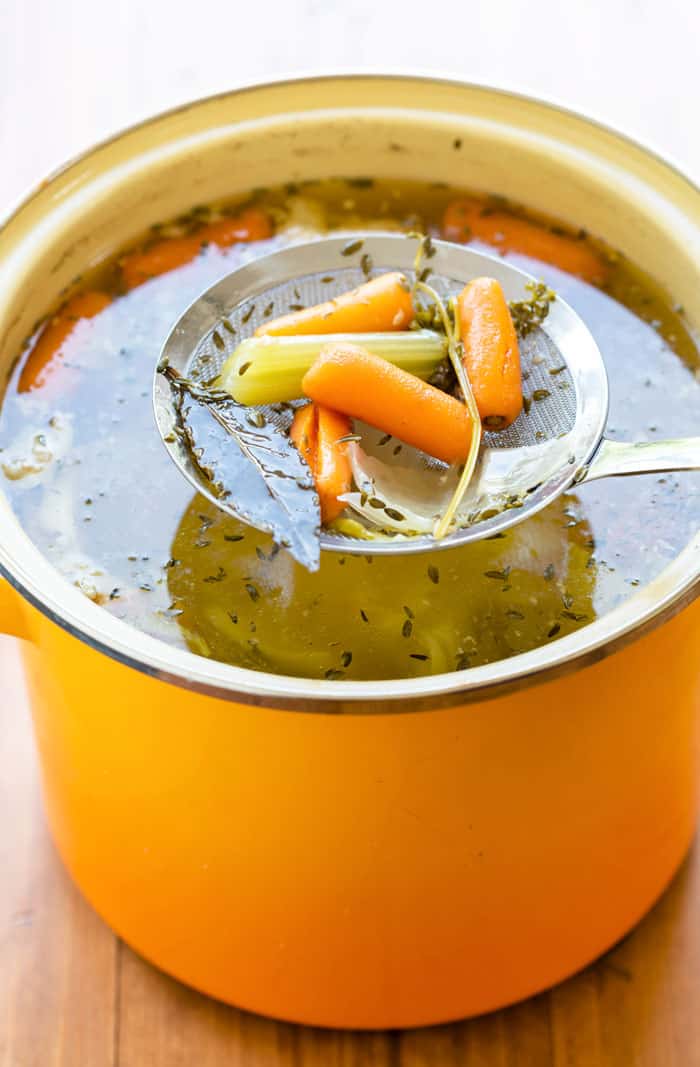 Can you Freeze a Chicken Carcass to Make Stock Later?
Yes! Wrap all of the leftover carcass, bones, and any meat in foil and place it in a labeled freezer bag to make stock another time!
No need to defrost the chicken prior to making the stock, it will defrost perfectly as it simmers.
Storage
Chicken stock can be store in an airtight container in the refrigerator for 4-5 days or in the freezer for up to 9 months.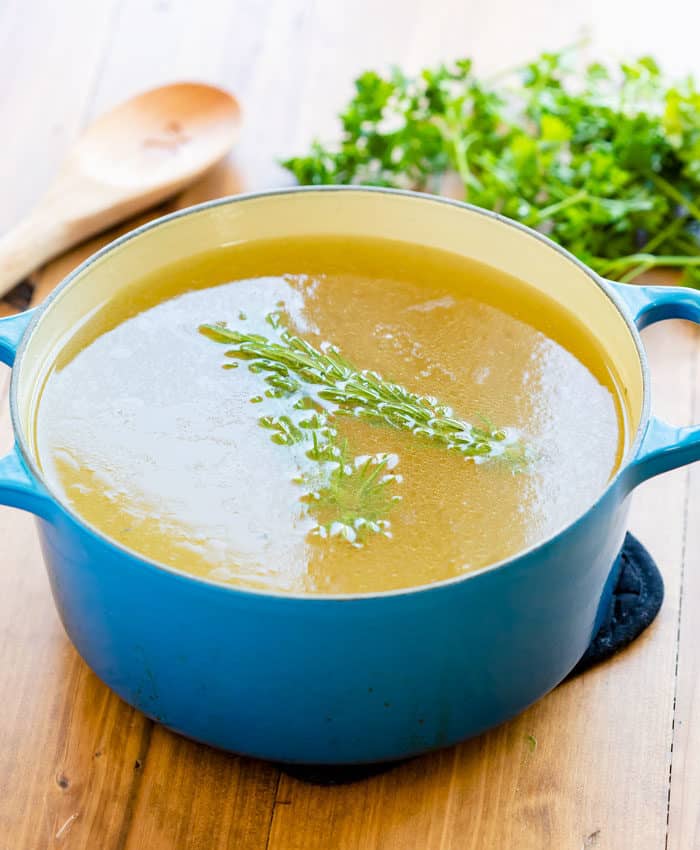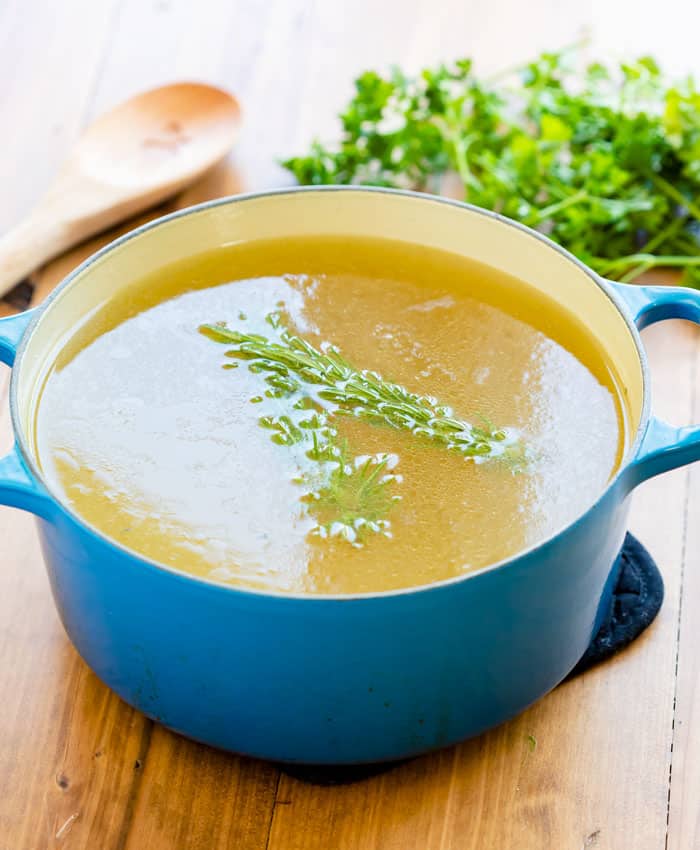 Tools for This Recipe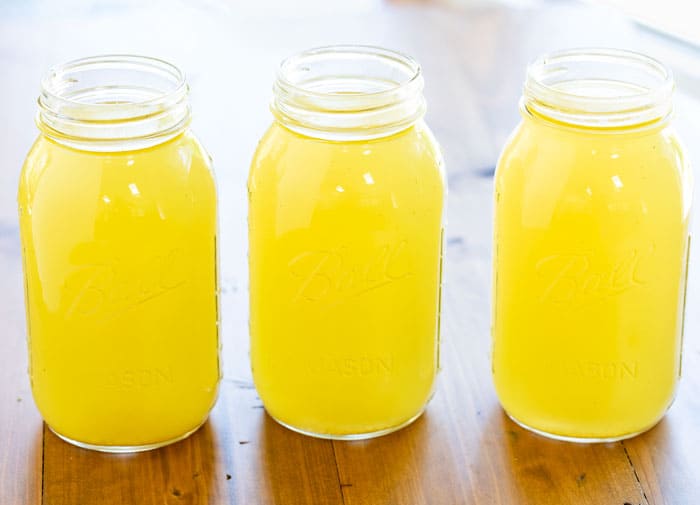 Try These Next!
Follow Me!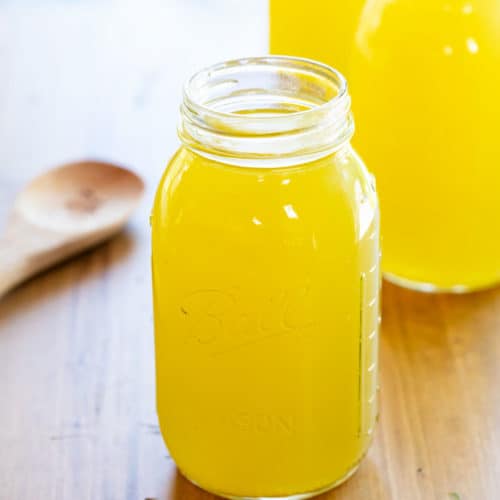 Homemade Chicken Stock
This easy recipe for homemade chicken stock uses leftover roast or rotisserie chicken and simple vegetables and seasonings. This is the best way to fully enhance homemade soups, stews, sauces, and more!


Ingredients
1 leftover (cooked) chicken carcass, including any additional leftovers
2 large carrots, or 10-12 baby carrots
1 yellow onion, sliced into chunks, skins left on if desired
2 garlic cloves, peeled
1 celery head with the stalks sliced off
2 stalks celery
1 bunch parsley, including stems
10 sprigs fresh thyme
2 bay leaves
Salt/Pepper, to taste
Instructions
Place the chicken carcass in a large stock pot and add all vegetables and seasonings.

Cover with enough water so that it rises 1-2 inches above the ingredients.

Bring the water to a boil.

Immediately decrease the heat to bring the pot to a very low simmer. Cover, and let it gently simmer for at least 4 hours. (Or longer for a higher concentrated broth.)

Allow the liquid to cool completely and pour into labeled soup containers or canning jars for freezing, leaving a little extra room for expansion.

Use for homemade soups, sauces, or any recipe that calls for chicken stock. It will make your recipes taste so much better!
Notes
I used a 6 lb. chicken for this stock, which yielded 7 quarts of chicken stock.