The Pioneer Woman Meatloaf
This Meatloaf Recipe from The Pioneer Woman is so easy to make! It's brushed with a simple homemade sauce and freezes well for future meals!
…Love Pioneer Woman Recipes? You have to try her Twice Baked Potato Casserole!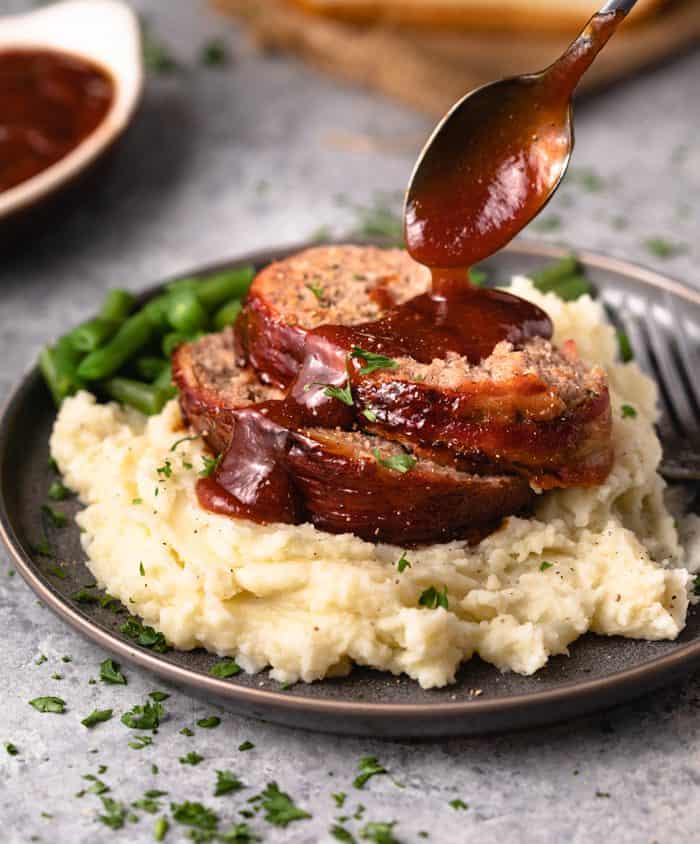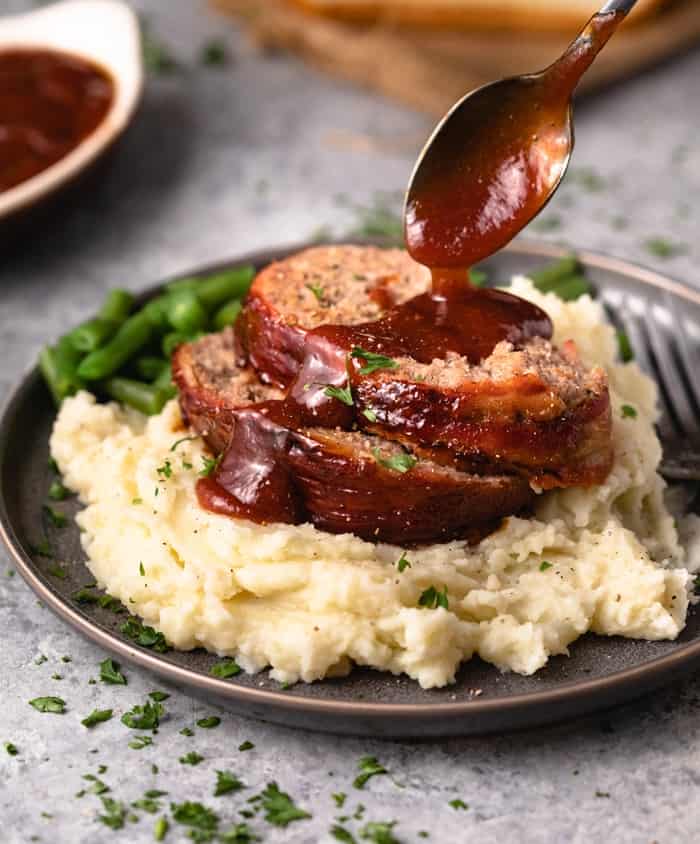 I just want to buy a red wig and walk around my house pretending to be The Pioneer Woman. Is that so wrong? I just love watching her cook in her huge, spotless, sunshine-filled lodge, where dishes wash themselves and food always comes out perfectly.
But in the meantime, I guess I'll just enjoy her bacon-wrapped meatloaf, sans-wig. 😂It's honestly the most flavorful meatloaf ever, the bacon cooks over the meat and the juices run right into it, can you imagine the flavor that it creates?!
I hope my kitchen smells like bacon forever. 💗
What is the Best Meat for Meatloaf?
70% lean ground beef is a good choice when selecting ground beef for meatloaf.
A combination of ground beef, pork, and veal will also give you very tender and flavorful meatloaf. You'd use 1/3 lb. of each.

PRO TIP: Some grocery stores have this meat combination already packaged up in the meat section, specifically for making meatloaf and/or meatballs.
Can You Freeze Meatloaf?
Cooked meatloaf is an absolutely perfect freezer food. I like to wrap it in foil and place it in portion-sizes in a freezer bag. It's best if eaten with 3 months.
To reheat, let it defrost in the fridge overnight. Then I like to wrap it in foil in bake at 350 degrees until heated through, about 20-25 minutes. It will vary based on the portion size.
What Kind of Bread is Best for Meatloaf?
Soft, white sandwich bread is great for meatloaf, although crusty artisan bread can also be used. The Pioneer Woman prefers to use white sandwich bread, and I tend to agree. I find that the softer bread blends into the ground beef better and makes for a more uniform consistency.
Can You Over-Mix Ground Beef?
Yes, you can over-mix ground beef when you're preparing meatloaf or burgers. You'll want to make sure that the meatloaf is as uniform in consistency as possible, but handle the meat gently and do your best not to mix it too much, or the consistency will be tougher and the meat will be slightly less flavorful.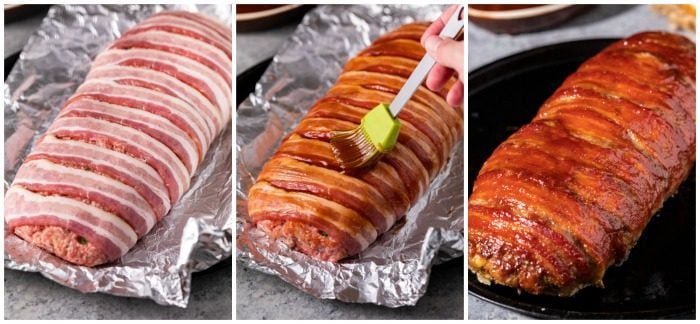 Can I Make This Without Bacon?
You can absolutely leave the bacon out of this recipe if you'd prefer. The remaining 25 minutes of cooking time may need to be decreased to 15-20 minutes or so.
What Do You Serve with Meatloaf?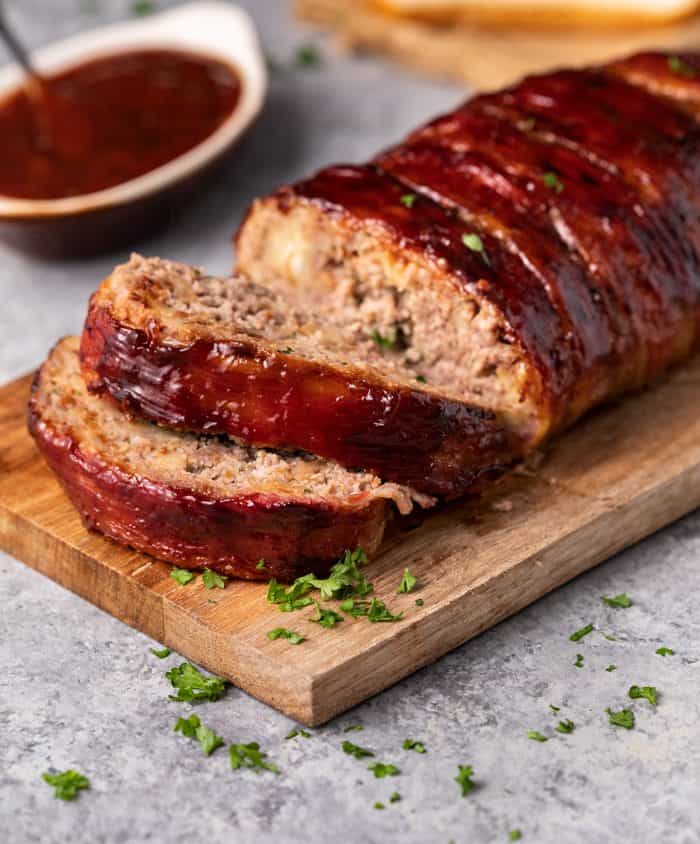 My Kitchen Tools For This Recipe
Try These Next!
Follow Me!
Servings: 8
The Pioneer Woman Meatloaf
Course: Main Course
Cuisine: American
Keyword: The Pioneer Woman Meatloaf
This Pioneer Woman Meatloaf Recipe is the best you'll ever try! The entire loaf is wrapped in bacon and baked to perfection, and it freezes well for future meals! This pairs perfectly with roasted green beans and mashed potatoes.

Ingredients
Meatloaf:
1 cup Whole Milk
6 slices White Bread
2 pounds Ground Beef
1 cup Parmesan Cheese freshly grated
1/4 teaspoon Seasoned Salt
3/4 teaspoons Salt
Freshly Ground Black Pepper
1/3 cup Parsley minced
4 whole Eggs Beaten
12 slices Thin/regular Bacon
Sauce:
1+1/2 cups Ketchup
1/3 cup Brown Sugar
1 teaspoon Dry Mustard
1 dash Tabasco sauce
Instructions
Preheat the oven to 350 degrees.

Add the bread to a large bowl and pour the milk on top of the slices. Let them soak for 5 minutes.

Add the remaining meatloaf ingredients and use your hands to combine. Try to ensure that the bread is sufficiently combined into the mixture, although try not to overmix as the ground beef will become tougher and lose some flavor.

Form the meat into a loaf and place it over a

broiler pan

to allow the fat to drain. Lining the bottom of the broiler pan with foil will make for easier cleanup.

Line the bacon over the top of the loaf and carefully tuck the ends under the bottom. The bacon can be used to help support the shape of the loaf. I like to line them so that they are touching, but not overlapping so that you can easily slice in between each piece of bacon when it's cooked.

Combine the sauce ingredients and brush 1/3 of it over the meatloaf.

Bake the meatloaf for 45 minutes. Remove it from the oven and brush another 1/3 of the sauce over it. Bake for another 25 minutes.

Remove from the oven and let it sit for 10 minutes prior to slicing, letting it rest allows the juices to absorb back into the meat, cutting in too early will cause the juice to run out of the loaf.
Recipe Notes
70% lean beef is best for meatloaf. 
Thin bacon is best with this recipe, the thinner the better!
Recipe Source: The Pioneer Woman
Nutrition Information
Calories:
628
, Fat:
42g
, Saturated Fat:
16g
, Cholesterol:
195mg
, Sodium:
1065mg
, Potassium:
548mg
, Carbohydrates:
24g
, Sugar:
14g
, Protein:
33g
, Vitamin A:
11.3%
, Vitamin C:
4.8%
, Calcium:
27.9%
, Iron:
21.1%