Instant Pot Mashed Potatoes
The creamiest mashed potatoes you'll ever try, made right in the Instant Pot! Free up your stove for the main meal while while the Instant Pot keeps the potatoes warm on the side! 
Be sure to try The Pioneer Woman's Twice Baked Potato Casserole recipe next!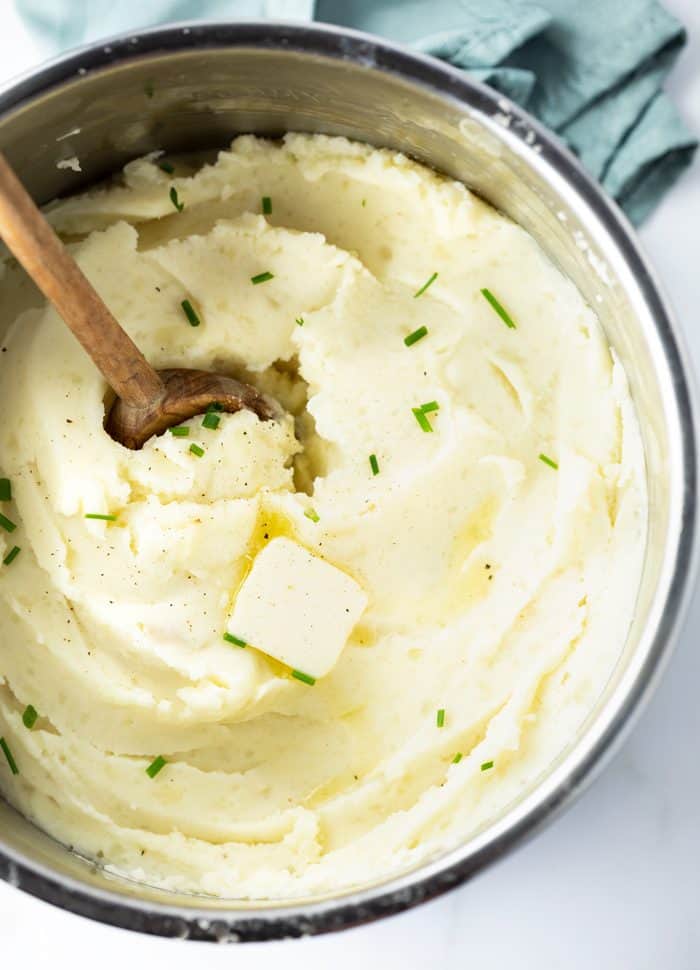 Ahhhh, mashed potatoes. One of the most basic (yet necessary) side dishes around! They're easy to make, but, it's just as easy to screw up.
I wish I had learned some of the basic tips for making perfect mashed potatoes below a long time ago.
There's a rhyme and a reason for every step involved, from which potato you use, to the temperature of the water and other ingredients, and even how much you mash the potatoes.
Definitely worth a read.
How to Make Perfect Mashed Potatoes:
Use a Starchy Potato:
Russets or Yukon Golds are perfect for mashing.
Using waxy potatoes such as red or new potatoes can cause your mashed potatoes to have a gluey consistency as opposed to being nice and creamy.
Use COLD Water:
Add the potatoes to cold and salted water before boiling.
Using hot/warm water will cause the outside of the potato to heat up before the middle does, which will cause uneven cooking.
Add the Butter Before the Dairy:
The butter helps to coat the starch and gives you a silkier consistency.
Don't Add Cold Ingredients to Warm Potatoes:
Make sure your butter, milk/half and half are at room temperature or even warmed up slightly.
The potatoes will absorb them better this way and they will end up much creamier.
Don't over-mash:
Potatoes release starch every time they're handled/mashed.
The consistency will become gluey instead of creamy if they are handled too much.
Why Make Mashed Potatoes in the Instant Pot?
Although the Instant Pot can cook these potatoes in 10 minutes, that amount of time doesn't include how long it takes the Instant Pot to get up to pressure, which can take nearly 10 minutes of additional time.
Here are some advantages to making mashed potatoes in the Instant Pot that have nothing to do with time:
-I like to free up the stove for making the main meal. When I make mashed potatoes in the Instant Pot, it's being handled on the side. Out of site, out of mind.
-I don't have to guess or continue to test when the potatoes are ready. The Instant Pot times the 10 minutes of pressure cooking time for me so that I don't have to worry or think about it.
-The Instant Pot automatically switches to warm once the pressure cooking is done, so I don't have to  babysit the potatoes and can get to mashing them up when I'm ready.
-The pot is big enough to hold a ton of potatoes!
What Size Instant Pot did I use?
-I used my trusty 6-quart Instant Pot for this recipe, which is what I recommend for most families, and is what most Instant Pot recipes are based on. It can cook enough food for a family of four and won't take as long to come to pressure as an 8 quart will.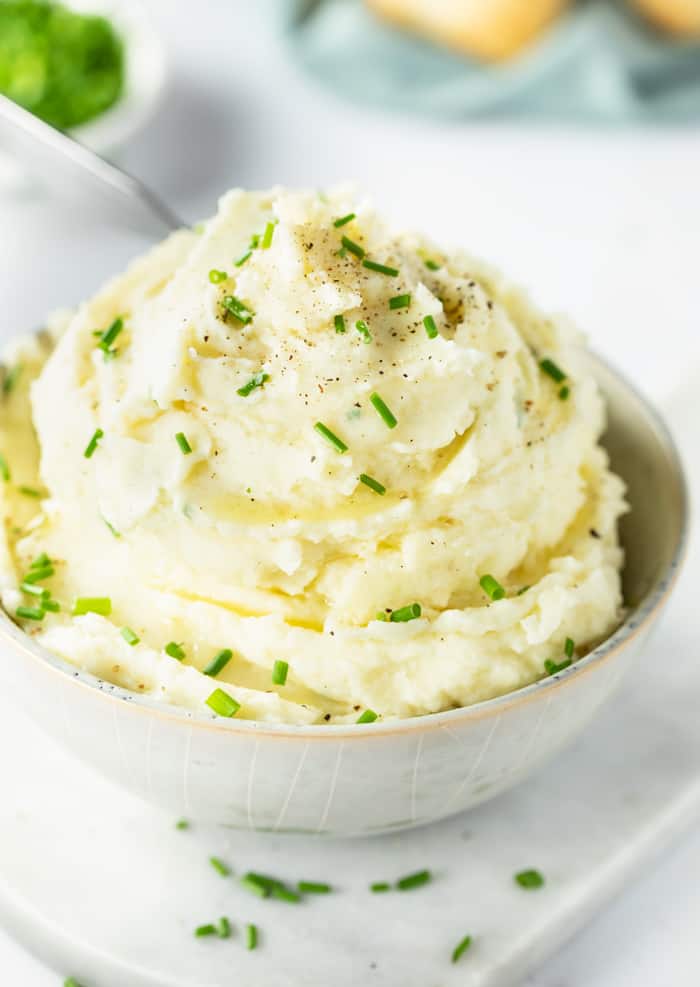 Try these next!
Follow Me!
Before you go, you should join my free email list. You'll get just one weekly email with my latest recipes!
👉And I have a lot of fun on my Facebook page too, along with Pinterest. And Instagram. Okay I'm done. 😊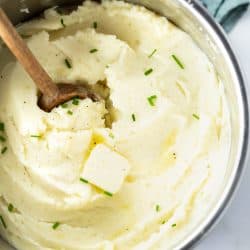 Servings: 6
Instant Pot Mashed Potatoes
Course: Side Dish
Cuisine: American
Keyword: Instant Pot Mashed Potatoes
The creamiest mashed potatoes you'll ever try, made right in the Instant Pot! Free up your stove for the main meal while the instant pot keeps the potatoes warm on the side!

Ingredients
6 medium Russet potatoes (about 2 lbs.)
3 cups chicken broth
3 cups cold water
1 pinch salt
½ cup sour cream
½ cup whole milk
6 Tablespoons butter softened
Salt/Pepper to taste
Fresh chives or parsley to garnish if desired
Instructions
Take out the sour cream, milk, and butter and let them come down to close to room temperature, they shouldn't be cold when added to the potatoes.

Peel the potatoes and cut them into thirds or fourths of equally-sized pieces.

Add them to the

instant pot.

Combine the chicken broth, water, and salt and pour enough liquid in to ensure that the potatoes are covered, don't go over the max line inside the instant pot.

Cover and press the "manual" or "pressure cook" button and set the timer for 10 minutes.

Once the timer goes off, release the seal valve on the pressure cooker and wait for the steam to escape.

Ensure that the potatoes are fork tender. Reserve a ½ cup of the liquid and drain the rest. Use the liquid only if they are being kept warm and will be eaten later. The liquid can help them from becoming dry.

Add the butter. Use a potato masher to mash the potatoes until smooth, don't over-mash the potatoes or they will become gluey instead of creamy.

Stir in the sour cream and milk.

Take a taste before adding more salt. Keep warm in the instant pot until ready to eat!

Top them with freshly chopped chives/parsley if desired and enjoy!
Nutrition Information
Calories:
323
, Fat:
16g
, Saturated Fat:
9g
, Cholesterol:
42mg
, Sodium:
570mg
, Potassium:
1036mg
, Carbohydrates:
40g
, Fiber:
2g
, Sugar:
2g
, Protein:
6g
, Vitamin A:
500%
, Vitamin C:
20.5%
, Calcium:
86%
, Iron:
2.1%