Creamy Homemade Mashed Potatoes are the best side dish idea for any night of the week! The steps are easy to follow and have basic ingredients like butter and sour cream with optional additions like garlic and Parmesan cheese!
BONUS: Learn my make-ahead method and instructions for freezing and reheating!
Be sure to try my Green Bean Casserole and homemade Dinner Rolls next!
Homemade Mashed Potatoes
There are few things better than perfect, creamy, homemade mashed potatoes.
There are a ton of different ways to make mashed potatoes. From the type of potato you use, if and how you slice them, how long you boil them, and even how you mash them!
Are you ready to learn the secret to making the best mashed potatoes?! Let's do it!
How to Make the Best Homemade Mashed Potatoes
Use a Starchy Potato:
Yukon Golds or Russets are perfect for mashing. You can also use a combination of both!
Using waxy potatoes such as red or new potatoes can cause your mashed potatoes to have a gluey consistency as opposed to being nice and creamy.
---
Cut the Potatoes into 3/4-inch Slices:
This allows them to cook evenly. Some say to boil whole potatoes to prevent them from absorbing too much water, but they cook unevenly this way.
You can choose to leave the skins on or off, or you can leave some of them on. Just be sure to scrub them thoroughly if leaving the skins on.
---
Use COLD Water, slowly bring to a gentle boil:
This ensures that the potatoes cook evenly. Otherwise the middle will be hard and the outside will be soft.
---
Salt the water once it's reached a boil:
This is the best way to evenly season the potatoes all the way through, you can always add more salt at the end. You'll use about 1 teaspoon of salt per pound of potatoes.
---
Let the Steam Rise after Draining:
Once you've drained the potatoes, return them to the warm pot and let them steam for 5 minutes, this will allow excess moisture that the potatoes absorbed to steam off.
---
Don't Add Cold Ingredients to Warm Potatoes:
Make sure the half and half, sour cream, and butter are all room temperature. This ensures the potatoes are able to fully absorb them which makes them extra creamy.
---
Add Butter Before the Half and Half/Sour Cream:
The butter helps to coat the starch and gives you a silkier consistency.
---
Don't Over-Mash:
Potatoes release starch every time they're handled/mashed. Too much starch leads to a gluey, gummy consistency.
A dual-action potato masher works well for this. Avoid any type of electric mixer as they will go from creamy to gluey very quickly.
Here's What The Process Looks Like:

How Many Potatoes Per Person
While 1/2 lb. of potatoes is enough to prepare per person, I like to use .85 pounds per person to ensure that there is plenty to go around.
Any leftover mashed potatoes can be used to make my Baked Potato Soup or Mashed Potato Casserole.
Can You Peel Potatoes Ahead of Time
Yes, this is a great shortcut when you're entertaining. Place peeled and sliced potatoes in a pot and submerge them in cold water. Cover and refrigerate for up to 24 hours.
Make-Ahead Method
If you prefer to boil and mash your potatoes ahead of time so that you only need to reheat them:
Add an extra 1-2 Tablespoons butter.
Stir in 2-3 additional Tablespoons warmed half and half, (preferably whole), at the end of cooking. Cover the pot and refrigerate for 1-2 days.
Let it sit out for 1 hour prior to reheating.
How to Reheat Mashed Potatoes
Stirring occasionally is ideal of all methods below. Add a little warm half and half if the potatoes appear too thick.
Slow Cooker: Low heat for 1-2 hours. Reduce to warm until ready to serve.
Microwave: 50% power in 1-minute intervals, covered, until heated through. Stir in between.
Oven: Cover and cook at 350° for 30 minutes.
Stove: Medium-low heat for about 20 minutes, covered.
Freezing Leftovers
If you plan on freezing leftovers, be extra generous with the half and half and butter. Per The Kitchn, this helps them freeze and reheat well.
Freezing the whole batch:
Place all of your cooled leftover potatoes into a freezer bag, remove air, seal tightly, and freeze.
Freezing Portion Sizes:
Line a baking sheet with parchment paper.
Use a measuring cup to scoop 1-cup portion sizes onto the sheet.
Flash freeze for 1 hour.
Transfer to a freezer Ziploc bag. Best if used within 3 months.
Reheating Frozen Potatoes:
Let the potatoes thaw in the fridge overnight or defrost in the microwave. Then refer to reheating instructions above.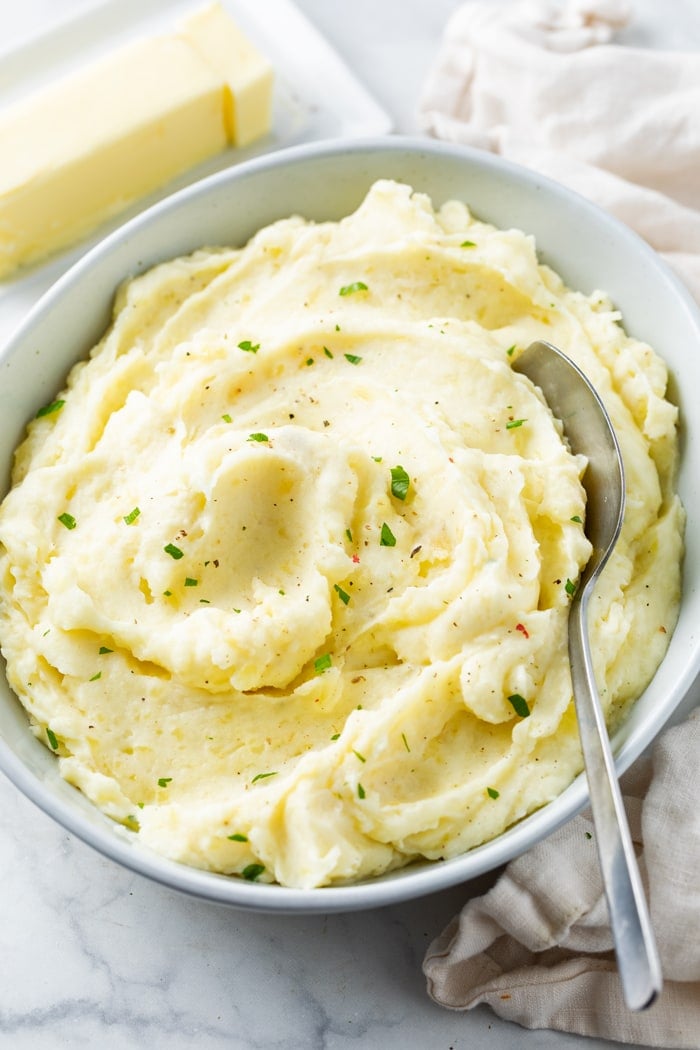 Tools For This Recipe
(Amazon affiliate links)- Check out all of my kitchen essentials here.
What to Serve with Homemade Mashed Potatoes
Meow Gallery: The layout none is not available in this version.
Get My Free Meal Plan
I've got a Free Meal Plan with 7 of my super popular recipes (complete with grocery list)! Sign up for my email list and I'll send it over now along with weekly dinner recipes!
And follow me on Facebook, Instagram, and Pinterest!
Tried This Recipe?
Leave a review, I love hearing your feedback! ⭐⭐⭐⭐⭐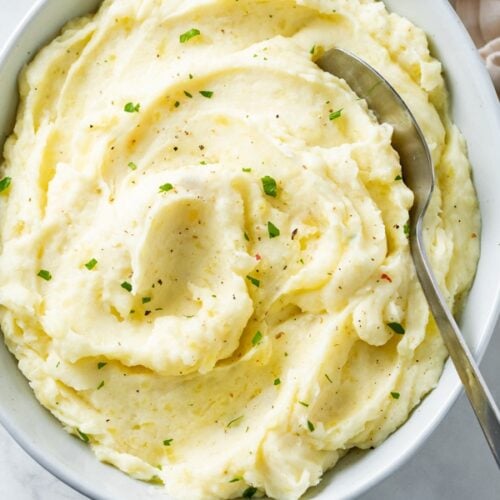 Homemade Mashed Potatoes
This Homemade Mashed Potato Recipe is easy to make with basic ingredients like butter and sour cream with optional additions such as garlic and Parmesan cheese!
Ingredients
Note: See recipe notes section for optional ingredient additions
3.5 lbs. Yukon Gold potatoes*, about 4 large potatoes, each about .85 lbs.
3.5 teaspoons salt, plus more to taste at the end
6 Tablespoons salted butter, at room temperature
1/2 cup sour cream
1 cup half & half
½ teaspoon black pepper
Instructions
Add the half and half and sour cream to a small bowl and whisk to combine. Set it aside and allow it to come to room temperature. It shouldn't be cold when added to the potatoes.

Peel each potato and give them a quick rinse to remove any dirt/residue from the peel. Cut into 3/4-inch slices and place in a large pot. Add cold water until they're all submerged.

Slowly bring to a gentle boil, do not boil rapidly. This ensures the potatoes cook evenly and prevents them from falling apart. Once a soft boil is reached, add 3.5 teaspoons salt.

Cook for 25 minutes or until the potatoes are very fork tender, don't undercook or they'll be lumpy when mashed. Turn heat off.

Drain all of the water. Let the potatoes sit in the warm pot for 5 minutes to allow most of the steam to escape.

Add the butter to the potatoes and allow it to gradually melt.

Drizzle ¾ of the half & half/sour cream over the mashed potatoes and sprinkle with pepper. Mash with a potato masher (not an elective mixer), until soft and creamy. Don't over mash or the consistency will become gluey. Add remaining dairy only if a slightly creamier texture is desired.

Taste and add more salt/pepper if needed. Transfer to a serving dish and serve!
Notes
*Russet potatoes or a combination of both can also be used.
---
Optional Ingredient Additions
¼ cup shredded Parmesan cheese, add with the sour cream/half & half.
4-5 cloves fresh garlic, minced. Heat with a little olive oil in a small saucepan for 1 minute.
¾  teaspoon chicken better than bouillon, stir in at the end, use unsalted butter if you plan on adding this.
Bacon & Cheddar Cheese
Green onions, to garnish
A side of my 10 minute Brown Gravy!
**Cream cheese may also be used instead of sour cream. 1/2 cup = 4 oz.
---
This recipe makes approximately 6.5 cups of mashed potatoes which is plenty for 4 people. When it comes to potatoes, I don't like to risk not making enough. My baked potato soup is a great way to make use of any leftover mashed potatoes!
Nutrition
Calories: 591kcal, Carbohydrates: 73g, Protein: 11g, Fat: 30g, Saturated Fat: 19g, Cholesterol: 82mg, Sodium: 1094mg, Potassium: 1790mg, Fiber: 9g, Sugar: 4g, Vitamin A: 918IU, Vitamin C: 79mg, Calcium: 148mg, Iron: 3mg