Bobby Flay's Meatball Recipe
With a combination of 3 meats in a homemade marinara sauce, this meatball recipe, courtesy of Bobby Flay, is full of savory flavor that will put any pasta dish over the top.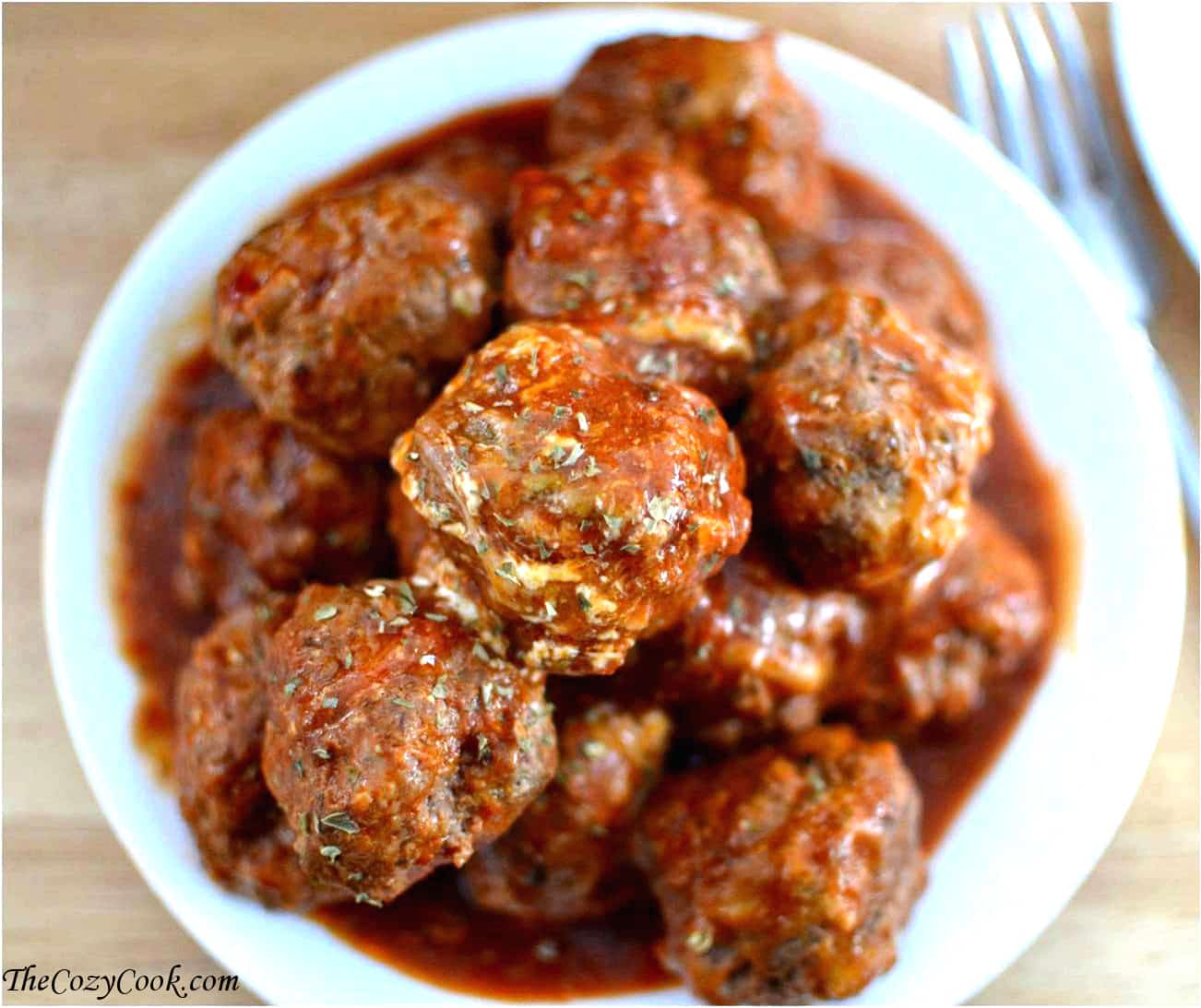 Oh man, you know a meatball is good when you can get your one-and-a-half year old toddler to devour them. If you put these meatballs on one side of the room, and her prized Winnie the Pooh stuffed animal on the other, I'm fairly certain that she'd choose the meatballs. Well played, Bobby Flay…well played.
Perhaps it's the triple meat combo, or the way they cook to perfection in my trusty dutch oven. (It conducts heat so well and allows the meatballs to cook evenly throughout.) I do highly recommend Bobby's homemade marinara sauce too. If you want to get really fancy you can use some of your very own canned tomatoes from the garden. 
What is the best meat for meatballs?
-A combination of ground beef, ground pork, and ground veal makes for a very flavorful meatball, however solely ground beef can be used, or ground beef along with one of the other aforementioned meats.
MY LATEST VIDEOS
-The fat content in the beef that you use depends on what other meats are included in the meatballs. In this particular recipe where ground pork and ground veal are also being used, both of which contain a higher fat percentage than ground beef, 90% lean is a good proportion to use for the ground beef. Otherwise, 70% lean is a good choice if solely using beef.
Can you freeze meatballs?
Yes. You can either freeze them before cooking them in the sauce, or after:
If you freeze them before, place the raw molded meatballs on a plate or tray and flash freeze them for 10-15 minutes. This will prevent them from sticking together. Then store them in a freezer bag or airtight container in the freezer.  When you're ready to cook them, drop the frozen meatballs into some sauce and let them simmer until they're all cooked and heated through, about 80 minutes.
If you freeze the meatballs after cooking them, simply place them in a freezer bag or airtight container once they've cooled.
How long can you store meatballs in the freezer?
Meatballs maintain their best quality for the first 3-4 months in the freezer, but can still be cooked and eaten after that time.
How long do meatballs stay good in the refrigerator?
Cooked meatballs should be stored in an airtight container and will remain good for 3-4 days in the refrigerator.
You should also try these!
Follow me!
Do we have to say goodbye? Not forever I hope! Follow me on Facebook, Twitter, & Instagram! And signup to receive my latest recipes right to your inbox…it's free
Servings: 20 meatballs
Bobby Flay's Meatball and Sauce Recipe
Course: Main Course
Cuisine: Italian
Keyword: Meatball Recipe, Meatballs
With a combination of 3 meats in a homemade marinara sauce, these tender meatballs are full of savory flavor that will put any pasta dish over the top.

Ingredients
Meatballs
1/2 pound ground beef
1/2 pound ground pork *see notes
1/2 pound ground veal *see notes
2 large eggs lightly beaten
1/4 cup Parmesan cheese grated
4 cloves garlic finely chopped and sautéed
1/4 cup breadcrumbs
1/4 cup parsley finely chopped
Salt and freshly ground pepper
1 cup olive oil* See notes
Homemade Sauce
2 tablespoons olive oil
1 Spanish onion finely chopped
4 cloves garlic finely chopped
56 oz. plum tomatoes and their juice pureed in a blender
1 bay leaf
1 bunch parsley
1 pinch red pepper flakes
Salt and freshly ground pepper to taste
6 basil leaves sliced into strips
Instructions
Meatballs
Combine all ingredients, (except the oil), in a large bowl until well-combined. Roll into 1+1/2 inch balls.

Heat the oil in a large sautee pan or

dutch oven

over medium heat and add the meatballs. Let them fry, cooking on each side until lightly browned, but not cooked all the way through. About 10-15 minutes.

Add the meatballs to tomato sauce and let them simmer on medium low heat for about 45 minutes.
Homemade Sauce
In a medium saucepan, heat the olive oil on medium heat. Add the onions and garlic until they're softened, about 5 minutes.

Add the pureed tomatoes and juice, the bay leaf, parsley, red pepper flakes, salt, and pepper.

Bring the sauce to a boil, reduce the heat back down to a light simmer, and add the meatballs.

Cover the pot and let them simmer for 40 minutes.

Remove the bay leaf and parsley prior to serving and mix in the basil. Serve, and enjoy!
Recipe Notes
*Use enough oil to cover about 1/3 of the meatball. You can use less than the cup that is indicated in the recipe. 
You can substitute the veal and/or pork with ground beef or ground turkey if preferred.
To serve with pasta, combined with 1 lb. of spaghetti. This is also great with a side of garlic bread!
 
Nutrition Information
Calories:
128
, Fat:
8g
, Saturated Fat:
2g
, Cholesterol:
42mg
, Sodium:
64mg
, Potassium:
312mg
, Carbohydrates:
5g
, Fiber:
1g
, Sugar:
2g
, Protein:
8g
, Vitamin A:
15.4%
, Vitamin C:
15.5%
, Calcium:
3.7%
, Iron:
4.8%