These Oven Baked Potato Wedges are tossed in the best seasoning mix and cooked at the perfect temperature. They're extra CRISPY on the outside, and warm and soft on the inside!
Try serving these with my EASY Homemade Sloppy Joes. They take less than 30 minutes!
Extra Crispy Baked Potato Wedges
Guys, you can make no fail, crispy, perfectly seasoned baked potato wedges that are better than anything you've ever ordered in a restaurant!
There are just 3 basic rules to follow:
Use the right variety of potato.

(More on that below.)

Remove as much moisture as possible for crispy results. 

Although you can do this by soaking the potatoes in water in the fridge for several hours or overnight, I tested this without doing so and still got super crispy potato wedges. Just use a paper towel to thoroughly dry each individual slice
Season generously with the best combination of spices

I'll be bold and tell you this: You won't find a better seasoning for potato wedges. Most internet results are all the same. This one's special.

My pledge to you: You won't find a potato seasoning recipe this good anywhere else.
Best Potatoes to Use
Russet potatoes are ideal for potato wedges.
Since they're dense, they don't contain as much water inside, which allows them to get extra crispy.
Avoid using waxy potatoes.
Examples: Red, fingerling, and new potatoes are waxy varieties. They're high in moisture and therefore don't become as crispy.
Ingredients For This Recipe

See recipe card below this post for ingredient quantities and full written instructions

Russet potatoes– I used 3 that were relatively large in size, each about 3/4 lb. I ended up with 37 large potato wedges.
Olive Oil– Not too much or they won't get crispy.
Sea Salt– Way better than kosher or table salt in this recipe. It really makes it.

Seasoning

Onion Powder
Paprika
Dried Parsley
Garlic Powder
Pepper
Cayenne Pepper– Gives it just a little kick, you can omit if you prefer.

It'll feel like a lot of seasoning when you mix it all together, but it's enough to generously season these potato wedges, which is what makes it so good.
How to Cut Potato Wedges
Slice the potato in half lengthwise.
Cut each half in half again.
Cut each of the remaining slices in half again. If necessary, slice any extra large wedges one more time.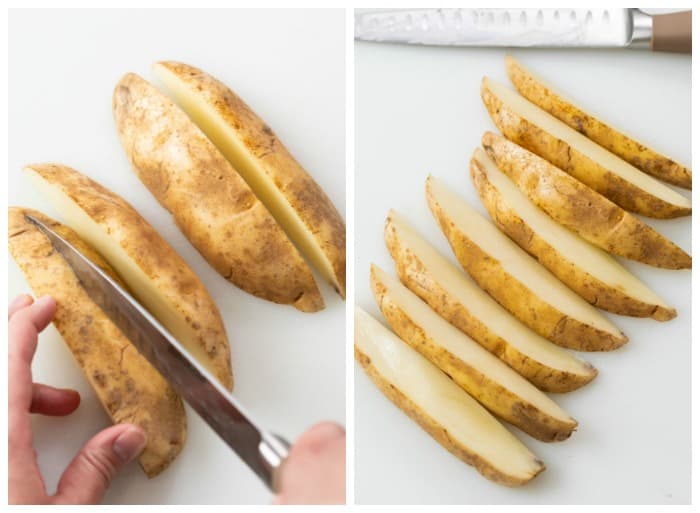 Thoroughly dry the inside of each potato slices for extra crispy results. Place in a large bowl.
Combine the olive oil and seasoning. Drizzle over the potatoes. Use your hands to toss and coat generously.
Place on a light baking sheet, skin side down.
Baking
Bake at 415° for 35-40 minutes.
PRO TIP: I highly recommend baking these on a light baking sheet vs. a dark one.
As explained by Livestrong, light baking pans reflect heat. Dark pans absorb it, and thus you're more likely to end up with burnt results.
They recommend reducing the heat and baking time by 25% if you only have dark baking pans.
Storing and Reheating
Let leftovers cool completely and store them in an airtight Ziploc bag in the fridge.
To reheat, bake at 350° F for  about 10-15 minutes. They reheat very well.
Freezing:
Flash freeze them on a baking sheet or plate until solid, 1 hour or so.
Store them in a freezer Ziploc bag in the freezer until ready to eat!
Reheat in a preheated 350° F oven until warm and crisp, about 15 minutes or so.
More Potato Recipes
Get My Free Meal Plan
I've got a Free Meal Plan with 7 of my super popular recipes (complete with grocery list)! Sign up for my email list and I'll send it over now along with weekly dinner recipes!
And follow me on Facebook, Instagram, and Pinterest!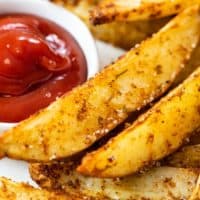 Baked Potato Wedges - Extra Crispy!
These oven baked potato wedges are extra crispy on the outside and warm and soft on the inside! They're tossed in the BEST seasoning mix and cooked at the perfect temperature.
Ingredients
4 Russet potatoes, mine were 3.3 lbs total.
3 Tablespoons olive oil
1 Tablespoon sea salt, don't combine with seasoning mix, see instructions
Seasoning
1/2 teaspoons onion powder
1.5 teaspoons paprika
2 teaspoons dried parsley
1.5 teaspoons garlic powder
½ teaspoon pepper
¼ teaspoon cayenne, optional
Instructions
Preheat oven to 415 degrees.

Combine seasoning ingredients. Set aside.

Wash the potatoes well and pat completely dry.

Cut each potato in half lengthwise, then cut each half into 4 wedges for a total of 8 wedges per potato. (Larger potatoes may require more slicing.)

Use paper towels to thoroughly dry each potato wedge to ensure they're all crispy. Place them in a large bowl.

Add olive oil to the seasoning mixture and stir well to combine. Drizzle over the potato wedges and use your hands to mix until generously coated.

Place them on 2 large baking sheets, skin side down. Don't let them touch, leave space around each one so that the edges get crispy.

Sprinkle evenly with sea salt. (A lot of it will fall onto the baking sheet, that's okay.)

Bake for 35-40 minutes. Tip them onto their sides about 20 minutes in, when the tops begin to get dark brown.

Once they are crisped to your liking, remove from heat. You may also shut the heat off and let them stay in the oven to keep them hot, but check them often to ensure they don't brown too much.
Notes
Be careful not to use too much oil as it will prevent the wedges from getting crispy.
---
I got 37 potato wedges from using 4 potatoes, (3.3 lbs total). This recipe serves 6 people who would each get approximately 6 large potato wedges.
---
These taste great with my homemade Fried Chicken Tenders!
Nutrition
Calories: 126kcal, Carbohydrates: 27g, Protein: 3g, Fat: 1g, Saturated Fat: 1g, Sodium: 357mg, Potassium: 612mg, Fiber: 2g, Sugar: 1g, Vitamin A: 281IU, Vitamin C: 8mg, Calcium: 18mg, Iron: 1mg