This classic and comforting Instant Pot Chicken Noodle soup prepared easily in a single pot with simple seasonings and a flavorful broth!
Be sure to serve this soup with my buttermilk biscuits, and try my chicken and rice soup next!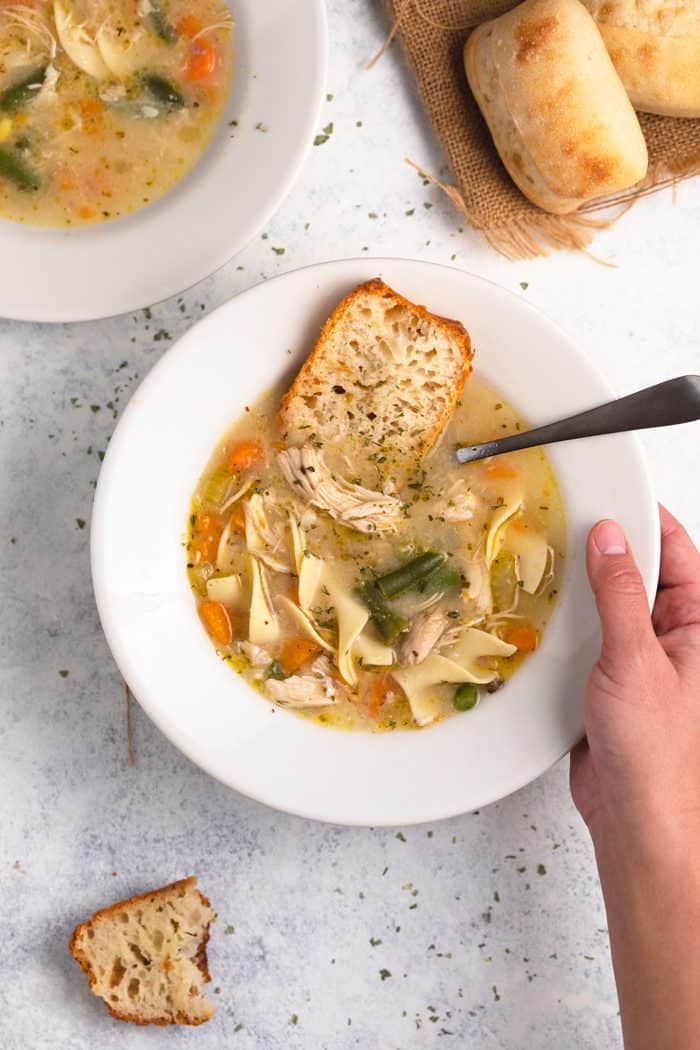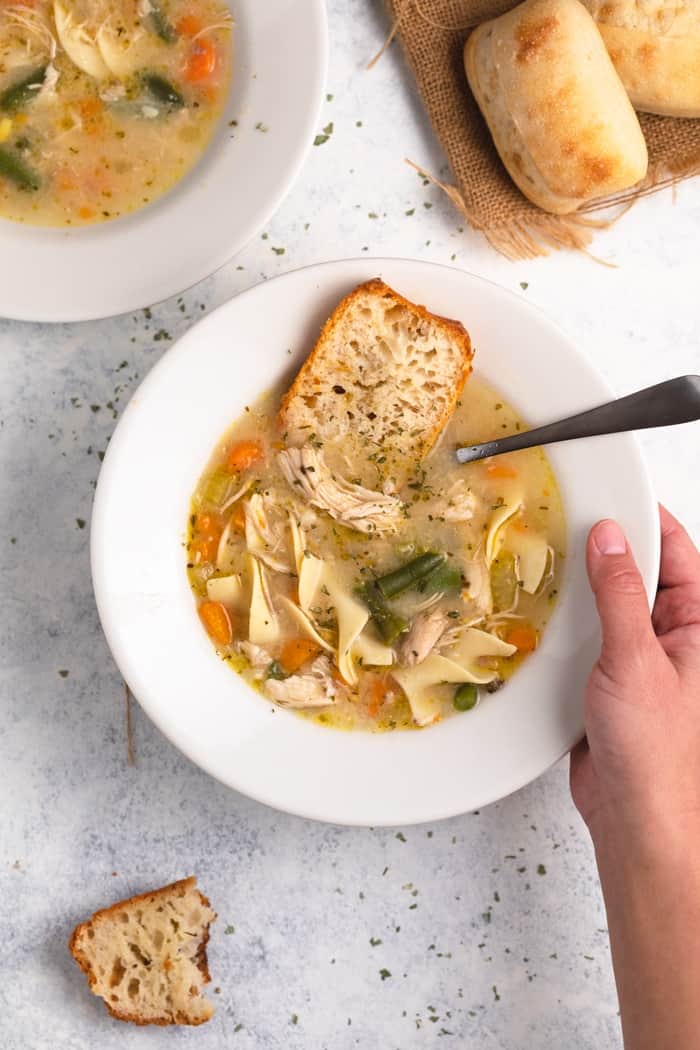 I swear, if I sneeze one more time this Fall, I think my head is going to fall off. Allergies man, I can't take it anymore.
What I love most about making this recipe in the Instant Pot is that pressure cooking the bone-in chicken in the liquid gives the broth so much flavor in such a short amount of time.
Chicken Options for This Soup:
Bone-in chicken breasts (with the skin left on), adds a ton of flavor to the chicken broth, so I highly recommend that if you can.
You can use 2 lbs. of chicken thighs instead and pressure cook them for 10 minutes.
Boneless/Skinless chicken breast can be used, but I definitely prefer the 2 alternatives above for the most flavorful broth.
3 cups of leftover/rotisserie chicken can also be used.
What Size Instant Pot Did I Use?
I used my 6-quart Instant Pot (affiliate link) for this recipe, which is what I recommend for most families, and is what most Instant Pot recipes are based on. It can cook enough food for a family of four and won't take as long to come to pressure as an 8 quart will.
Doubling This Recipe
This recipe can be doubled in an 8 quart Instant Pot, but is beyond the capacity of a 6 quart. ( The capacity of a 6 quart is 4 quarts or 16 cups.)
Freezing Leftovers
Yes, I love freezing leftover chicken soup. However the egg noodles don't hold up as well when frozen and they absorb a lot of broth during storage, so I recommend boiling the noodles separately and adding them directly to serving bowls.
Using Homemade Chicken Stock
Whenever you make homemade soup, I highly suggest using homemade chicken stock. I promise, your cooking will taste ten times better.
Remember that you can always freeze leftover chicken carcass/meat and make chicken stock on a day when you have time! No defrosting necessary!
Try These Next
Get My Free Meal Plan
I've got a Free Meal Plan with 7 of my super popular recipes (complete with grocery list)! Sign up for my email list and I'll send it over now along with weekly dinner recipes!
And follow me on Facebook, Instagram, and Pinterest!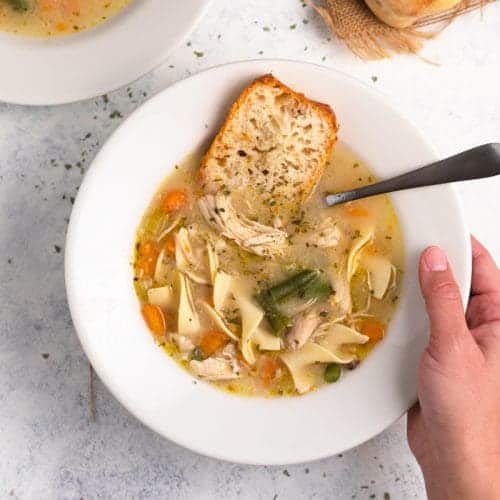 Instant Pot Chicken Noodle Soup
Classic and comforting chicken noodle soup prepared easily right in the Instant Pot with simple seasonings and a flavorful broth! Delicious with a side of Ciabatta bead!

Ingredients
3 Tablespoons butter
1 yellow onion, diced (small/medium)
4 celery stalks, diced
1 cup carrots, diced
1 teaspoon dried parsley
1 teaspoon dried basil
1 teaspoon dried oregano
1 teaspoon dried thyme
1 teaspoon mustard powder
¼ teaspoon turmeric
½ teaspoon salt
1 teaspoon pepper
1 teaspoon hot sauce
1 teapsoon soy sauce
2 lbs. bone-in chicken breasts, skin on, if possible.
8 cups chicken broth
¾ cup frozen green beans, optional
2 cups uncooked egg noodles
Instructions
Turn on the Sauté setting on the Instant Pot and melt the butter. Add the diced onion, celery, and carrots and stir until the onions become soft and translucent, about 5 minutes. Add the parsley, basil, oregano, thyme, mustard powder, turmeric, salt, pepper, hot sauce, soy sauce, and chicken broth, Stir to combine, then add the chicken.

Close the Instant Pot and ensure the pressure release valve is closed. Select the Pressure Cook button and set the timer to 11 minutes for bone-in chicken breasts. If frozen, cook for 17 minutes. If using boneless, cook for 8 minutes for fresh, and 14 minutes for frozen.

If time allows, let the pressure release naturally, otherwise do a quick release. (I like to give the chicken enough time to really flavor the soup.)

Open the Instant Pot and use tongs to carefully remove the chicken and place it on a cutting board.

Select the Sauté button on the Instant Pot and add the frozen green beans and egg noodles. The noodles will need about 7 minutes to cook. (Refer to package.) Note: If you expect leftovers, I recommend cooking the noodles separately and adding them directly to serving bowls as they absorb a lot of broth during storage.

Use two forks to shred the chicken and place the meat back in to the Instant Pot. Discard the remains.
Notes
Pro Tips
You can't taste the hot sauce or the soy sauce in this recipe, they act as flavor enhancers.
I add frozen corn along with the frozen green beans on occasion as well. 
If using fresh green beans, they can be included during pressure cooking. 
Using bone-in chicken adds a lot of flavor to the broth. If you only have boneless, that's okay.
Nutrition
Calories: 164kcal, Carbohydrates: 16g, Protein: 10g, Fat: 6g, Saturated Fat: 3g, Cholesterol: 40mg, Sodium: 287mg, Potassium: 366mg, Fiber: 1g, Sugar: 2g, Vitamin A: 2980IU, Vitamin C: 4.2mg, Calcium: 40mg, Iron: 1mg