Sweet Cream Cheese Cranberry Tartlets
A sweet and creamy cranberry cream cheese mixture baked to perfection over thin, flaky layers of golden puff pastry.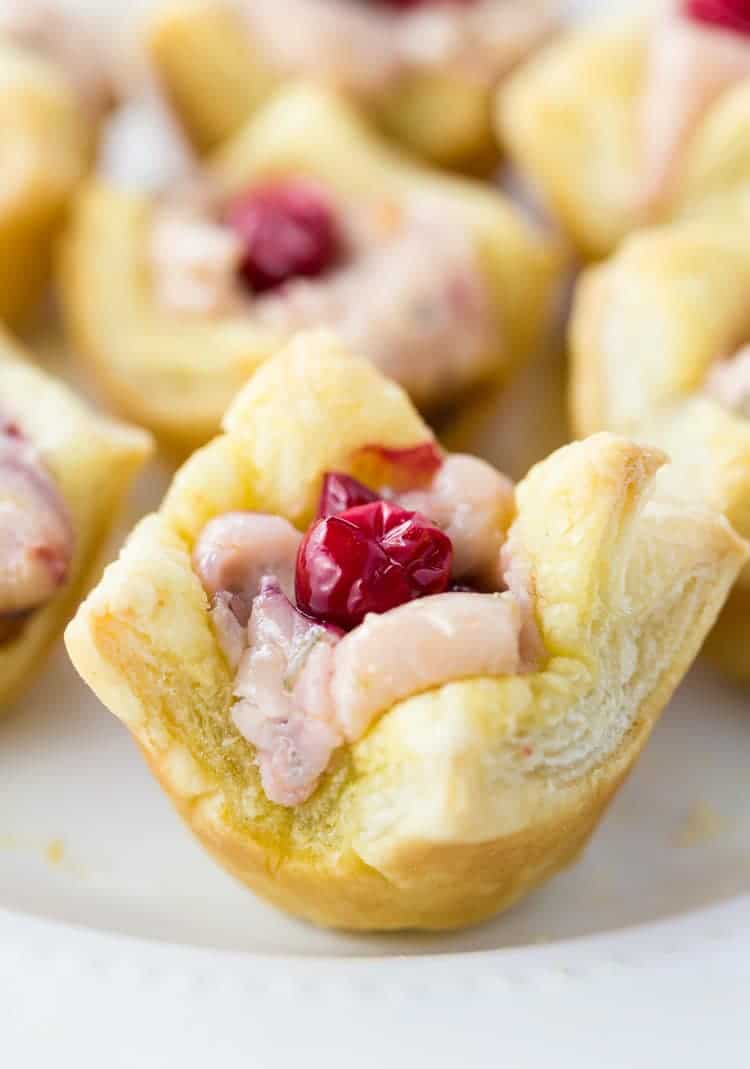 Can I just say, that I've had puff pastry sitting in my freezer for a YEAR!? (Don't worry. I bought a fresh box for this.) I came home and put the new box in the freezer and noticed that one had already been sitting there for the last 12 months. (Looks like someone needs to clean out the ol' freezer now and again…)
Had I realized that puff pastry was sitting in my freezer this whole time, I definitely would have used it. You can make a bzillion things with it and it makes everything look fancy once it gets all poofy. Instead of serving this sweet cream cheese cranberry dip in a bowl, I decided that it'd be way easier for people to grab if they were in their own puff pastry bites. Not to mention, the flaky puff pastry tastes SO insanely good with the sweet and creamy cranberry dip.
Although the cranberries make these nice and festive, you don't have to include them. The cream cheese, white cheddar, and powdered sugar are really good on their own. (White Cheddar, I know, sounds strange maybe but it really takes this to another level. The flavors just compliment each other perfectly.)
OR, you can try other berries instead! Strawberries and blueberries would be excellent choices. (Or both, 4th of July style!)
I am too…"special" to be able to wing it and cut the pastry up into the right size without a visual. I figured I'd give you something better than the napkin I scribbled on when I made these. 😉
Can you just look at these flaky bites of golden-deliciousness and see if you can do it without drooling on yourself?
Check out my other recipes!
Servings: 24 tartlets
Sweet Cream Cheese Cranberry Tartlets
Course: Dessert
Cuisine: American
Keyword: easy dessert recipe, holiday recipe
A sweet and creamy cranberry cream cheese mixture baked to perfection over thin, flanky layers of golden puff pastry.
Ingredients
8 oz. cream cheese, softened
1/3 cup white cheddar cheese shredded
1/3 cup powdered sugar
½ cup fresh cranberries + 24 more for topping, optional-- These can be found in the produce section.
1 box Puff Pastry (2 sheets)- only one sheet is needed for this recipe 17.3 oz.
Instructions
Remove one sheet of puff pastry from the freezer and let it thaw a bit to prevent it from breaking when unfolded.

Meanwhile, preheat the oven to 350 degrees. In a medium bowl, combine the cheeses, powdered sugar, and fresh cranberries.

Place the cheese mixture in a small casserole dish and heat, covered, for 25 minutes. Remove from the heat but keep the oven on.

Stir the cheese mixture so as to break down the baked cranberries a bit to create light pink swirls and distribute the cranberries throughout the mixture.

Roll the puff pastry out on a floured surface until it's 12 inches x 12 inches. Cut into 24 rectangles, they don't have to be perfect, but aim for:

Three cuts across the top: 3 inches apart.

Five cuts down the side: 2 inches apart.

Lightly coat 24 mini muffin tins with nonstick cooking spray. Press the puff pastries into each tin (again, they don't have to be perfect).

Use a cookie scoop if you have one, (or a spoon) and drop about 1/2 Tablespoon of cream cheese mixture into the center of each puff pastry. Top each with an additional fresh cranberry if you choose.

Bake for 15-18 minutes, until the pastry has puffed up and is a light, golden-brown. Remove from the oven and let sit for 5 minutes. Use a fork to gently remove and place onto a serving plate.
Nutrition Information
Calories:
158
, Fat:
11g
, Saturated Fat:
4g
, Cholesterol:
12mg
, Sodium:
90mg
, Potassium:
28mg
, Carbohydrates:
11g
, Sugar:
2g
, Protein:
2g
, Vitamin A:
145%
, Vitamin C:
0.2%
, Calcium:
23%
, Iron:
0.6%