These sweet cranberry cream cheese tartlets are a perfect holiday snack idea that family and friends will love. The perfect finger food for a crowd!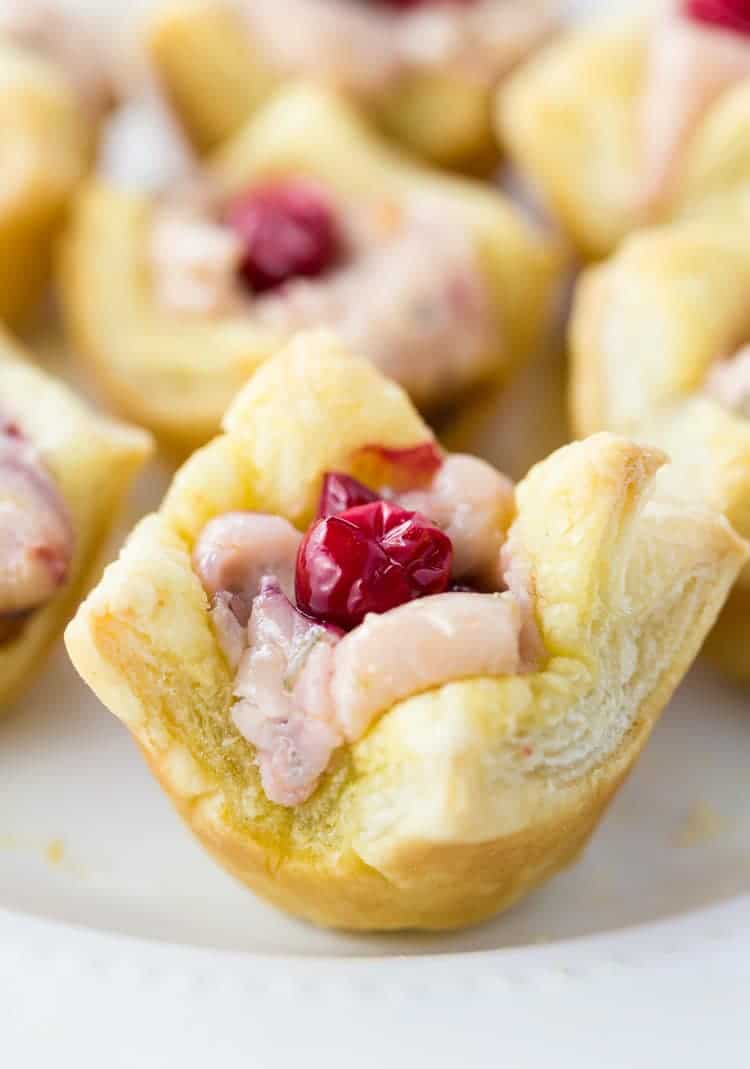 Ingredients

Cream Cheese
White Cheddar Cheese
Powdered Sugar
Fresh Cranberries
Puff Pastry- I use Pepperidge Farm. Found in the freezer aisle.
Cutting the Puff Pastry into Even Squares
Each square should be 3 inches wide and 2 inches tall. You'll end up with 24 even squares to place into muffin tins.
Other Filling Ideas
Cranberry substitutes include fresh or frozen blueberries, raspberries, and blackberries.
Including sprigs of fresh mint on the serving plate are a great way to incorporate green for the holiday season.
Try These Next!
Desserts
Finger Foods
Sweet Cream Cheese Cranberry Tartlets
A sweet and creamy cranberry cream cheese mixture baked to perfection over thin, flanky layers of golden puff pastry.
Ingredients
8 oz. cream cheese, softened
1/3 cup white cheddar cheese, shredded
1/3 cup powdered sugar
½ cup fresh cranberries, + 24 more for topping, optional-- These can be found in the produce section.
1 box Puff Pastry (2 sheets)- only one sheet is needed for this recipe, 17.3 oz.
Instructions
Remove one sheet of puff pastry from the freezer and let it thaw a bit to prevent it from breaking when unfolded.

Meanwhile, preheat the oven to 350 degrees. In a medium bowl, combine the cheeses, powdered sugar, and fresh cranberries.

Place the cheese mixture in a small casserole dish and heat, covered, for 25 minutes. Remove from the heat but keep the oven on.

Stir the cheese mixture so as to break down the baked cranberries a bit to create light pink swirls and distribute the cranberries throughout the mixture.

Roll the puff pastry out on a floured surface until it's 12 inches x 12 inches. Cut into 24 rectangles, they don't have to be perfect, but aim for:

Three cuts across the top: 3 inches apart.

Five cuts down the side: 2 inches apart.

Lightly coat 24 mini muffin tins with nonstick cooking spray. Press the puff pastries into each tin (again, they don't have to be perfect).

Use a cookie scoop if you have one, (or a spoon) and drop about 1/2 Tablespoon of cream cheese mixture into the center of each puff pastry. Top each with an additional fresh cranberry if you choose.

Bake for 15-18 minutes, until the pastry has puffed up and is a light, golden-brown. Remove from the oven and let sit for 5 minutes. Use a fork to gently remove and place onto a serving plate.
Nutrition
Calories: 158kcal, Carbohydrates: 11g, Protein: 2g, Fat: 11g, Saturated Fat: 4g, Cholesterol: 12mg, Sodium: 90mg, Potassium: 28mg, Sugar: 2g, Vitamin A: 145IU, Vitamin C: 0.2mg, Calcium: 23mg, Iron: 0.6mg
Follow Me!
Join my free email list and find me on Facebook, Instagram, and Pinterest.