Shortbread Cookies
These soft, sweet, and buttery shortbread cookies only require 4 ingredients to make and are a classic holiday treat.
I'm going to start by saying that I had no intention whatsoever in actually making homemade shortbread cookies this year. In fact, I started out by buying them. And I only bought them so that I'd have something to dip into my Christmas Cookie Dip. I figured I needed a basic cookie for that, so shortbread it was. The dang box was like, $6 though and it only came with, I want to say, 6 cookies? So, $1.00 per cookie? That's a sham. But I bought them anyway because I'm lazy and short on time when it comes to baking.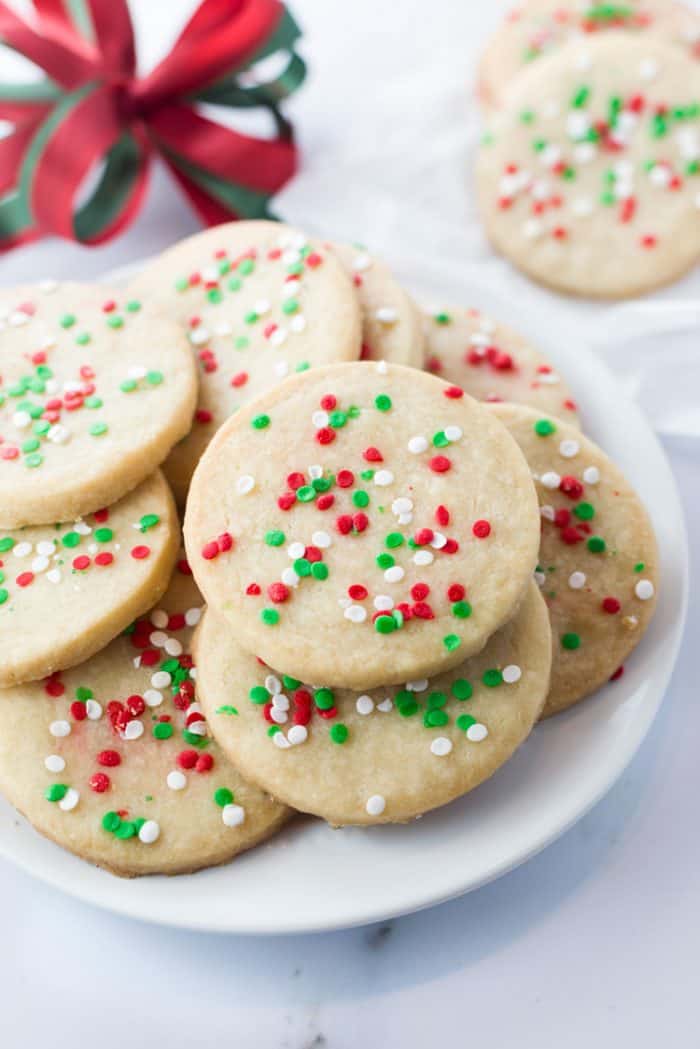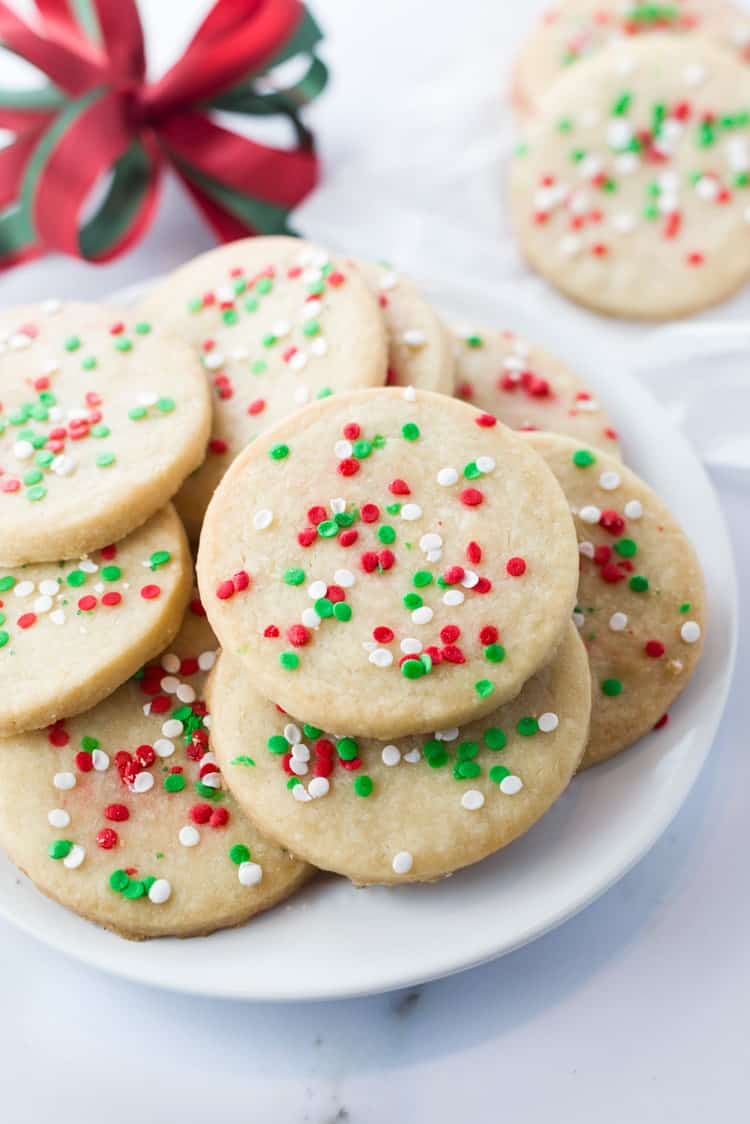 Well guess what happened next? I ate all of those shortbread cookies, but still had cookie dip left. What to do, what to do…. buy more cookies? That'd mean going to the store. And overpaying for more cookies. So I decided to take a gander and see what, in theory, would actually be involved in making my own shortbread cookies. Turns out that you can make these suckers with only four ingredients. And basic, basic, ingredients at that. Like, you could make these right now without having to go to the store, I can almost guarantee it. Butter, Sugar, Vanilla extract, and flour. Wa-Bam, you're in business.
Okay, so I had the ingredients on hand… that was step one. Step two was actually making the cookies, and doing it with a crazy toddler running around the house. But at this point, I was up for the challenge. I had already taken my butter out of the fridge to soften up, it was go-time.
MY LATEST VIDEOS
So it turns out, these are like, fool-proof. They don't need to rise, or perform any tricks of any sort. (Unlike sugar cookies, by the way.) I'm telling you, I'm going to eat them all again! I'm going to be on an endless shorbread cookie-eating cycle! All because I needed a cookie for my cookie dip. Dang.
You should also try these!
You should also try these!
Follow me!
You should join my free email list and be the first to know about my latest recipes! I sent out just one email a week so you won't get sick of me.  And while you're at it, I'd love for you to like my Facebook Page and follow me on Pinterest and Instagram too!
Servings: 15 cookies
Shortbread Cookies
Course: Dessert
Cuisine: American
Keyword: Shortbread Cookies
These soft, sweet, and buttery shortbread cookies only require 4 ingredients to make and are a classic holiday treat.
Ingredients
1 cup butter softened
1/2 cup white sugar
1 teaspoon vanilla extract
2 cups all-purpose flour
If adding sprinkles:
2 Tablespoons milk
1/4 cup sprinkles
Instructions
Beat the butter and sugar in a large bowl with an electric mixer until fluffy. Stir in the vanilla and flour and mix until well-combined.

Roll the dough to 1/2 inch thick and use a cookie cutter to create the shapes (I used a round, 3-inch wide cutter).

Place the cookies on parchment paper-lined baking sheets and chill in the fridge for 30 minutes. (It's much easier to chill them after you've cut them, vs. rolling out chilled dough.)

Preheat oven to 350 degrees.

Bake the cookies for 12-18 minutes, (set the timer for 10 minutes and check them every 2 minutes after that)- they're done when they just begin to get golden brown on the side.

If adding sprinkles, brush just enough milk on each cookie to get it slightly wet on the top, then scatter the sprinkles over it. The milk helps them to stick. You may need to let them cool slightly to prevent the sprinkles from bleeding onto the cookie (I didn't have issues with the sprinkles in the picture).

Serve with Christmas Cookie Dip or by themselves!
Nutrition Information
Calories:
208
, Fat:
12g
, Saturated Fat:
7g
, Cholesterol:
32mg
, Sodium:
109mg
, Potassium:
24mg
, Carbohydrates:
22g
, Sugar:
9g
, Protein:
1g
, Vitamin A:
7.6%
, Calcium:
0.8%
, Iron:
4.3%