Shortbread Cookies
These soft, sweet, and buttery shortbread cookies only require 4 ingredients! BONUS: the cookie dough is easy to make days or even weeks ahead of time until ready to bake! 
Be sure to try my super popular No Bake Oreo Truffles next!
I'm not much of a baker, but I don't know if there would ever be a time that I didn't have some butter, flour, sugar, and vanilla extract on hand. What about you? Those are pretty much staples in any household, right? 
I love the simplicity of these cookies. I love that you can make them ahead of time. I like that you can jazz them up with sprinkles, frosting, or dunk them into some Christmas Cookie Dip. I love everything about them.
Let's get into the specifics.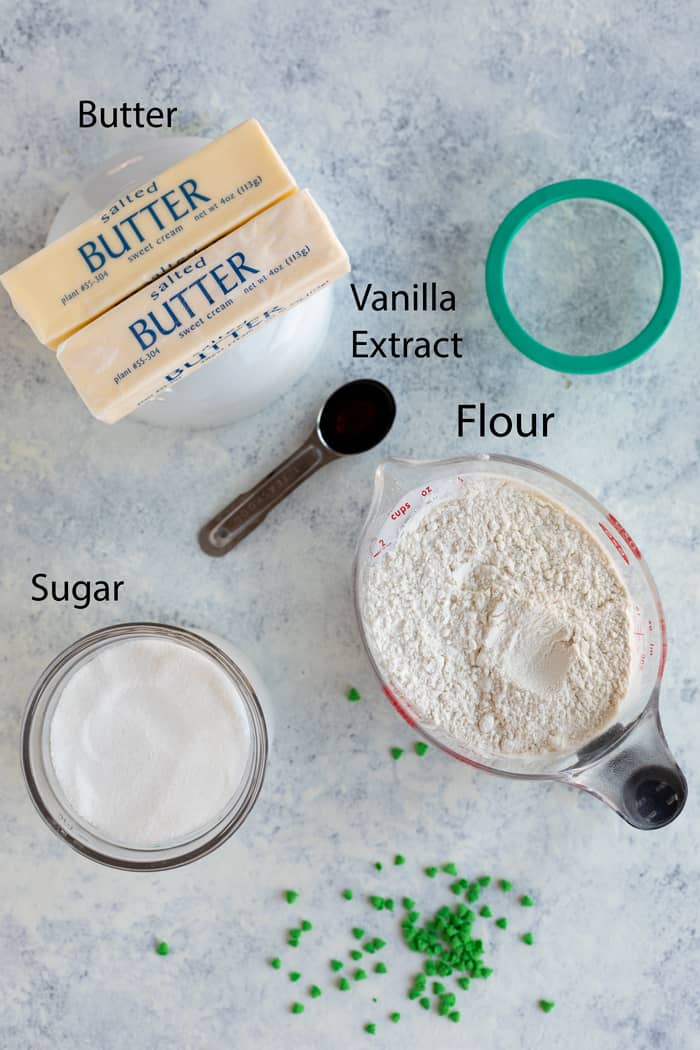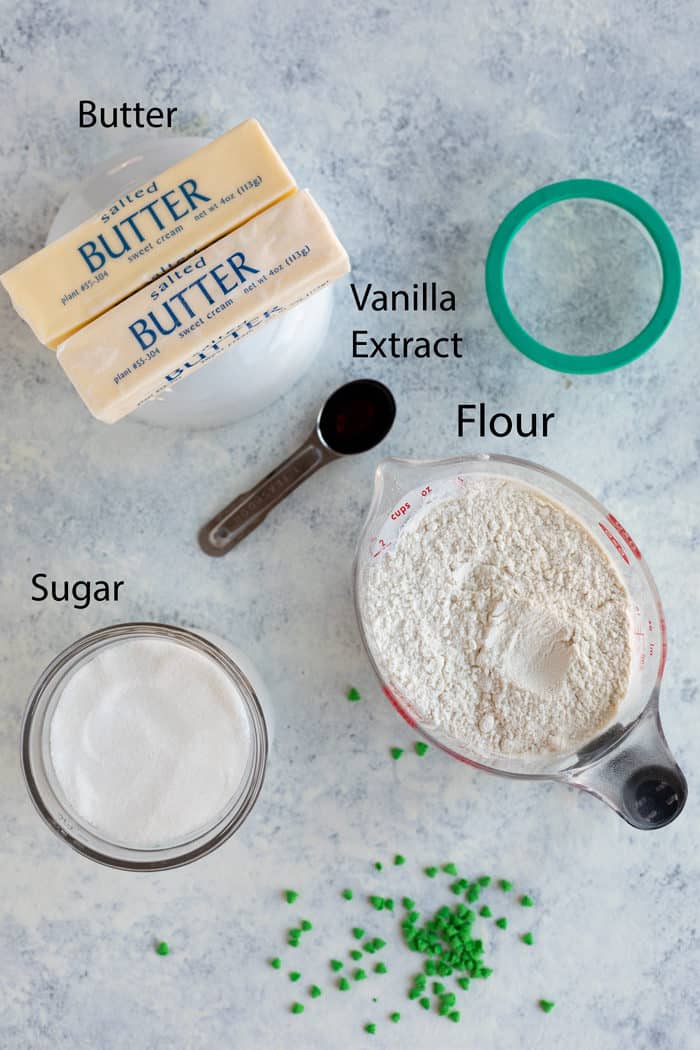 How To Make Shortbread Cookies
-Combine the softened butter and sugar with an electric hand mixer until creamy and well combined.
-Add the vanilla extract and the flour and mix again, until a sturdy dough has formed.
–Roll out the dough until it's 1/2 inch thick:
⭐TIP: Shortbread dough can be slightly crumbly, and needs to be rolled out gently. 
Take the rolling pin and press your hands down on the top of it and press down slightly as you slowly roll it out. If you place your hands on the handles and roll more aggressively you'll see the dough start to come apart.
I like to roll the dough out in batches and cut 2-4 cookies out at a time, then gather up the remaining dough and roll again.
-Use a thin spatula to lift the cookies onto a baking sheet lined with parchment paper.
-Chill unbaked shortbread cookies in the fridge for 30 minutes prior to baking in a 350 degree oven for 12-18 minutes. (Check on them at 10 minutes and ever 2 minutes thereafter.)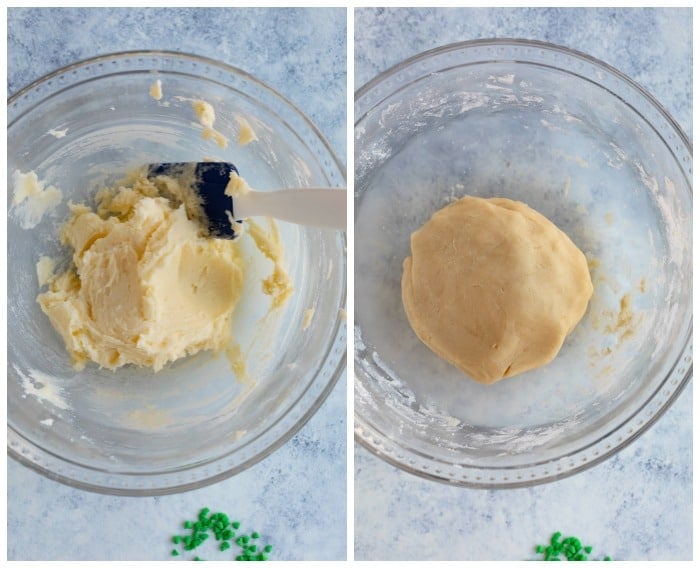 Can You Make Shortbread Cookie Dough Ahead of Time?
–Yes. Shortbread cookie dough is perfect for preparing days or weeks ahead of time.
⭐TIP: Whether you're making shortbread cookie dough days or weeks ahead of time, I always recommend that you roll and cut the dough before storing them refrigerating or freezing them.
If you freeze or refrigerate a ball of shortbread dough, the consistency of it becomes very hard and it's difficult to roll it out after it's been refrigerated or frozen.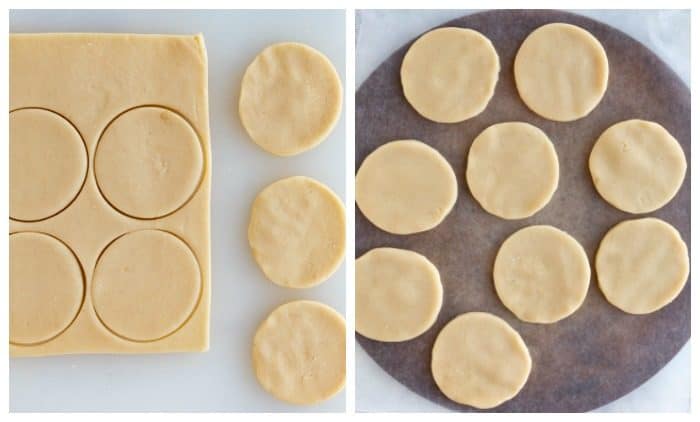 Refrigerating Shortbread
Rolled and cut shortbread cookies can be stored in the refrigerator, covered, for up to 3 days prior to baking.
Freezing Shortbread
-If you're making shortbread dough longer than 3 days ahead of time, it's best to freeze the rolled and cut cookies.
–Flash freeze them on a plate in the freezer for 1-2 hours. Then remove them and stack them in an airtight freezer bag for up to 3 months.
-Frozen cookies may take a few minutes longer to bake than chilled cookies.
Storing Shortbread Cookies
-Shortbread cookies can be stored in a dry, airtight container for a week, or in the refrigerator for 10 days.
-They can also be stored in the freezer for up to 3 months and allowed to come back to room temperature before serving.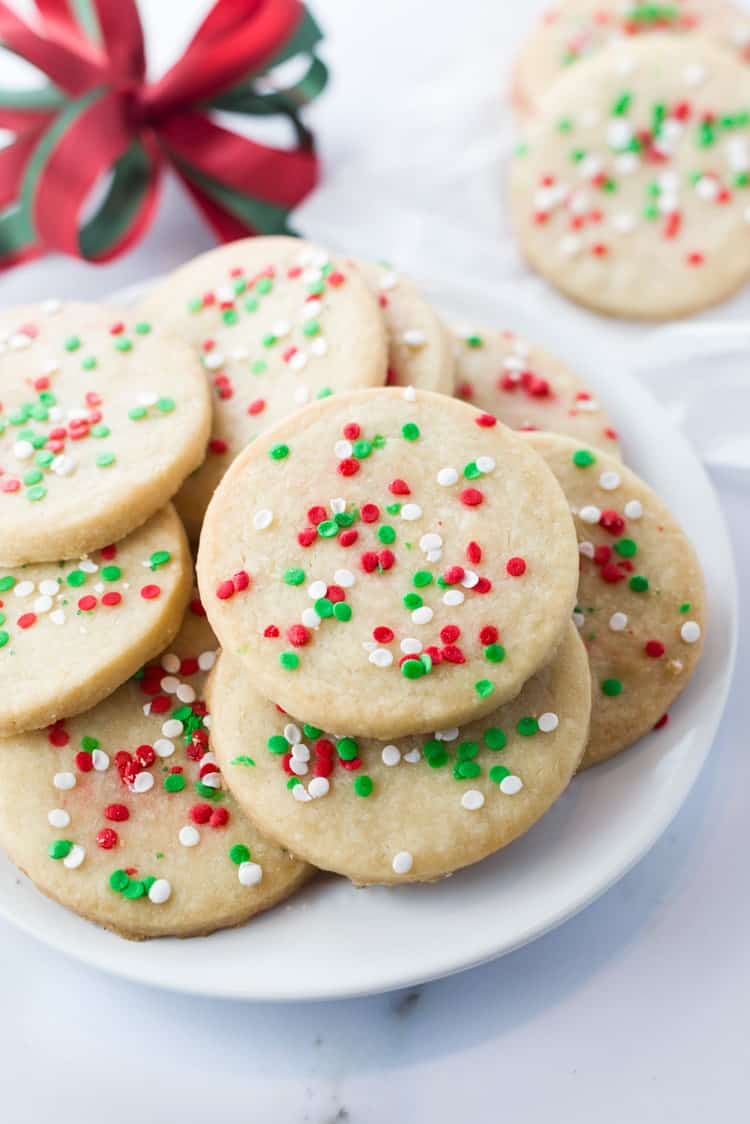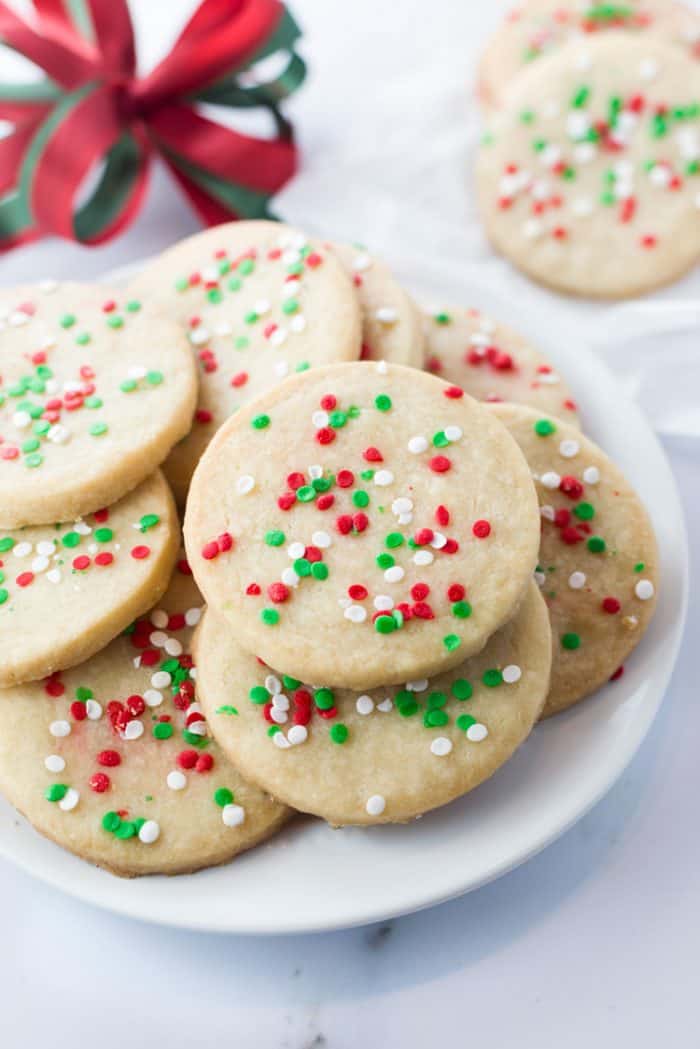 Try These Next!
Follow Me!
Servings: 15 cookies
Shortbread Cookies
Course: Dessert
Cuisine: American
Keyword: Shortbread Cookies
These soft, sweet, and buttery shortbread cookies only require 4 ingredients to make and are a classic holiday treat.
Ingredients
1 cup butter softened
1/2 cup white sugar
1 teaspoon vanilla extract
2 cups all-purpose flour
If adding sprinkles:
2 Tablespoons milk
1/4 cup sprinkles
Instructions
Beat the butter and sugar in a large bowl with an electric mixer until fluffy. Stir in the vanilla and flour and mix until well-combined.

Roll the dough to 1/2 inch thick and use a cookie cutter to create the shapes (I used a round, 3-inch wide cutter).

Place the cookies on parchment paper-lined baking sheets and chill in the fridge for 30 minutes. (It's much easier to chill them after you've cut them, vs. rolling out chilled dough.)

Preheat oven to 350 degrees.

Bake the cookies for 12-18 minutes, (set the timer for 10 minutes and check them every 2 minutes after that)- they're done when they just begin to get golden brown on the side.

If adding sprinkles, brush just enough milk on each cookie to get it slightly wet on the top, then scatter the sprinkles over it. The milk helps them to stick. You may need to let them cool slightly to prevent the sprinkles from bleeding onto the cookie (I didn't have issues with the sprinkles in the picture).

Serve with Christmas Cookie Dip or by themselves!
Nutrition Information
Calories:
208
, Fat:
12g
, Saturated Fat:
7g
, Cholesterol:
32mg
, Sodium:
109mg
, Potassium:
24mg
, Carbohydrates:
22g
, Sugar:
9g
, Protein:
1g
, Vitamin A:
380%
, Calcium:
8%
, Iron:
0.8%