These French Toast Roll-ups with sausage are filled with warm, savory sausage that's in bread, dipped in a classic french toast mixture, and cooked to golden-brown perfection.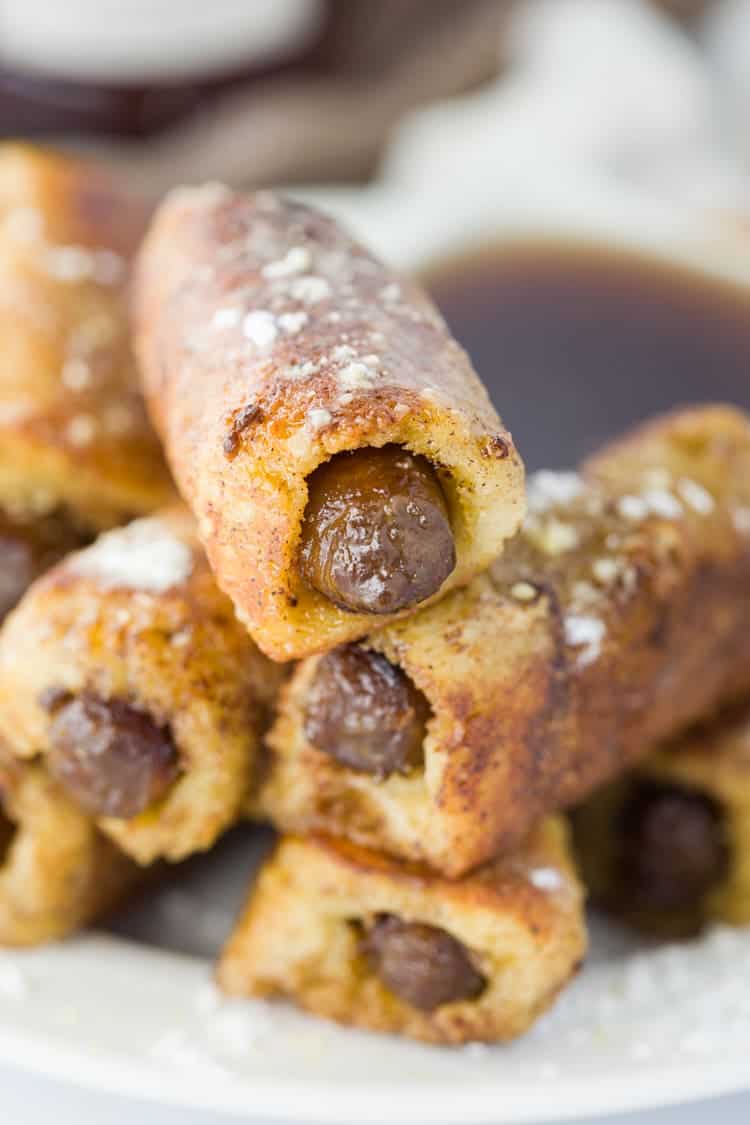 I'm quite sure that breakfast doesn't get any better than this. I've been thinking long and hard about this, and yeah. French Toast Sausage Roll-ups are the best breakfast ever.
We all know that when you have French toast with a side of sausage, that you "accidentally" drizzle some syrup on that sausage, or casually use your fork to shimmy your sausage into syrup that's already on your plate. I know you've done it. You know you've done it. So why can't we just say it out loud?
Sausage and syrup are delicious together.
There, I said it.
It's just as good as dipping a French fry in ice cream, guys. (Namely Wendy's fries in a Wendy's frosty.) If you haven't tried it, get on it.
….Or wrapping a dill pickle in a slice of American cheese. (Get on that too.)
And speaking of syrup, have you ever dipped your grilled cheese into some? (Don't knock it 'til you try it.)
I'm sure you have your favorites too, right? Because some foods are just meant to be together and society can't tell us any differently! Now who's with me!?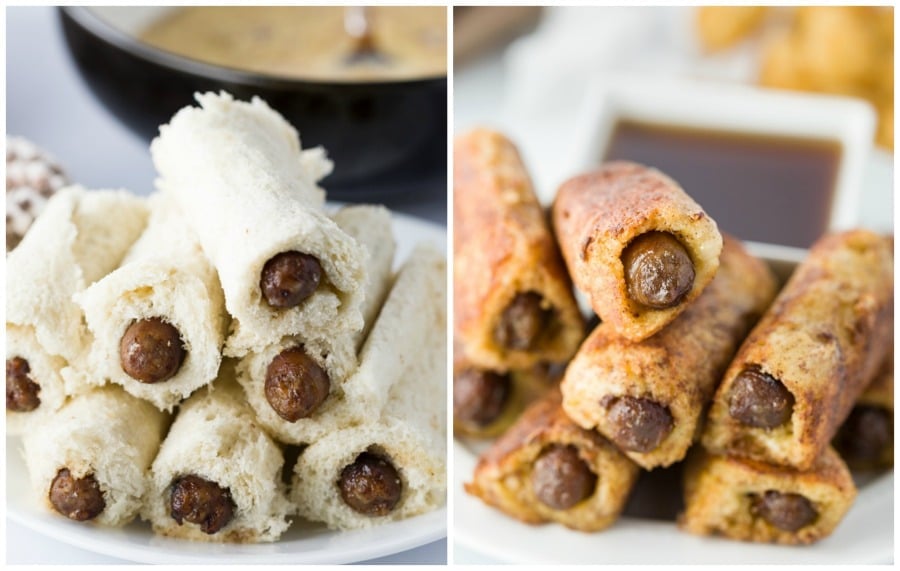 So. Now that we've covered that, let me just tell you, that the one thing better than dipping a sausage in syrup, is dipping a sausage wrapped in French Toast, in syrup. I can't even like, describe the magnificent-ness that is this recipe. (Yes, I am allowed to make up words.)
Needless to say, this one goes right on my list of all-time favorites.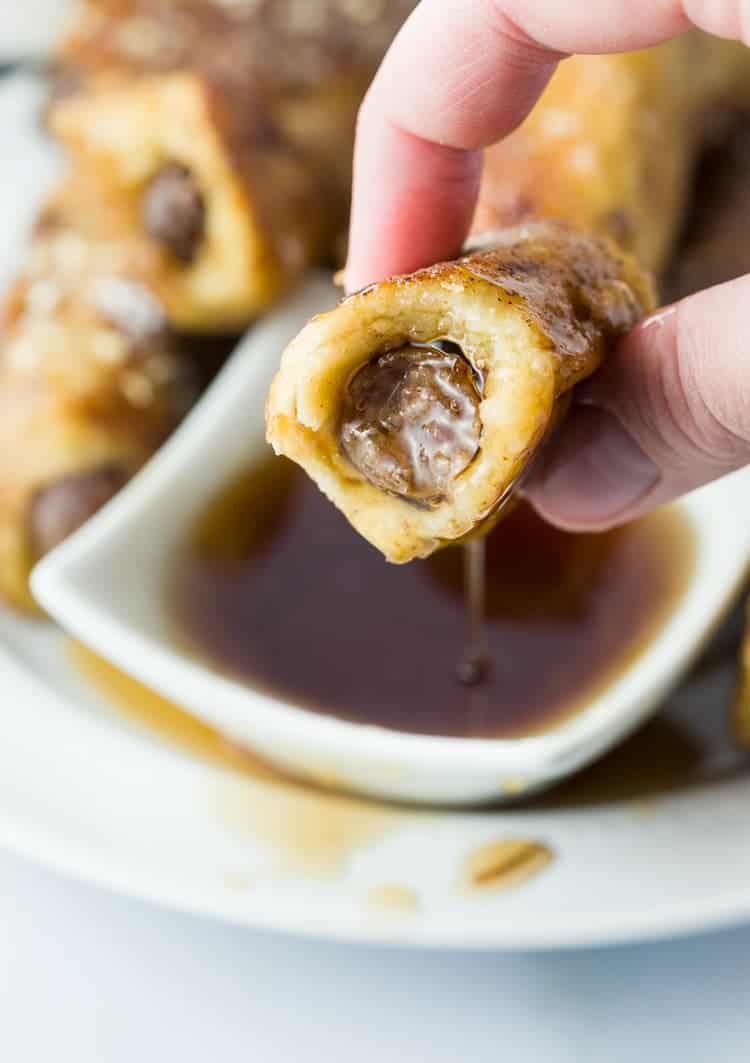 You should also try these!
Follow me!
PS: If you love food as much as I do, you're gonna wanna follow me on Facebook. (And Pinterest. And Instagram. While we're at it, you've gotta join my free e-mail list.)- We'll just talk about food all the time, deal?!
French Toast Sausage Rollups
Warm, savory sausage wrapped in fresh bread that's dipped in a classic french toast mixture and cooked to golden-brown perfection. Served with syrup for dunking, this breakfast is perfect for both kids and adults!
Ingredients
8-10 breakfast sausage links, uncooked
8-10 slices white or wheat sandwich bread, soft and fluffy works best
2 eggs
¼ cup milk
¼ teaspoon ground cinnamon
1 teaspoon vanilla extract
1 tbs Butter, for greasing the pan
Maple or Pancake syrup, for serving
Instructions
In a large pan over medium heat, cook the breakfast sausage until golden brown and cooked through, rotating frequently so that all sides are cooked. Set aside to cool slightly.

While the sausage cooks, slice the crusts off of the bread.

Whisk the eggs, milk, cinnamon, and vanilla extra together in a small, shallow bowl.

Take the bread slices and use your hand to flatten each one against a hard surface. (You can use a rolling pin be careful not to make it too flat.)

Take a sausage link and place it at the edge of a flattened piece of bread. Carefully roll the sausage up, taking the bread with it. Give it a little squeeze in your first to secure the bread in place and set it aside, seam side down.

Carefully dunk the sausage rollups into the egg mixture, until each side is coated.

Melt the butter over medium heat within the same skillet that you cooked the sausage in.  Place each sausage rollup, seam side-down, in the warm butter. Rotate gently as each side gets to be golden brown.

Once the sausage rollups are all cooked and browned, carefully remove them from the pan and serve them with syrup for dipping!
Nutrition
Calories: 215kcal, Carbohydrates: 17g, Protein: 9g, Fat: 11g, Saturated Fat: 4g, Cholesterol: 79mg, Sodium: 375mg, Potassium: 138mg, Sugar: 2g, Vitamin A: 175IU, Vitamin C: 0.2mg, Calcium: 109mg, Iron: 1.7mg