This Spicy Chex Mix recipe has bold flavors and a spicy kick that's perfect for holiday snacking. It also makes a great gift for Christmas!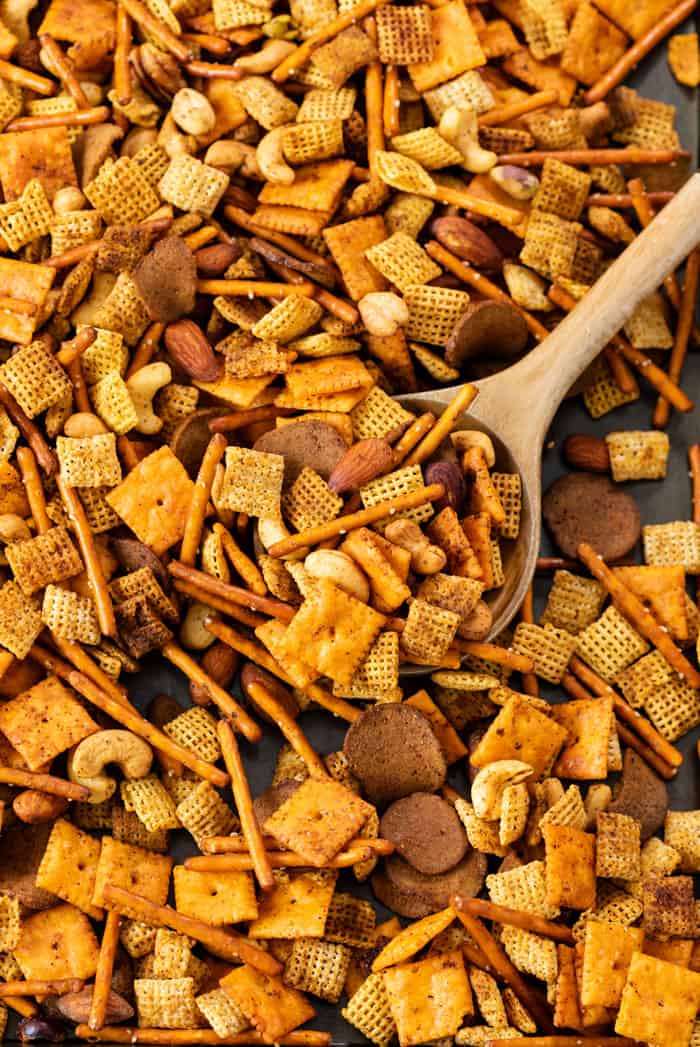 Spicy Chex Mix
It really starts to feel like the holidays when I'm sitting down with an entire trough of my mom's Spicy Chex Mix. This recipe makes 18 cups and yeah. I could easily eat all 18 of them myself. It's just the way it is.
Although, Chex Mix does make an excellent homemade gift, (see bottom of this post for festive tins that you can put this in)!
My favorite part of this recipe is that it's an easy make-ahead recipe that you can make weeks ahead of time if you want! Scroll down for all the info!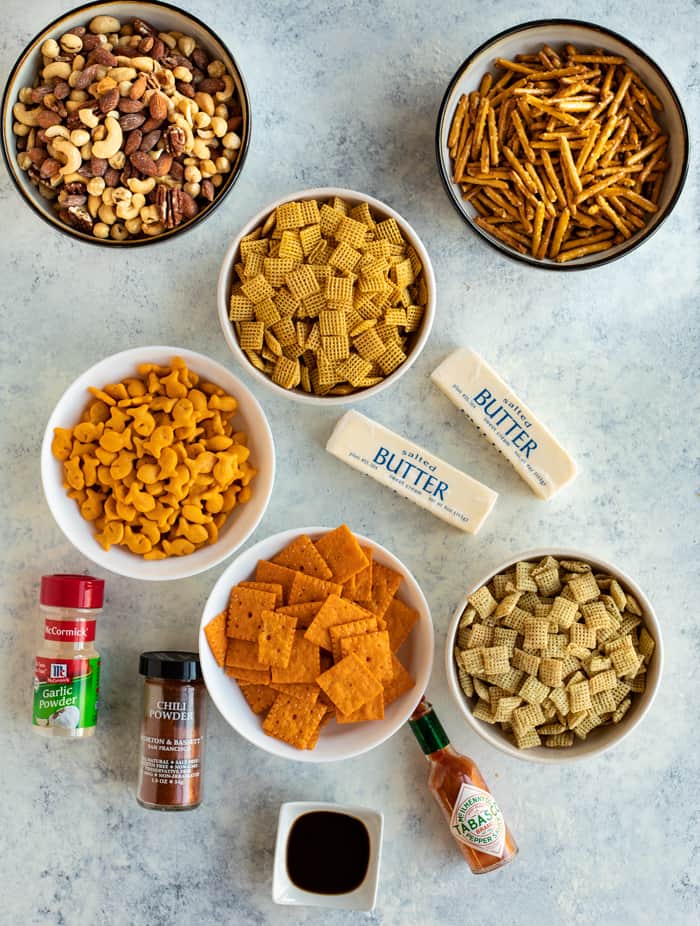 Ingredients

See bottom of post for the recipe card with ingredient quantities and full instructions.

Snack Mix

Cheese Crackers: Any variety of cheese crackers are good in this recipes. I love using Cheez Its.
Chex: I always use a combination of rice and corn chex, but you can stick to just one variety. I use 9 cups in this recipe, 1 (18 oz.) box is enough for that amount.
Nuts: I add a lot of whole cashews to the mix as well as a container of mixed nuts.
Pretzels: Thin pretzel sticks are a perfect addition to this recipe.
Snack Mix: This is a great option for adding crunchy breadsticks, pretzels, and rye chips to the mix!

Spicy Sauce

Butter- Since crackers and nuts are already salty, you may want to stick with unsalted butter.
Worcestershire Sauce
Chili Powder
Tabasco Sauce
Garlic Powder
Make-Ahead Method
Chex Mix is a great recipe to make ahead of time because it keeps well when stored in an airtight container.
You can prepare the entire recipe up to two weeks ahead of time.
Storage
Chex Mix should be stored at room temperature in an airtight container for 4-6 weeks.
Tools for this Recipe

(Amazon Affiliate)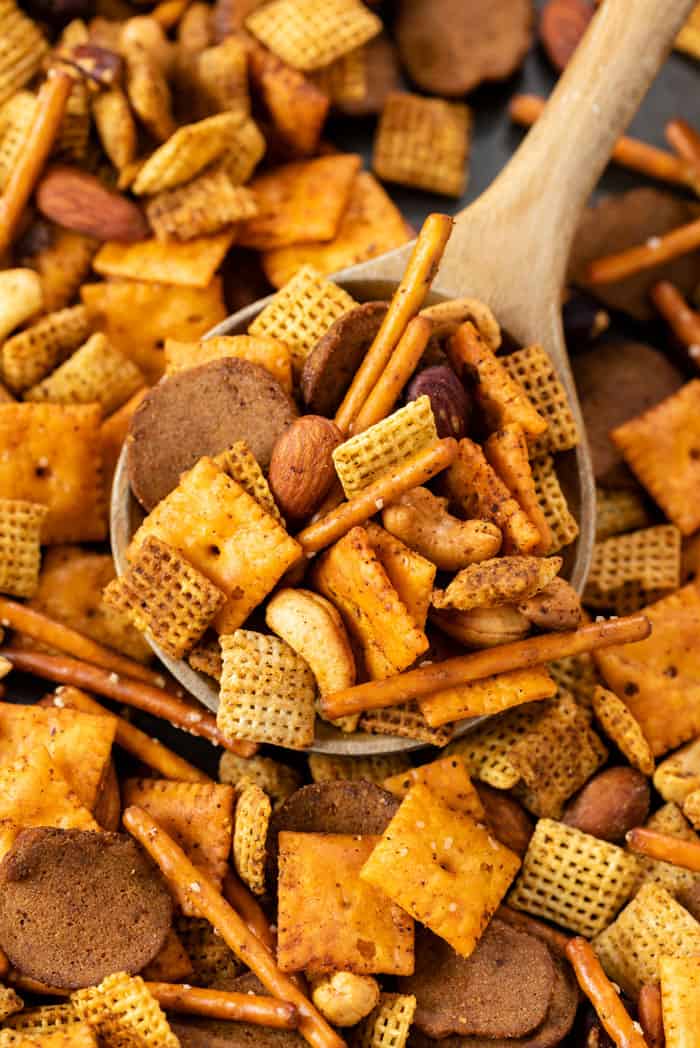 Try These Next
Get my Free Meal Plan
I've got a Free Meal Plan with 7 of my super popular recipes (complete with grocery list)! Sign up for my email list and I'll send it over now along with weekly dinner recipes!
And follow me on Facebook, Instagram, and Pinterest!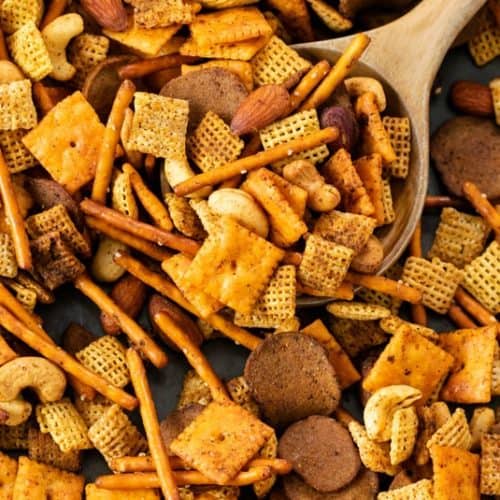 Spicy Chex Mix
This easy homemade chex mix recipe is so easy to make with simple seasonings and flavors and your favorite crackers and pretzels. Perfect for snacking with friends or as a gift!
Ingredients
Mix:
9 cups Chex, Half rice, half corn
4 cups Cheddar Crackers
2 cups Pretzels
3 cups Mixed Nuts
Sauce:
2 sticks Butter
2 Tablespoons Chili powder
2 Tablespoons Worcestershire sauce, ensure it is Gluten free, French's makes theirs gluten free!
2 Tablespoons Tobasco sauce
1 teaspoon Garlic powder
Instructions
Preheat the oven to 300 degrees.



Take 2 roasting pans and add a stick of butter to each. Place in the oven until melted.



Remove pan from the oven. Rotate the baking sheet to spread butter evenly around it.


Distribute the sauce ingredients evenly onto each sheet and mix to combine.

Evenly distribute the dry ingredients into each roasting pan and mix carefully until evenly coated with sauce ingredients.



Put the pans back in the oven for ½ hour, removing pans to stir a couple of times while baking.



Cool on a cookie sheet or parchment paper before storing in an airtight container.


Notes
Optional Addition: This is a great option for adding crunchy breadsticks, pretzels, and rye chips to the mix!
---
Storage: Store at room temperature in an airtight container for 4-6 weeks.
Nutrition
Calories: 639kcal, Carbohydrates: 71g, Protein: 13g, Fat: 35g, Saturated Fat: 10g, Cholesterol: 45mg, Sodium: 929mg, Potassium: 252mg, Fiber: 6g, Sugar: 2g, Vitamin A: 581IU, Vitamin C: 1mg, Calcium: 106mg, Iron: 2mg