Turkey and White Bean Spinach Soup
I'll tell you. Ever since I got home from the Dominican Republic, I've had a major bean craving going on. The first full day that we were home from vacation, I made Cowboy Caviar, solely so that I could eat some black beans. I mean, I made the stuff at like, 9:30 in the morning. I just needed to put beans to my face. Immediately. I remember my friend saying the same thing after she got back from Costa Rica once. It's gotta be something in the air…
… well the bean craving continues to linger, and clearly this is what prompted me to make this (amazingly delicious) soup with white beans.  I am a FAN. This soup is packed with protein but still healthy and light enough where you're feeling satisfied, but you don't hate yourself afterward either.
And now, time for a mini rant. Homemade chicken broth. You should really, truly, honestly, make a ton of it, freeze it, and save it for homemade soups. Once you use homemade broth in your soup you will never go back, and it's so easy to make. Here is some more information, in detail, about making your own chicken broth (with step by step pictures). It's actually really easy to work this into a Sunday, even a busy one, because it basically simmers and makes itself. Okay, shpeal over, I will move on now.
MY LATEST VIDEOS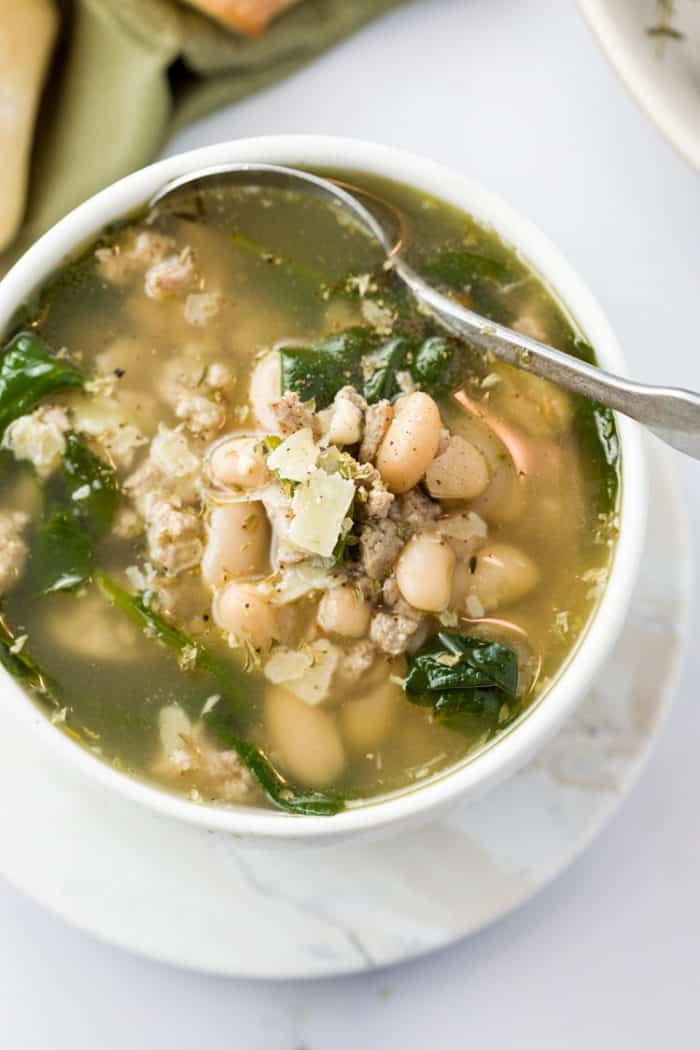 I make this soup very similarly to my hamburger soup, in that I drop the uncooked turkey (or ground beef), into the broth in bite-sized pieces instead of cooking it beforehand. I feel that it gives the broth extra flavor and with turkey especially, you don't have to worry about excess grease to get rid of.
Finally, feel free to toss in some fresh kale in lieu of, (or in addition to), spinach. You could actually play around with a lot of vegetable additions or substitutions. That's the fun of it 😉 Share what you end up trying, I always feel inspired by new ideas!
Check out my other recipes!
Turkey and White Bean Spinach Soup
Ground Turkey simmered in savory chicken broth with white beans, spinach, and simple seasonings. A healthy, protein-packed meal that will leave you feeling comforted and satisfied!
Ingredients:
1 Tablespoon olive oil
1 Tablespoon minced garlic
½ cup diced yellow onion
4 cups chicken broth*
Salt/pepper, to taste
1 pound ground turkey
1 Tablespoon lemon juice
½ teaspoon thyme
2 cups fresh spinach
1 (15.5 oz.) can Cannellini Beans, drained/rinsed
¼ thickly grated Parmesan, to garnish.
Directions:
In a large soup pot or dutch oven, heat the olive oil over medium heat. Add the onions and garlic and cook until they are soft and translucent, about 5 minutes.
Add the chicken broth to the pot and bring to a light boil.
Season the raw turkey with desired amounts of salt and pepper. Drop them into the broth in bite-sized pieces. You can roll them neatly or just drop in pieces.
Add in the lemon juice and thyme, and let the soup bubble gently for about 15 minutes
Reduce the heat to medium-low. When you're ready to serve, add the spinach and Cannellini beans and simmer until the spinach is wilted, about 2 minutes.
Top each bowl with Parmesan cheese if desired and serve! (This soup is delicious with crusty bread!)
*I highly recommend using homemade chicken broth in this soup, (and in every soup calling for chicken broth), once you use homemade once, you'll never want to go back!
For an Asian twist, I sometimes I add a teaspoon of sesame oil to this soup for additional flavor and variation!
Recipe adapted from: Damn Delicious
All images and text ©
Stephanie Melchione for The Cozy Cook