This Creamy No Bake Peanut Butter Pie has is so easy to make! It's got layers of chocolate pudding and a cream cheese peanut butter combo on a buttery Oreo crust. It's finished off with a light whipped topping and chocolate shavings!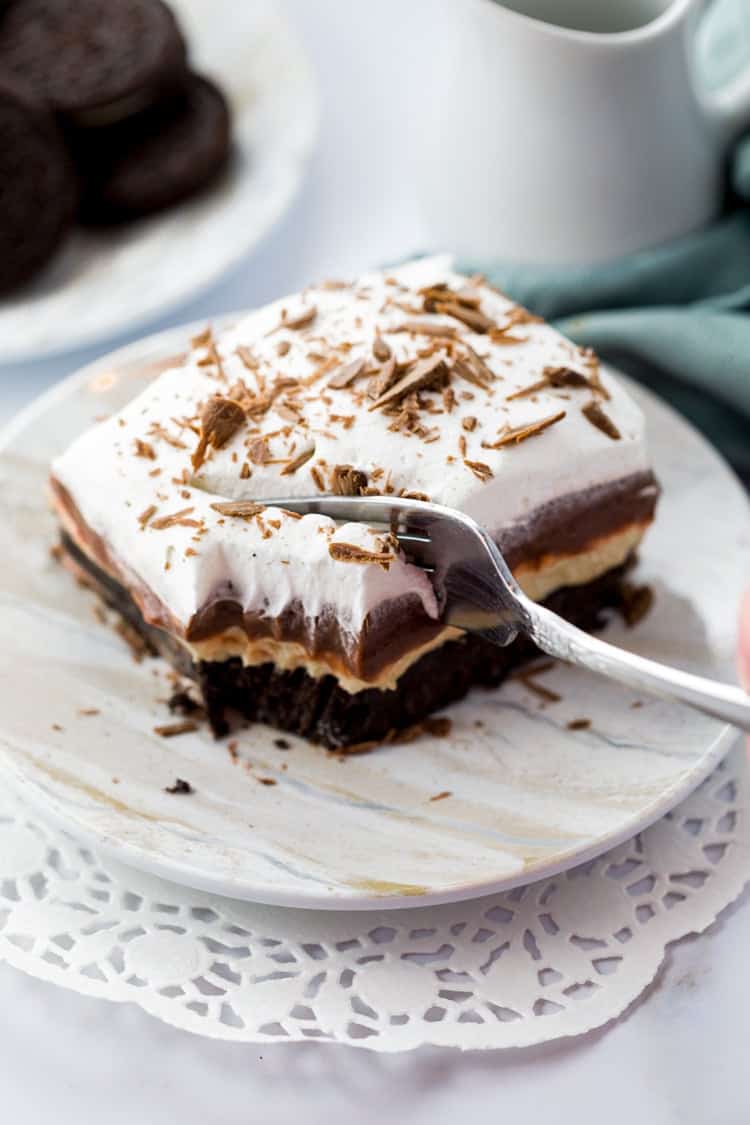 Can you really an extra creamy peanut butter pie? With chocolate? That you don't have to bake? I think not. Especially because you can't mess this recipe up. Seriously, I challenge you.
This is a variation of another dessert that I love making, Oreo Delight, (essentially the same thing without the peanut butter). Apparently I really enjoy Oreo crusts with different flavors of whipped deliciousness on top. I'm only human after all.
(Um, how cute are these marble plates?!)
Ingredients

Oreo Cookies
Butter
Cool Whip
Cream Cheese
Peanut Butter
Powdered Sugar
Chocolate Instant Pudding
Milk
Can You Make This Ahead of Time?
Yes. This is a great dessert recipe to make the night before you plan to serve it. I wouldn't recommend making it any sooner than that as you run the risk of the pudding giving off a little bit of liquid.
How Long is it Good For?
Peanut Butter Pie is best if eaten within 3 days in the refrigerator or 3 months in the freezer.
Try These Next!
Follow Me!
I've got a Free Meal Plan with 7 of my super popular recipes (complete with grocery list)! Sign up for my email list and I'll send it over now along with weekly dinner recipes!
And follow me on Facebook, Instagram, and Pinterest!
No-Bake Peanut Butter Pie
This no-bake Peanut Butter Pie has a sweet and buttery Oreo crust topped with layers of chocolate pudding and whipped peanut butter filling. It's then topped with bits of shaved chocolate and is serve chilled.
Ingredients
1 package Oreo cookies*, Set about 5 aside if you'd like to top yours with crumbled Oreos
¾ stick butter, melted
16 oz. Cool Whip
8 oz. cream cheese, softened
½ cup peanut butter
1 cup confectioners/powdered sugar
1 package chocolate instant pudding, 5.9 oz.
2 ¾ cups milk
Instructions
Pulse the Oreos finely in a food processor until they form fine crumbs. (You can also choose to crush them by hand.)

In a large bowl, mix together the melted butter and the Oreo crumbs.

Spread the Oreo mixture onto the bottom of a (8 x 11 inch) pan and press down to form a firm crust. (Other pan sizes will work, your layers will just be thinner or thicken depending on the size.)

Using an electric mixture, combine one of the (8 oz.) Cool Whip tubs, the cream cheese, peanut butter, and the powdered sugar. Beat on medium-high until smooth.

Spread the peanut butter layer over the Oreo crust.

Make the instant pudding according to package instructions. Once set, add this on top of the peanut butter layer.

Use the remaining tub of Cool Whip to create the final top layer.

Top with crumbled Oreos or chocolate shavings. (I used a vegetable peeler and Hershey kisses to make my chocolate shavings, be creative!)

Best if chilled for a couple of hours prior to serving.
Nutrition
Calories: 637kcal, Carbohydrates: 71g, Protein: 11g, Fat: 36g, Saturated Fat: 16g, Cholesterol: 63mg, Sodium: 528mg, Potassium: 391mg, Fiber: 2g, Sugar: 47g, Vitamin A: 785IU, Calcium: 182mg, Iron: 4.8mg