No Bake Peanut Butter Pie
This no bake Peanut Butter Pie has a sweet and buttery Oreo crust topped with layers of chocolate pudding and whipped peanut butter filling. It's then topped with bits of  shaved chocolate and is serve chilled.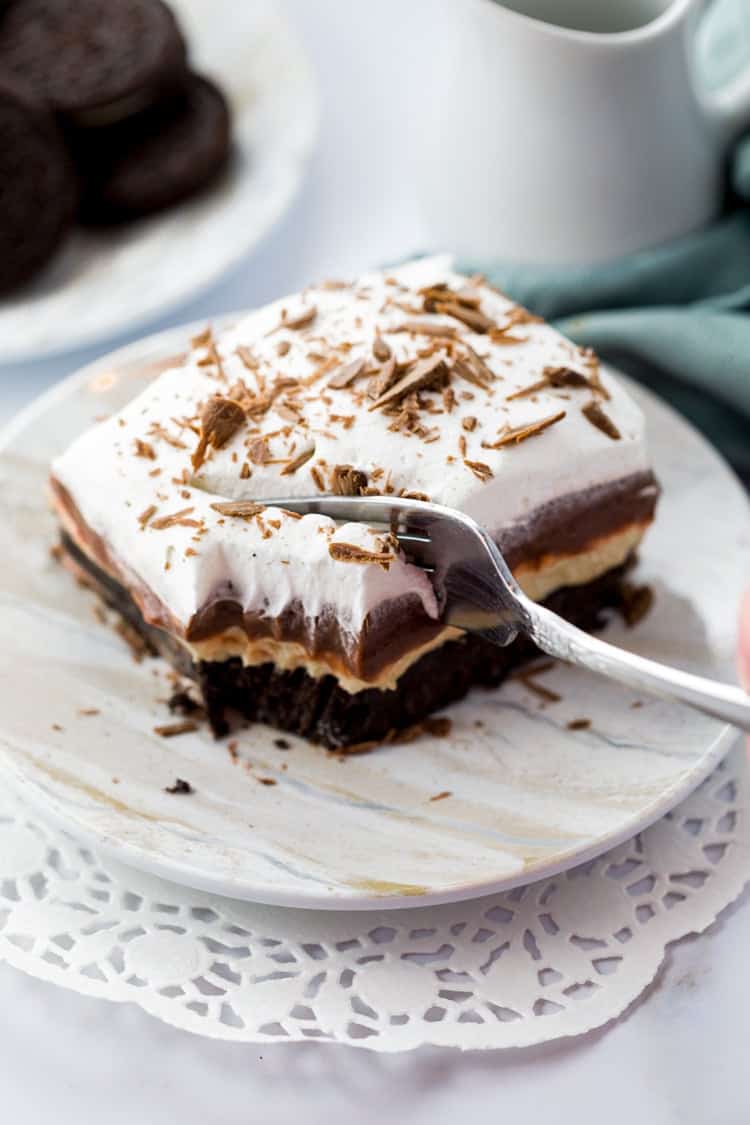 Can you really beat a good ol' peanut butter pie? With chocolate? That you don't have to bake? I think not. Especially because you can't mess this recipe up. Seriously, I challenge you. If you can read, and mix things, you can make this recipe. And the fact that you're here has proven to me that you can, in fact, read, so we're halfway there.  This kind of recipe is pretty perfect for me because I'm in the mood to bake, like, twice a year. When things need to rise, and temperatures need to be exact, and flour starts poofing up all over the counter, eh, you start to lose me. (Unless that flour is for breading chicken, and then hello! I'm here, let's do this!)
This is a variation of another dessert that I love making, Oreo Delight, (essentially the same thing without the peanut butter), and I'm realizing now that it's not too far off from  my Raspberry cream pie cupcakes. Apparently I really enjoy Oreo crusts with different flavors of whipped deliciousness on top. I'm only human after all.
(Um, how cute are these marble plates?!)
If there's one problem that I have when I make this peanut butter pie, it's the fact that using the food processor to make the crust scares the living crap out of my toddler. If you're in the same boat, or don't have a food processor, take a rolling pin and pulverize those suckers, it's kind of fun.
Will you just look at this filling?!
I toyed with the idea of making a cherry layer instead of a peanut butter one. Valentine's Day is in just a couple of days. But, peanut butter won. Cherry will have to wait until next time. What other layer ideas would be good for this?!
If you haven't already joined my free recipe email list, please do! You'll get a weekly email with my brand new recipes. And follow me on Facebook, Instagram, and Pinterest so we can talk food all day long!
Check out my other recipes!
Servings: 9 servings
No-Bake Peanut Butter Pie
Course: Dessert
Cuisine: American
Keyword: easy dessert recipe, kid-friendly recipe, no-bake dessert
This no-bake Peanut Butter Pie has a sweet and buttery Oreo crust topped with layers of chocolate pudding and whipped peanut butter filling. It's then topped with bits of shaved chocolate and is serve chilled.
Ingredients
1 package Oreo cookies* Set about 5 aside if you'd like to top yours with crumbled Oreos
¾ stick butter melted
16 oz. Cool Whip
8 oz. cream cheese, softened
½ cup peanut butter
1 cup confectioners/powdered sugar
1 package chocolate instant pudding 5.9 oz.
2 ¾ cups milk
Instructions
Pulse the Oreos finely in a food processor until they form fine crumbs. (You can also choose to crush them by hand.)

In a large bowl, mix together the melted butter and the Oreo crumbs.

Spread the Oreo mixture onto the bottom of a (8 x 11 inch) pan and press down to form a firm crust. (Other pan sizes will work, your layers will just be thinner or thicken depending on the size.)

Using an electric mixture, combine one of the (8 oz.) Cool Whip tubs, the cream cheese, peanut butter, and the powdered sugar. Beat on medium-high until smooth.

Spread the peanut butter layer over the Oreo crust.

Make the instant pudding according to package instructions. Once set, add this on top of the peanut butter layer.

Use the remaining tub of Cool Whip to create the final top layer.

Top with crumbled Oreos or chocolate shavings. (I used a vegetable peeler and Hershey kisses to make my chocolate shavings, be creative!)

Best if chilled for a couple of hours prior to serving.
Nutrition Information
Calories:
637
, Fat:
36g
, Saturated Fat:
16g
, Cholesterol:
63mg
, Sodium:
528mg
, Potassium:
391mg
, Carbohydrates:
71g
, Fiber:
2g
, Sugar:
47g
, Protein:
11g
, Vitamin A:
785%
, Calcium:
182%
, Iron:
4.8%