No Bake Oreo Truffles & Cookbook Giveaway!
I can't believe that these Oreo Truffles only require 4 ingredients. That' insane. And if you skip the extra topping, you can make them with three ingredients. The chocolate cheesecake filling of these truffles is to die for, it really is. And it's really easy to customize these for special occasions and holidays. For example, some red food coloring mixed in with that white chocolate would make these perfect for Valentine's Day 🙂 They even have red velvet Oreos now that you could use for the filling (I almost did it! But stuck with chocolate because I was in a serious chocolate mood.) Not to mention Golden Oreos, or mint, which I LOVE, but the hubs prefers straight chocolate. What's your favorite Oreo flavor?! Do you have other truffle filling ideas? I'm already trying to think of more : )
So guess what? It's my first giveaway post!
*Giveaway now closed. Check back for more!*
Yippee!! If you like my Facebook page, you were the first to hear about this Giveaway 😉 And there are MORE on the way. I'm actually a little jealous about this giveaway and I think I'm going to have to purchase one for myself. It's a Cookbook written by one of my all-time favorite bloggers, Sally, from Sally's Baking Addiction. Sally is a former corporate finance girl turned full-time blogger/Cookbook writer – and now, pretty much a professional baker. These delicious Oreo Truffles are one of many fabulous recipes from Sally. Her instructions are ultra-detailed and informative and I LOVE it. Her cookbook has the best of the best recipes on her site, as well as recipes that you can't get on her site. 
PS…If you haven't subscribed to get my latest recipes to your inbox, you should 😉 Because this isn't the only one of Sally's Cookbooks I'll be giving away, or the last Giveaway period. It's the FIRST- remember?! The FIRST!! CHEERS!!!
PPS- I took these Oreo Truffle pics outside, basically in a blizzard, during the last moments of sunlight. Getting good lighting this time of year in NH is SO hard. If you look closely, you can see small snowflakes on the top of these truffles… 😯
For my latest Cozy Creations, Giveaways, and more, follow me on Facebook, Twitter, &Instagram! And signup to receive my latest recipes right to your inbox…it's free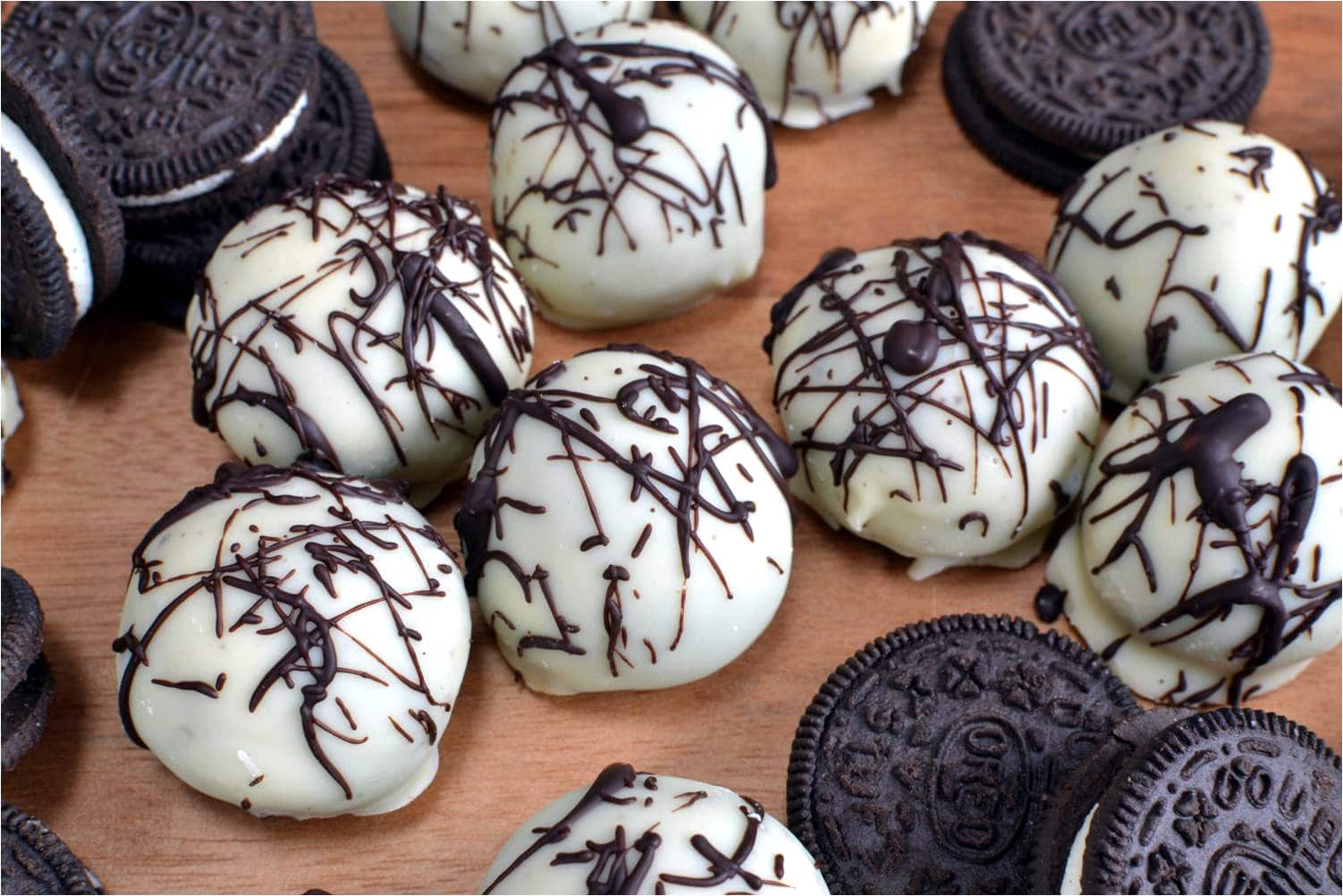 This Oreo Truffle recipe obtained from:
Sally's Baking Addiction 😉 Where else?! You can also purchase one of Sally's Cookbooks here!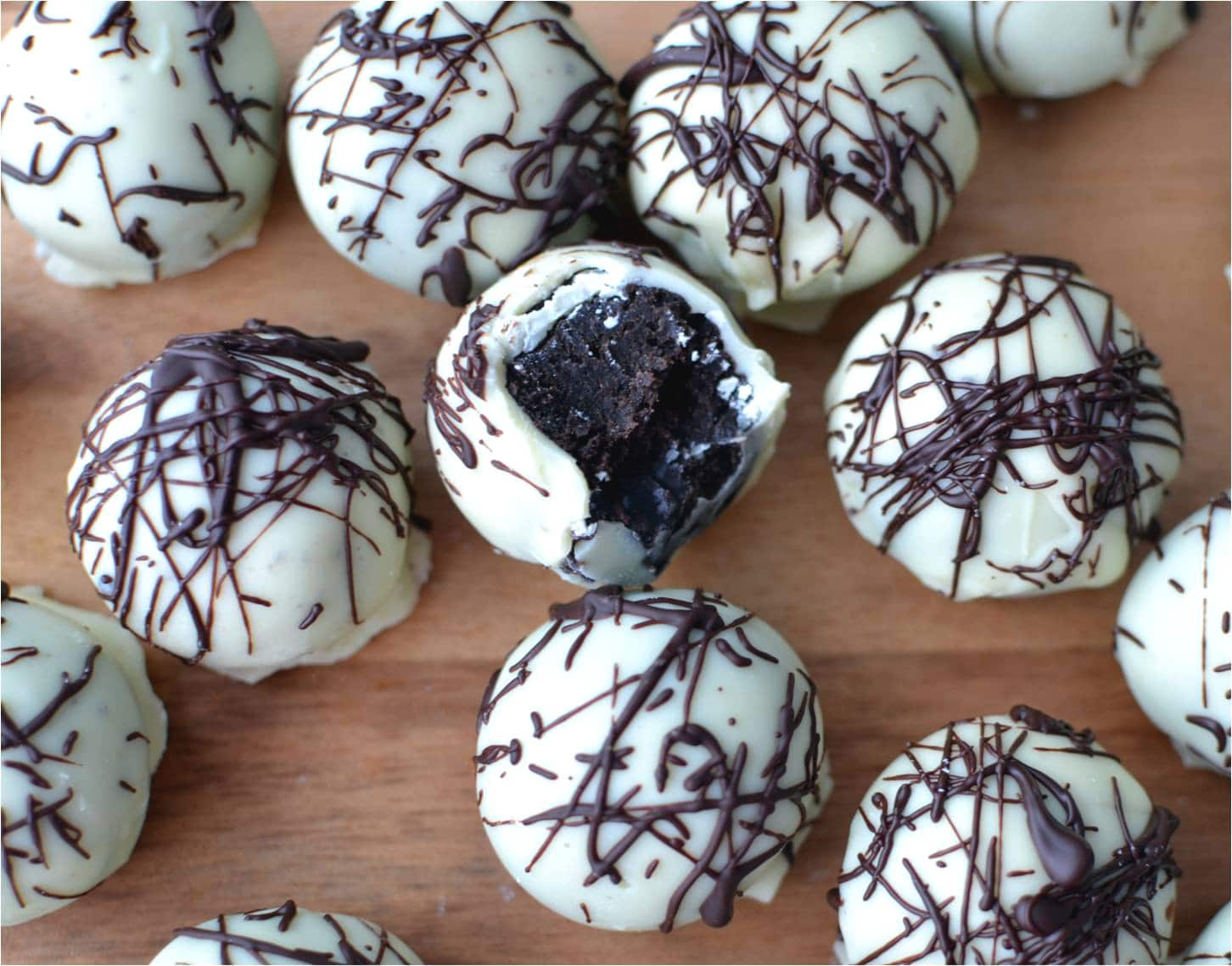 No Bake Oreo Truffles
A sweet outer chocolate shell surrounds a decadent, chocolate Oreo filling. No baking necessary and only 4 ingredients needed!
Ingredients:
1 package (15.25 oz.) Oreos (any flavor, double stuffed or regular both work)
1 package (8 oz.) cream cheese, softened
12 oz. white melting chocolate (*Not chocolate chips, but high quality melting chocolate- I used Baker's bars)
6 oz. semi sweet melting chocolate for topping (Or sprinkles, or Oreo crumbles)
Directions:
Place the Oreos (filling & all) in a food processor (in batches if necessary) and process until fine crumbs are formed and large chunks are gone.
Mix in the softened cream cheese until very well combined and the dough becomes sticky.
Roll about 1- 1 ½ tablespoons of dough into a ball and set aside on a plate or in a container that you can fit in the freezer. Freeze the balls for at least 30 minutes.
Baker's chocolate bars melt really well in the microwave and are ideal for dipping. (Chocolate chips, not so much.) Place the white chocolate in a small microwave safe bowl and heat for 30 seconds at a time, stirring in between, until melted.
How I dipped the Oreo balls into the chocolate:
Cover a few small plates with wax paper. Remove 1-2 Oreo balls from the freezer at a time. Drop them into the chocolate and roll them around carefully with a fork (try not to pierce them) There is likely one part that is flatter, which was the bottom of the ball when it sat in the freezer. Slide the fork underneath the flatter part and lift. Slide the bottom of the fork across the edge of the bowl to let the excess chocolate drip off, then set on top of the wax paper. The chocolate sets pretty quickly which is nice, but I would transport them right to the fridge to speed up the process and keep them nice and smooth.
You may now refer to these, as truffles : )
Topping the truffles
This was just fun. I melted 6 oz. of the semi-sweet chocolate in a bowl and placed the balls on a large plate once they had all set. Then, I dipped the tip of a fork into the chocolate and shook it a bit to let some of the chocolate drip back into the bowl. Then, I raised the fork high above the truffles and waved the fork around so that the chocolate would fling off in thin streams onto the Oreo balls. It was really entertaining. I got chocolate all over the counter ; ) But they looked really cool so it was worth it.
You can also top them with sprinkles or Oreo crumbs right after they've been dipped- then you're done!
All images and text ©
*This post may contain affiliate links