These super easy Oreo Truffles only need 4 ingredients with no baking required! They can be made ahead of time and can even be frozen!
Be sure to try my No Bake Oreo Delight next!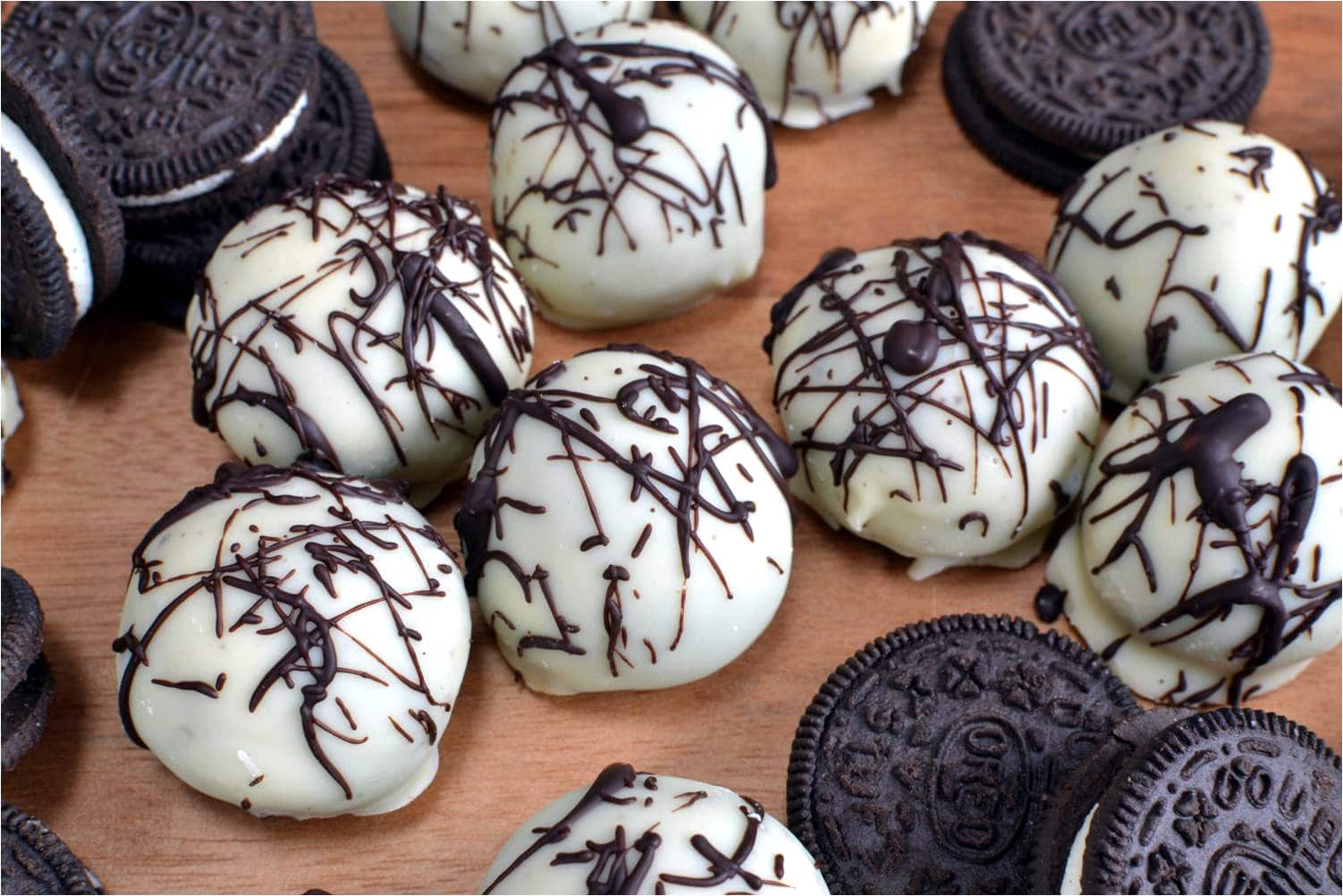 I am definitely not a baker by nature, so I appreciate any dessert recipe that has the words "no bake" in front of it. And as you can see by the crazy zig-zag lines on top of these truffles, I'm not very crafty either. So basically, if I can make these oreo truffles look pretty, you can make these look prettier.
Making Oreo Truffles Ahead of Time:
Oreo Truffles are a great make-ahead treat and can be made up to five days of time and can be stored in the refrigerator until ready to serve!
If you end up serving these longer than five days from making them, flavor and aroma will likely not be quite as fresh
Coloring Melted Chocolate:
Don't allow any moisture to come in contact with the chocolate, this will cause it to seize when it's melted. This includes using wet utensils to stir, etc.
When coloring the chocolate, use oil based food coloring, as adding water based food coloring causes the chocolate to seize.
Don't melt the chocolate too quickly, low and slow is best
Using melting chocolate as opposed to chocolate chips creates a smoother consistency.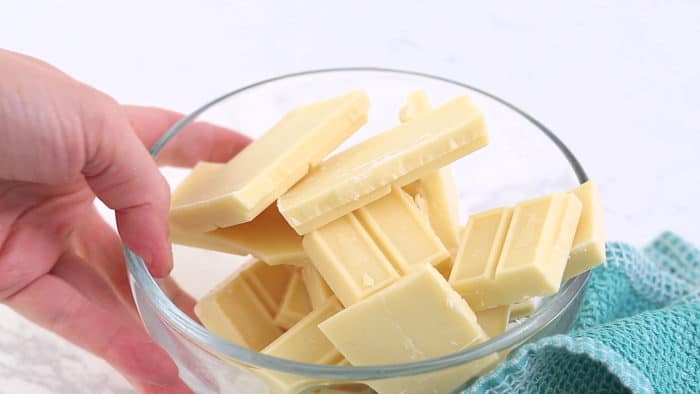 Freezing
Leftover truffles can be frozen and can even be eaten right from the freezer!
You can also freeze them and let them defrost in the refrigerator prior to serving. They may bead up a little bit when brought down to room temperature, but it's not a catastrophe.
Refrigerating
These can be stored in the refrigerator for up to two weeks.
Holiday Version
I put about 4 drops of oil-based green food coloring into slowly melted white chocolate and stir until uniform in color.
I also add sprinkles just after the Oreo Truffles have been dipped into the chocolate.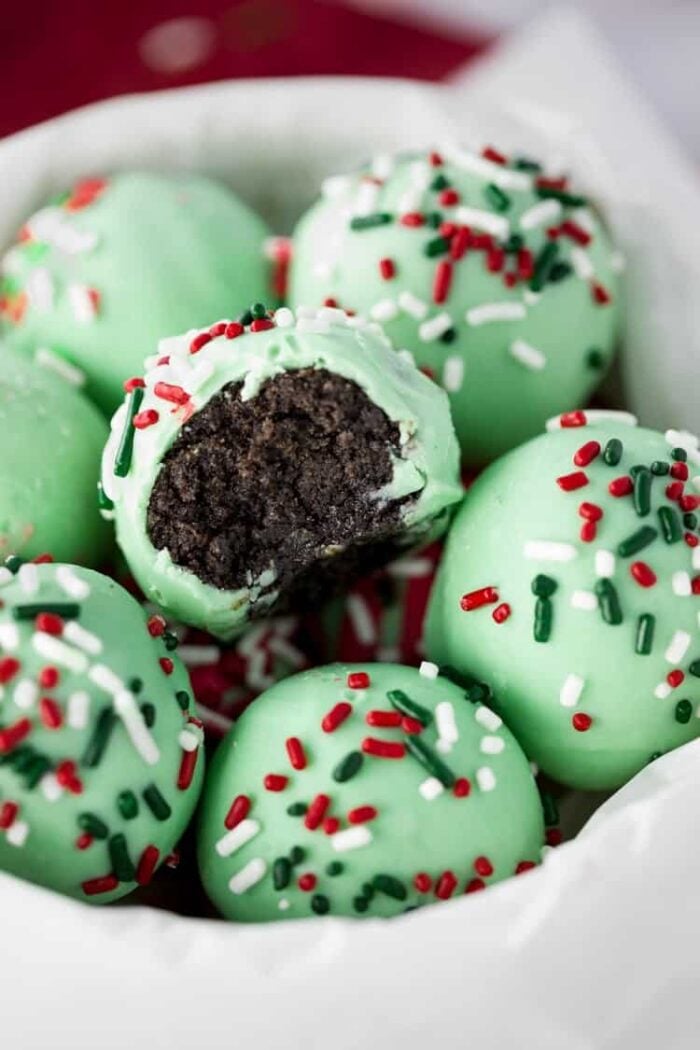 Try These Next!
Get My Free Meal Plan
I've got a Free Meal Plan with 7 of my super popular recipes (complete with grocery list)! Sign up for my email list and I'll send it over now along with weekly dinner recipes!
And follow me on Facebook, Instagram, and Pinterest!
Tried This Recipe?
Leave a review, I love hearing your feedback! ⭐⭐⭐⭐⭐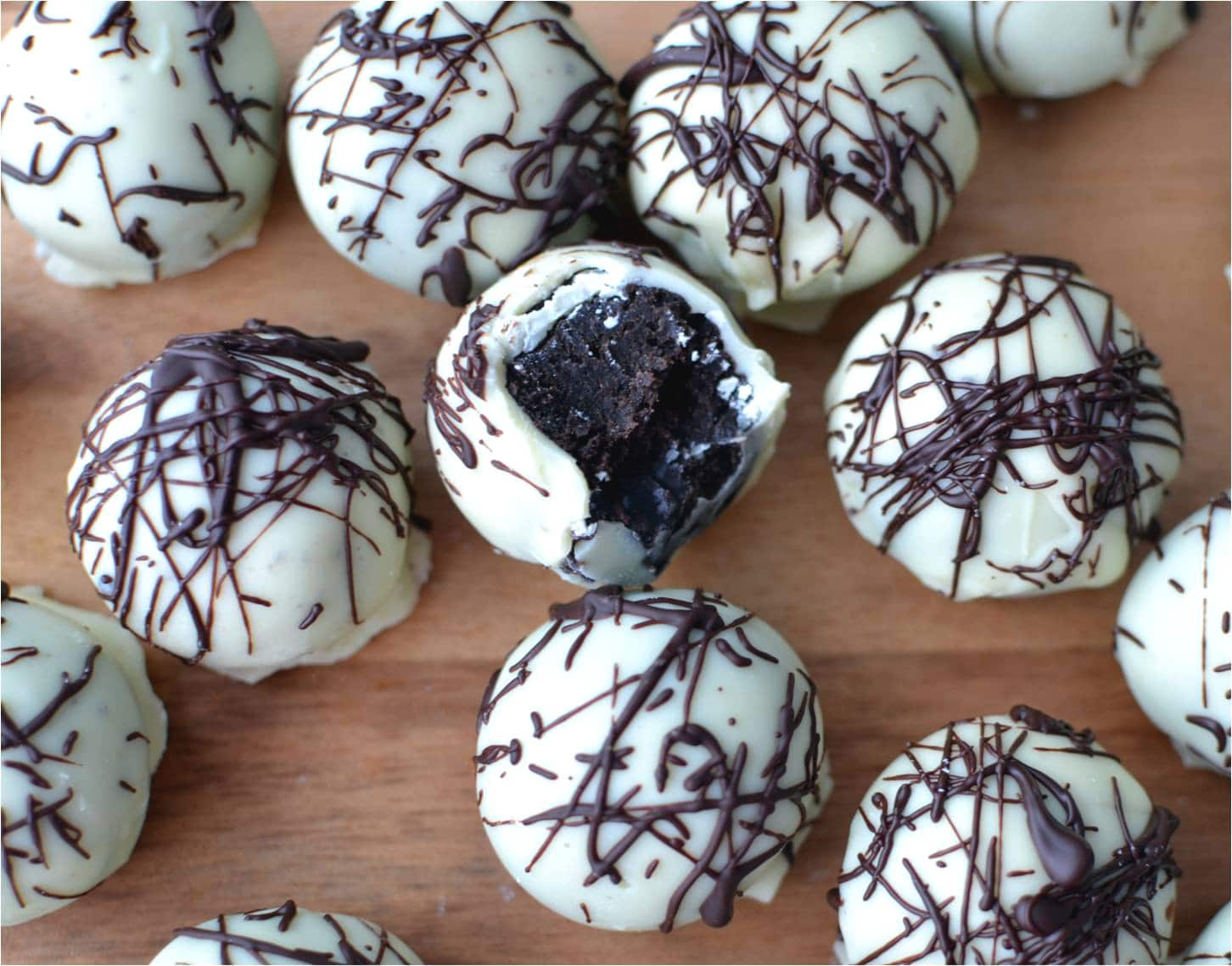 Oreo Truffles
These no bake Oreo Truffles have a sweet outer chocolate shell that surrounds a decadent, chocolate Oreo filling- and you only need 4 ingredients!

Ingredients
1 package Oreos, any flavor. Double stuffed or regular both work
8 oz. cream cheese,, softened
12 oz. white melting chocolate
6 oz. semisweet melting chocolate for topping
Instructions
Make the Balls:
Place the Oreos in a food processor and blend until fine crumbs are formed.

Add the cream cheese and blend to form a sticky dough.

Roll about 1 ½ tablespoons of dough into a ball and set aside on a plate. Freeze for 30 minutes or more.
Dip in Chocolate
Place the white melting chocolate in a small microwave safe bowl and heat for 30 seconds at a time, stirring in between, until melted.

Cover a baking sheet with wax paper. Remove Oreo balls from the freezer. Drop them into the chocolate and roll them around carefully with a fork.

There is likely one part that is flatter, which was the bottom of the ball when it sat in the freezer. Slide the fork underneath the flatter part and lift. Slide the bottom of the fork across the edge of the bowl to let the excess chocolate drip off, then set it on top of the wax paper.

The chocolate sets pretty quickly from there. Once you've dipped them all, refrigerate for at least 10 minutes to set.
Decorate the Top:
Melt the semi-sweet chocolate in a small bowl in the microwave, 30 seconds at a time.

Dip a fork into the melted chocolate and drizzle it over the Oreo balls. You may make a mess, but that's part of the fun!

You can also top them with sprinkles right after they've been dipped.
Notes
I use baking bars for the melted chocolate in this recipe, they can be found in the baking aisle of the grocery store.
You can also top them with sprinkles right after they've been dipped.
These stay fresh for up to 5 days in the fridge, or for up to 3 months in the freezer.
Nutrition
Calories: 224kcal, Carbohydrates: 24g, Protein: 2g, Fat: 13g, Saturated Fat: 6g, Cholesterol: 13mg, Sodium: 121mg, Potassium: 127mg, Fiber: 1g, Sugar: 17g, Vitamin A: 130IU, Vitamin C: 0.1mg, Calcium: 44mg, Iron: 2mg