Homemade Ciabatta Bread

My husband is obsessed with this homemade Ciabatta bread. He ate a whole loaf the first day I made it, (sorry to call you out on that one Mark  😀 ) and the last 2 nights in a row when I've asked him what he wants for dinner he's just said "Bread!"…. last night I used this for grilled cheese and tomato soup, (the best meal in America), and before that- French Toast!! Looks like another batch will already be in the works this weekend! Now on to MY feelings about bread….
Bread and butttaaaa. It's the best thing in the world. And Ciabatta bread might just be my top of the top of my bread list:
A crispy outer crust, and a soft center with little crannies that make a perfect little home for some oil or butter 😉
This Ciabatta bread is also ideal for dipping into soups, it absorbs the soup RIGHT up when you dip it… so it's heaven, basically. Not only that, but it's sturdy enough for sandwiches, (grilled cheese anyone?!) and also REALLY good with eggs! I'm dying over here, this bread is SO GOOD.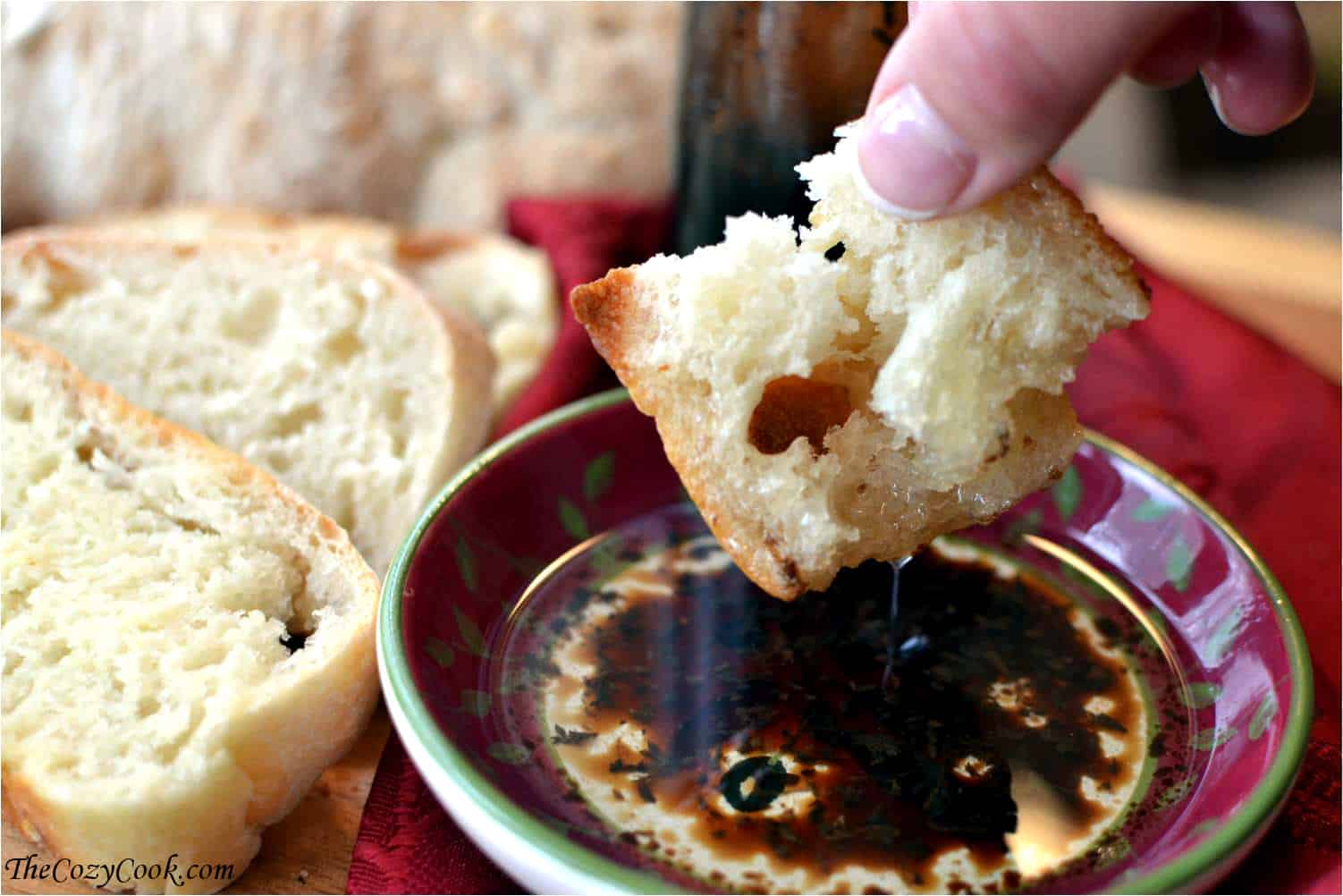 Whenever we go to weddings and there are rolls and butter served, I'm in LOVE. (It's the little things, what can I say). Even if I leave the table for a second, my friends KNOW not to let the server take my roll. Once my friends hid my roll as a joke- I noticed it as SOON as the table was back in my view when I came back. Not funny! 😯 And honestly I think I like this bread better than dinner rolls- it's those crannies. They get me. Get me every time.
Make sure to prepare the starter dough early in the morning or the night before!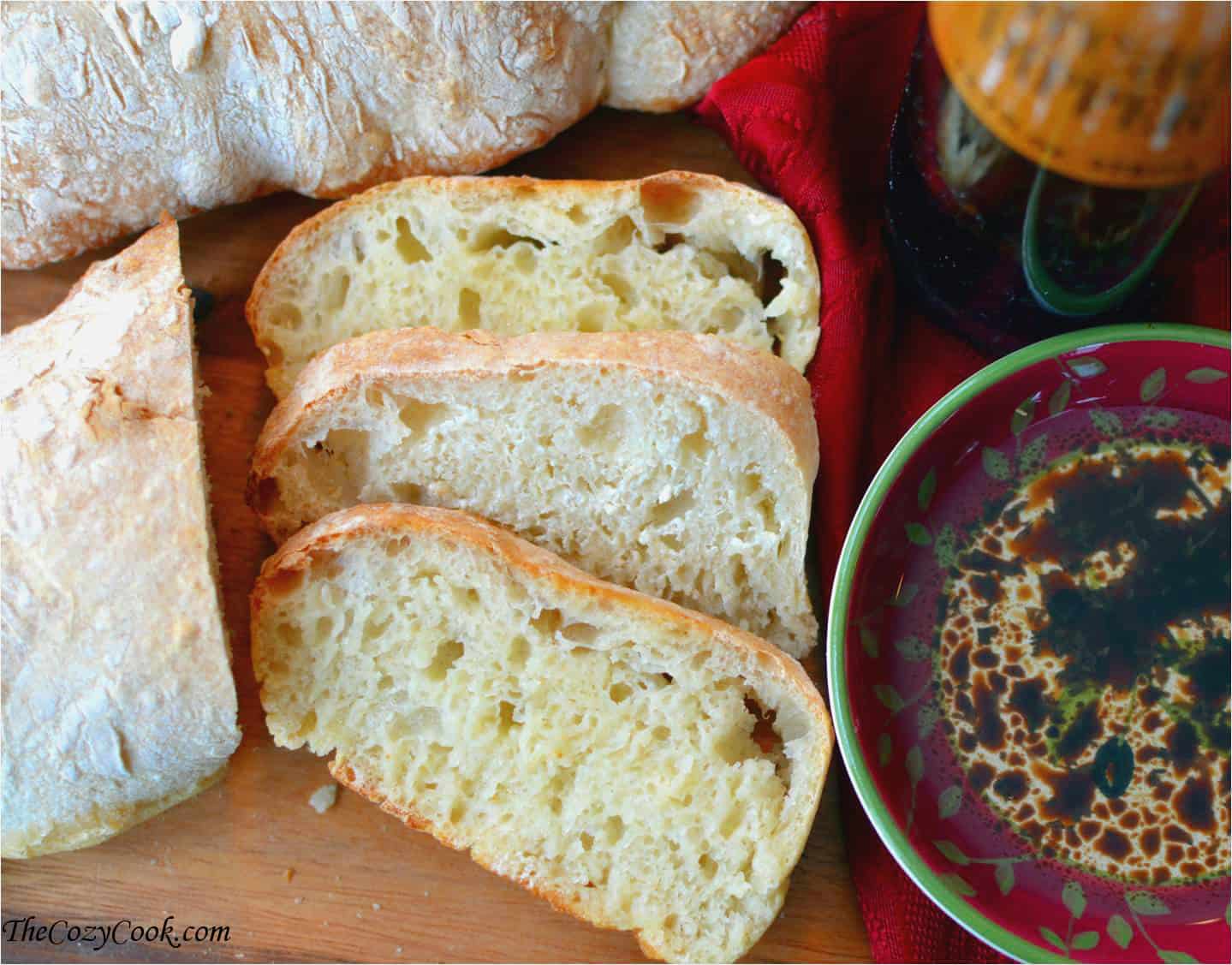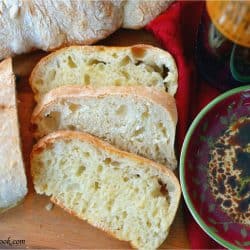 Homemade Ciabatta Bread
This crispy crusted bread has a soft, warm center with little crannies that are perfect for dipping into butter, soups, dips, and more!
Ingredients:
Yeast Starter Dough:  (Needs to sit for 8-12 hours– overnight works well too)
1/2 tsp. active dry yeast
3/4 cup room temperature water
1 cup bread (or all-purpose) flour
Ciabatta Dough:
1/2 teaspoon active dry yeast
3/4 cup room temperature water
Yeast Start Dough (from above)
2 cups bread (or all-purpose) flour
1+ 1/2 teaspoons salt
Directions:
Phase One: Starter Dough:
Combine the ingredients in a medium bowl, stirring well. Cover with Saran Wrap and let it sit at room temperature for 8-12 hours, or overnight.
Phase Two: Ciabatta Dough:
In a large bowl, combine the yeast and the water. Add the starter dough and mix gently. Add the flour and salt and mix until combined.
Use a hand mixer and mix the dough on low for 3 minutes, then let it sit for 10 minutes.
Repeat, mixing for another 3 minutes and letting it sit for 10.
Remove the dough with a silicone spatula and drop into a large oiled bowl. Cover with plastic wrap and let it sit for 45 minutes.
Use the same silicone spatula and drop the dough onto a floured surface. Sprinkle the top of the dough with flour.
Take one end of the dough and fold it up into the middle. Take the other end, and fold that one into the middle.
Sprinkle more flour on top of the dough and let it sit for 15 minutes.
Repeat the two prior steps again, folding and letting it sit for another 15.
Take the bread and create an 8×8 inch square.
Use a sharp knife and cut the square in half. Cover each of the loaves with a light dish towel and let it sit for about 30 minutes.
Preheat the oven to 475 degrees while it sits.
Gently lift the loaves onto a greased baking sheet, trying to touch them the least amount possible.
Bake for 17-25 minutes, (mine was ready after 17 exactly so I'd keep an eye on it a little before that time.)
Let it cool on a cooling rack and then slice it up and serve!
Flouring your hands prior to handling the dough makes it easier!
*This post may contain affiliate links