Copycat Texas Roadhouse Steak Rub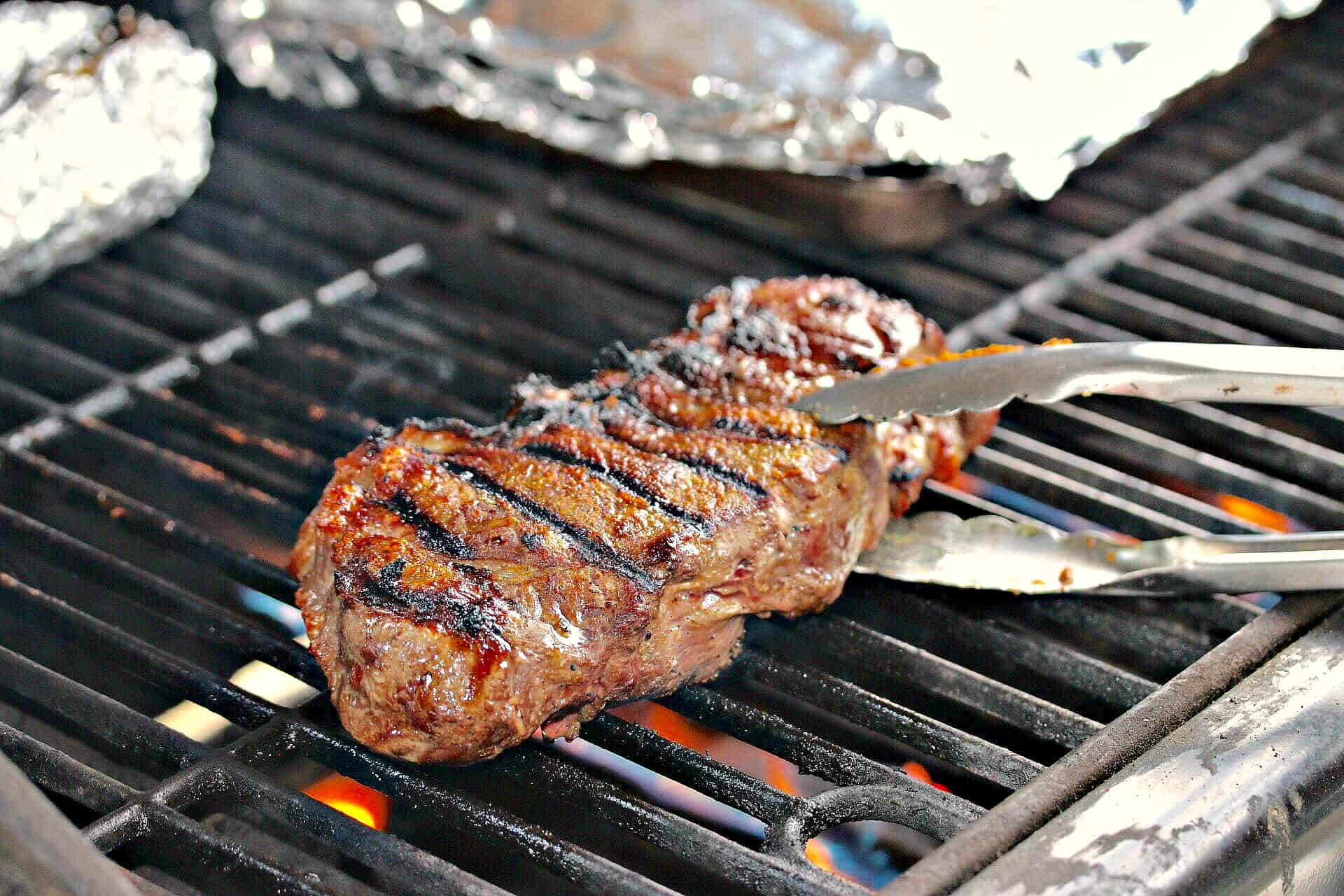 Who loves enjoying summer with a big juicy steak?! WE DO. For years it seems, Mark and I had been trying to find the perfect steak marinate or dry rub. We'd google recipes, make them up, (which never worked out so well), and tried fruitlessly to mimic our favorite steakhouse favorites. Finally- we ended up buying some dry rub from the Texas Roadhouse. Since then, it's all we've used. Except now we just make it at home- score.
Isn't grilling the best? Honestly, we do it all year round, but grilling in the summer is something you just can't beat! We get a lot of snow in New Hampshire, so winter grilling entrails wheeling the grill so that it sits right where we open the deck door, this way we don't have to trudge through snow, or shovel our way to the grill to get to it in the winter. That's probably why summer grilling is a special treat for us. 😉 
The best part is that this steak seasoning recipe is super-duper easy. Simplicity is often the way to go when you're dealing with meat. The hardest part of all is not to fiddle with in on the grill- but seriously- don't do it. Leave it alone. Set it and be done with it. Get your timing right (see instructions below)- and you'll be happily munching on a big juicy steak in no time. Here is more information to help you achieve that perfect steak:
Tips for Grilling Steak:
-Get the highest quality meat that you can afford- it will make all the difference. Porterhouse, N.Y. Strip, & Ribeye are all perfect for grilling.
-Hot & Fast is the best way to cook a steak on the grill, so don't be afraid to turn up that heat. This goes for all cooking levels, from rare to well done.
-Contrary to popular belief, it's best not to oil your grill grates before grilling. These guys can tell you why
-Give the steak about 5-7 minutes to rest after it's cooked. This allows the juices to absorb and settle evenly throughout the meat. If you cut right in, you'll lose a lot of the juice and it will drip right onto the plate.
Letting it Rest:
Letting steak rest after it's grilled is very important.
-It gives the juices time to settle and disburse evenly in the meat. Otherwise you'll dive right into that steak and watch that delicious juice fall all onto your plate- leaving your meat less juicy. No good my friends, no good.
-Not only that, but you need to let it rest after you apply the dry rub– for 40 minutes. I don't kid around with that part- you have to do it. Otherwise the salt in the rub causes the moisture in the steak to rise at the top, but doesn't have sufficient time to settle back in- and again, you'll end up with a drier steak.
Does this steak look like it's floating to anyone else?!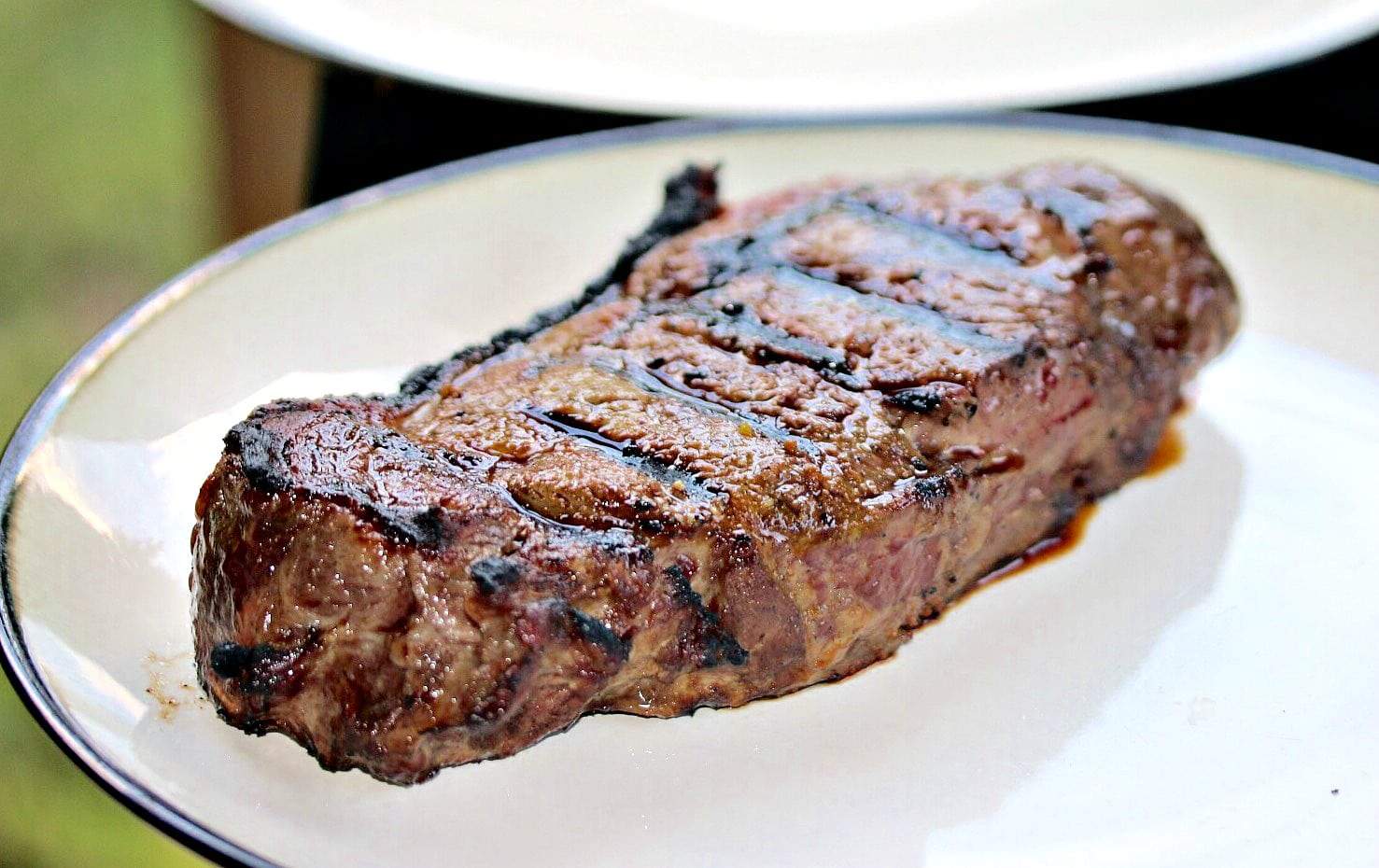 Don't forget the Texas Roadhouse Rolls & Butter! 😉
Ever wonder how to make Texas Roadhouse Rolls?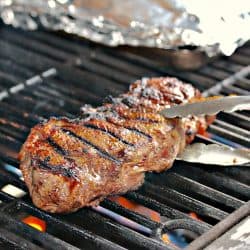 Copycat Texas Roadhouse Steak Rub
A simple combination of ingredients from this classic steakhouse that will bring out the best flavor in your next chicken or steak!
Ingredients:
1.5 tablespoons kosher salt
2 teaspoons brown sugar
1/4 teaspoon cornstarch
1/4 teaspoon garlic powder
1/4 teaspoon garlic salt
1/4 teaspoon onion powder
1/4 teaspoon turmeric
1/2 teaspoon paprika
1/2 teaspoon chili powder
1 teaspoon black pepper
Directions:
Combine all ingredients in a gallon-sized plastic bag and seal it tightly. Shake it to thoroughly combine all ingredients.
Cut a small hole in the corner of the bottom of the bag and pour the contents into a spice container.
Generously cover each side of the steak with the seasoning and let it rest for about 40 minutes. This allows the salt to penetrate through the surface (through osmosis, oohhhh…) and actually helps break down the muscle fibers, which results in a more tender meat. During this time, the liquid that initially surfaced has time to reabsorb, which makes the meat juicer.
Once the grill is nice and hot, place the steak(s) on and cook for 4-5 minutes, until it's browned and slightly charred. Flip it over and cook for the following additional time:
-5 minutes: Medium Rare
-7 minutes: Medium
-10 minutes: Medium- Well
Alternative Ingredients Recipe for Rub Recipe:
4 Tbsp. Lawry's seasoning salt
1 Tbsp. Black pepper
1 Tbsp. Onion powder
1 Tbsp. Garlic salt
All images and text ©Stephanie Melchione for The Cozy Cook
*This post may contain affiliate links