Mashed Potato Casserole with Crispy Chicken
This mouth-watering mashed potato casserole is topped with Corn, Cheddar Cheese, Tyson Chicken Strips, and a drizzle of brown gravy! It's easy to make ahead of time and bake later for a quick family dinner!
Love casserole recipes? Be sure to try my Twice Baked Potato Casserole recipe next!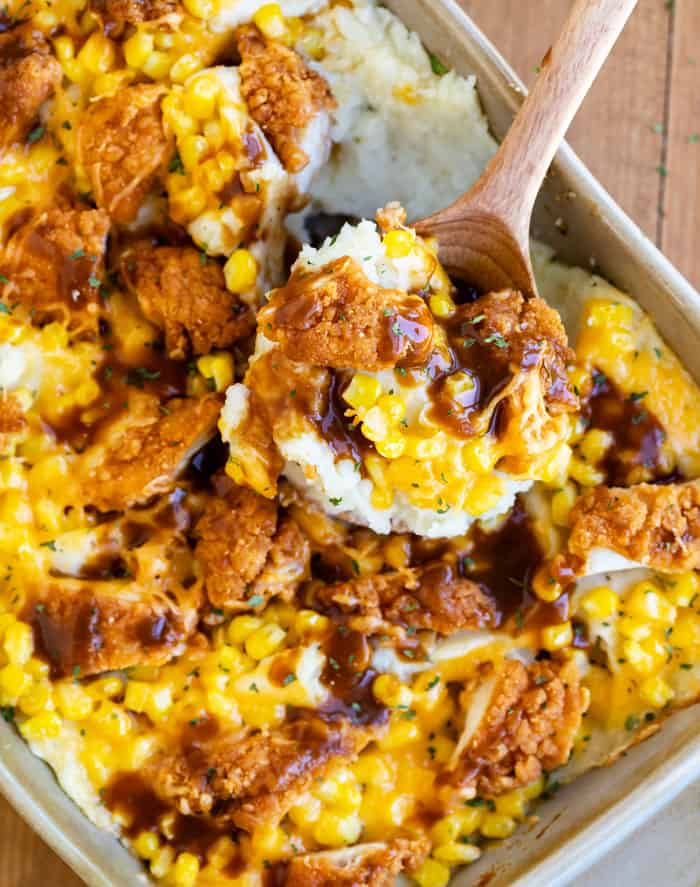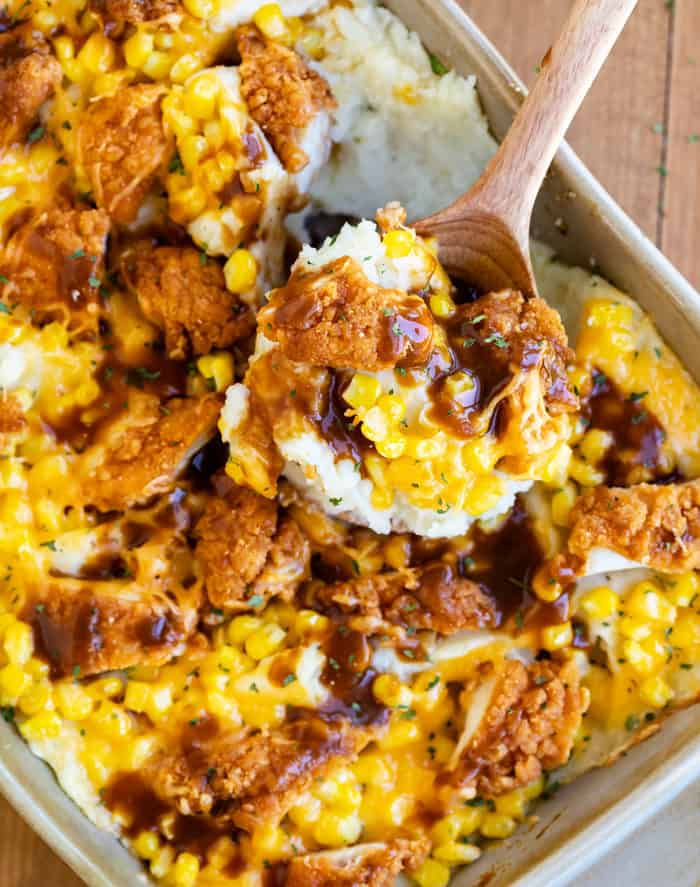 Sunday meal prep has been my jam lately, and I'm so thrilled to be growing my collection of casseroles that are easy to throw together and can assembled a few days ahead of time.
Not to mention, if you find yourself with some leftover mashed potatoes, then this dinner is a no-brainer.
I always have Tyson Chicken Strips on hand because my daughter is obsessed with them. But I really like to find different ways to incorporate them into new recipes, like this mashed potato casserole right here, which my family loves.
Mashed Potato Casserole Ingredients

For Casserole

Mashed Potatoes
Frozen Corn
Cheddar Cheese- Preferably grated yourself from a block at home
Frozen Crispy Chicken
Brown Gravy Mix

For Homemade Mashed Potatoes

Russet Potatoes
Butter
Half and Half
Salt/Pepper
How to Make the Best Mashed Potatoes
Use a Starchy Potato:
Russets or Yukon Golds are perfect for mashing.
Using waxy potatoes such as red or new potatoes can cause your mashed potatoes to have a gluey consistency as opposed to being nice and creamy.


---
Leave the Skins on for Boiling:
This gives them more flavor.
They absorb less water this way.
They will be able to absorb the dairy better.


---
Use COLD Water:
Add the potatoes to cold and salted water before boiling.
Using hot/warm water will cause the outside of the potato to heat up before the middle does, which will cause uneven cooking.


---
Don't Add Cold Ingredients to Warm Potatoes:
Make sure your butter is completely softened.
Make sure that your milk/half and half is warmed up slightly before being added.
The potatoes will absorb them better this way and they will end up much creamier.


---
Add the Butter Before the Dairy:
The butter helps to coat the starch and gives you a silkier consistency.


---
Don't Over-Mash:
Potatoes release starch every time they're handled/mashed.
The consistency will become gluey instead of creamy if they are handled too much.


---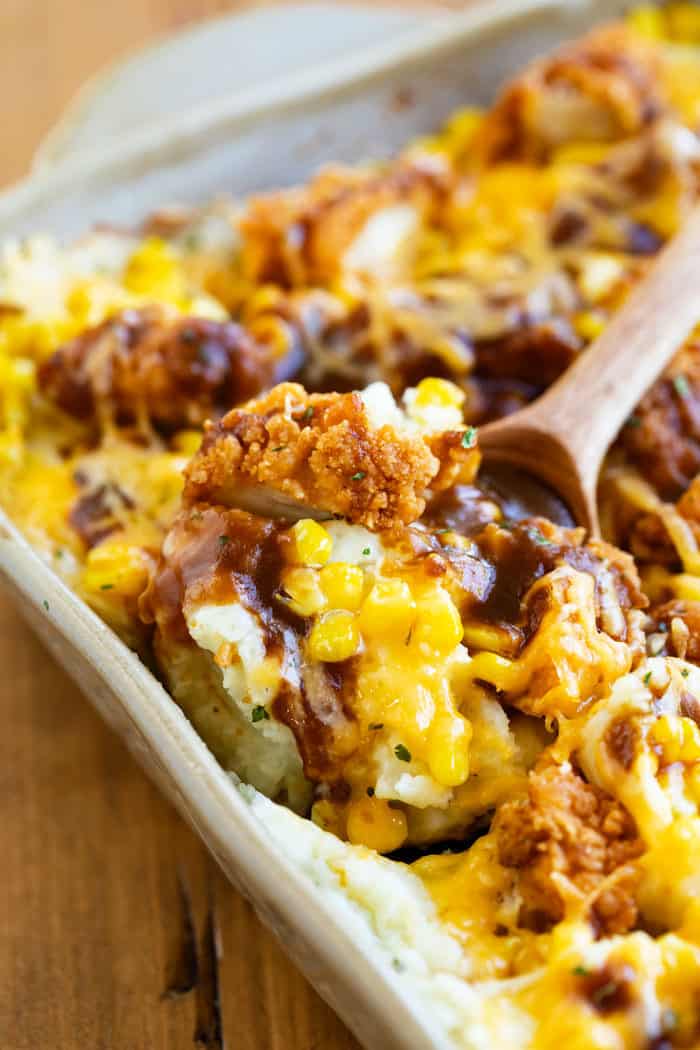 Vegetable Variations:
Frozen peas, carrots, corn, and green beans make excellent vegetable options in this casserole!
Make-Ahead Method:
Prep Work:
Prepare homemade potatoes and store for a 1-2 days an airtight container.
Grate the cheese ahead of time and keep it in a small storage bag in the fridge.
When Ready to Bake:
Heat up the potatoes. (On stove or in microwave)
Top with frozen corn, cheese, and chicken.
Bake for 15 minutes.
Prepare the gravy.
Drizzle the gravy over the casserole and serve!
Storing Leftovers
Leftovers can be stored in an airtight container in the fridge and are best if used within 3 days.
You can reheat in the microwave or in an oven at 350 degrees Fahrenheit.
You can also freeze leftovers in an airtight container, it's best if used within 3 months.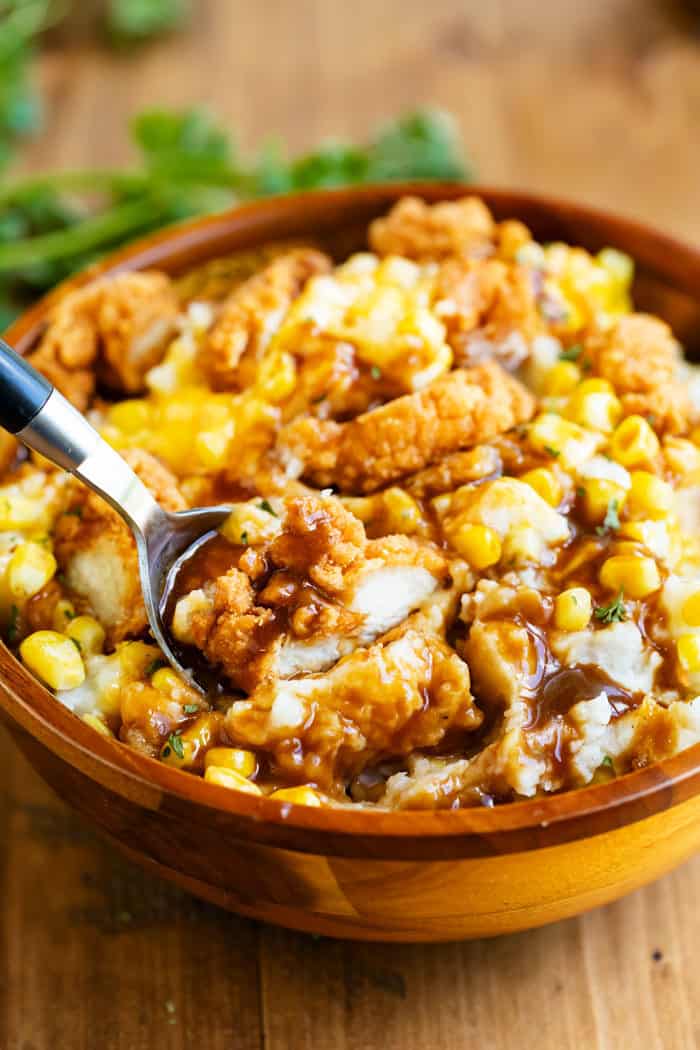 Try These Next!
Follow Me!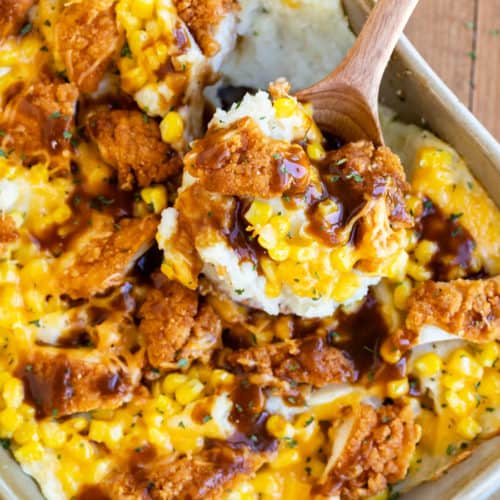 Mashed Potato Casserole with Crispy Chicken
This mouth-watering mashed potato casserole is topped with Corn, Cheddar Cheese, Tyson® Chicken Strips, and a drizzle of brown gravy! It's easy to make ahead of time and bake later for a quick family dinner!
Ingredients
For Homemade Mashed Potatoes:
5 medium Russet Potatoes, of equal size
1 stick butter, softened
1 cup half and half, warmed
Salt/pepper
For Casserole:
5 cups mashed potatoes
1 cup frozen corn
1 cup cheddar cheese, freshly grated
6 Tyson Chicken Strips
.87 oz. packet Brown Gravy Mix
Instructions
Homemade Mashed Potatoes
Rinse the potatoes thoroughly and pat them dry. Leave the skins on.

Add the potatoes to a large pot of COLD and salted water, enough water to submerge them by 1 inch. Use 1 heaping teaspoon for each quart of water.

Bring the potatoes to a gentle boil and maintain this boil until they are fork tender.

Drain the potatoes. Hold them with a pot holder and peel off the skins. Return them to the pot.

Add the completely softened butter and mash them to desired consistency.

Warm the half and half in the microwave for 30 seconds and stir it into the mashed potatoes.

Season with additional salt/pepper if desired.
Preparing the Casserole
Preheat the oven to 400 degrees Fahrenheit.

Take out your chicken strips and let them sit at room temp for about 5 minutes if you prefer to slice them first.

Spread the potatoes on the bottom of a 9 x 13 casserole dish.

Note: If your mashed potatoes are cold, warm them first.

Top with corn and cheese.

Carefully slice the chicken strips into pieces of desired size and top the casserole dish with them.

Bake for 20 minutes, until the chicken is crisp.

Prepare the gravy on the stove top according to package instructions while the casserole finishes baking.

Drizzle your desired amount of gravy over the casserole dish and serve!
Notes
• Milk may be used instead of half and half. You can also use cream for ultimate decadence.
• If you prefer a creamier consistency, additional milk or half and half may be added to the mashed potatoes until your desired consistency is reached.
• For quicker mashed potatoes, you can peel them and slice them into thirds of equal size so that they finish boiling more quickly.
Nutrition
Calories: 757kcal, Carbohydrates: 111g, Protein: 34g, Fat: 21g, Saturated Fat: 11g, Cholesterol: 104mg, Sodium: 2418mg, Potassium: 1774mg, Fiber: 7g, Sugar: 11g, Vitamin A: 345IU, Vitamin C: 55.6mg, Calcium: 222mg, Iron: 2.9mg