Easy Potato Salad
This easy potato salad recipe includes tips for perfectly boiled potatoes and eggs, along with a homemade potato salad dressing from my mom and hers!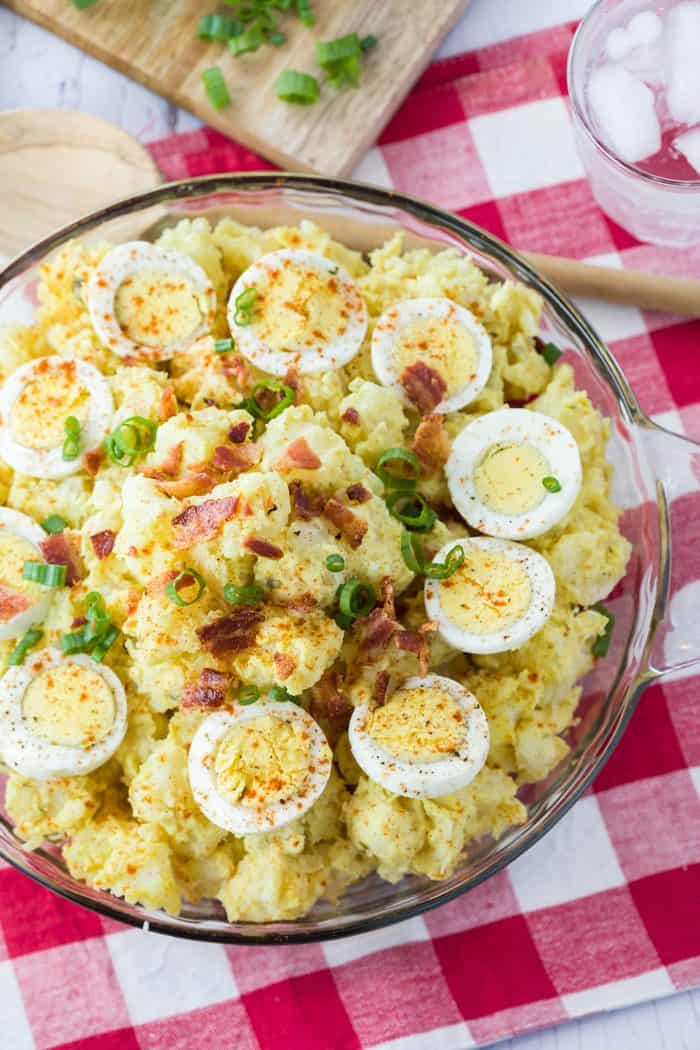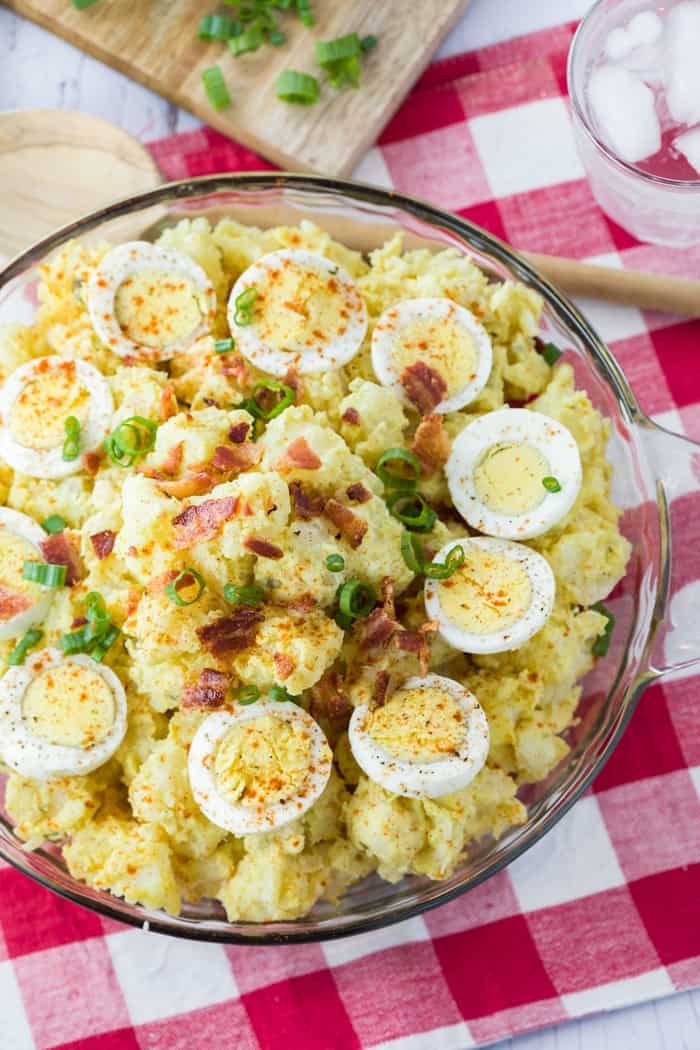 Greetings, from New Hampshire! It's warm and………wait. What the heck. It's snowing out right now. I swear I just heard birds chirping and saw people driving around in their convertibles.
Welp, my bad. That happened yesterday. And today? Schools are closing, plow trucks are out, and that's that. Thank you, New England. But- it's still March, and no one can take that away from me. Easter is in just a few short weeks and I'm ready to dive into some of my mom's easy potato salad now. I'm not waiting. No one can make me.
This potato salad recipe is actually one of two recipes that will actually get me to eat mayo. And to be honest, although this is my mom's original potato salad recipe, I did make sure to include some tips (that I didn't even initially realize), about how to boil potatoes, and how long to boil eggs. Both are pretty important when you want to make the best potato salad ever. (Which you do.) Read on my friends. This is big.
How to Boil Potatoes: 
Use potatoes of roughly the same size:
This allows them to cook at the same rate. If you're unable to get your hands on same-sized potatoes, remove the smaller ones from the heat sooner and allow the larger ones to continue cooking.
Leave the skins on:
This helps prevent the potatoes from getting mushy. The potato skins are also very easy to peel off after they've been cooked (and allowed to cool for a moment).
Use Waxy potatoes:
Waxy potatoes such as red potatoes or Yukon golds hold their shape best after boiling and have a creamier consistency.
Start with cold water in the pot:
Add the potatoes to cold water, and then bring it to a boil. It helps for more even cooking.
Stir the salt into the water:
Stirring in the salt as opposed to just dropping it into the water allows it to properly dissolve.
Leave the cover off:
Otherwise they could get mushy.
Add white vinegar to the potatoes while they're still warm:
This will enhance the flavor and slow down discoloration.
Mayo-based dressings should be added once the potatoes have cooled:
This will prevent the potatoes from getting oily.
…Think I'm done? Nope! I've got more. Have you mastered this yet?
How to long to boil eggs:
Submerge the eggs in 2 inches of cool water in a pot on the stove-top. Gradually bring them to a boil. Once the boil is reached, cover the pot and remove them from the heat, letting them sit for 12 minutes. Perfect.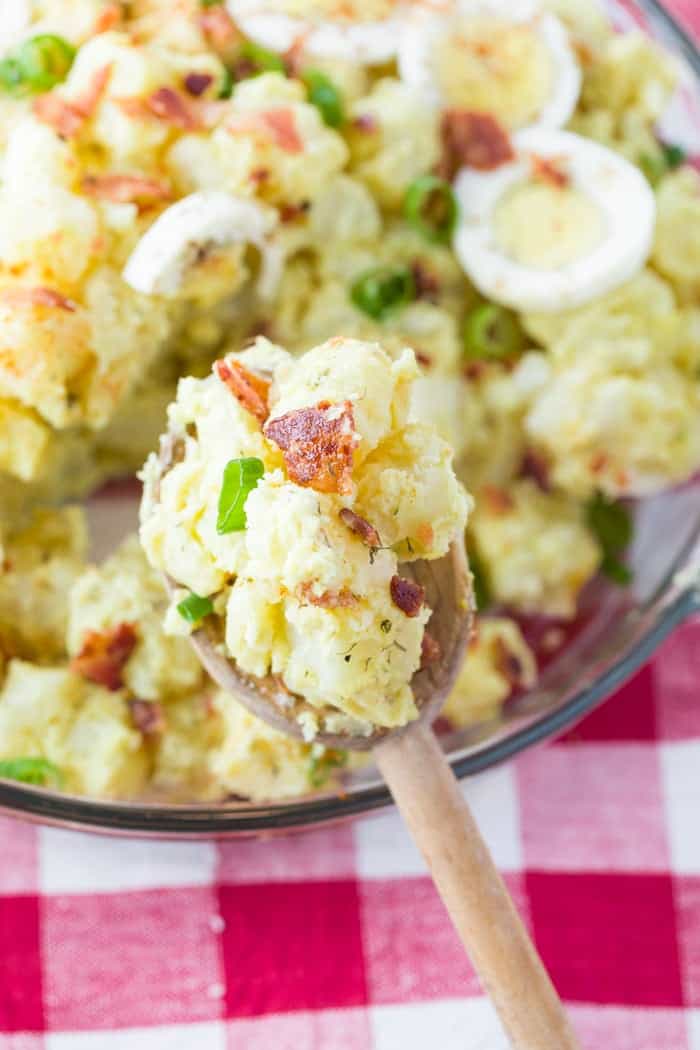 If you're a potato lover like me, you have to try these bacon ranch twice baked potatoes. (omg.)
Follow me!
Before you go, you should join my free recipe email list. You'll get a weekly email with my brand new recipes. And follow me on Facebook, Instagram, and Pinterest. Let's be friends for life!
Servings: 6
Mom's easy potato salad
Course: Side Dish
Cuisine: American
Keyword: Potato Salad Recipe
This easy potato salad recipe includes tips for perfectly boiled potatoes and eggs, along with a homemade potato salad dressing mixture (from my mom and hers), that you will keep in your family forever!

Ingredients
Potato Salad:
8 medium Yukon gold potatoes of roughly the same size
Salt/pepper to taste
2 Tablespoons distilled white vinegar
2 celery stalks diced
¼ cup yellow onion finely diced
5 hard-boiled eggs sliced
5 bacon strips cooked and crumbled
Potato Salad Dressing:
½ cup mayonnaise
1 Tablespoon yellow mustard
1 Tablespoon sweet relish
½ teaspoon garlic salt
To garnish:
½ teaspoon dried dill weed
½ teaspoon paprika
3 green onions diced
Instructions
Fill a

large pot

with

cold

water, enough to cover the potatoes by 1-2 inches. Clean the potatoes, add them to the pot, and stir in a teaspoon of salt.

Bring the water to a boil, then reduce the heat to a simmer and continue to cook the potatoes, uncovered.

As the water boils, mix the potato salad dressing ingredients and set aside (mayo, mustard, relish, garlic salt.)

Start checking the potatoes after 10 minutes, and every 3-4 minutes thereafter. Once you can pierce them fairly easily with a fork, they're done. (Cooking them too long will create mushy potatoes.)

Drain the potatoes. Once cool enough to handle, peel off the skin and dice them into large cubes. Add the potatoes to a large mixing bowl and sprinkle with desired amounts of salt and pepper. While the potatoes are still warm, add the white vinegar, onions, celery, hard-boiled eggs, and crumbled bacon, stirring gently with a rubber spatula.

Once the potatoes have fully cooled, gently stir in the potato dressing mixture until well-combined.

Garnish with dill weed, paprika, and green onions (I like to set aside some bacon and sliced hard boiled eggs for the top as well).

Refrigerate for a minimum of 4 hours, covered.
Recipe Notes
I like to set aside some of the crumbled bacon and hard-boiled eggs to garnish on the top!
Nutrition Information
Calories:
412
, Fat:
26g
, Saturated Fat:
6g
, Cholesterol:
175mg
, Sodium:
568mg
, Potassium:
1085mg
, Carbohydrates:
31g
, Fiber:
6g
, Sugar:
2g
, Protein:
13g
, Vitamin A:
9.2%
, Vitamin C:
33.8%
, Calcium:
9.8%
, Iron:
45.3%