This Instant Pot Brown Rice is easy to make with your favorite vegetables including broccoli, carrots, mushrooms, and more! It's cooked in a combination of chicken and beef broth for ultimate flavor.
Be sure to try my Broccoli Cheddar Chicken and Rice Casserole recipe next!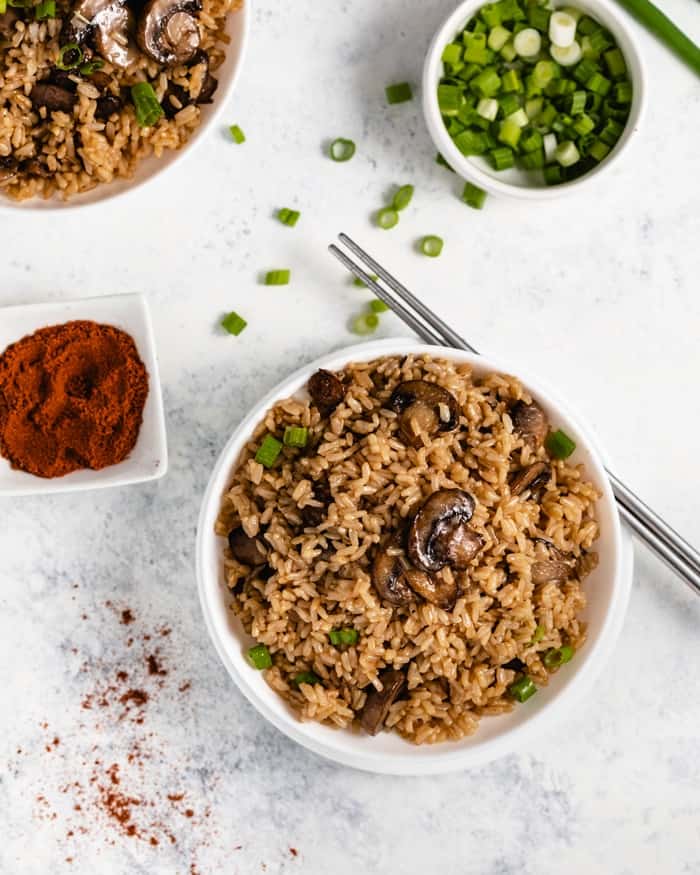 Instant Pot Brown Rice
One of my all-time favorite side dish recipes to make in bulk and freeze is this delicious brown rice.
I like to add lots of mushrooms to to it, but you can add any kind of vegetables you have on hand! (See ingredient list below for some delicious suggestions!)
Ingredients

Butter
White Button Mushrooms
Chicken Broth
Beef Broth
Uncooked Brown Rice– not Instant/Minute Rice
Green Onions

Vegetable Additions

Broccoli
Carrots
Peas
Celery
Bell Peppers
Uncooked vegetables such as broccoli can be cooked on saute mode along with the mushrooms (or instead of), removed, and added back at the end.
Cooked frozen vegetables can be mixed in at the end on saute mode until heated through.
How to Make it
Cook the butter and the mushrooms on saute mode for about 6 minutes. Note that the mushrooms will shrink down significantly as they cook as they contain a lot of water.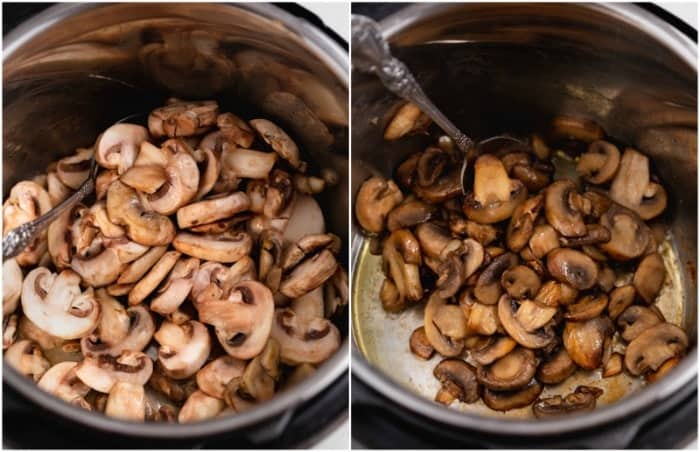 Remove the mushrooms and set aside.
Clean the bottom of the pot with chicken/beef broth. Use a silicon spatula to scrape up any brown bits.
Add the rice. Cover and ensure the pressure valve is sealed.
Pressure cook for 22 minutes, or 24 minutes for higher altitudes.
Let the pressure release naturally for 10 minutes, then flip valve to release any additional pressure.
Stir in the mushrooms. Top with green onions and serve.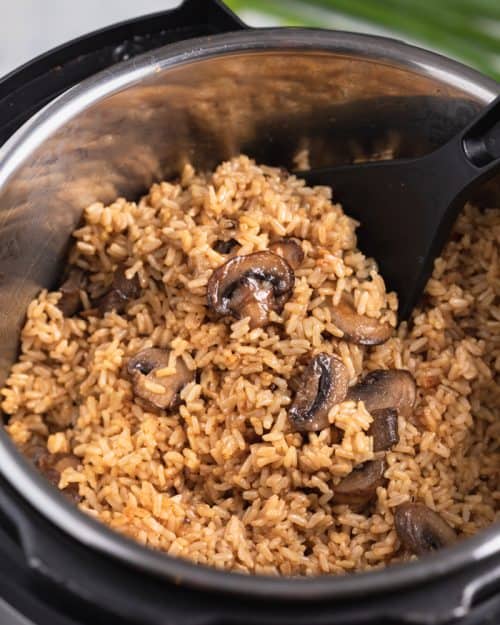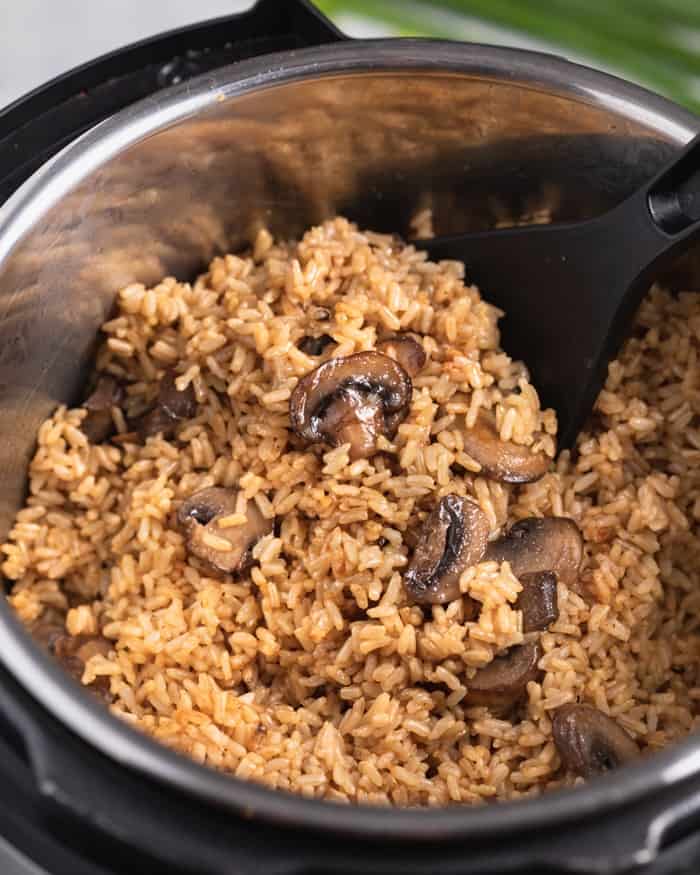 Burn Message Indicator
The burn indicator can sometimes trigger more easily with starchy foods, (i.e. – rice). Rest assure, there is a sufficient amount of liquid in this recipe to avoid burning the rice.
Even so, I commonly see this indicator when I am cooking but I just let it continue to come to pressure and eventually it goes away.
For more information you can check out these 7 Instant Pot Burn Mistakes you need to avoid.
What Size Instant Pot
I used my trusty 6-quart Instant Pot for this recipe, which is what I recommend for most families, and is what most Instant Pot recipes are based on.
It can cook enough food for a family of four and won't take as long to come to pressure as an 8 quart will.
Doubling This Recipe
1 cup of uncooked brown rice = 3 cups of cooked rice. This recipe makes enough for 8 people at 3/4 cup per person.
This recipe can be doubled in a 6 quart Instant Pot (or larger) to make 16 servings.
Storage
Refrigerator:
Cooked rice will last up to a week in the fridge.
Freezer:
Leftover rice is a great freezer food and makes a convenient last minute side dish.
I like to freeze portion sizes in foil packets and put the packet right in a 350° oven to reheat. Feel free to add a little extra butter halfway through.
What to Serve with Brown Rice
Get My Free Meal Plan!
I've got a Free Meal Plan with 7 of my super popular recipes (complete with grocery list)! Sign up for my email list and I'll send it over now along with weekly dinner recipes!
And follow me on Facebook, Instagram, and Pinterest!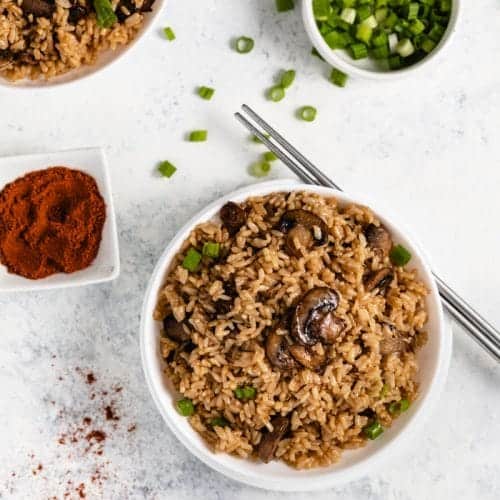 Instant Pot Brown Rice
This Brown Rice recipe is an easy side dish to make in the Instant Pot with your favorite vegetables! It also makes a great freezer food for a quick dinner side dish.
Ingredients
4 Tablespoons butter
16 oz. white button mushrooms, sliced
1 cup chicken broth, can also use water
1 ½ cups beef broth, can also use water
2 cups uncooked brown rice, *NOT Instant/Minute rice*
½ cup green onions, diced
Instructions
Set the Instant Pot to sauté and add the butter and mushrooms. Cook until the mushrooms have decreased in size and browned, about 6 minutes.

Remove the mushrooms from the pan and keep the pot on Saute mode.

Add in the chicken and beef broth and use a silicone spatula to scrape up any brown bits remaining on the bottom. This will enhance the flavor of the rice but will also help to prevent the burn message from appearing during pressure cooking.

Add the rice. Stir and cover the pot. Ensure the vent is sealed.

Pressure cook for 22 minutes, or 24 minutes for higher altitudes.

Let the pressure valve naturally release. After 10 minutes, you can flip the valve to release any remaining pressure and open the lid.

Stir the mushrooms back into the pot. Top with green onions and serve!
Notes
-Onions can be sautéed along with the mushrooms if desired. -This recipe can easily be doubled in a 6-quart Instant Pot (or larger) to make 8 servings. -Additional seasoning options include parsley, turmeric, garlic/onion powder
Nutrition
Calories: 123kcal, Carbohydrates: 13g, Protein: 3g, Fat: 6g, Saturated Fat: 3g, Cholesterol: 15mg, Sodium: 329mg, Potassium: 283mg, Fiber: 1g, Sugar: 1g, Vitamin A: 235IU, Vitamin C: 4.5mg, Calcium: 17mg, Iron: 0.8mg