Cold Noodles in Peanut Sauce
Savory chilled noodles smothered in a flavorful peanut sauce and topped with green onions and chopped peanuts. A perfect group side dish or meatless lunch!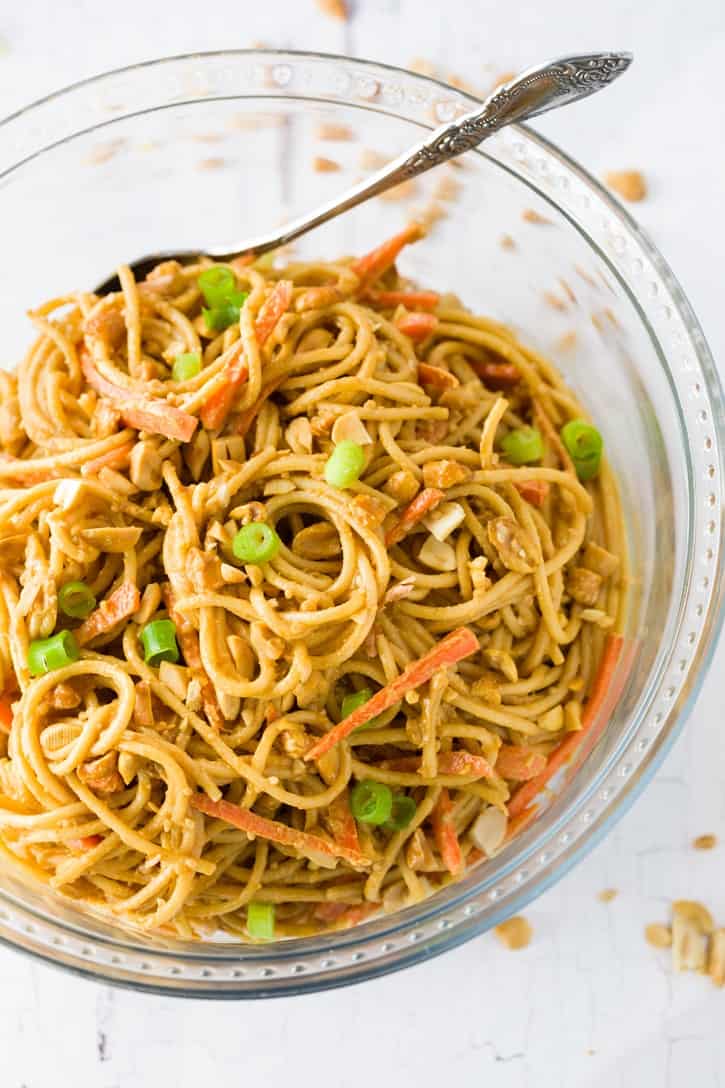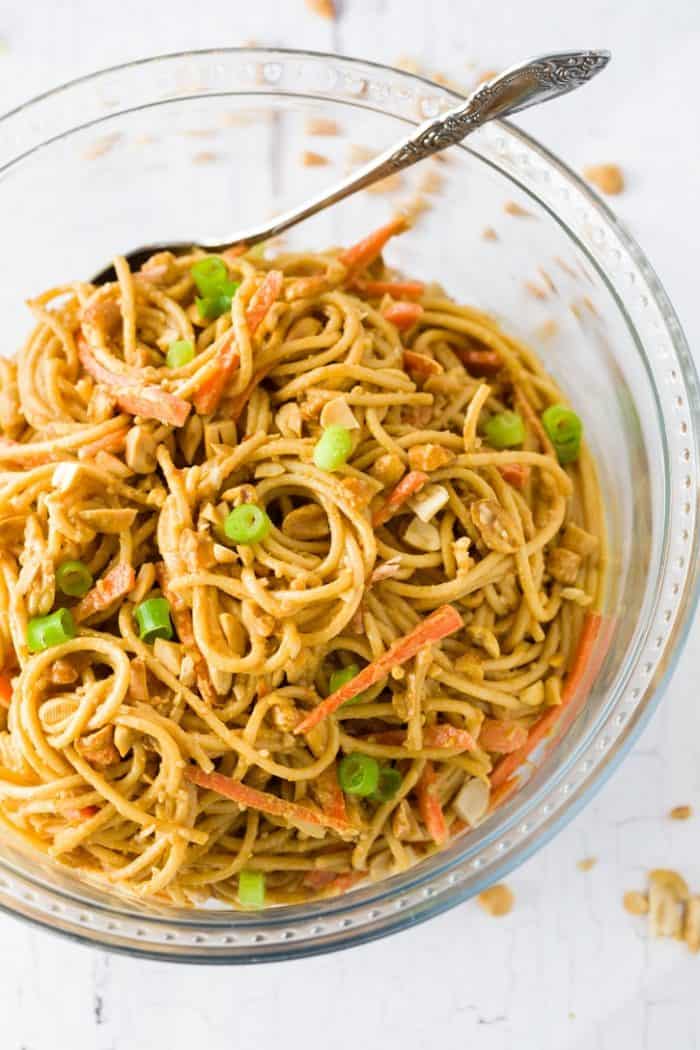 Do you know what the best thing is about this giant glass bowl of peanut noodle heaven? It's all mine. My husband doesn't go for peanut sauce because he's a weirdo.
About this Peanut Sauce Recipe:
-I've tried several different peanut sauce recipes, but I always seem to go back to this one. There are so many out there that call for about a million ingredients but I think it's the simplicity of this one that keeps me coming back.
-This peanut sauce is also an excellent marinade for grilled chicken! Stick the chicken on a skewer, grill it, and you have chicken satay!
-What else can you make with this peanut sauce? Two of my favorites are chicken noodle stir fry or chicken noodle stir fry. They both taste ridiculously good in this sauce.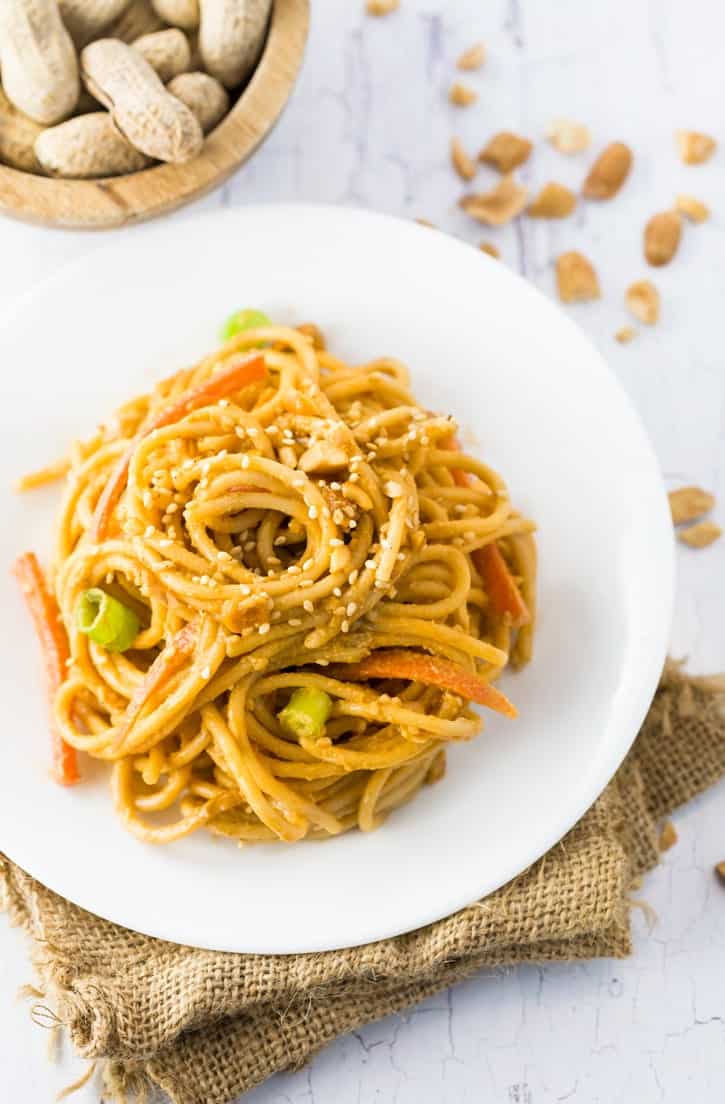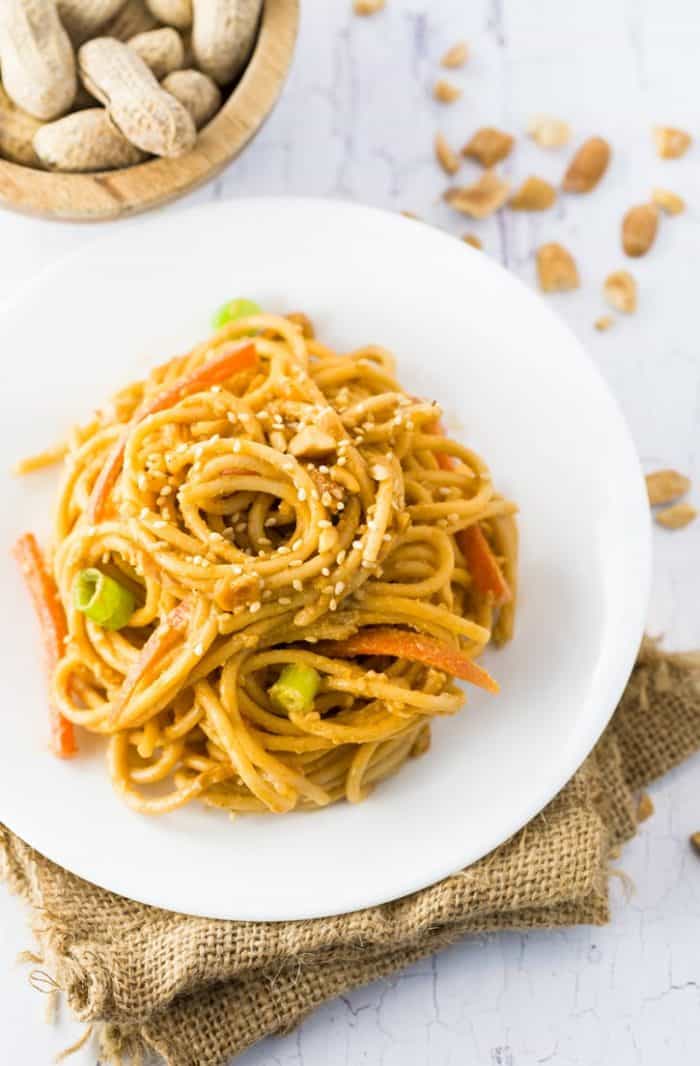 So quick story for you. Last weekend, my husband, my two year old, and I went to a BBQ down the road. Anyone who has gone to an event with a toddler knows this well: there is food everywhere, but somehow you can't manage to actually eat it. My first challenge was to actually get to the food table. I tried to skip this step altogether by asking my husband to grab me a burger. Oh, he grabbed me a burger alright. A burger, and nothing else. And by that I mean no napkin, no plate. ("They don't have any" was his response)- Riiiight.
Call me high maintenance, but I ventured out for a plate. While on this adventure, I found a big bowl of peanut noodles. Now we're talking.
Welp, I don't think I had two bites of those stupid noodles. I don't even know where my plate ended up. (Mom brain). All I know is that my toddler had a great time, stayed up past her bedtime, got dirty, and I suppose that's better than a plate of peanut noodles. But you can probably see why I decided that it was only right to make my own giant bowl of noodles the next day. And they couldn't have tasted better.
Follow Me!
I've got a Free Meal Plan with 7 of my super popular recipes (complete with grocery list)! Sign up for my email list and I'll send it over now along with weekly dinner recipes!
And follow me on Facebook, Instagram, and Pinterest!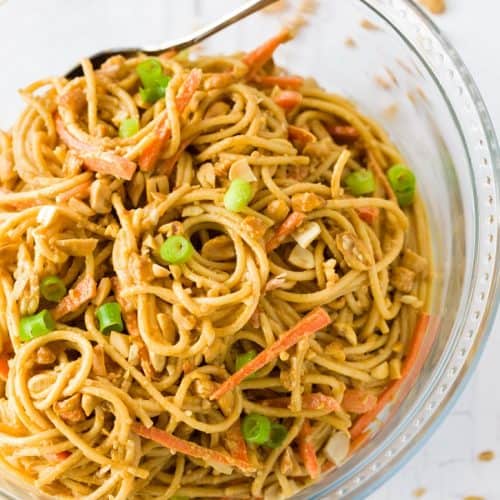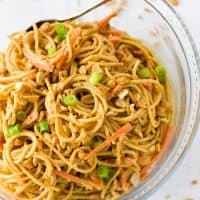 Cold Peanut Noodles
Savory noodles smothered in a flavorful peanut sauce and chilled in the fridge, then topped with green onions and chopped peanuts. A perfect group side dish or meatless lunch!
Ingredients
Peanut Sauce
1 cup smooth peanut butter
4 tablespoons soy sauce
2 Tablespoons Sriracha hot chili sauce,, (omit if you don't like heat)
2 teaspoons white sugar
2 teaspoons garlic,, minced
1 cup water
Other Ingredients
¾ cup baby carrots,, julienned
¾ cup salted peanuts,, roughly chopped
1 pound spaghetti
1/8 cup peanut oil
4 green onions,, diced
1/4 cup sesame seeds, , to garnish
Instructions
Combine all of the peanut sauce ingredients in a large bowl until well incorporated. Add all of the carrots and half of the peanuts. Set aside.

Cook the pasta according to package instructions.

Drain the pasta and add it to the large bowl of peanut sauce. Use tongs to toss and coat the pasta, the peanut sauce will thicken in the fridge.

Refrigerate for a minimum of 4 hours.


When ready to serve, remove the noodles from the fridge and drizzle them with peanut oil. Use tongs to toss the noodles loosen them up a bit. Transfer them to a glass serving bowl and top with diced green onions, remaining chopped peanuts, and sesame seeds. Serve and enjoy!

Notes
This recipe feeds 4 people as a main entree, or 6 as a side dish!