These soft and fluffy scrambled eggs are served with Tex-Mex favorites like black beans, tomatoes, onions, and Monterey Jack cheese.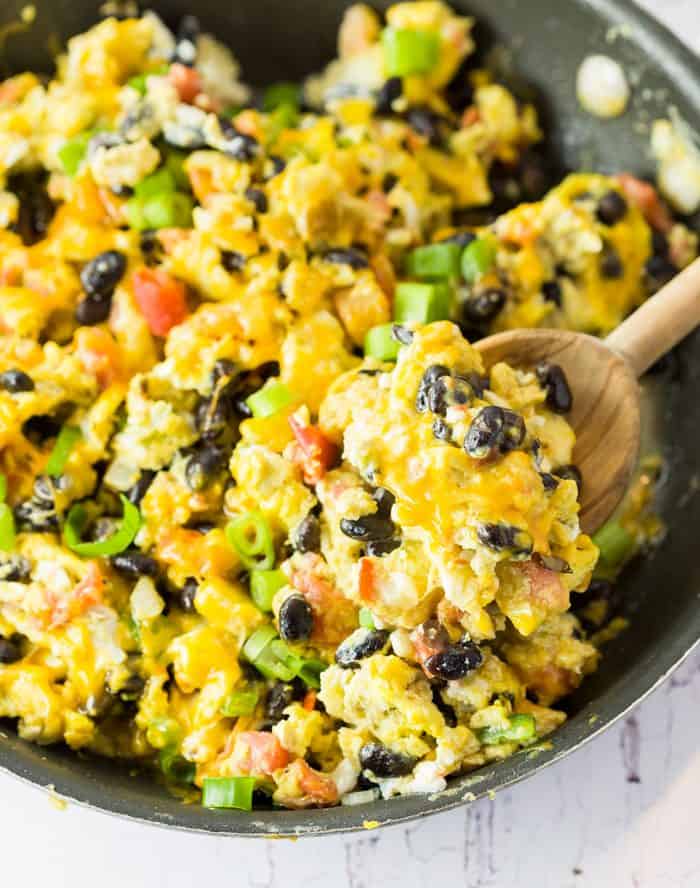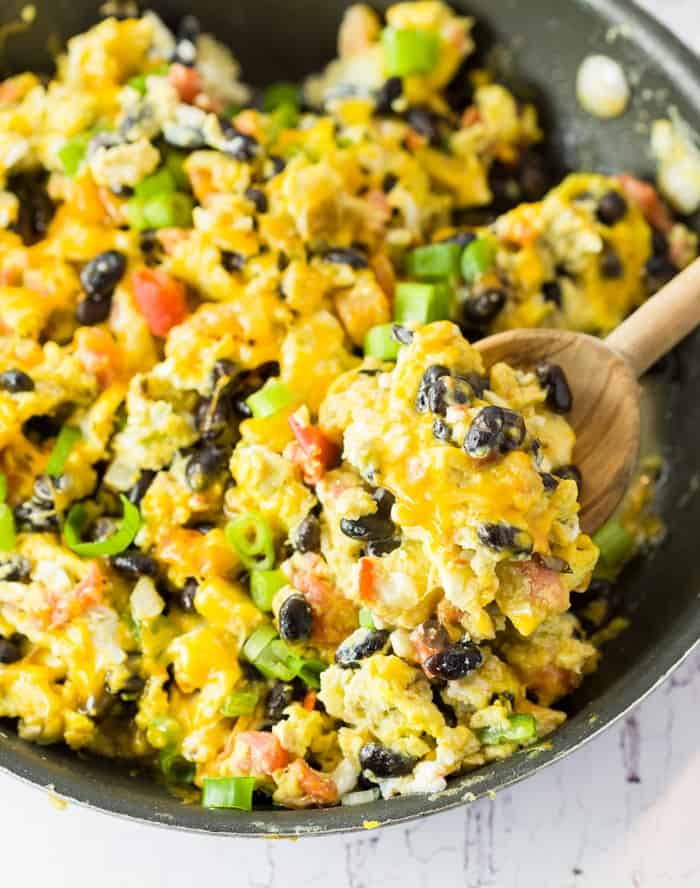 They say that if you can cook a good egg, you can cook anything. I used to be the worst scrambled egg maker ever- not a very promising quality for a future food blogger to have. Believe it or not, my husband's the one who gave me two key tips for mastering scrambled eggs: Cook them on low heat, and don't move them around much. That was about 7 years ago or so. I'm proud to say that now, I am the best scrambled egg maker ever. Seriously. Come to my house for breakfast anytime and I'll prove it. (Or, just follow these tips and you can make them yourself!)
How to make the best scrambled eggs
-First and foremost, do not add milk to your scrambled eggs. It dilutes the flavor and makes the mixture more watery. You can add a few drops of heavy cream for increased creaminess.
-Whisk the eggs vigorously and immediately before you add them to the pan. Whisking allows them to cook evenly and also incorporates air into them to make them fluffy.
-Cook eggs in butter, not oil.
-Low and slow is the way to go with scrambled eggs. They'll be much too firm and lose their fluff if the heat is on too high.
-Only move the eggs around as needed to allow all of the surface area to cook, don't over-mix them. Using a silicone spatula makes them easy to maneuver. Check out how I do this below.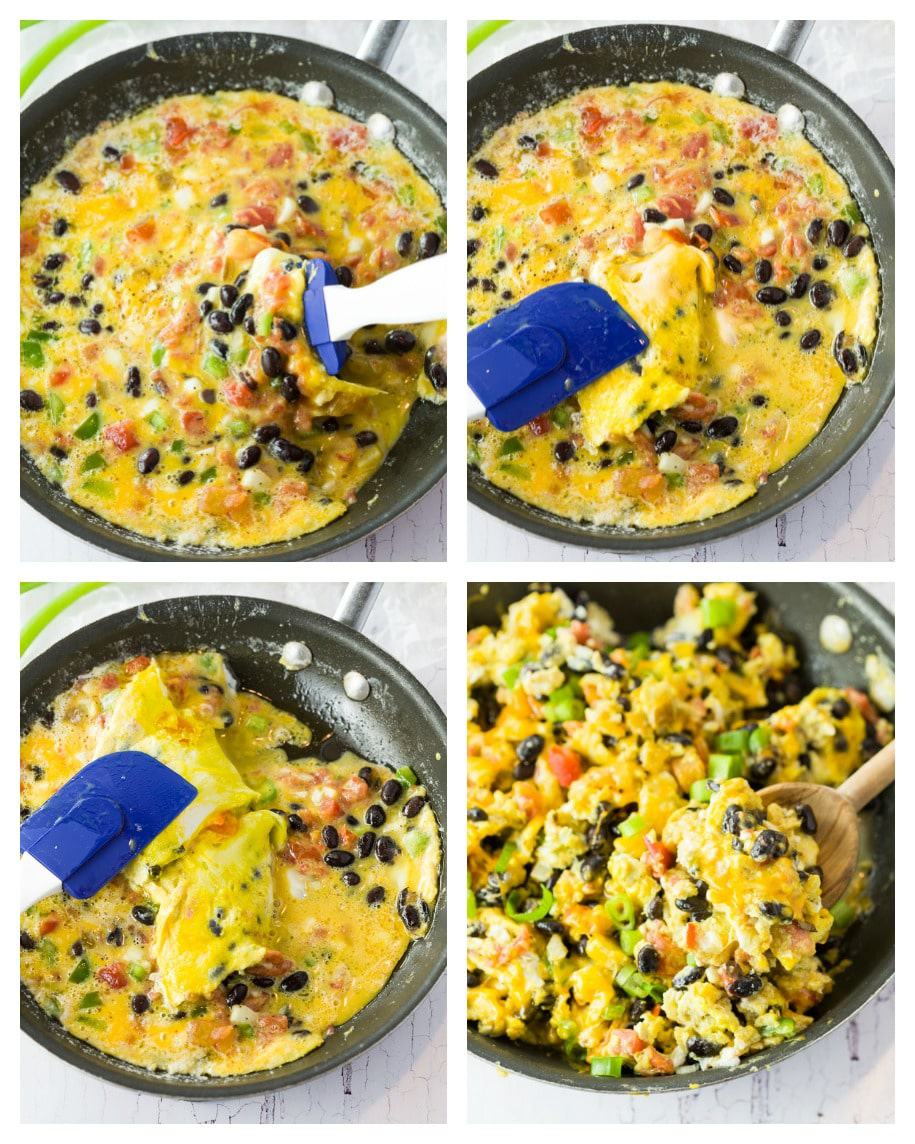 I swear I could eat this entire batch of eggs myself. But I have family, and I think I'm suppose to share these kinds of things with them. My husband devoured them, my toddler spit them out. And there you have it.
Oh, and if you like this recipe, you'll love my Cowboy Queso (hot dip), and my Cowboy Caviar (cold dip). They're both full of delicious black bean heaven.
Get My Free Meal Plan
I've got a Free Meal Plan with 7 of my super popular recipes (complete with grocery list)! Sign up for my email list and I'll send it over now along with weekly dinner recipes!
And follow me on Facebook, Instagram, and Pinterest!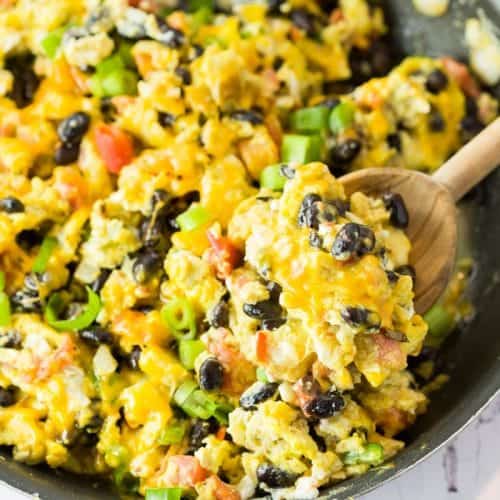 Tex-Mex Scrambled Eggs
These soft and fluffy scrambled eggs are served with Tex-Mex favorites like black beans, tomatoes, onions, and cheese.
Ingredients
3 tablespoons butter
8 eggs
½ yellow onion,, finely diced
10 oz. Rotel tomatoes and green chilies,, drained well
1 ¼ cups black beans,, drained and rinsed
1 cup Monterey Jack cheese,, shredded
3 Green Onions,, diced
Instructions
Melt the butter in a medium skillet over medium-low heat.

Whisk the eggs vigorously until they are completely uniform in color. This allows them to cook evenly but also incorporates air into the eggs which makes the fluffy. Add them to the skillet immediately after whisking.

Sprinkle the remaining ingredients over the eggs.

Leave the eggs untouched for about 45 seconds. As the eggs begin to set, use a silicone spatula and gently lift the eggs at the edge of the pan and fold them up. The uncooked egg mixture will then be able to seep onto the pan, and those can now set.

Repeat by continuing to fold up the eggs that have lightly cooked. You don't want to overmix the eggs, only move them around as needed for them to cook and set. If they're cooking too fast, decrease the heat to low.

Once the eggs are cooked and no remaining sections are runny, remove them from the heat immediately, do not overcook them. We want them to remain light and fluffy!

Top with diced green onions, serve, and enjoy!
Notes
You can use other cheeses in this scramble but I recommend Monterey Jack as it melts really well and isn't overpowering. It's similar in flavor to Cheddar and Colby. Plus, it's used in many Mexican and Spanish cuisines!
Nutrition
Calories: 394kcal, Carbohydrates: 17g, Protein: 23g, Fat: 25g, Saturated Fat: 13g, Cholesterol: 375mg, Sodium: 359mg, Potassium: 488mg, Fiber: 5g, Sugar: 2g, Vitamin A: 1040IU, Vitamin C: 7.6mg, Calcium: 302mg, Iron: 3.6mg