Copycat IHOP Buttermilk Pancakes
Sweet and fluffy pancakes served with fresh fruit and warm syrup. They taste just like IHOP's classic buttermilk pancakes, but are even better made at home!
Okay, I know I'm a little late to the party here, seeing as how IHOP recently flipped that P around to make a lowercase b. (They want to increase burger sales.) But this brand change got me thinking, what if decide to take pancakes off their menu completely?! I needed to be prepared.
I started flippin' flapjacks in my kitchen like there was no tomorrow, and I'm happy to say, I found the best replica to IHOP's classic buttermilk pancake. They're everything that you want a pancake to be. Light, fluffy, golden on the outside, a little sweet, and easy to make. That's the whole package right there.
Buttermilk substitutes
Plain yogurt.
Sour cream with a little milk, (or water if you must).
Mix 1 Tablespoon of White Vingear or lemon juice, + enough milk to equal a cup. Stir and let stand for 5 minutes.
1 +3/4 teaspoons cream of tartar + 1 cup milk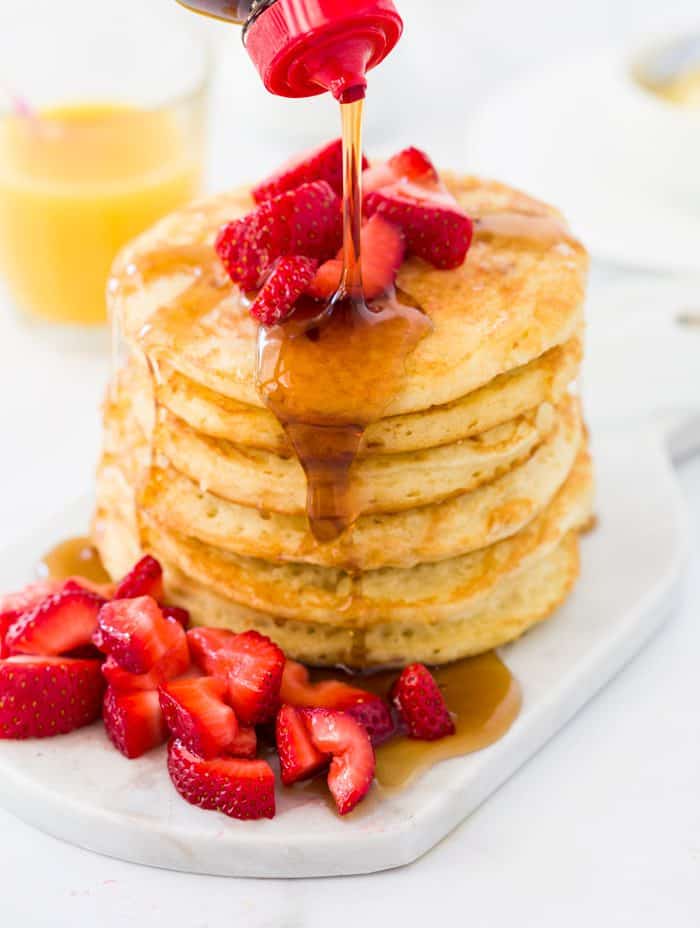 Can you Freeze Pancakes
Pancakes can easily be frozen and enjoyed for breakfast another day! Simply place some parchment paper on a baking sheet and line the pancakes on top without touching each other. Place another sheet of parchment on top and freeze for a few hours. Remove them from the freezer and stack them up in a labeled freezer bag.
Reheating Frozen Pancakes
-Oven Method: Line a baking sheet with parchment paper and top with frozen pancakes. Add foil on top of the pancakes and bake at 350 degrees for 10-15 minutes.
-Microwave Method: Heat a stack of frozen pancakes in the microwave for approximately 1 ½- 2 minutes.
How Long are Frozen Pancakes Good for
Frozen pancakes are best if used within 1-2 months.
Want more recipes with buttermilk?
I know how it is. You buy a big jug of buttermilk and run out of ways to use the rest of it. Here are some ideas for ya.
Follow me!
I am here to make sure you don't run out of inspiration in the kitchen. I love saving you time, and creating easy-to-follow recipes like this one. Because of this, I believe that it is your duty to sign up for my free email list, and follow me on Facebook/Instagram/Pinterest. End of Speech.
Servings: 4
Copycat IHOP Pancakes
Course: Breakfast
Cuisine: American
Keyword: Buttermilk Pancakes, IHOP Pancake Recipe, Pancakes
Sweet and fluffy pancakes served with fresh fruit and warm syrup. They taste just like IHOP's classic buttermilk pancakes, but are even better made at home!

Ingredients
1¼ cups all-purpose flour sifted
1 teaspoon baking powder
1 teaspoon baking soda
⅛ teaspoon salt
1 large egg beatened
1¼ cups buttermilk
2 Tablespoons butter melted
3 Tablespoons sugar
Instructions
In a large bowl, whisk together the flour, baking powder, baking soda, and salt until well-combined.

In a medium bowl, combine the egg and buttermilk. Pour into the flour mixture and stir. Stir in the melted butter and sugar.

Heat a

griddle

or large, nonstick skillet to medium heat. Coat with butter or nonstick cooking spray. (I prefer butter.)

Drop 1/3 cup of batter onto the heated surface. Once the top begins to bubble, wait an additional 30 seconds or so, then flip and cook for an additional 1-2 minutes, until each side is golden brown.

Repeat with the remaining batter, reapplying more butter or nonstick spray in between each pancake. You may need to decrease the heat to medium-low about halfway through.

Serve with syrup or fresh fruit and enjoy!
Nutrition Information
Calories:
290
, Fat:
9g
, Saturated Fat:
5g
, Cholesterol:
64mg
, Sodium:
492mg
, Potassium:
259mg
, Carbohydrates:
43g
, Fiber:
1g
, Sugar:
12g
, Protein:
7g
, Vitamin A:
7.2%
, Calcium:
14.2%
, Iron:
11.6%
Recipe Source: Life in the Lofthouse