This easy Ramen Noodle Chicken Stir Fry recipe is a perfect dinner for busy weeknights. It's tossed in a flavorful peanut sauce and is easy to customize with whatever vegetables you have on hand!
Be sure to try my Chicken Bacon Spinach Pasta recipe next!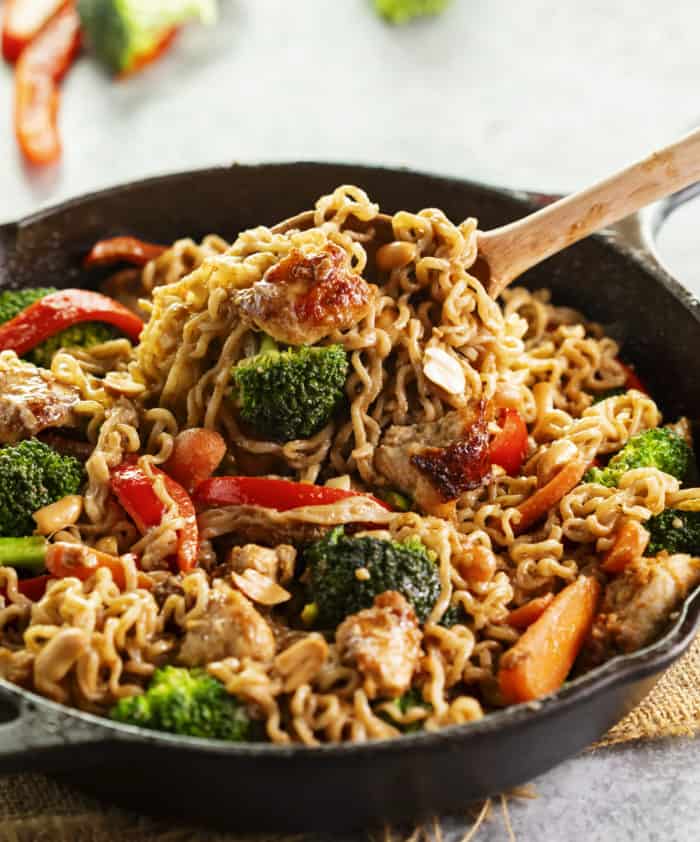 Ramen Noodle Chicken Stir Fry comes to the rescue every time I have random vegetables in the fridge that I need to get rid of. The peanut sauce is super easy and I always have everything on hand for that, and of course, I'm never without Ramen Noodles! (But you can also use spaghetti noodles)
There are a few things to keep in mind when you're making stir fry and searing chicken, so let's get into that first.
How to Make Stir Fry
A Wok is the best cooking vessel for stir fry as it conducts heat well and has a round shape that's conducive for stir frying.
Your Wok/pan should always be preheated before adding any meat or vegetables. You want to hear that sizzle when they're added!
Protein, vegetables, and sauce. Those are the 3 main components in stir fry. Cut the meat and vegetables into similarly-sized pieces for even cooking. Do this ahead of time so that everything is ready when you start to cook, as stir fry doesn't take long (which is why it's awesome).
Use oils with higher smoke points when making stir fry. Canola oil (400 degree smoke point) or peanut oil (450 degree smoke point), is best. Never use butter for stir frying as it has a very low smoke point. (200-250 degrees)
Don't overcook the vegetables, you want their color and crunch to remain.
How to Make Perfectly Seared Chicken
✔️Cast iron skillets conduct heat very well and are perfect to use when searing meat.
✔️Medium-high heat works well for searing, and it's important to use oil with a high smoke point such as vegetable, canola, or peanut oil to prevent the meat from burning.
✔️It's important to refrain from moving the meat around as it cooks. Allowing the meat to stay in the same place in the skillet ensures that the sear isn't disrupted. You'll notice that the chicken starts to release from the surface when it's ready. If it's sticking a lot to the pan, it's not done searing.
✔️Cut the chicken into pieces of equal size. This will allow them to cook evenly and prevent them from being too thick.
Storing Leftovers
Leftovers should be stored in an airtight container in the fridge and is best if used within 3 days.
Try These Next
Get My Free Meal Plan
I've got a Free Meal Plan with 7 of my super popular recipes (complete with grocery list)! Sign up for my email list and I'll send it over now along with weekly dinner recipes!
And follow me on Facebook, Instagram, and Pinterest!
Tried This Recipe?
Leave a review, I love hearing your feedback! ⭐⭐⭐⭐⭐
Ramen Noodle Chicken Stir Fry with Peanut Sauce
This easy Ramen Noodle Chicken Stir Fry recipe is a perfect dinner for busy weeknights. It's tossed in a flavorful peanut sauce and is easy to customize with whatever vegetables you have on hand!
Ingredients
Peanut Sauce
1/3 cup creamy peanut butter
1/2 cup chicken broth
2 Tablespoons soy sauce
1 teaspoon white sugar
2 drops hot pepper sauce, (I subbed Sriracha hot chili sauce)
1 clove garlic, minced
Stir Fry
2-3 Tablespoons peanut oil
1 boneless chicken breast, cubed
3 oz. Ramen Noodles, (1 package)
Salt/Pepper, to taste
¾ cup red bell pepper, sliced into strips
¾ cup yellow onion, sliced into strips
1 cup baby carrots, halved
2 cups broccoli florets
Optional Garnishes
5 green onions, diced
1/4 cup peanuts
Instructions
Combine the ingredients for the peanut sauce. Stir until it's well-combined and uniform in consistency. Add splashes of water as needed if a thinner consistency is preferred. Take half of the sauce to marinade the cubed chicken and set the rest aside.

Season the cubed chicken with desired amounts of salt and pepper. Place the chicken in a freezer bag along with half of the peanut sauce and refrigerate for at least 30 minutes if possible, however less is okay. 

Heat 2 tablespoons of Peanut Oil in a large skillet, (preferably cast iron), over medium-high heat.

Sear the chicken in the hot skillet on each side. Refrain from moving the chicken around as it sizzles, it will hinder the nice golden sear color. If the pan gets too hot, reduce the heat to medium. Each side will take 3-5 minutes. Once each side is a nice, golden brown and the middle is cooked, set the chicken aside.

Add one additional tablespoon of peanut oil to the same skillet (if needed), over medium-high heat. Add the vegetables to the skillet that the chicken cooked in and cook over medium-high heat for about 8 minutes.

Meanwhile, cook the Ramen Noodles for

no more than 1.5 - 2 minutes

. (Toss away the flavor packet). Drain and return to the pot. Add the other half of the peanut sauce and use

kitchen tongs

to gently toss and coat the noodles.

Add the noodles and seared chicken to the skillet with the vegetables and toss to combine. Garnish with green onions and/or peanuts if desired and serve!
Notes
Cooked Spaghetti Noodles can also be used instead of Ramen Noodles.
Nutrition
Calories: 932kcal, Carbohydrates: 63g, Protein: 50g, Fat: 56g, Saturated Fat: 13g, Cholesterol: 72mg, Sodium: 2412mg, Potassium: 1595mg, Fiber: 11g, Sugar: 18g, Vitamin A: 11175IU, Vitamin C: 161.2mg, Calcium: 123mg, Iron: 5.4mg
Peanut Sauce: AllRecipes