Copycat PF Changs Chicken Lettuce Wraps
Ground chicken and a savory combination of Asian flavors served in a cool and crunchy lettuce wrap and ready in just 20 minutes!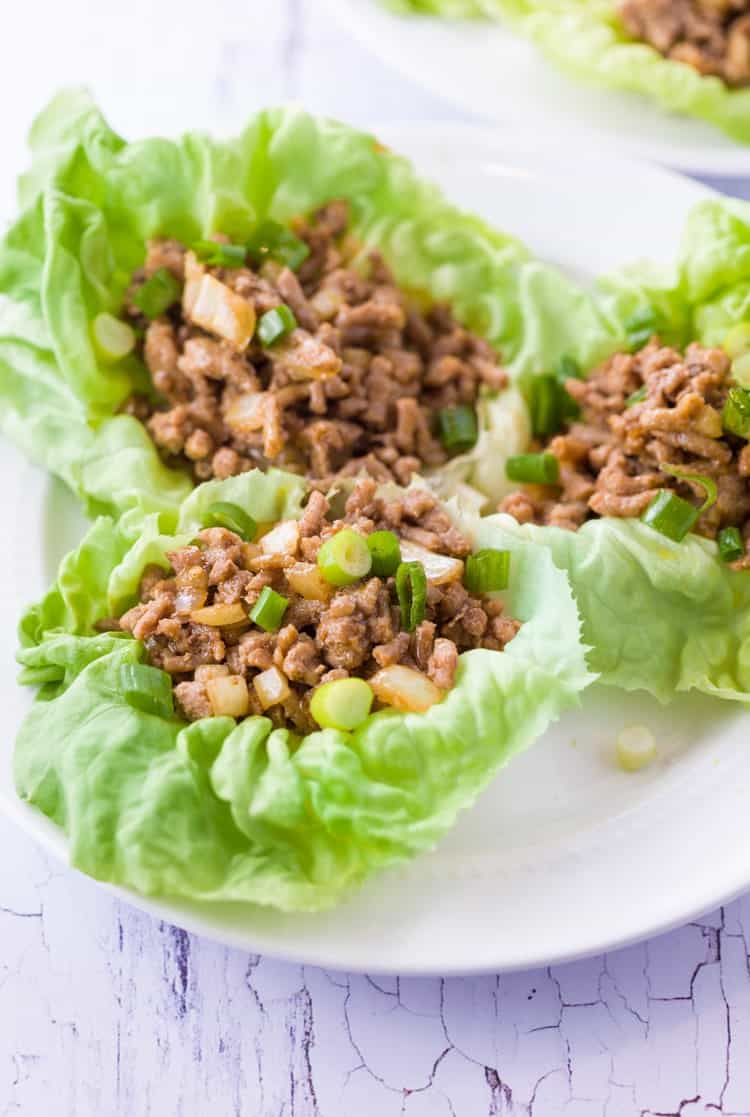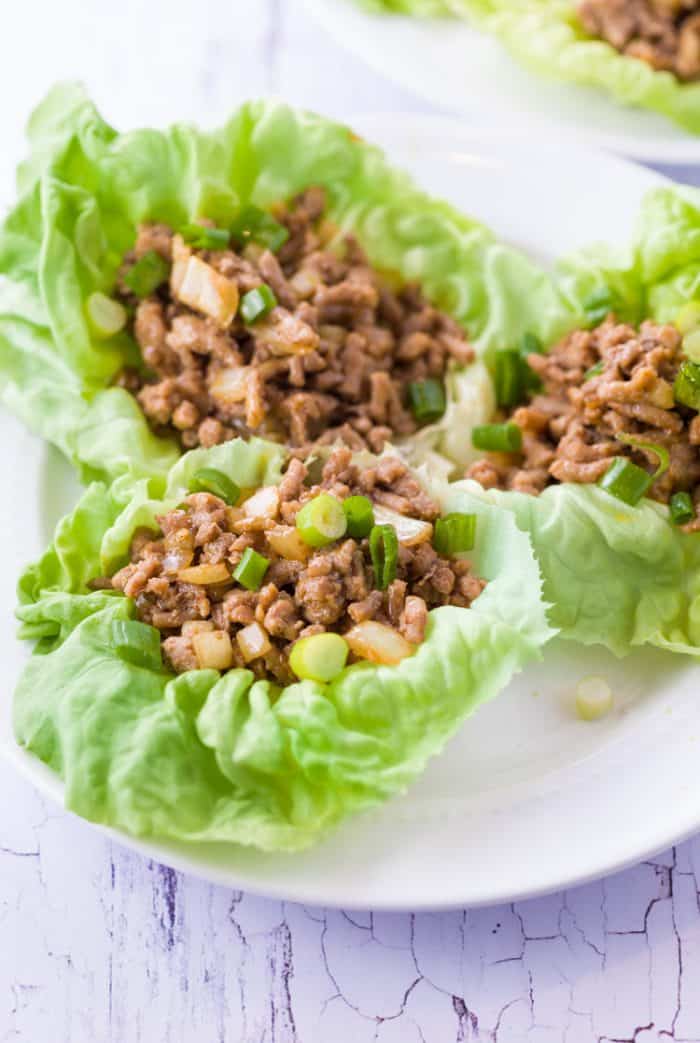 You know what? If eating healthy tastes this good, then goodbye cheese! (Kidding, kidding. I shouldn't even joke about such things.) But I will say, these chicken lettuce wraps are amaze-balls, why did it take me so long to try these?! And I'm sorry, the fact that they are ready in twenty minutes?! Insanity!
What blew my mind even further, was my toddler loved this filling. Absolutely loved it. I gave her a taste and expected her face to scrunch up, but nope. Happy as a clam. I had this stupid grin on my face as I scooped a hearty portion on her plate and watched her sit there and eat it. She's not a picky eater necessarily but I figured these Asian flavors might be an acquired taste for an 18 month old. Well not this girl! Bahaha.
As if feeding a fickle little toddler isn't enough, my husband's tastes in food are weird and unpredictable too. (He denies this to the death but it's just the way it is.) So I was pretty sure he wouldn't really be into these lettuce wraps. I was actually taking ground beef out of the freezer to make him a burger, and reheating these leftovers for myself one night, when I decided to give him a bite just for kicks. I am happy to report that the ground beef went right back into the freezer. I'm unhappy to report that I wasn't able to keep these leftovers all to myself after all. In fact, he devoured most of them. (It's a good news/bad news kinda thing.)
Bottom line, this one was a total win for my husband, my toddler, and myself. I'm sure our dog Toby would also report this recipe as a success if he could. I'm sure I dropped some on the floor at some point, and I'm sure he was there to eat it right up.
PSST: If you love this recipe, then you've GOT to try my turkey taco lettuce wraps next:
Follow Me!
Now. If you like this recipe, you should probably join my free recipe email list! You'll get a weekly email with my brand new recipes. And follow me on Facebook, Instagram, and Pinterest. (Don't make this be our last goodbye!)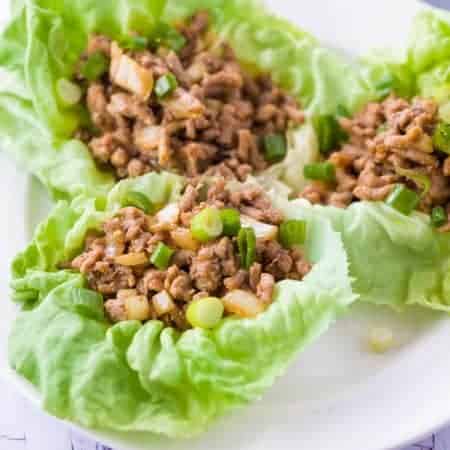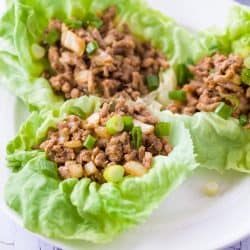 Servings: 4
Copycat PF Changs Chicken Lettuce Wraps
Course: Main Course
Cuisine: Chinese
Keyword: chicken lettuce wrap, PF Changs Chicken Lettuce Wrap Recipe
Ground chicken and a savory combination of Asian flavors served in a cool and crunchy lettuce wrap and ready in just 20 minutes!

Ingredients
1 tablespoon olive oil
1 pound ground chicken
2 cloves garlic minced
1 onion finely diced
1/4 cup hoisin sauce
2 tablespoons soy sauce
1 tablespoon rice wine vinegar
1 tablespoon freshly grated ginger
½ teaspoon sesame oil
1 teaspoon sugar
1 tablespoon Sriracha Optional
8 oz. whole water chestnuts drained and diced
2 green onions thinly sliced
Salt and pepper to taste
1 head butter lettuce
Instructions
Heat the olive oil in a

large skillet

over medium high heat. Add the chicken and cook until browned and cooked through, crumbling as you do so. (About 5 minutes.)

Stir in the garlic, onions, hoisin sauce, soy sauce, rice wine vinegar, ginger, sesame oil, sugar, and Sriracha. Stir occasionally and cook until onions are soft and translucent, about 2 minutes.

Stir in the chestnuts and sliced green onions, salt and pepper and heat for an additional minute.

Spoon 3-4 Tablespoons into the center of each lettuce leaf and enjoy!
Recipe Notes
If you don't have (or like) ginger, sesame oil, Sriracha or chestnuts, this recipe is still delicious without them! Ground turkey is a great option in this recipe as well.
Nutrition Information
Calories:
295
, Fat:
13g
, Saturated Fat:
3g
, Cholesterol:
98mg
, Sodium:
943mg
, Potassium:
852mg
, Carbohydrates:
20g
, Fiber:
3g
, Sugar:
9g
, Protein:
22g
, Vitamin A:
28.2%
, Vitamin C:
10.1%
, Calcium:
4%
, Iron:
13.7%
Adapted from: Damn Delicious