Waffle Iron Omelettes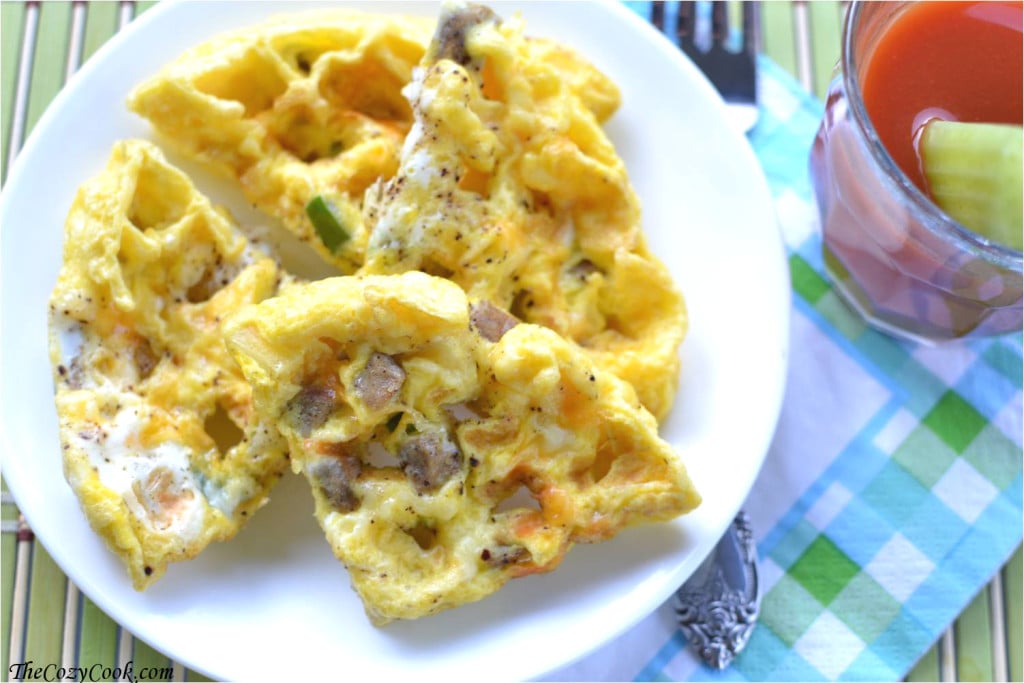 Huh. So I got a waffle iron. NEAT. But I didn't really get it to make waffles. I got it to make cool looking waffle iron grilled cheese –which was a success, by the way. The waffle Iron wasn't expensive, but $26.99 for a grilled cheese IS expensive. So I have to justify that by using this mechanism more than once. The thing is, I'm just not ready to use it for its intended purpose yet. Where's the fun in that?
Luckily, sitting in an air conditioned office all day gives me plenty of time to conjure up ideas on what to make when I get home. The problem is, I forget about the fact that it's steaming hot outside. Just as I venture out to the store to get what I need, the hot sun hits me hard and I realize that making boiling hot dip in a cast iron skillet in a 400 degree oven is much less appealing than it was a second ago. Hmph.
Okay, so back to the waffle iron omelettes…
Well it definitely solved my no-oven usage issue. And breakfast for dinner is fun, so why not whip up an omelette in the waffle iron?! Would that work? — YES. The answer to that is YES. These were, shockingly, the most fluffy, delicious eggs EVER. The key is to cook on low heat and for just a few minutes.
The filling options for these omelettes are endless. 
You can add Onions, Peppers, Pepperoni, Black Olives, Sausage, Tomatoes, Bacon, Pulled Pork, various Cheeses… the list is endless!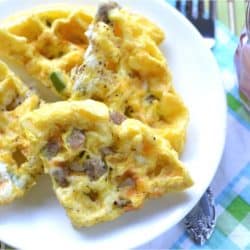 Waffle Iron Omelettes
These are the lightest and fluffiest eggs you'll ever eat, filled with your favorite toppings and cooked perfectly right in your waffle iron.
Ingredients:
3 eggs
1/8 cup shredded cheddar cheese
1/8 cup favorite omelet fillings (I used chopped onions, peppers, & pre-cooked sausage)
Salt/Pepper
Nonstick Cooking Spray
Directions:
Whisk Eggs & filling ingredients together until well blended
Coat top and bottom of iron with nonstick cooking spray and preheat- (I kept mine on the "min" setting, this left the eggs light and fluffy!)
Add filling ingredients and close lid. Check on eggs each minute until cooked until desired texture- mine took just a few minutes.
Shut off heat and remove carefully with tongs or fork. Serve, and prepare to be amazed 🙂
All images and text ©Stephanie Melchione for The Cozy Cook
Oh, and if you like breakfast, which I'm guessing you DO, then you'll love this Crispy Hash & Eggs Breakfast Skillet
*This post may contain affiliate links