Apple Carrot Dog Treats
These apple carrot dog treats are packed with all-natural, wholesome ingredients that your favorite furry friend will love!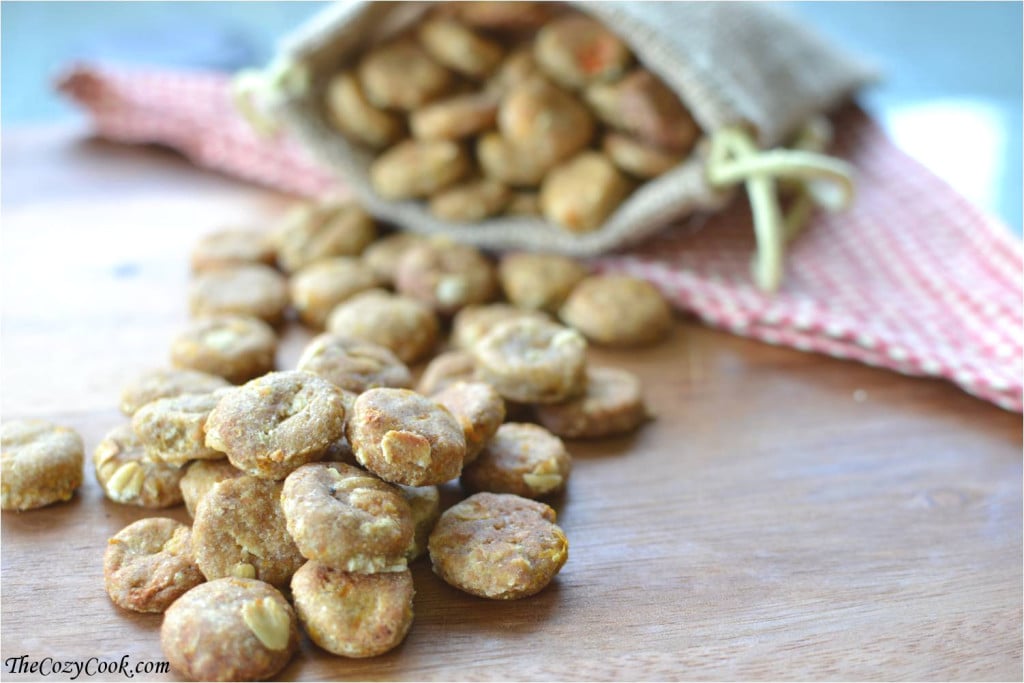 I think it's SO cool that we are able to bake treats for our little pup right from the comfort of our home. No crazy weird ingredients necessary, no strange cooking methods, just some pure ingredients and simple baking. I first discovered this phenomenon when I whipped him up some homemade peanut butter bacon dog treats. Now that fall is here, I figured it'd be the perfect time to introduce him to apples- and I already knew about his love for carrots. We have a dog puzzle that we use to hide pieces of baby carrots for him, it's PERFECT for those "I love you but I can't give you attention right now, here's a puzzle" moments.
Spending a crisp fall Sunday afternoon baking in the kitchen is just absolutely ideal. When you like cooking as much as I do, sometimes you're making things faster than you can eat them. So it was nice to take a break from 'people food' and focus on Toby this time. I think he had a feeling he was getting a tasty treat from the smell of the ingredients I was using. You just can't get away with anything with those noses of theirs!
These dog treat molds are great for treat making too!
MY LATEST VIDEOS
It's no surprise to me that these were a huge success, not only does this little picky eater love them, but I know where all of the ingredients came from. Some of the dog treats we've bought in the store before smell like chemical-central, no thanks. Plus you can freeze them so they keep longer- which is necessary for this 7 pounder! It'll take him quite a while to polish these off: )
Other Dog Treat Recipes:
Follow me!
For my latest Cozy Creations, Giveaways, and more, follow me on Facebook, Twitter, & Instagram! And signup to receive my latest recipes right to your inbox…it's free. 😊
Servings: 280
Apple Carrot Dog Treats
Course: Main Course
Cuisine: American
Keyword: Apple Carrot Dog Treats, Dog Treat Recipe
These apple carrot dog treats are packed with all-natural, wholesome ingredients that your favorite furry friend will love!

Ingredients
2 ½ cup whole wheat flour
½ cup oats
1 Tablespoon brown sugar
½ cup apple peeled and grated (about 1 small apple)
1/2 cup carrots peeled and grated
1 egg beaten
1/3 cup vegetable oil
¼ cup wate
Instructions
Preheat the oven to 350 degrees.

In one bowl, mix the flour, oats, and brown sugar. In separate bowl, beat the egg and mix in the oil, water.

Peel and grate apple and carrots and mix into the egg/water mixture. Gradually add wet mixture into flour mixture and stir until a dough has formed. You can add up to ¼ cup additional water but I didn't find it necessary as the apple added a lot of moisture.

Carefully roll out dough and cut out desired shape. I used a small cap, you could also use these cute dog treat molds!

Bake for approximately 25-30 minutes, until the treats are firm. Smaller shapes like mine require slightly less cooking time than larger treats.

Remove them from the oven and let them cook completely prior to sharing with your furry friend : )
Recipe Notes
Store the treats in an airtight container for up to a week. You can also freeze them- when you need more, let them thaw at room temperature prior to serving.
Nutrition Information
Calories:
7
, Potassium:
5mg
, Vitamin A:
0.8%
, Calcium:
0.1%
, Iron:
0.3%
Recipe adapted from: ReluctantEntertainer.com