Copycat Texas Roadhouse Butter
A combination of 4 simple ingredients takes regular butter to sweet cinnamon heaven! This tastes just like the honey butter from the Texas Roadhouse and pairs perfectly with rolls, pancakes, sweet potatoes, and more!
Be sure to pair this with my Texas Roadhouse Rolls Recipe!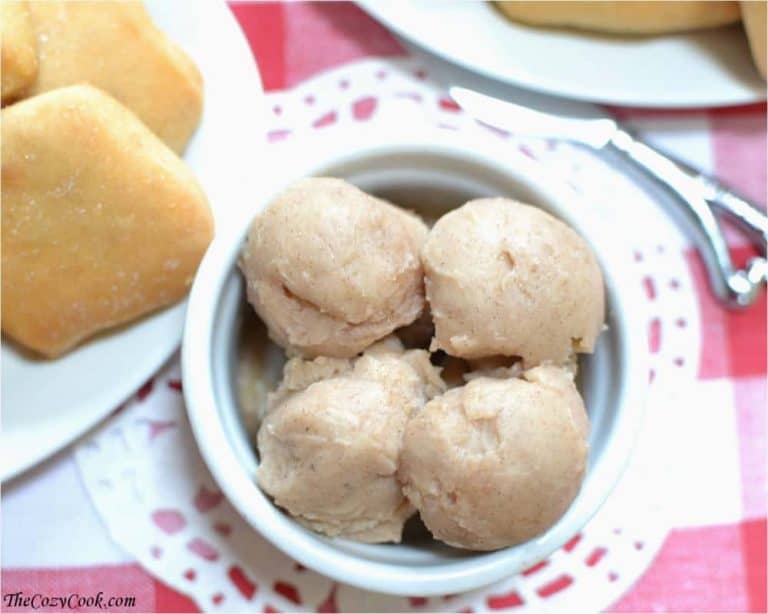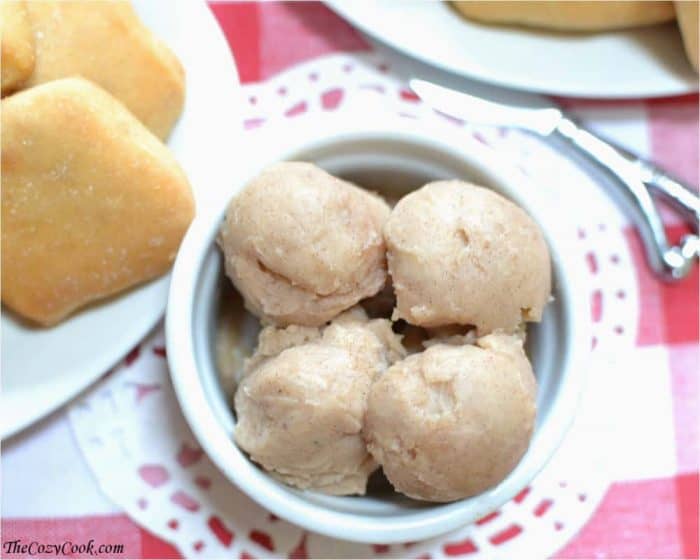 If you've been to Texas Roadhouse, you probably won't be able to tell the difference between their delicious honey & cinnamon butter, and this. If you've never been there, you have to try this. The sweet cinnamon/honey/butter combo is to die.
I've masted the art of making their rolls too- they're spot on, and perfect with this sweet butter. And when I say that I've "mastered the art", I mean…I used yeast that wasn't expired. (Did that once, didn't work out well.)- But attempt #2 worked out perfectly. And after just a day, they're almost gone. Those glistening, buttery, soft rolls have a hint of honey flavor and are just way too good.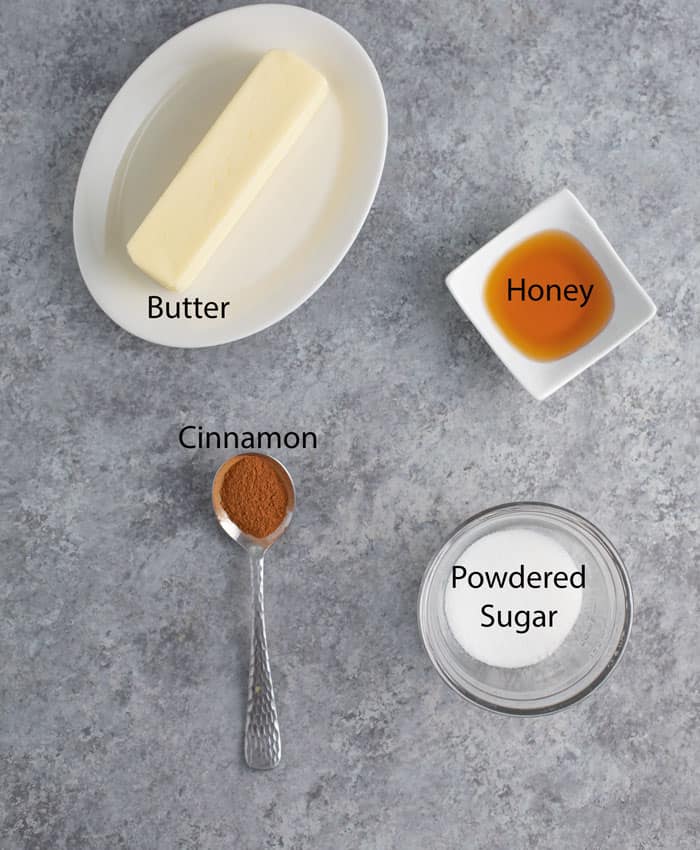 The Key To Creamy Butter
To ensure that your butter is creamy and smooth, use high quality butter and ensure that it has been at room temperature for at least an hour. Don't microwave it to achieve this as it will mess with the consistency.
What Brand of Butter is Best?
Grade AA butter is the highest quality butter you can find, if you are able to get your hands on some.
Land O' Lakes Salted Butter is definitely better than store-brand butter and is what I love using for this recipe.
What Does Honey Butter Taste Like?
Honey butter is a delicious combination of salty and sweet, and there is a touch of honey flavor in there as well. It tastes perfectly with various breads, rolls, muffins, pancakes and even sweet potatoes.
How To Store Honey Butter:
Honey butter can be stored in the refrigerator for a week. You can even freeze it but taking chilled honey butter and placing it in between some wax paper and wrapping plastic wrap around it.
What To Serve With Honey Butter:
Aside from serving this butter with rolls, it also tastes delicious on muffins, pancakes, toast, corn on the cob, steaks, baked potatoes, and even mixed vegetables!
Ever wonder how to make Texas Roadhouse rolls?
Try These Next!
Follow Me!
Servings: 8 Tablespoons
Copycat Texas Roadhouse Butter
Course: Side Dish
Cuisine: American
Keyword: Honey Butter, Texas Roadhouse Butter Recipe
This Copycat Texas Roadhouse butter is a perfect blend of cinnamon, butter, honey, and sugar. It's ready in minutes and pairs perfectly with fresh dinner rolls.

Ingredients
1 stick salted butter at room temperature
1/4 cup powdered sugar
1.5 Tablespoons honey
3/4 teaspoon cinnamon
Instructions
For a creamy consistency, ensure that your butter is very soft and has been at room temperature for at least an hour. Don't heat it in the microwave to achieve this as it will mess with the consistency of the butter.

Mix all ingredients with an electric mixer until it's creamy and smooth. Refrigerate until ready to use and enjoy!
Nutrition Information
Calories:
127
, Fat:
11g
, Saturated Fat:
7g
, Cholesterol:
30mg
, Sodium:
100mg
, Carbohydrates:
7g
, Sugar:
6g
, Vitamin A:
350%
, Calcium:
5%
Recipe Source: RainingHotCoupons.com