This Thai Basil Chicken Stir Fry has a savory sauce mixture drizzled over juicy chicken and a healthy blend of vegetables.

So, I used to think that stir fry recipes were for the birds. What, you throw some vegetables into a pan, add some soy sauce, and call it a day. (No wonder my stir fries used to suck.) I have come a long way since that kind of thinking and although this recipe is certainly versatile with what vegetables you can use, I get my caboose to the store every single time I'm going to make this, because this exact vegetable combo is my favorite. You can't beat the flavor and textures from these veggies, and you will feel super-duper healthy. Look at all that green! 
So aside from having a killer veggie combo and a savory homemade stir fry sauce, there are still a few other things to know to ensure you are making the best stir fry EVER.
How to make stir fry:
-A Wok is the best cooking vessel for stir fry as it conducts heat very well and has a round shape that's conducive for stir frying. You cooking vessel should always be preheated before adding any meat or vegetables. You want to hear that sizzle! 
-Protein, vegetables, and sauce. Those are the 3 main components in stir fry. Cut the meat and vegetables into similarly-sized pieces for even cooking. Do this ahead of time so that everything is ready when you start to cook, as stir fry doesn't take long (which is why it's awesome).
-Use oils with higher smoke points when making stir fry. Canola oil (400 degree smoke point) or peanut oil (450 degree smoke point), is best. Never use butter for stir frying as it has a very low smoke point. (200-250 degrees)
-Don't overcook the vegetables, you want their color and crunch to remain.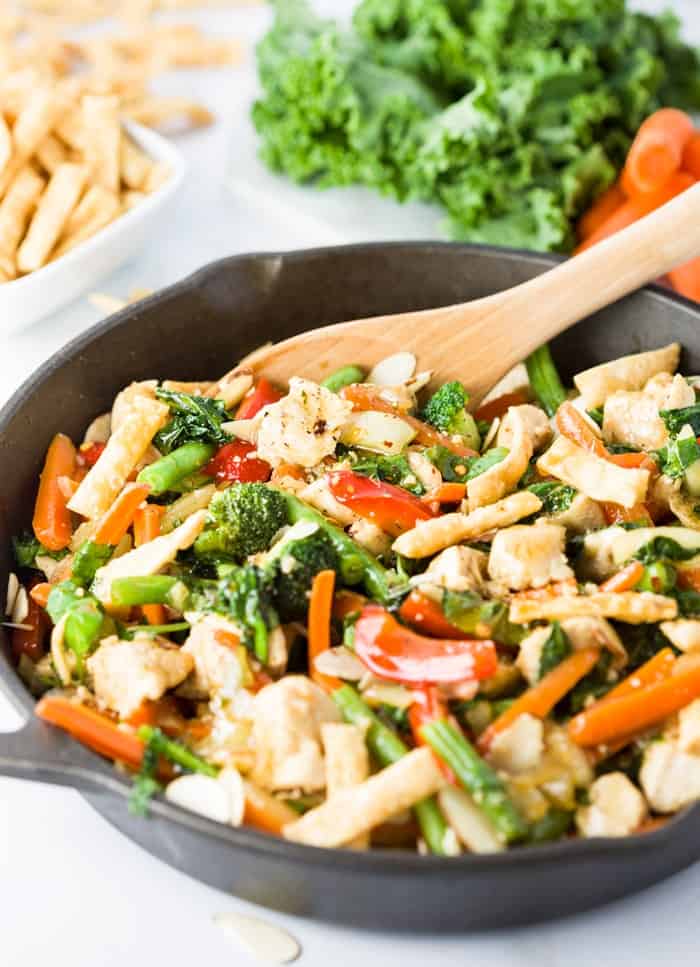 Follow me!
If you aren't on my free email list, you have to join! You'll get just one weekly email with my latest recipes and nothing more than that! Plus, you've gotta follow me on Facebook, Pinterest, and Instagram too! Doooo it.
Thai Basil Chicken Stir Fry
This Thai Basil Chicken Stir Fry has a savory sauce mixture drizzled over juicy chicken and a healthy blend of vegetables.

Ingredients
Stir Fry
1 ½ Tablespoons peanut oil
2 boneless skinless chicken breasts, cubed
Salt/Pepper, to taste
½ bok choy, roughly chopped (including white stem)
1 ½ cups kale, roughly chopped
3/4 cup broccoli florets
½ yellow onion, diced
½ bell pepper, sliced
¾ cup baby carrots, sliced into thin sticks
1 cup green beans
2 teaspoons garlic, minced
1 teaspoon red pepper flakes
Stir Fry Sauce:
1 Tablespoons fish sauce
2 Tablespoons oyster sauce
3 Tablespoons Soy Sauce
1 teaspoon chili paste
2 teaspoons sugar
Thickening Agent:
1 teaspoon cornstarch
2 Tablespoons cold water
To Garnish:
1/4 cup basil, shredded
1/2 cup toasted almond slices
¼ cup crunchy chow mein noodles
Instructions
Before you begin, ensure that all ingredients are chopped and ready and that your sauce is mixed.

Heat the oil in a large pan over medium-high heat. Season the chicken with salt/pepper if desired. (Be careful with the salt as the sauce already has a that.) Add the chicken to the pan and sauté for about 10 minutes, stirring occasionally, until cooked through. Set the chicken aside.

Add all vegetables to the same pan along with the garlic and red pepper flakes. Add the sauce and the thickening mixture. Cook for about 8 minutes, until the vegetables have started to soften. Don't overcook them as you want their color and texture to remain.

Reduce the heat to medium and add the chicken back in. Sprinkle the basil over the dish and cook for one additional minute. Add the almonds and chow main noodles and serve!
Nutrition
Calories: 276kcal, Carbohydrates: 20g, Protein: 20g, Fat: 14g, Saturated Fat: 1g, Cholesterol: 36mg, Sodium: 1532mg, Potassium: 963mg, Fiber: 5g, Sugar: 7g, Vitamin A: 11515IU, Vitamin C: 118.1mg, Calcium: 226mg, Iron: 3.1mg