Make-Ahead Freezer Breakfast Sandwiches
These make-ahead breakfast sandwiches have crisp and buttery English muffins that are topped with fluffy eggs, bacon, sausage, and cheese. Easy to freeze ahead of time and heat in just 3 minutes!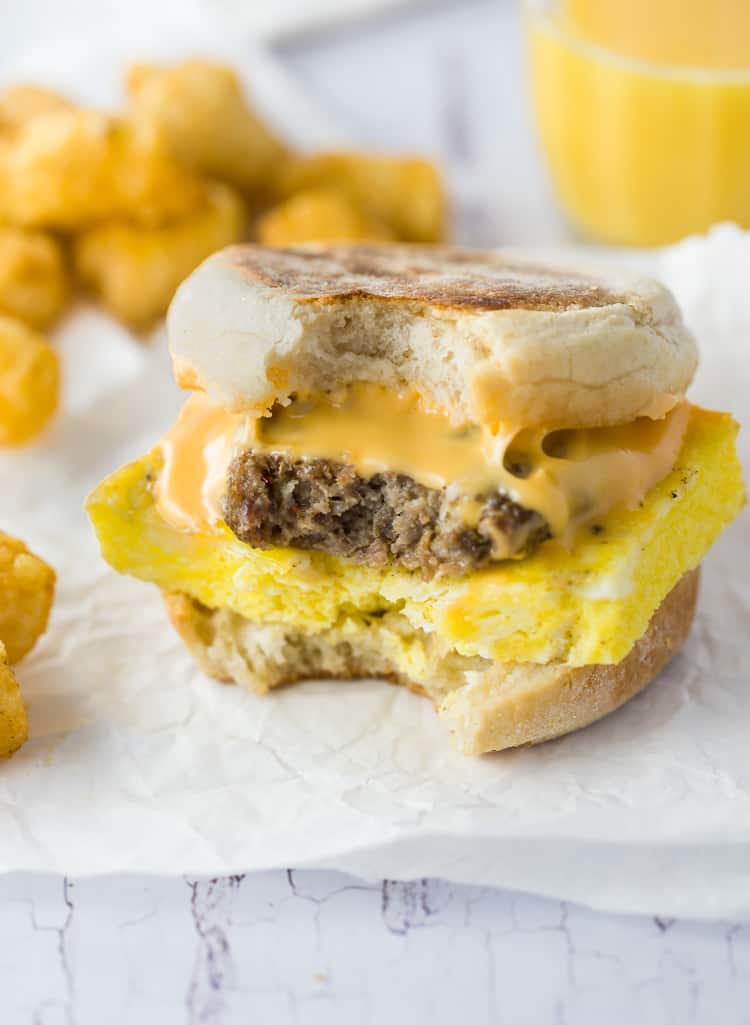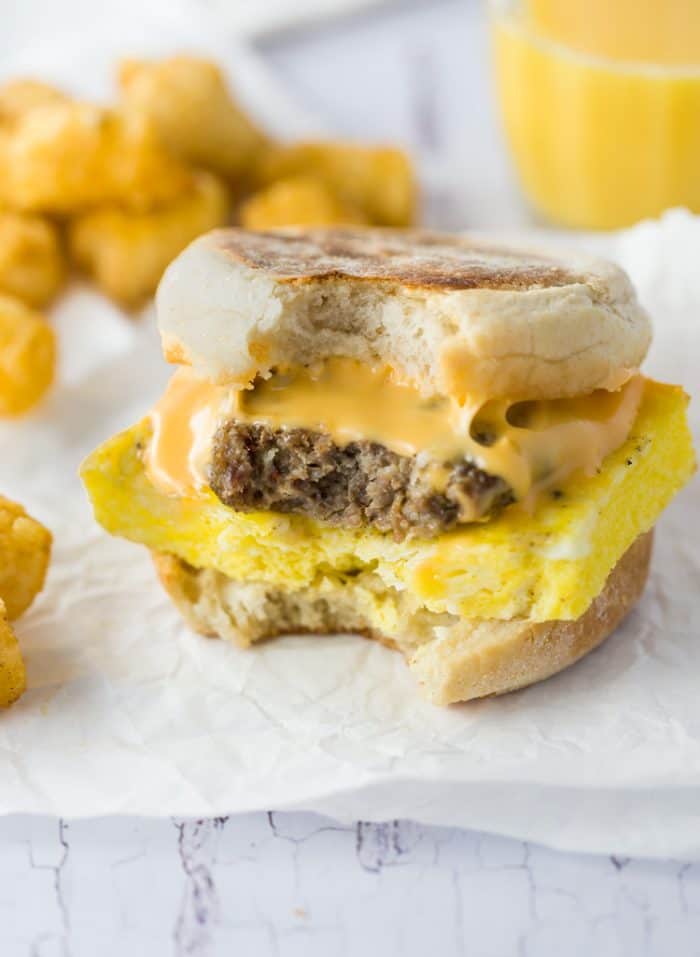 I've gotta level with ya. The fact that I am just discovering these make-ahead freezer breakfast sandwiches now, hurts a little. I mean you wake up hungry, you grab one out of the freezer, and four minutes later, you're eating. It's magic. Especially for my husband, who finally has a hot breakfast to enjoy on his early-morning drive to work. And I'm just a straight-up superhero for making sure the freezer is fully stocked with them. (Which is obviously super-easy, but he doesn't need to know that.)
Upon discovering these hidden gems, I realized that they needed to go on the blog right away. I'm envisioning lots of holiday travelers who might need a quick and easy breakfast that they can take in-tote. Problem solved! (And quite the money saver, somehow last time I got breakfast at McDonald's it came to like, one million dollars. What the!?)
Why do you wrap breakfast sandwiches in a damp paper towel prior to freezing?
The purpose of the damp paper towel is to prevent the sandwiches from becoming tough when microwaved and helps for more even heating.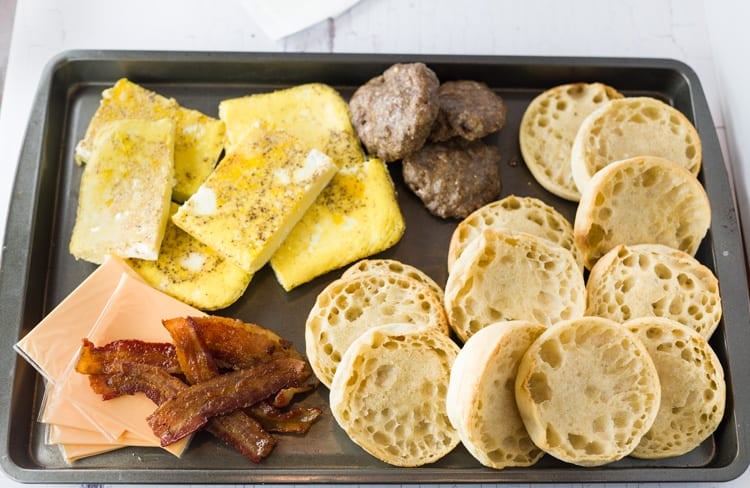 What makes these extra handy-dandy is that the English muffins can cook along with the eggs in the oven, and once they're done, in goes the bacon and sausage (on the same pan that was used for the muffins, at that!) By the time that bacon and sausage is cooked, the eggs are done, and boom. Mission accomplished.
If you wanted to serve these right away and bi-pass the freezing, you can assemble the sandwiches as you normally would and pop them back in the oven until the cheese is melted! (Perhaps placing a layer of foil over the English muffins if you don't want the tops to toast anymore.)
Enjoy your breakfast, friends!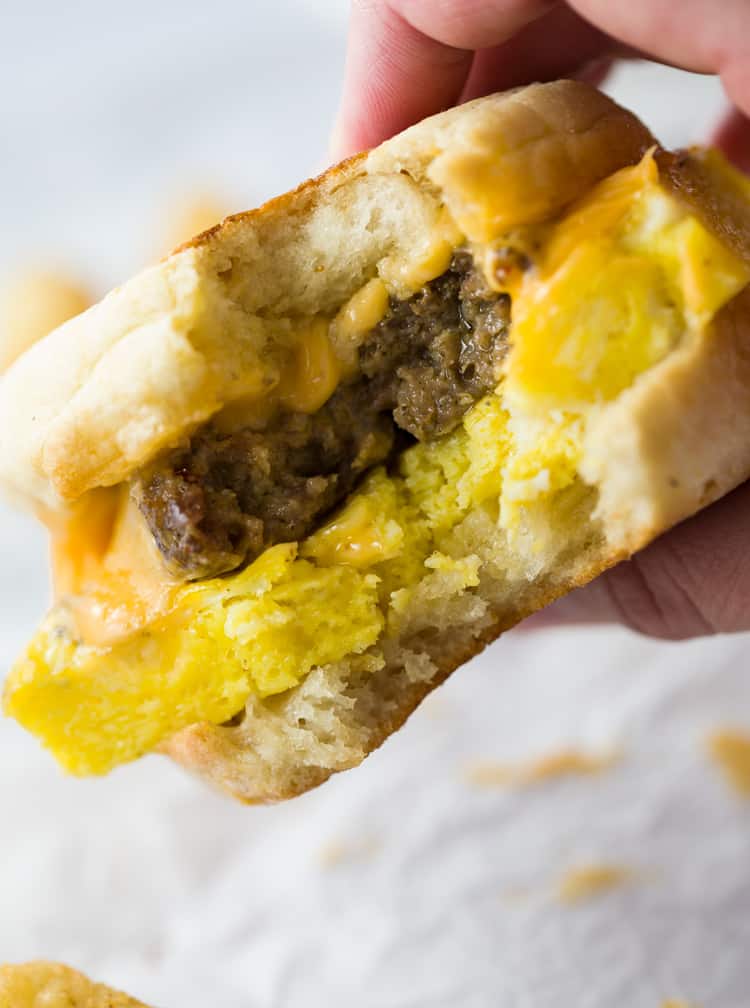 See this recipe in action!
Try my other breakfast recipes!
Follow me!
Okay, last thing. You should probably join my free recipe email list. You'll get a weekly email with my brand new recipes. And follow me on Facebook, Instagram, and Pinterest. 😊
Servings: 6
Make-Ahead Freezer Breakfast Sandwiches
Course: Breakfast
Cuisine: American
Keyword: Breakfast Sandwich Recipe, Make Ahead Breakfast Sandwiches
Crisp and buttery English muffins topped with fluffy eggs, bacon, sausage, and cheese. Easy to freeze ahead of time and heat in just 3 minutes!
Ingredients
Nonstick cooking spray
10 large eggs
1 cup whole milk
1 teaspoons salt
1 teaspoon pepper
6 slices bacon cut in half
3 sausage patties
4 Tablespoons butter melted
6 English muffins*
6 slices American cheese (Velveeta slices work well)
Instructions
Preheat the oven to 375 degrees.

Lightly coat a 9 x 13 inch baking pan** with nonstick cooking spray. Add the eggs, milk, salt, and pepper and whisk until well combined. Bake for 20-25 minutes, until firm.

Meanwhile, place the bacon and sausage on a large baking pan and bake for 10-15 minutes, until they're cooked through and the bacon is crispy. Dab the excess grease off once finished and set them aside.

Slice the English muffins and place on another large baking sheet. Brush butter evenly over the top of each slice, and bake for 5-8 minutes, or until crisp and slightly toasted on the top.

Cut the baked eggs into 6 squares of equal size.

Place an egg square on the bottom half of each English muffin, then either 2 bacon halves or one sausage patty, followed by a slice of cheese, and finally the English muffin top.

Take 6 paper towels and dampen each one with water, wringing out the excess water. Wrap each breakfast sandwich in the damp paper towel, and then in wax paper. Place them in labeled freezer bags, (or label each individual sandwich).

Freeze for up to a month.

To Heat: Remove each sandwich from the wax paper but leave it loosely in the paper towel. Microwave for 1.5 minutes, flip, and then another 1.5 minutes. Let it stand for one. Remove the paper towel, eat, and enjoy!
Recipe Notes
*My grocery store has homemade English muffins in the baking section, which I much prefer over the packaged variety, although either one works!
**I've used different sized pans for this, (namely my 8 x 8 inch pan), which also works just fine! Sliced ham or Canadian bacon also makes another tasty sandwich filling option!
Nutrition Information
Calories:
565
, Fat:
37g
, Saturated Fat:
16g
, Cholesterol:
347mg
, Sodium:
1472mg
, Potassium:
353mg
, Carbohydrates:
29g
, Fiber:
1g
, Sugar:
2g
, Protein:
24g
, Vitamin A:
18.2%
, Vitamin C:
0.2%
, Calcium:
34%
, Iron:
12.7%