These EXTRA CRISPY Fried Chicken Tenders are easy to make at home and every bit as delicious as your favorite restaurant. Learn the secrets that the chefs use for making golden, perfectly seasoned, crunchy batter!
Be sure to serve these with my easy honey mustard sauce and homemade french fries!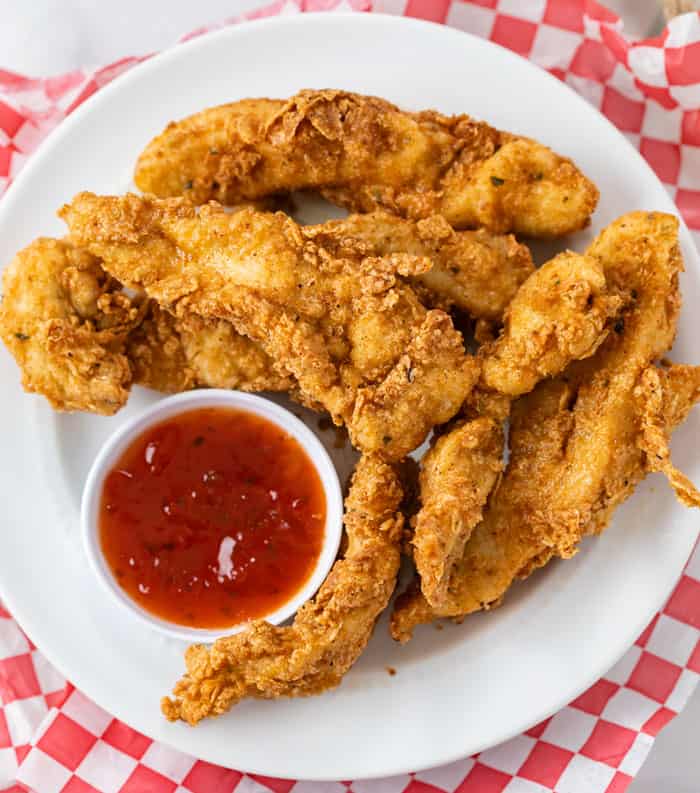 Fried Chicken Tenders
If there's one thing I know how to do, it's how to fry up a batch of golden brown CRISPY chicken!
No need to run out and stock up on buttermilk, you can make these with exactly what you have on hand at home right now.
Ingredients

Skinless/Boneless Chicken Breasts– Boneless chicken thighs can also be used.
Kosher Salt/Pepper
Egg Whites
Canola Oil- You can also use vegetable oil.
All-Purpose Flour
Breadcrumbs- Plain or Italian. Try it with my homemade breadcrumbs!
Seasoned Salt
Paprika
Cayenne Pepper– There's not enough to make it hot, it's totally kid-friendly.
Black Pepper
How to Make EXTRA CRISPY Fried Chicken Tenders
Use a Dry Brine Method – NO Buttermilk!
To dry brine chicken means to salt it and let it sit uncovered in the fridge for several hours. This accomplishes 4 things:
It allows the salt to penetrate through the chicken which gives it plenty of flavor.
It also makes it extra juicy on the inside as the salt extracts the moisture which is then reabsorbed by the chicken through osmosis.
The salt also breaks down the tough muscle proteins, which makes the meat more tender.
It keeps the outside of the chicken dry which allows it to grip all of the breading and make it extra crispy.
I choose to dry brine the chicken instead of soaking it in buttermilk, (which is a common alternative method for fried chicken), simply because I sometimes just find it to be easier.
Note: You can still have delicious chicken tenders if you have to skip the dry bringing step due to lack of time.
Remove It From the Fridge for 20 Minutes Before Frying.
This allows the chicken to cook evenly, but it prevents the oil from getting too cool when the chicken is added.
Thoroughly Dry The Chicken Before Breading.
If you don't have time to dry brine the chicken, (or even if you do), it's important to ensure that every piece of chicken is nice and dry before you begin to bread it.
Dip it in Egg Whites Only.
For these chicken tenders, we want super crunchy, textured fried chicken. The protein in the egg whites helps to grip and hold on to the breading. It's also lighter and not too wet, which makes sure that it doesn't soak through the breadcrumb mixture.
Keeping the egg yolks is fine for Chicken Parmesan, but using only egg whites is the secret weapon in this recipe. Make sure you beat it until it becomes airy and frothy.
If you would prefer to use the entire egg instead of just the whites, use your hands to slide off excess eggs from the chicken so that they're not overly coated.
Bread Generously. Textured Breading is Good.
As you bread the chicken, you'll see it start to become more textured from transferring chicken to and from the plate. Texture in this breading is exactly what we want. (Just try to keep it dry.)
It's important to generously coat every nook and cranny of the chicken.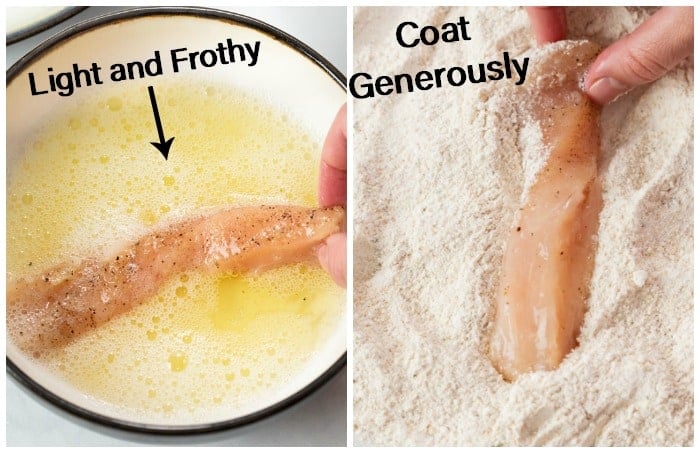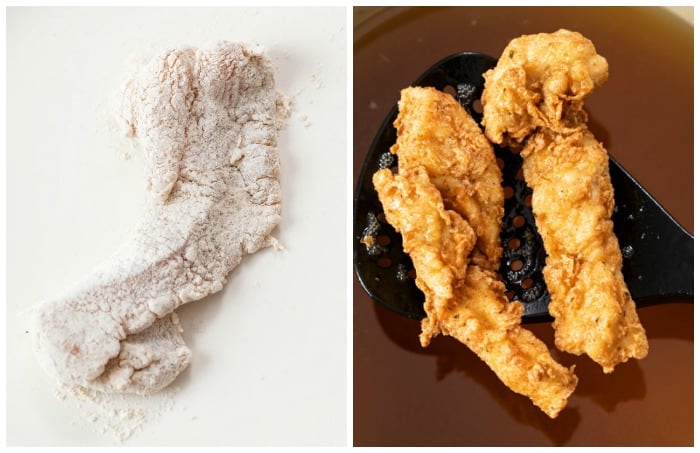 Temperature For Frying Chicken
Perfect fried chicken is cooked in canola or vegetable oil that's gradually heated to 350°-375°. Using an oil thermometer is key here. OR, use you can use a deep fryer.
Throughout the cooking process, you may find that you need to decrease the temperature and increase it back up again later. As the chicken keeps cooking, the oil gets hotter. When new chicken is added, it gets cooler. Maintain a temperature that feels right for that nice golden brown color.
If your oil gets dirty, add some additional oil to the pan to clarify it a little bit. Note that this will temporarily cool the temperature of the oil.
Reusing the Oil
I'm going to go with Cook's Illustrated on this one, who advises that the oil used for frying chicken can usually be used 3-4 additional times prior to discarding. They also advise as to how you can clean the oil first if needed.
Note that some of the flavor from the fried chicken will transfer to the next batch of whatever you fry up. This can be a good thing as it gives that food even more flavor.
I like to fry up a batch of my homemade french fries with my leftover oil. I leave the oil in my dutch oven with the cover for a few days until I'm ready to use it again. (Just don't do this with cast iron as it will rust.)
---
Air Fryer Method
Disclosure: Nothing beats the flavor and texture of deep frying this chicken, but here are the instructions for air frying, if you must. 😉
Preheat the air fryer to 375°. If yours runs hot, heat to 350°.
Place the breaded chicken on the air frying basket, do not overlap them and fry in batches if needed.
Use Canola Oil Cooking Spray to generously coat the outside prior to air frying.
Air fry for 10-15 minutes. Flip and spray with more Canola oil.
Cook for 10 more minutes.
Ensure the internal temperature has reached 165° prior to serving.
---
Dipping Sauces For Serving
---
Storage
Refrigerator
Store leftovers in an airtight container and refrigerate for 3-4 days.
Reheat in a 375° oven for 15 minutes.
Freezer
You can also flash freeze on a baking sheet for 1-2 hours and store in a freezer bag for 1-2 months.
Reheat in a 375° oven for 20-25 minutes.
Leftover chicken tenders are great in my mashed potato casserole with crispy chicken!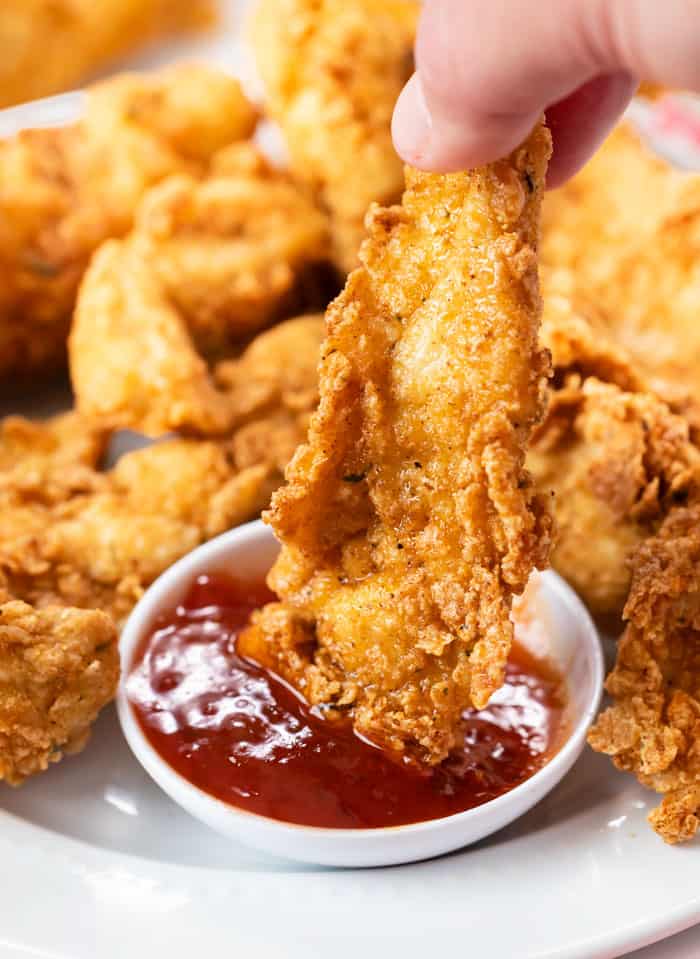 What to Serve With Chicken Tenders
Get My Free Meal Plan
I've got a Free Meal Plan with 7 of my super popular recipes (complete with grocery list)! Sign up for my email list and I'll send it over now along with weekly dinner recipes!
And follow me on Facebook, Instagram, and Pinterest!
Tried This Recipe?
Leave a review, I love hearing your feedback! ⭐⭐⭐⭐⭐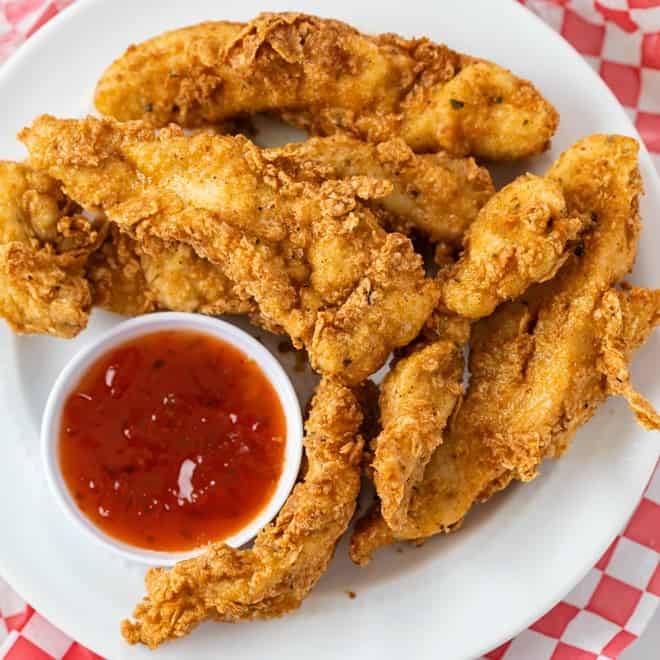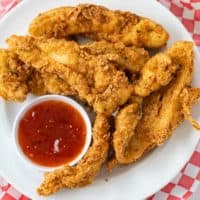 Fried Chicken Tenders
These EXTRA CRISPY Fried Chicken Tenders are easy to make at home and just as your favorite restaurant. Learn the secrets that the chefs use for making that perfectly seasoned, crunchy batter!
Ingredients
2 large boneless skinless chicken breasts
Kosher Salt + Pepper
3 egg whites
48 oz. canola oil, for frying
Breading
1 cup all-purpose flour
1/3 cup breadcrumbs,, plain or Italian
1 ½ teaspoons seasoned salt
½ teaspoon paprika
¼ teaspoon cayenne pepper
1 teaspoon black pepper
Instructions
Cut the chicken breast into strips that are about ¾ inch thick and 5 inches long. Pat completely dry. Sprinkle lightly with salt and pepper on each side. (Use about ¾ teaspoon coarse or kosher salt per pound of chicken)

Optional Step #1: Dry brine the seasoned chicken breast by letting it sit uncovered in the fridge for 4 hours on the bottom shelf. This keeps it dry on the outside which allows the breading to stick to it well. It also allows the salt to penetrate through the chicken which allows the inside to become juicy, tender, and flavorful.

Optional Step #2: If possible, remove the chicken from the fridge 20 minutes before frying for even cooking throughout.

Combine the breading ingredients and set aside.

Crack egg whites into a small bowl, save the egg yolks for another dish if desired.

Beat the egg whites until fluffy and frothy.

Place saran wrap over the chicken and use the rough side of a meat mallet to pound the meat and create texture on the outside, this allows the breading to work it's way into the crevices and creates grip to hold on to the breading.

Dip each piece of chicken into the egg whites, then coat it generously in the breading mix, allow every cook and cranny to get thoroughly coated.

Add oil to a dutch oven, fill it no more than halfway. Heat to 350-375 degrees. (You can also use a deep fryer.)

Fry the chicken tenders in batches of 3 so that the oil doesn't get too cool by adding too much chicken, and so that the chicken doesn't crowd each other.

Each side will take about 4 minutes to sufficiently brown. Remove and place on paper towel lined plates to allow any excess oil to absorb. This will keep it extra crispy.

PRO TIP: Transfer chicken from paper towels to a wire rack in a 200° oven to keep them warm while you fry the remaining batches.

Ensure the internal temperature has reached 165° prior to serving.
Nutrition
Calories: 126kcal, Carbohydrates: 2g, Protein: 3g, Fat: 12g, Saturated Fat: 1g, Cholesterol: 7mg, Sodium: 201mg, Potassium: 51mg, Fiber: 1g, Sugar: 1g, Vitamin A: 38IU, Vitamin C: 1mg, Calcium: 3mg, Iron: 1mg
Try These Next!