These creamy funeral potatoes can be made with real potatoes or frozen hash browns and are smothered in a cheesy filling with sour cream, butter, cream of chicken soup, onions, and garlic. They're topped with crunchy Potato chips and grated Parmesan!
BONUS: You can make this recipe ahead of time and bake it in the oven or heat it in the Crock Pot.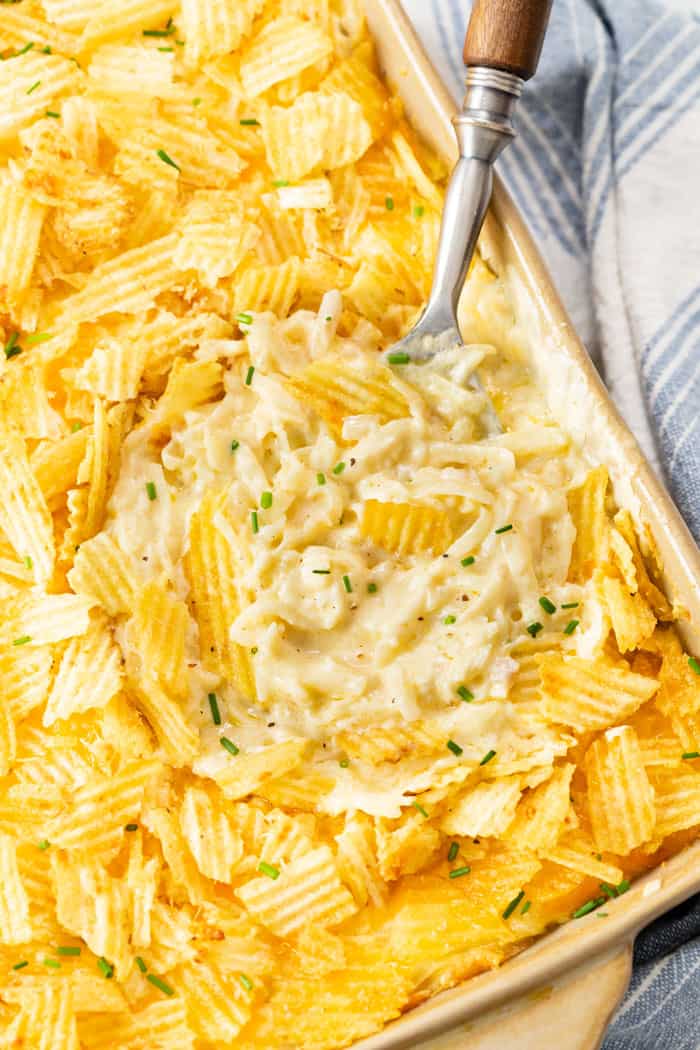 Funeral Potatoes
I know, what a name, right? As the name suggests, funeral potatoes got their name because they have been a traditional side dish recipe at after-funeral dinners and wakes.
This dish is such a classic comfort food that I can imagine why it might make someone who is down in the dumps feel a little bit better. 😁
Beyond that, it's a great way to feed a crowd and an easy make ahead recipe.
Ingredients
See recipe card below this post for ingredient quantities and full instructions
Frozen Hash Browns – You can also use fresh russet potatoes
Butter
Onions
Garlic– fresh cloves minced at home for best results
Cream of Chicken Soup- try my homemade version!
Sour Cream
Salt/Pepper
Hot Sauce- optional, enhances the other flavors.
Cheddar Cheese- shredded from a block at home for best results.
Topping
Ridged Potato Chips, slightly crushed
Butter
Parmesan Cheese
How to Make it
Saute onions and garlic in a saucepan until softened. Add all remaining ingredients.
Transfer to a lightly greased 9 x 13 casserole dish. Top with cheese.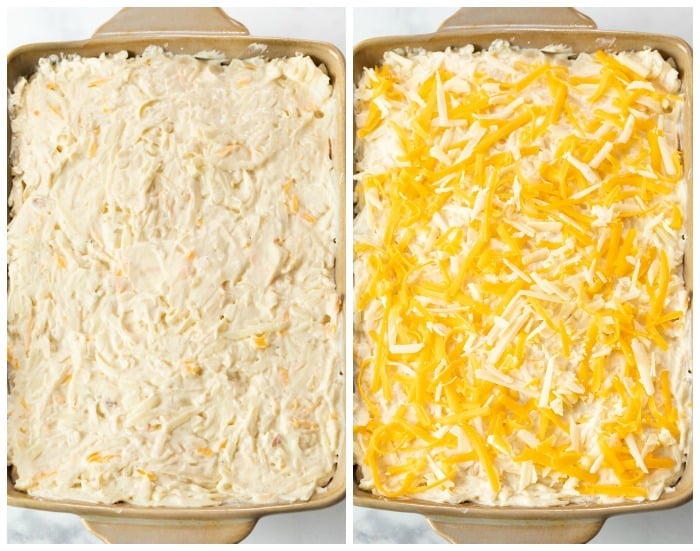 Combine melted butter, Parmesan cheese, and potato chips. Spread over the top.
Bake at 350° for 40 minutes. Let stand for 5 minutes prior to serving.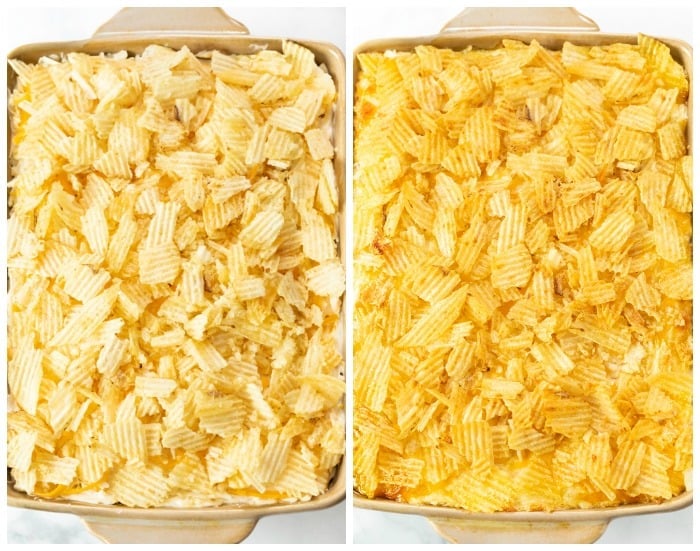 Crock Pot Method
Assemble as indicated in recipe, reserving some of the cheese to top it with. Place in a lightly greased Crock Pot.
Heat on low for 4-5 hours or high for 3+1/2.
Top with Cheddar and Parmesan cheese, cover until melted.
Sprinkle with slightly crushed potato chips. (No need to toss them with butter as that's more conducive for the oven.)
---
Using Fresh or Frozen Cubed Potatoes
Fresh
32 oz. of shredded fresh potatoes can also be used, this equals about 10 cups.
Be sure to rinse thoroughly with cold water after shredding and pat them completely dry.
Frozen Cubed
Frozen cubed potatoes can also be used instead of shredded, be sure to thaw and pat dry. Potatoes O'Brien are a good choice as they also have onions and peppers
---
What to Add to Funeral Potatoes
Ham blends in really well with this recipe, add some frozen diced vegetables like peas and carrots and you've got a complete meal!
Other choices include diced peppers, pulled pork, diced chicken, and bacon.
Feel free to add an extra can of cream of chicken soup to maintain the creamy consistency.
---
Topping Alternatives
Corn Flakes, Crispy Fried Onions, or Breadcrumbs are good alternatives for a crunchy topping.
---
Make Ahead Method
2-3 days ahead:
Assemble as instructed and add everything except for the crunchy topping.
Let it sit out for 30 minutes prior to baking and add crunchy topping right beforehand. OR, cover and add 15 minutes to baking time if baking from a cold state.
2-3 months ahead:
Freeze in a casserole dish or disposable aluminum baking pan, cover top with 2 layers of foil.
Let it defrost overnight in the fridge. Add topping. Cover and add 15 minutes to baking time, remove cover and bake as instructed.
If baking from a frozen state: Bake without crunchy topping, covered, for 1 hour. Add crunchy topping and bake as outlined.
---
Storage
Refrigerate leftovers for up to 3 days or freeze for up to 3 months. It's best to remove the potato chips prior to freezing.
Leftovers reheat well in the microwave or covered in a 350° oven.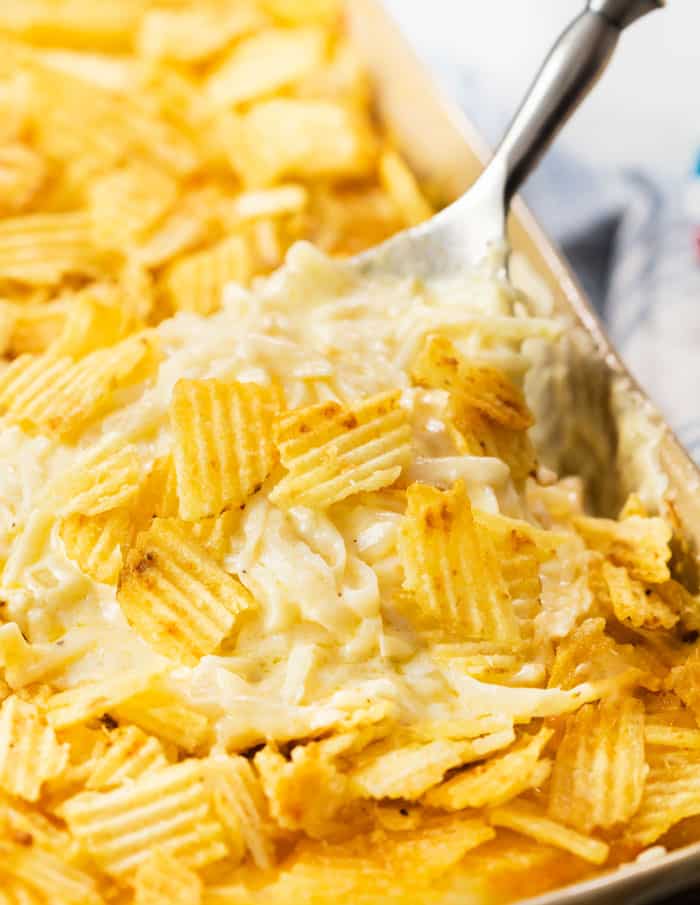 What to Serve with Funeral Potatoes
Try These Next!
Get My Free Meal Plan
I've got a Free Meal Plan with 7 of my super popular recipes (complete with grocery list)! Sign up for my email list and I'll send it over now along with weekly dinner recipes!
You can also find me on Facebook, Instagram, and Pinterest!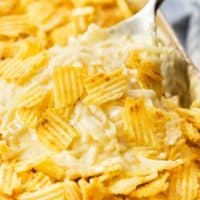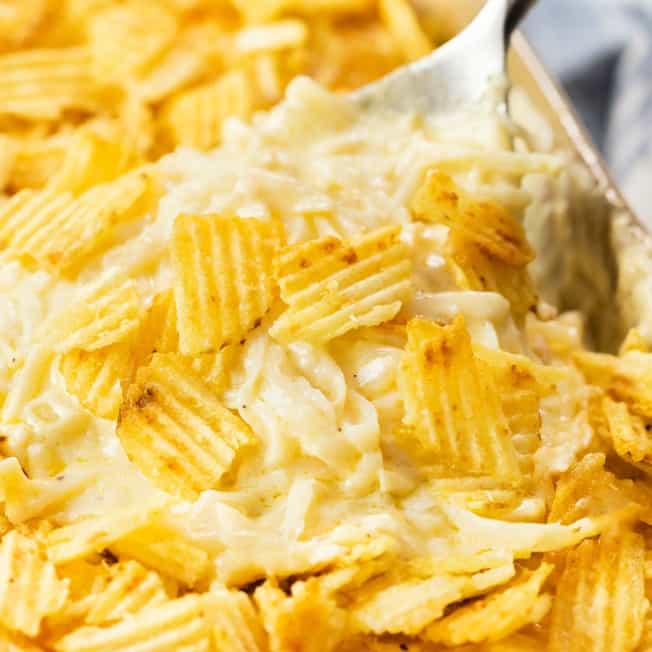 Funeral Potatoes
These creamy funeral potatoes can be made with fresh or frozen potatoes and baked in the oven or in the Crock Pot! They are easy to make-ahead of time and make a great recipe for a potluck!
Ingredients
32 oz. bag shredded hash browns, thawed and patted dry
1 stick butter
1 small onion, diced
2 cloves fresh garlic, diced
10.75 oz. cream of chicken soup
16 oz. sour cream, equal to 2 cups
¾ teaspoon salt
½ teaspoon pepper
1 dash hot sauce
2 cups cheddar cheese, separated (I use half mild half sharp)
Topping
2 cups ridged potato chips, slightly crushed
1 Tablespoon butter, melted
1/3 cup Parmesan cheese, grated
Instructions
Preheat oven to 350 degrees.
Soften onions and garlic
Melt 3 Tablespoons butter in a large saucepan over medium heat. Add the diced onions and cook for 4 minutes. Add the garlic and cook for 1 additional minute.
Assemble Casserole
Add the remaining 5 tablespoons butter until melted. Remove from heat.

Stir in cream of chicken soup, sour cream, salt/pepper, hot sauce. Set aside ½ cup of cheese and add the rest to the saucepan mixture.

Use a silicone spatula to stir in the potatoes until well-combined.

Transfer to a lightly greased 9 x 13 baking dish. Top with remaining ½ cup cheese.
Add Topping and Bake
Combine the melted butter, potato chips, and Parmesan cheese. Spread evenly over the potatoes.

Bake, uncovered, for 40 minutes. Let it sit for 5 minutes prior to serving. Garnish with chives if desired.
Notes
How to thaw frozen hash browns:
• Place the package in the refrigerator overnight.
• Defrost them in the microwave.
• Let them sit at room temperature in a large bowl for about 45 minutes.
---
Using Fresh Potatoes:
If using fresh potatoes, rinse them thoroughly with cold water and pat completely dry. You'll need about 10 cups shredded potatoes.
---
Crock Pot Method:
Assemble as indicated in recipe, reserving some of the cheese to top it with. Place in a lightly greased Crock Pot.
Heat on low for 4-5 hours or high for 3+1/2. 
Top with Cheddar and Parmesan cheese, cover until melted.
Sprinkle with slightly crushed potato chips. (No need to toss them with butter as that's more conducive for the oven.)
Nutrition
Calories: 375kcal, Carbohydrates: 28g, Protein: 11g, Fat: 25g, Saturated Fat: 12g, Cholesterol: 53mg, Sodium: 518mg, Potassium: 640mg, Fiber: 2g, Sugar: 2g, Vitamin A: 570IU, Vitamin C: 12mg, Calcium: 269mg, Iron: 1mg