Overnight Everything Bagel Breakfast Casserole
This easy make-ahead breakfast is loaded with delicious bites of everything bagels baked in a flavorful egg scramble with sausage, peppers, and a three-cheese combination.
This post has been sponsored by Seattle's Best Coffee. All thoughts and opinions are my own.
Everyone loves a good ol' everything bagel (they're the second most popular after plain) but when you throw it into a casserole with a loaded egg scramble and three cheeses, it becomes breakfast heaven.
Making this ahead of time is the best part; you wake up with that craving for a bagel and some eggs, and all you have to do is pop the casserole in the oven, grab a cup of coffee, and relax.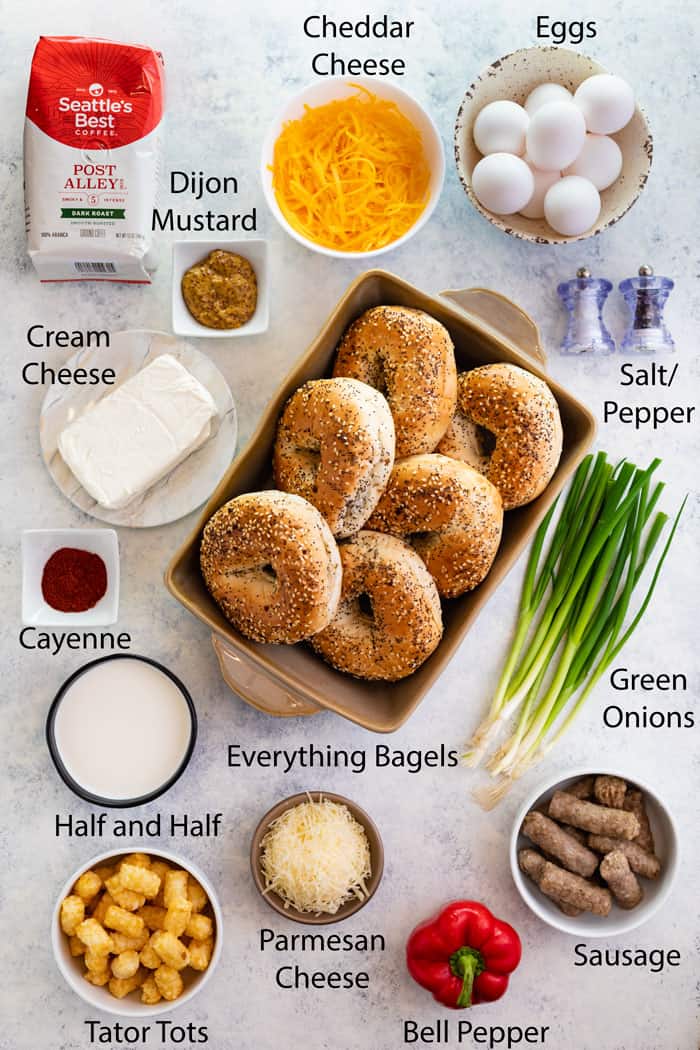 Have you tried Seattle's Best Coffee® before? You will think you're sitting at a café. I'm telling you, it's the real deal. Their Post Alley Blend® ground coffee is my favorite. It's a nice dark roast that has this rich, bold flavor.
I never paid too much attention to what coffee brand I used until I tried this stuff. Now I can't go back. I've since learned that Seattle's Best Coffee sources the highest quality Brazilian coffees, tasted numerous times before going in your cup. Now it all makes sense!
☝️ You can grab yourself some of Seattle's best coffee on Amazon, at Target, or at Walmart! They have roast and ground as well as K-Cup® pods.
Speaking of coffee, grab a cup and I'll tell you all about this breakfast casserole!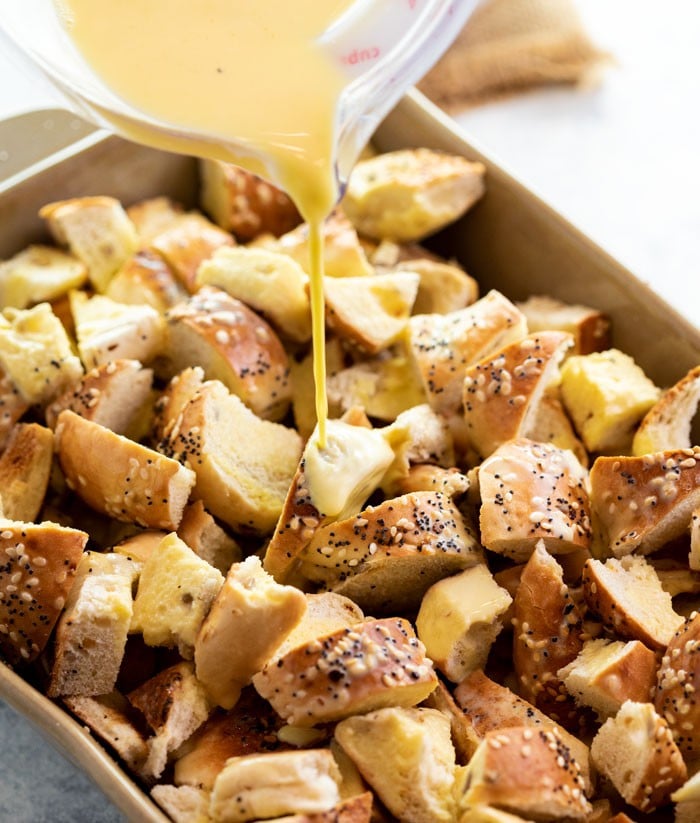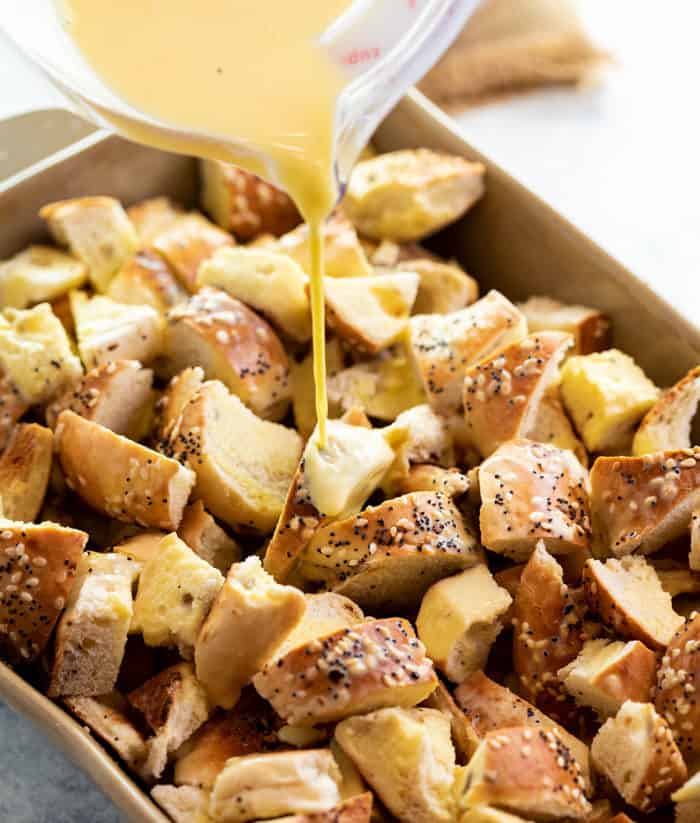 How Long Can You Refrigerate Uncooked Breakfast Casserole
This uncooked breakfast casserole can be stored in refrigerator for up to 2-3 days prior to baking.
Freezing Breakfast Casserole
Breakfast casserole can be frozen for up to 3 months.
To reheat, allow it to defrost in the fridge overnight and bake at 350 for 20-25 minutes, covered.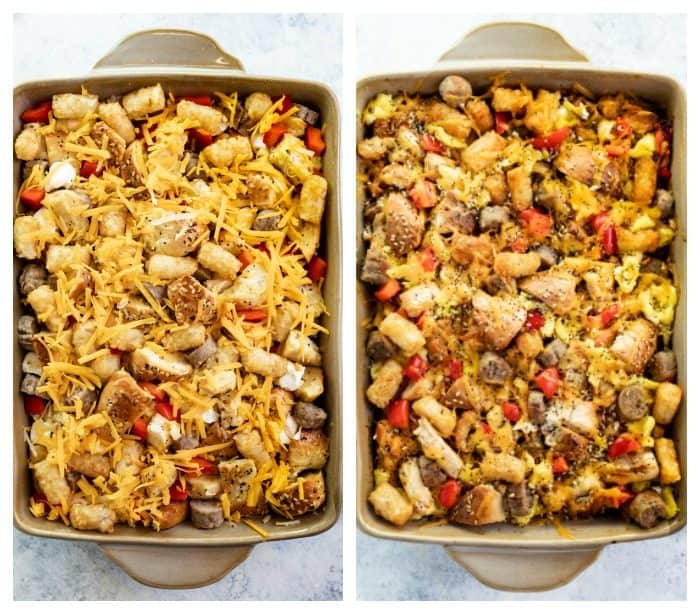 Storing Leftover Breakfast Casserole
If you don't plan to freeze the leftovers, they can be stored in the refrigerator for up to 3 days. 
Additional Breakfast Casserole Ingredients
In addition to the bell peppers and sausage, you can also incorporate these ingredients:
Sautéed or caramelized onions, mushrooms, spinach, garlic, and tomatoes.
Other cheese options include pepper jack, Swiss, gouda, and mozzarella.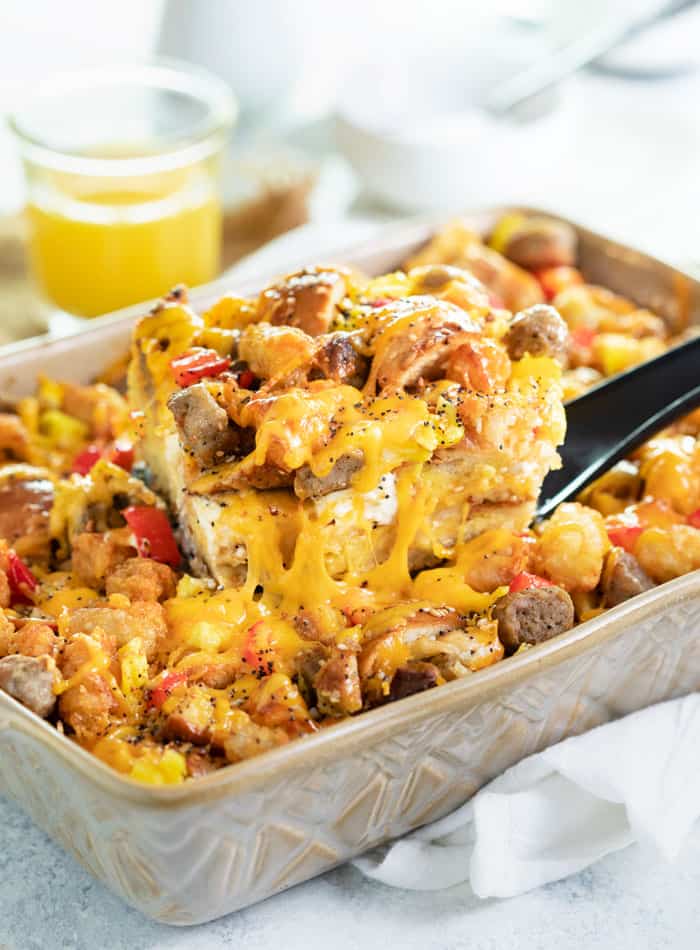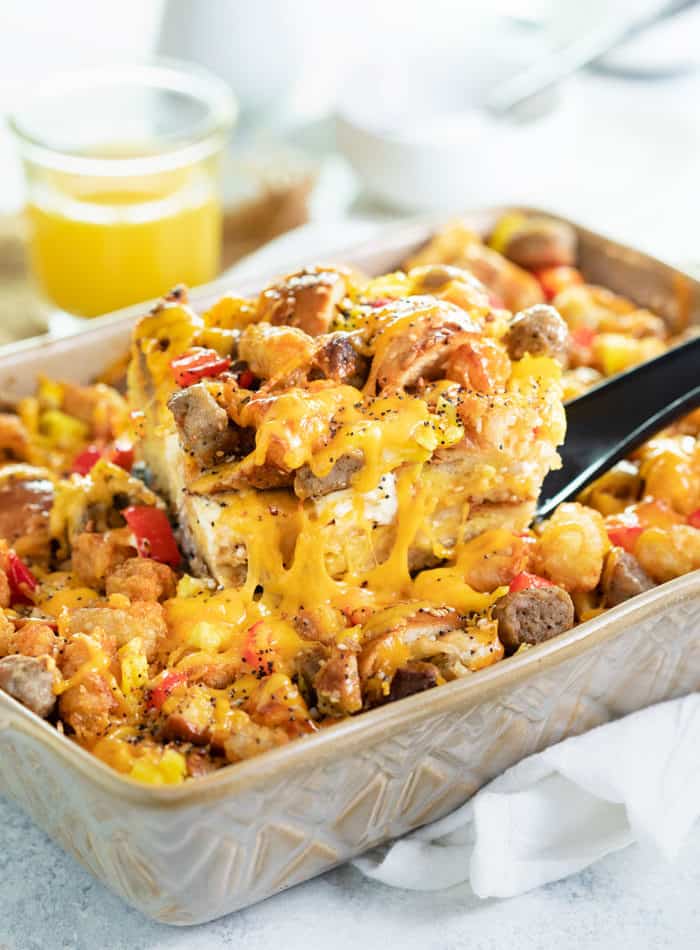 Try These Next!
Follow Me!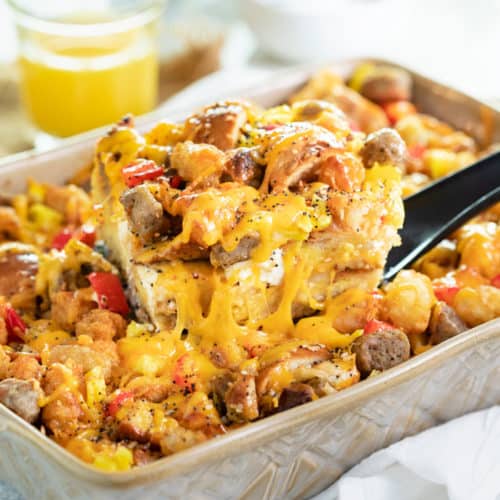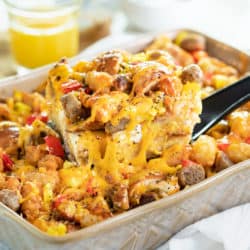 Servings: 8
Overnight Everything Bagel Breakfast Casserole
Course: Breakfast
Cuisine: American
Keyword: Breakfast Casserole Recipe, Everything Bagel Breakfast Casserole, Overnight Breakfast Casserole, Overnight Everything Bagel Casserole
This easy make-ahead breakfast is loaded with delicious bites of everything bagels baked in a flavorful egg scramble with sausage, peppers, and a three-cheese combination.

Ingredients
6 everything bagels see notes*
8 large eggs
1 cup half and half
Salt/pepper to taste
2 tablespoons Dijon mustard
1/3 teaspoon cayenne pepper
½ cup Parmesan shredded
1 cup grated cheddar divided
8 oz. cooked sausage links diced
½ bell pepper diced
8 oz. cream cheese
1 cup tater tots
Green Onions to garnish
Instructions
Break the bagels into bite-sized pieces and place into a buttered 9x13 casserole dish.

In a large bowl, crack the eggs. Add the half and half, mustard, cayenne pepper, and salt/pepper. Whisk briskly for 1 minute.

Pour the egg mixture over the bagel pieces, try to cover each one.

Add the Parmesan cheese and ½ cup cheddar cheese to the casserole dish. Use a spoon to gently toss the casserole mixture.

Cut the cream cheese into 14 squares.

Distribute the top of the casserole with the cream cheese, sausage, bell peppers, and tator tots.

Top with the remaining half of cheddar cheese.

Cover and refrigerate for 4 hours or overnight. The longer it sits, the better/moister it will be.

Bake, covered, at 350 degrees for 40 minutes.

Remove the cover and bake for 15 more minutes.

Let cool for 10 minutes. Serve with coffee and enjoy!
Recipe Notes
*Your bagels should be 1-2 days old, they absorb better if they are dry. If necessary, lightly toast them before breaking them apart.
Nutrition Information
Calories:
619
, Fat:
34g
, Saturated Fat:
15g
, Cholesterol:
246mg
, Sodium:
1061mg
, Potassium:
373mg
, Carbohydrates:
49g
, Fiber:
2g
, Sugar:
1g
, Protein:
27g
, Vitamin A:
1210%
, Vitamin C:
11.1%
, Calcium:
276%
, Iron:
2.6%